Whether you own your own horse or are interested in renting one during your stay at the park, there is a wealth of information you should know about horseback riding in Yellowstone. How can you best achieve this, and what are the best trails for riding in this unique ecosystem?
In this article, we explain everything you need to know about horseback riding in Yellowstone National Park. We'll discuss how to rent a horse so you can ride while you're at Yellowstone, as well as some information should you choose to bring your own horse into the park. Either way, horseback riding in Yellowstone is a unique and wonderful opportunity! Now let's talk about how.
Yellowstone Horseback Riding: An Overview
If hiking isn't your thing when you're thinking of visiting Yellowstone National Park, you might be interested in enjoying the beauty of the area on horseback. Not only is this a fantastic vantage point to see Yellowstone, but it also gives you a unique opportunity and experience to share with the people you choose to travel with and the horse you end up riding!
There are many different ways you can go horseback riding in Yellowstone National Park. You are more than welcome to bring your own horse into the park as there are riding camping opportunities and day or overnight permits are readily available. If you want to bring your own horse, remember to bring a recent Coggins test record.
But what if you didn't bring your own horses to Yellowstone National Park? You are not out of luck! Here's how to ride a horse through the many private rental opportunities and suppliers.
How to Ride a Horse in Yellowstone National Park
There are several ways and methods you can use to book your Yellowstone horseback riding adventure. The easiest way to achieve this is to book horseback riding opportunities through the many vendors and excursion programs approved by Yellowstone National Park. It is not recommended to book horseback riding tours through any vendor that has not been approved by the park itself.
The good news is that if you choose an approved supplier, they will take care of everything for you. You don't have to worry about finding horses, getting permits or not knowing where to go. These suppliers are highly recommended for those learning to ride horses for the first time, or for those who want to go on a guided adventure.
Depending on who you choose, you can ride as many horses as you want in Yellowstone. Some outfitters offer 2-hour excursions in specific areas of the park, such as the Tower area. Other outfitters even offer visitors the chance to ride horses for multiple days as part of overnight excursions to backcountry areas. It all depends on how adventurous you are and what experience you want!
Best Horseback Riding Trails in Yellowstone National Park
Whether you brought your own horse or rented one for a few hours during your stay in Yellowstone National Park, what are some of the best horseback riding trails in the park? Here is a list of some of the best horseback riding trails found in Yellowstone! :
Bekele Falls. Although the trail gets progressively more difficult, the Bechler Falls Trail is ideal for those looking to discover some amazing waterfalls on horseback!
Lamar Valley Trail. Iconic Yellowstone Park location, enjoy sweeping valleys and lush grasslands on this easy trail. You might even spot some wildlife as you traverse this terrain.
Lost Lake Loop. Great for kids or beginning horse riders, this loop loops around Lost Lake, but only if you pass through beautiful native forest.
Elephant Back Mountain Trail. Elephant Back is short and sweet, offering you beautiful views of lakes, forests, mountains and more.
Tips and Tricks for Horseback Riding in Yellowstone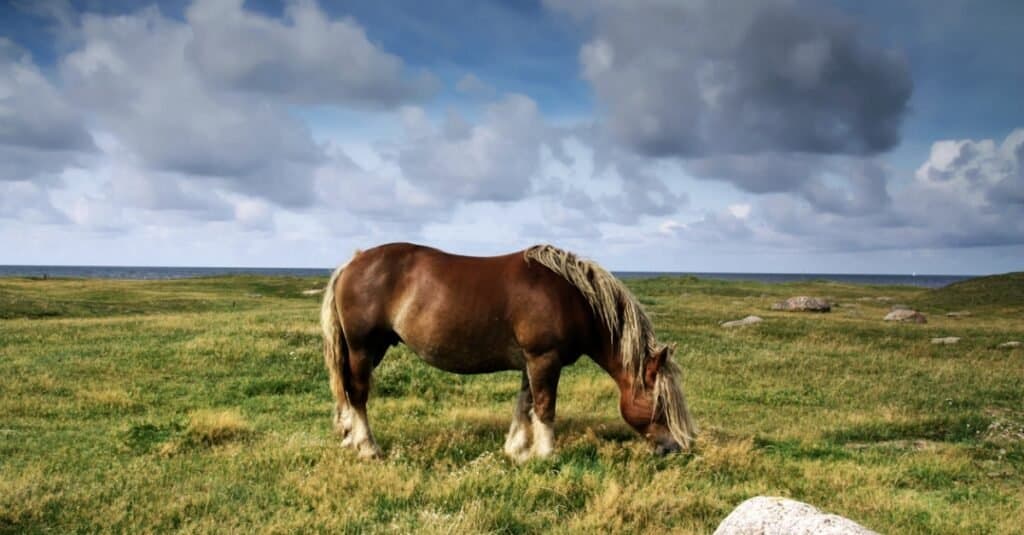 If you choose to ride horses in Yellowstone National Park, there are many things to keep in mind. Regardless of your experience with horses, here are some tips and tricks to keep in mind if you choose to ride the road:
Make sure you have the correct license for the number of rides you choose. There are day passes and overnight passes, and there are even backcountry overnight permits if you choose to venture further than the average Yellowstone visitor!
Learn how to properly communicate with people on the road while riding. There are many tips and tricks on the internet on how best to do this, but communication is key! The average hiker doesn't know what to do if there is a horse on the road, so keep that in mind and keep your horse under control at all times.
Learn how to properly restrain your horse in camp and make sure you're camping at a designated horse campground. Not all Yellowstone campgrounds allow horseback riding, so keep that in mind and plan ahead!
Remember, Yellowstone National Park is in bear country. All gear and evidence of your stay at Yellowstone should be disposed of or cleaned up before you leave, and always be vigilant when you travel, whether on horseback or otherwise!
I am broadly interested in how human activities influence the ability of wildlife to persist in the modified environments that we create.
Specifically, my research investigates how the configuration and composition of landscapes influence the movement and population dynamics of forest birds. Both natural and human-derived fragmenting of habitat can influence where birds settle, how they access the resources they need to survive and reproduce, and these factors in turn affect population demographics. Most recently, I have been studying the ability of individuals to move through and utilize forested areas which have been modified through timber harvest as they seek out resources for the breeding and postfledging phases. As well I am working in collaboration with Parks Canada scientists to examine in the influence of high density moose populations on forest bird communities in Gros Morne National Park. Many of my projects are conducted in collaboration or consultation with representatives of industry and government agencies, seeking to improve the management and sustainability of natural resource extraction.