↓ Read on to watch this amazing video
A key characteristic of dogs is their love of licking. They use licking to groom themselves and their young, to show affection to others, to drink water, to taste different items and foods, and more. When dogs are constantly licking, their habits may appear out of the ordinary. There are many factors that can cause a dog to lick something unusual or to lick more often. If you've noticed your dog licking the floor lately, here are possible reasons for their behavior.
Digestive and Stomach Discomfort
If your dog has been licking a lot of odd surfaces lately, they may have ELS or excessive surface licking. When dogs have gastrointestinal issues and feel pain or discomfort, they use licks to soothe their stomachs. These problems can be as trivial as a stomach ache from eating something that doesn't fit into their system or eating a foreign object. However, if your dog has persistent ELS symptoms for an extended period of time, it may be helpful to take them to the veterinarian to ensure they are healthy and free of underlying intestinal disorders.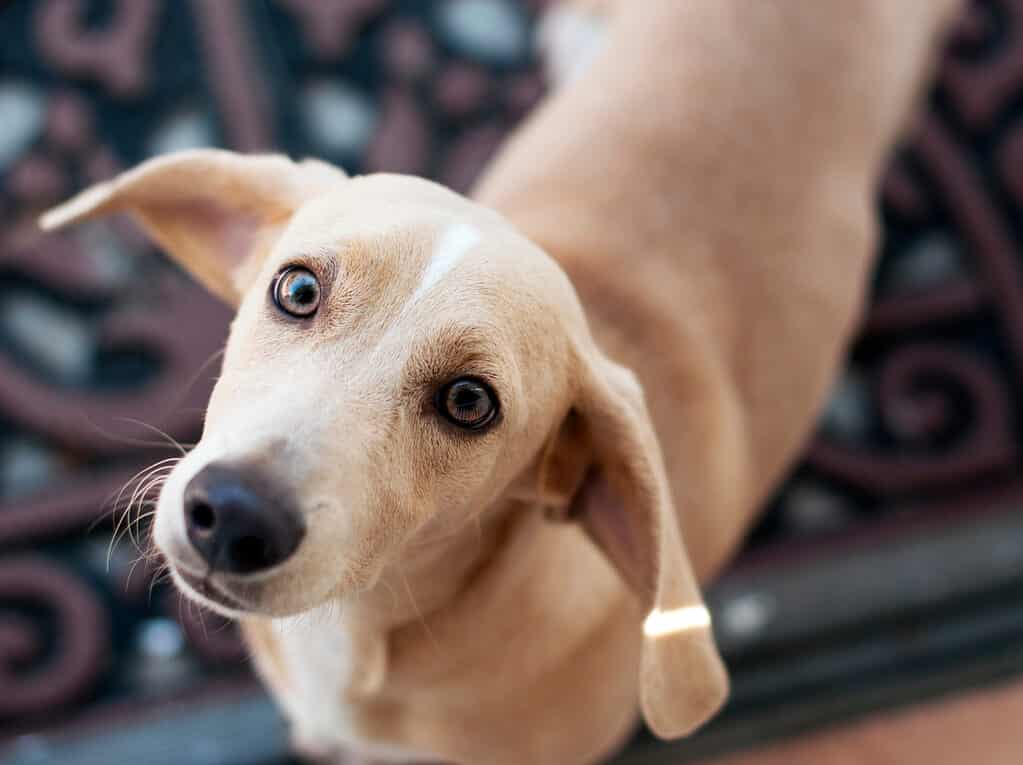 anxiety
Another potential cause of ELS could be that your dog has an anxiety disorder. This can be due to separation, chemical imbalances, poor diet, the presence of strangers, or new surroundings. When dogs experience accumulated stress and anxiety, they will start licking to release discomfort and try to self-soothe. One way to tell if your dog is licking the floor due to anxiety is to watch for panting after one lick. Dogs often pant when they are anxious, and excessive licking may exacerbate this. There are many ways to treat anxiety in dogs and ensure they are content and happy. Before taking your dog to the vet, you may want to try products and solutions such as anti-anxiety vests, supplements, and establish a comfort routine.
boring
Dogs can get bored very easily if they don't get enough attention and activity. To release pent-up energy, they may begin to lick the floor or other surfaces frequently. This can go on and on because licking isn't a very effective way to kill boredom. To combat this, it's important to establish a good exercise routine for your dog — take them out for a daily walk, play a game of catch, or do anything else that will allow them to expel excess energy. If you have a busy schedule that limits your ability to give your dog exercise, you can also purchase a variety of toys for your dog.
obsessive compulsive disorder
While obsessive-compulsive disorder, or OCD, is known to be common in humans, dogs can also suffer from the disorder. In dogs, OCD is often triggered by stressful situations or experiences that lead them to develop habits such as licking the floor. If they continue to seek comfort in this way, they may develop OCD, which makes the habit difficult to break. Dog breeds most prone to OCD include Doberman Pinschers, Jack Russell Terriers, German Shepherds, and Great Danes. Some ways to reduce your dog's compulsive behaviors are to provide them with plenty of exercise, make sure you don't reinforce their behavior, and make sure they are in a stress-free environment. Discussing medication for your dog's behavior with a veterinarian is also a viable option.
taste
Sometimes the answer to why your dog is licking the floor can be as simple as the smell of the floor itself. If anything is spilled on the floor or not cleaned properly, chances are your dog will smell it and become curious. While dogs have far fewer taste buds than we do—humans have about 9,000 compared to dogs' closer to 1,700—they have more specialized taste buds that respond differently to certain ingredients, such as water. With these specialized taste buds, dogs will jump at any opportunity to try new foods and will often lick residue from surfaces such as floors. While this is perfectly normal, it's important to make sure your floors are clean in case your dog tries to lick anything that could be poisonous or harmful to them.
in conclusion
Dogs are very curious animals and love to explore the world with all five senses. They often lick something that smells good or piques their interest, and it's a completely natural and healthy thing for them to do. While they may lick the floor at times, you should be really concerned if you notice that you're doing too much. Dogs are adaptable animals with good instincts and learning abilities, and it is often easy to change their behavior and improve their health. It's a good idea to pay attention to your dog's behavior in case you notice anything unusual, but with proper attention and care, your dog should be perfectly healthy and content.
Ready to discover the top 10 cutest dog breeds in the world?
How about the fastest dogs, the biggest dogs, and those who are – quite frankly – just the kindest dogs on earth? Every day, AZ Animals sends out lists like this to our thousands of email subscribers. The best part? free. Join today by entering your email below.
Next:
I am broadly interested in how human activities influence the ability of wildlife to persist in the modified environments that we create.
Specifically, my research investigates how the configuration and composition of landscapes influence the movement and population dynamics of forest birds. Both natural and human-derived fragmenting of habitat can influence where birds settle, how they access the resources they need to survive and reproduce, and these factors in turn affect population demographics. Most recently, I have been studying the ability of individuals to move through and utilize forested areas which have been modified through timber harvest as they seek out resources for the breeding and postfledging phases. As well I am working in collaboration with Parks Canada scientists to examine in the influence of high density moose populations on forest bird communities in Gros Morne National Park. Many of my projects are conducted in collaboration or consultation with representatives of industry and government agencies, seeking to improve the management and sustainability of natural resource extraction.