A dog's coat is important for protecting their skin from the elements and keeping them warm in cold weather. A good shampoo can help to keep your dog's coat clean and healthy, while a bad shampoo can cause irritation and dryness. 
There are a few things to look for when choosing a dog shampoo. First, make sure that it is gentle and won't strip away the natural oils in your dog's coat. Second, look for a shampoo that contains moisturizing ingredients like glycerin or aloe vera. Finally, avoid any shampoos that contain harsh chemicals or fragrances.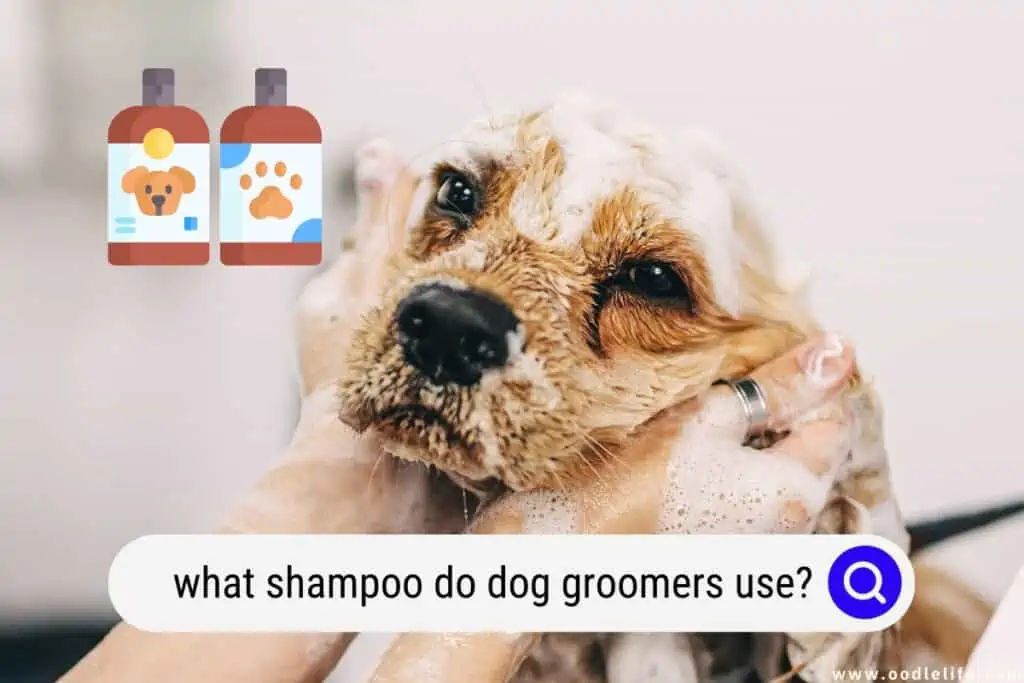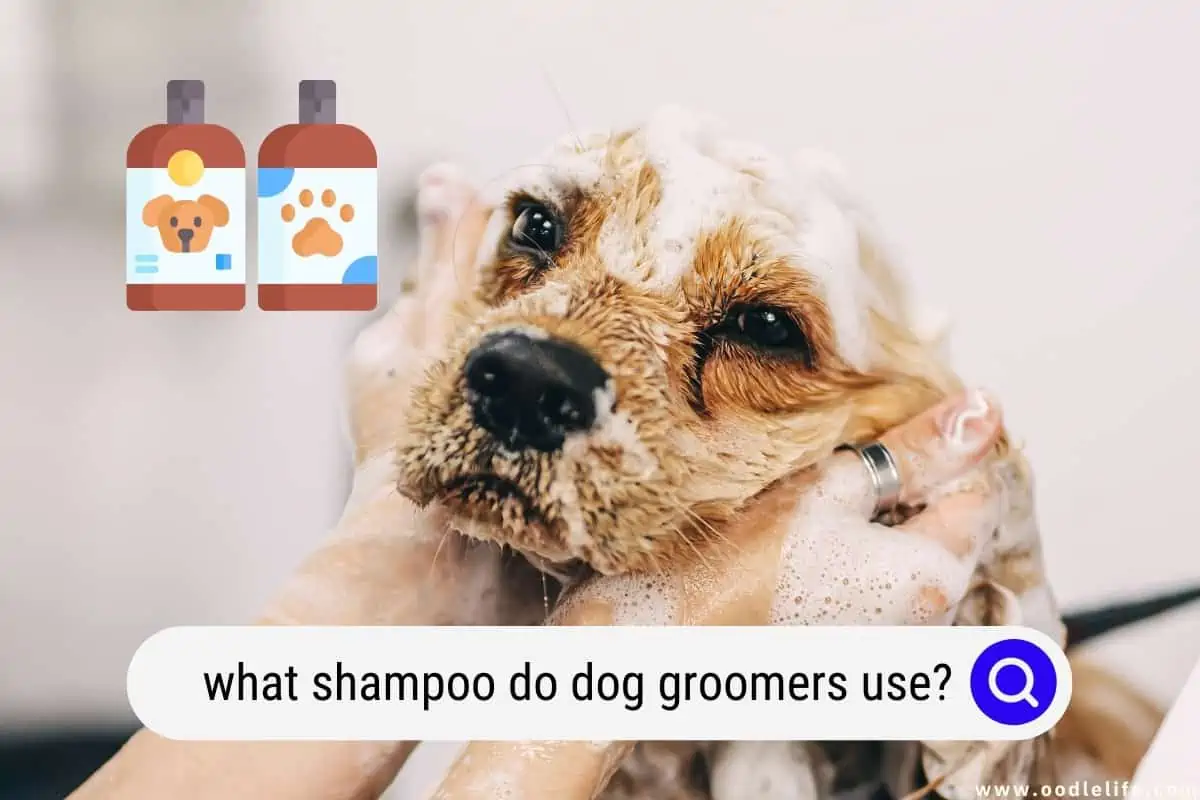 However, the pet industry is filled with a plethora of choices, so how do you decide? Well, leave it to the professionals of course! Dog groomers who groom hundreds of dogs a year might know a little about what shampoo works best for the majority of their furry clients. 
In this blog post, we'll look at some of the top shampoos that groomers use and will try our darndest to help you decide if each one is for you.
Top 6 Shampoos For Dogs That Groomers Use 
Not all shampoos are created equal. When it comes to shampooing your dog, it's important to choose a product that is specifically designed for canine use. Human shampoo is often too harsh for dogs and can strip their coat of natural oils, causing dryness and irritation. 
Look for a dog shampoo that is made with gentle, plant-based ingredients and contains no soap or detergent. You should also avoid any shampoo that contains artificial fragrances, colors, or other additives. 
Instead, opt for a hypoallergenic formula that will be gentle on your dog's skin and won't cause any irritation. Here are some of the favorites of groomers all around the world: 
1. Nature's Specialties Plum Silky Dog Shampoo and Conditioner 
The Plum Silky Dog shampoo by Nature's Specialties is a non-toxic dog shampoo popularly used by groomers. With a wide variety of fragrances, this shampoo contains essential ingredients like oil, silk proteins, Panthenol, vitamins, and soothing aloe. Its pH balance makes it safe and suitable for dogs with sensitive skin, and the 2-in-1 product covers you on both the shampoo and conditioner front. 
Nature's Specialties Plum Silky Ultra Concentrated Dog Shampoo Conditioner, Makes up to 6 Gallons, Natural Choice for Professional Pet Groomers, Silk Proteins, Made in USA, 32 oz
ULTRA CONCENTRATED – One 32 oz bottle dilutes up to 6 gallons with tap water. Apply direct or dilute with warm water as desired. Massage shampoo into coat from head to tail, rinse thoroughly, repeat…
CLEANS AND CONDITIONS – You will love this mild concentrated conditioning shampoo for its capabilities to clean and add texture while leaving a wonderful lasting fragrance for days.
CONTAINS- A Non-Toxic, Biodegradable Blend in a Proprietary Mild Shampoo Base with Aloe Vera, Silk Proteins, Panthenol, Vitamins A, D and E, Essential Oils, and Fragrance. pH Balanced.
DIRECTIONS FOR USE – Apply direct or dilute with warm water. Massage shampoo into a wet coat from head to tail, work into a lather then rinse thoroughly. To condition the skin and coat, we recommend…
WHY NATURE'S SPECIALTIES – Our products are recognized in the Grooming industry as premium products for dogs and cats and are used by many competitive groomers and pet loving consumers.
We earn a commission if you make a purchase, at no additional cost to you.
Approved and checked by professionals, using this product gives your pooch a smooth, shiny coat, and makes the fur fluffier and more voluminous. The soothing, natural fragrances are long-lasting and effective and this product comes in all sizes to suit whatever volume you need. Thick and concentrated, you can even use it diluted. 
Pros:
Budget-friendly
Biodegradable
Toxic-free formula
2-in-1 combination of shampoo and conditioner
Soothing and long-lasting natural scent
Cons:
Can irritate some sensitive skin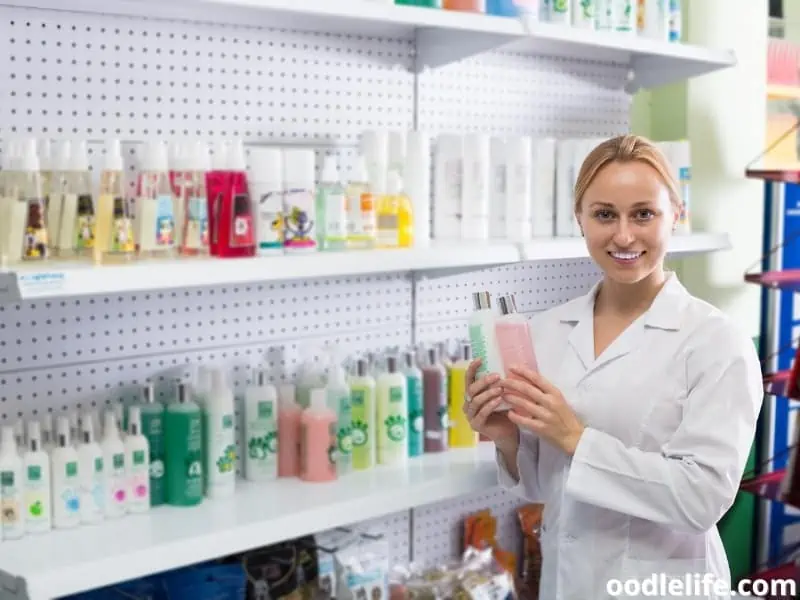 2. Moosh Natural Dog Shampoo 
Moosh's Natural Dog Shampoo is made up of natural ingredients that are gentle on your dog's skin. Effective for all kinds of fur and skin types, the shampoo maintains a perfect pH balance in your dog's coat.
Moosh Natural Dog Shampoo – Promotes Healthy Hair, Coat and Skin. Helps Hot Spots, Dry Itchy Skin. Pet Odor Eliminator – Grooming Shampoo. Shea Butter, Argan Oil, Aloe Vera, Bentonite Clay
WHY WASH YOUR 4 LEGGED LOVE ONE IN A BUCKET OF CHEMICALS? When we say Natural and Organic – We mean 100% Natural and Organic! No sulfates. No preservatives. No chemicals. and easy to rinse. ALWAYS…
ITCHY SKIN or HOT SPOTS? We are the only dog shampoo with Bentonite Clay. This clay has been known for centuries for natural healing abilities. It leaves your dogs fur squeaky clean and calm, soothed…
SKIN ISSUES? We use Argon Oil. Rich in emollients, it moisturizes, conditions and reduces skin issues and flaking. SHEA BUTTER and ALOE VERA Soothe, soften and moisturize the skin as well as leave…
ESSENTIAL OILS Leave your best friend smelling naturally great – no fake perfumes! ECO-FRIENDLY – Safe for lakes and streams as well as your dog. Remember, your dog cleans and grooms himself by…
VERY CONCETRATED – We have a reducer in the neck of the bottle which allow you to control the amount you squeeze out. (SEE VIDEO). MADE IN USA IN SMALL BATCHES – We are committed to excellence and…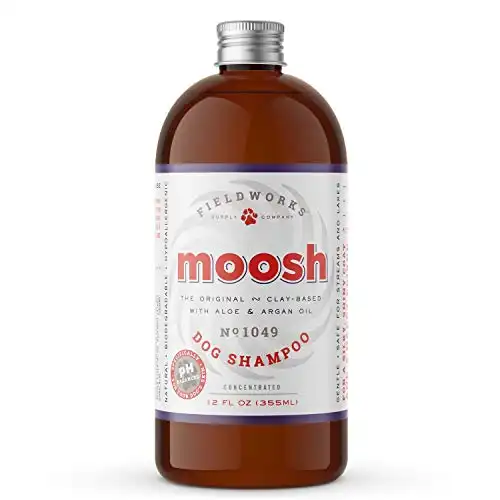 We earn a commission if you make a purchase, at no additional cost to you.
Environmentally friendly and toxin-free, the foam and lather will completely dissolve without causing any harm to the environment. This product is recommended for dogs with sensitive skin or minor skin conditions like hot spots, dry, itchy skin, and allergies. 
The main ingredients of this product are bentonite clay, aloe vera, argan oil, and shea butter, all-natural ingredients designed to be gentle on your dog's skin. 
Pros:
Environmentally friend
Offers relief for itchy skin, hot spots, and allergies
Natural product with no chemicals
Cons:
It can leave a white residue. 
It can cause shedding in some dogs.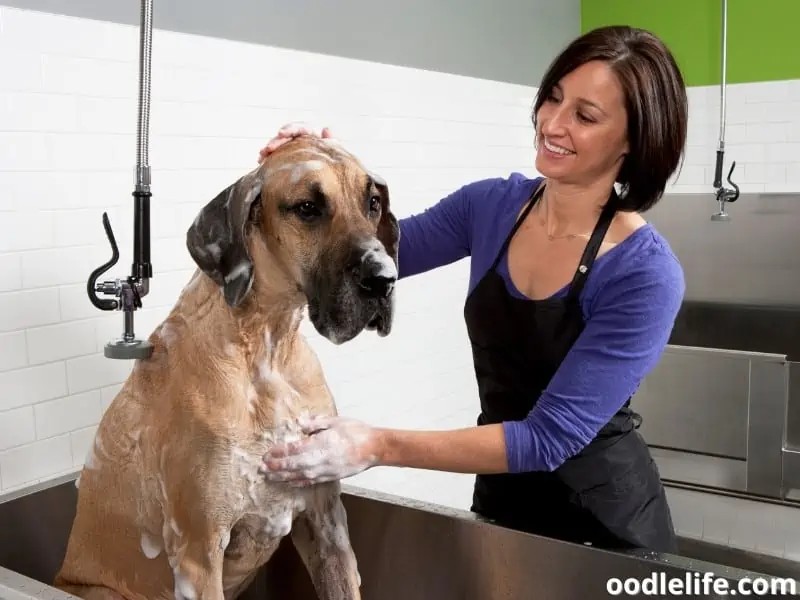 3. TropiClean Shampoo for Pets
The Tropiclean shampoo is a 2-in-1 product with all-natural and organic ingredients that give a smooth finish to the coat in addition to acting as a gentle cleaning agent. With a refreshing, sweet fragrance, this shampoo is recommended for dogs above 12 weeks. 
TropiClean Natural Flea & Tick Maximum Strength Shampoo for Dogs, 20oz – Kills Fleas, Ticks, Larva, Eggs by Contact – Soap-Free Treatment for Pest Prevention – Made with Essential Oils – Made in U…
Long-Lasting Pest Protection — Maximum Strength Shampoo helps kill fleas, ticks, larva, and eggs by contact and repels fleas for up to 7 days.
Light Fresh Scent — Clove, lemongrass, cedarwood, and cinnamon oils act as powerful pest repellents and leave a pleasant citrus aroma.
Enhanced Shipping Seal — Packaging is now spill-resistant with a reinforced cap to resist damage and an induction seal to reduce spills. NOTE: Product shipped may vary as existing inventory is…
Crafted with Care — Natural* Flea & Tick Max Strength Shampoo is tough on pests, not pets. Formula is gentle, effective, and cruelty free.
Soap Free — Gentle coconut cleanser gives TropiClean shampoos a soap-free clean, so you don't have to worry about washing away topical treatments.
We earn a commission if you make a purchase, at no additional cost to you.
From coconut to papaya, the professional standard shampoo comes in a wide range of fragrances, each with an excellent blend of botanicals and cleaning agents that will keep your dog's coat smooth and tangle-free. Some of the main ingredients include cedarwood, clove oil, chamomile oil, and lemongrass oil, all of which keep your pet's fur shiny and clean.
This shampoo can also function as a flea and tick repellent, keeping the creepy crawlies at bay naturally with a blend of essential oils that the pesky critters seem to dislike. The pest prevention effects of the shampoo last approximately seven days, and a bath with this shampoo will instantly kill any flea or tick present in your pet's coat. 
Pros:
Wide range of scents
Biodegradable
Flea and tick prevention
Cons: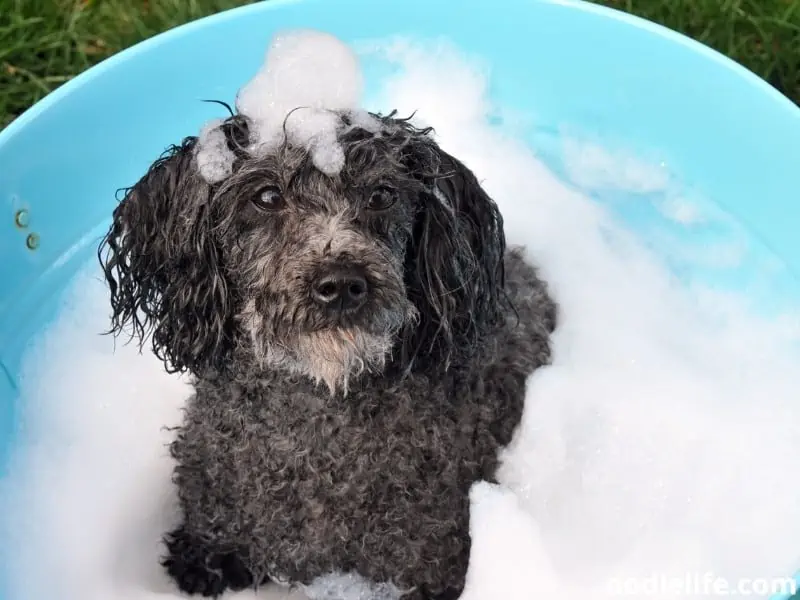 4. WAHL Dry Skin & Itch Relief Pet Shampoo for Dogs
This American-made shampoo by WAHL is free from harmful chemicals, alcohol, parabens, and PEG-80, which slowly can damage your pet's hair and coat. This oatmeal product is perfect for maintaining the ideal pH levels of your dog's coat. 
WAHL Dry Skin & Itch Relief Pet Shampoo for Dogs – Oatmeal Formula with Coconut Lime Verbena 64oz – Model 821004-050
Made in the USA – Our oatmeal formula pet shampoo is pH balanced, alcohol free, paraben free, PEG-80 free and is highly recommended for moisturizing dry skin & providing itch relief
Oatmeal Formula – This coconut lime verbena scented pet shampoo is great for moisturizing dry skin, cleaning dirty coats, & itch relief. The thick lather rinses off clean & keeps your pet looking…
Less is More – Wahl has a higher concentrate of coconut derived sodding agent, which means you don't have to use as much as other dog shampoos. A little bit of shampoo goes a long way and provides a…
Allergy Friendly – Our dog icon, Rocket, was designed in the image of our family dog Cooper – a golden doodle, who has severe allergies. This is the only shampoo we have found safe and effective. He…
The Brand Used by Professionals – Wahl has been serving professional vets and groomers for over 50 years. clean, condition fur & hair for a smooth, soft coat. We are a company of animal lovers that…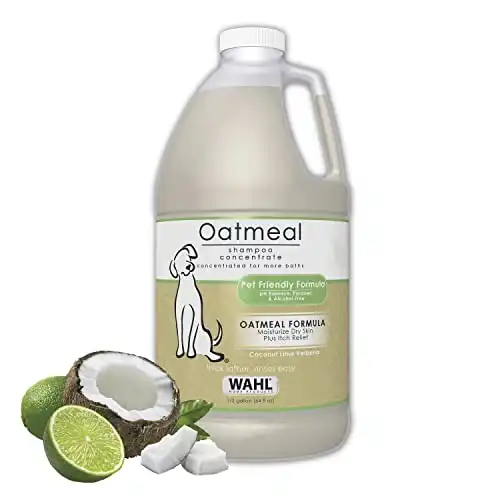 We earn a commission if you make a purchase, at no additional cost to you.
The coconut-derived agent in this shampoo is in a very high concentration than other usual shampoos, producing significantly more lather. You can use a lesser amount to bathe your dog or dilute it in 50/50 parts water. The higher coconut content will also give your dog a stronger fragrance that will last a tad longer than other similar shampoos. 
Pros:
Long-lasting scent
Larger size
A little goes a long way
Subtle fragrance
Cons:
Can be harsh on dry or sensitive skin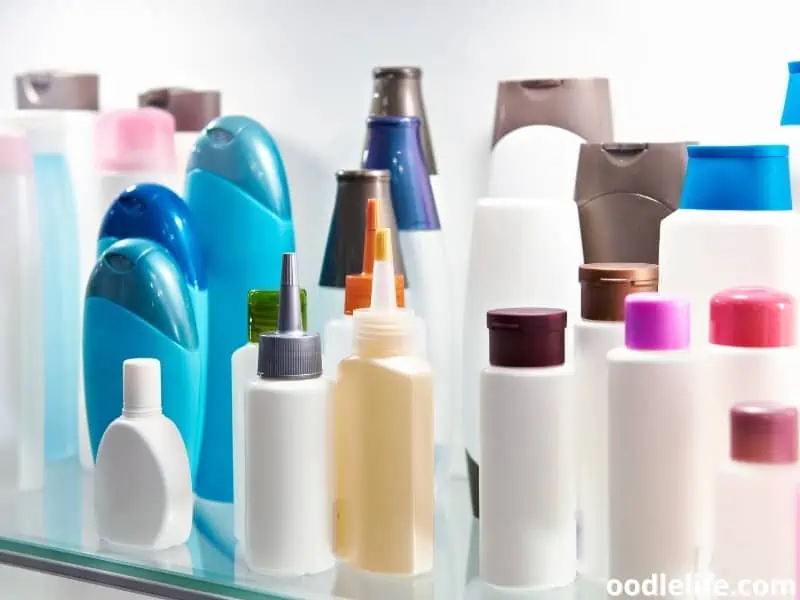 5. Skout's Honor Probiotic Pet Shampoo
This shampoo touts to be made with 97% natural live topical probiotics. It doesn't contact sulfates, parabens, triclosan, petroleum, artificially added colors, or dyes and DEA. 
Skout's Honor Probiotic Pet Shampoo (Honeysuckle) for a Healthier Skin and Coat
SUPPORTS NATURAL DEFENSES: A PH-balanced shampoo that works to naturally support against shedding, itching, dryness, hot spots, and odor.
PROMOTES A BALANCED COAT: Avocado oil and Omega-3's work to condition your pet's fur and give it a noticeably balanced and healthy shine.
PAW PLEDGE: With every bottle purchased from Skout's Honor, a rescue animal is provided with a full day's worth of meals.
100% SATISFACTION GUARANTEE: Skout's Honor provides a 100% satisfaction guarantee. If you are not fully satisfied, simply return the product for a full refund.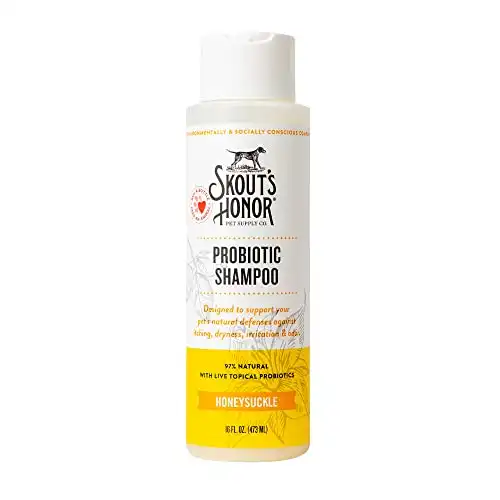 We earn a commission if you make a purchase, at no additional cost to you.
With the ideal pH balance for use on pets, it is known to improve the quality of a dog's hair, skin, and coat, working naturally on reducing shedding, itching, dryness, and hot spots. 
This shampoo not only cleans your dog but also conditions its hair. The avocado oil and omega-3s act as a natural conditioner for your dog and give your dog healthy fur by nourishing it. This product claims to clean fleas and ticks in a single wash while the moisturizing agents hydrate the fur and skin.
Skout's Honor provides a 100% guarantee of the customer's satisfaction. They will return the whole product with a full refund if the customer is unsatisfied. 
This company is also involved in charity. A rescued dog gets a whole day's worth of food with every bottle a customer buys, so be content with the knowledge that your spending will go to a worthy cause!
Pros:
2-in-1 shampoo and conditioner
Several fragrances to choose from
Top-quality nourishing agents
Cons:
Can affect dogs with sensitive skin or certain conditions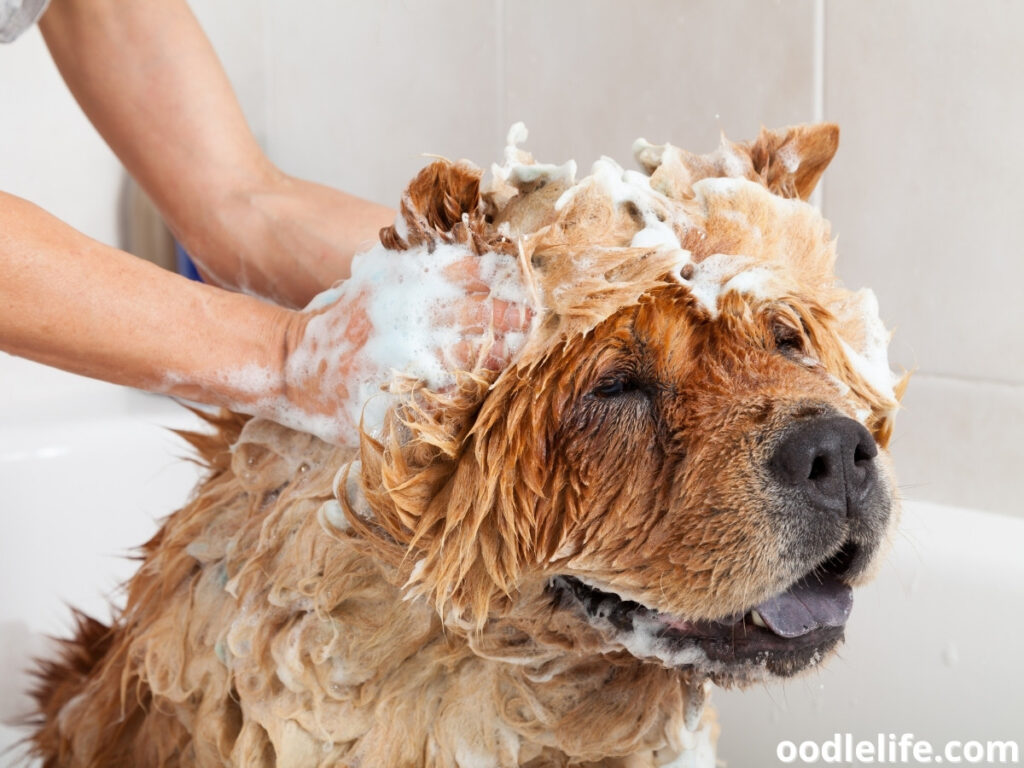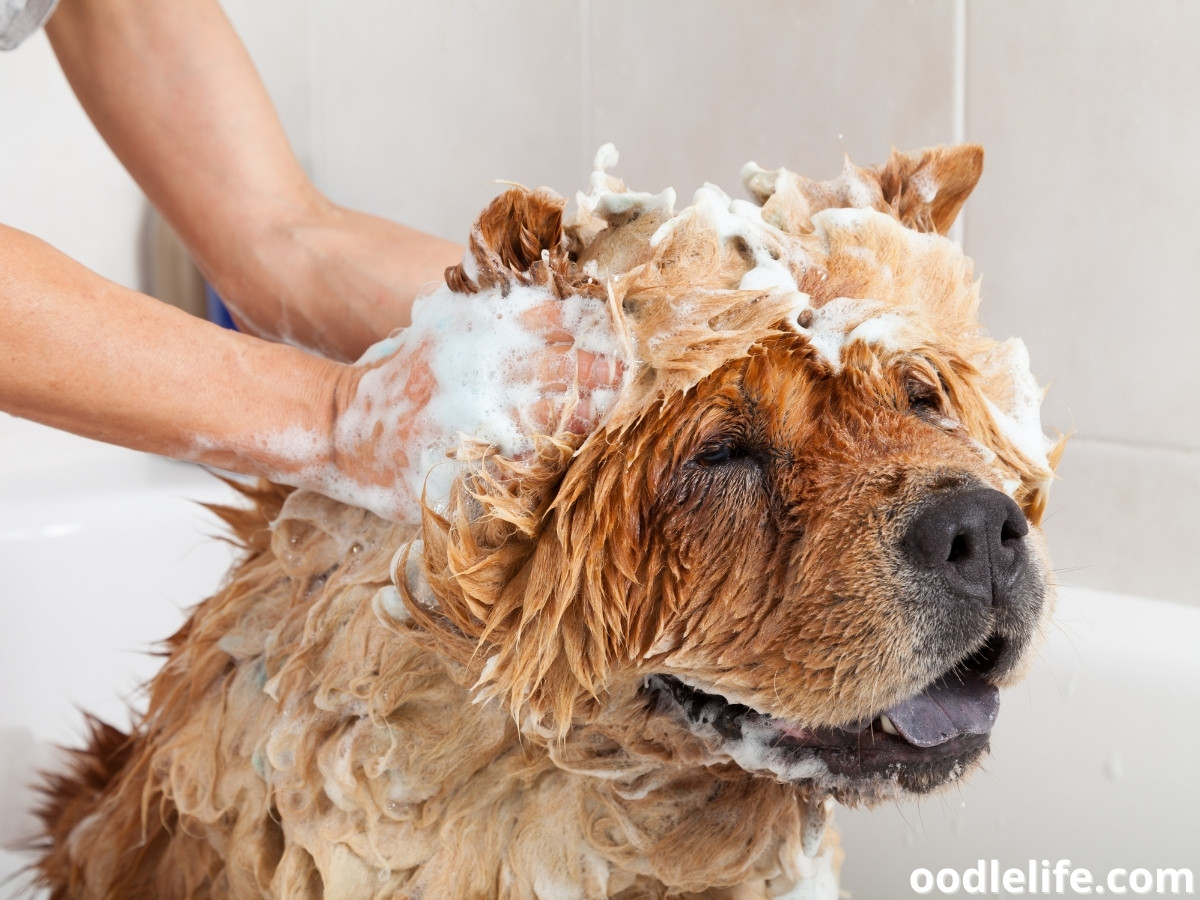 6. Burt's Bees Natural Oatmeal Shampoo
Burt's Bees Natural Oatmeal Shampoo is specifically designed to moisturize and condition dry, damaged hair. Made with a blend of oatmeal, honey, and royal jelly, this shampoo gently cleanses while infusing hair with essential nutrients. 
Burt's Bees for Dogs Natural Oatmeal Shampoo with Colloidal Oat Flour and Honey| Oatmeal Dog Shampoo, 4 Ounce Dog Shampoo to Soothe and Cleanse Dogs Skin and Coats
#1 PET GROOMING BRAND IN THE USA*- Join the millions of pet parents who can't get enough of Burt's Bees for Pets by using America's #1 pet grooming brand
SOOTHES AND SOFTENS – Burt's Bees Oatmeal Shampoo cleans, soothes, softens, and conditions your dog's dry skin and coat
MADE WITH THE HIGHEST QUALITY INGREDIENTS – This gentle formula includes ingredients like colloidal oatmeal, honey, and beeswax for sensitive skin
SUITABLE FOR ALL DOGS AND PUPPIES – This mild tearless shampoo is pH balanced especially for all dogs and puppies
SAFE AND GENTLE – This formula is free of fragrances, sulfates, colorants, and harsh chemicals
We earn a commission if you make a purchase, at no additional cost to you.
Oatmeal has long been used to soothe dry, irritated skin, and it also works wonders for the scalp. Honey is a natural humectant, meaning it helps lock in moisture, while royal jelly is rich in vitamins and minerals that promote healthy hair growth. 
This shampoo is also sulfate-free, so it won't strip away natural oil or color. If you're looking for a gentle, nourishing shampoo that will leave your hair looking and feeling its best, try Burt's Bees Natural Oatmeal Shampoo.
Pros: 
Affordable
Gentle on the skin
All-natural ingredients
Moisturizing for a shiny coat
Cons:
Doesn't lather very well
Seems diluted 
Scent-free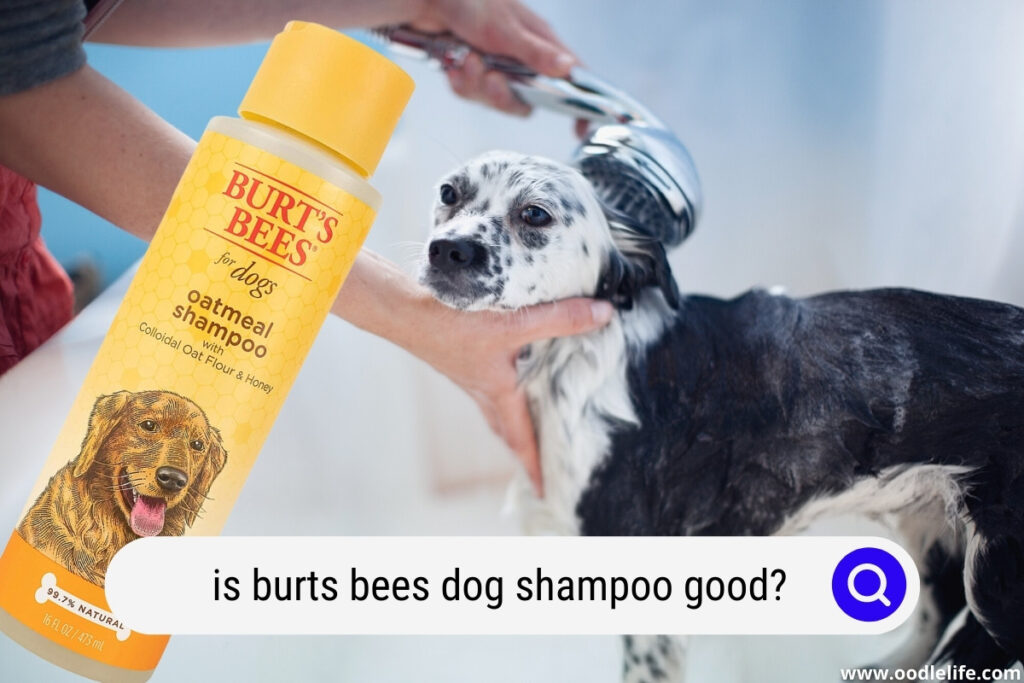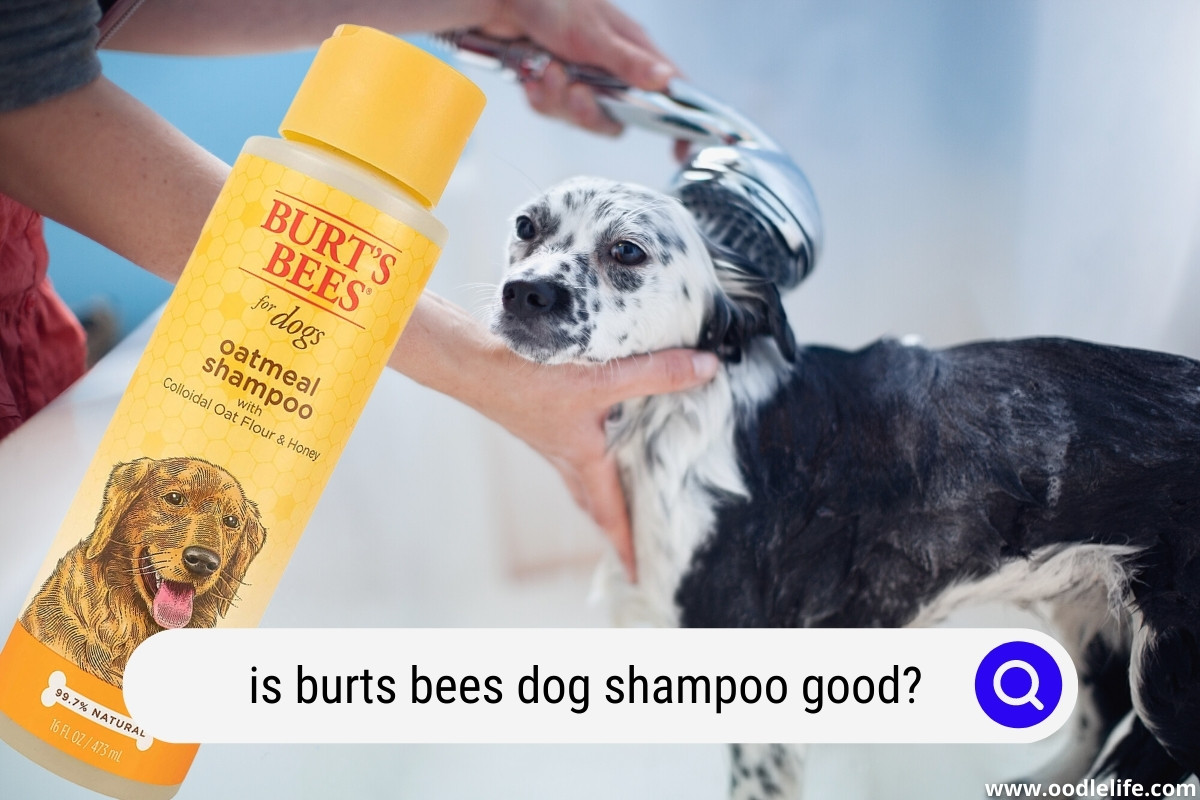 Tips On Bathing Your Dog
Always use a shampoo made for dogs, never one made for humans. Humans and dogs have different pH levels in their skin, making human shampoo too harsh. 
Get your dog used to the idea of being bathed before giving them a full bath for the first time. Start by spraying them with water and then progress to a full bath.
If you have a large dog, consider bathing them outside. Lifting a large dog in and out of the tub can be dangerous and cumbersome for both of you.
Install a non-slip mat in your bathtub so your dog doesn't slip on soapy water and hurt himself. 
When shampooing your dog, always start by wetting their fur thoroughly and then massaging the shampoo into their coat. 
Be sure to avoid their eyes and ears, and rinse their coat thoroughly after shampooing otherwise the leftover shampoo can irritate their skin.
Have everything you need within reach before starting the bath so you don't have to leave your dog unattended.
Once you're done, towel down your dog, and then get out of the way! Your dog is likely to zip around the home with the "zoomies!"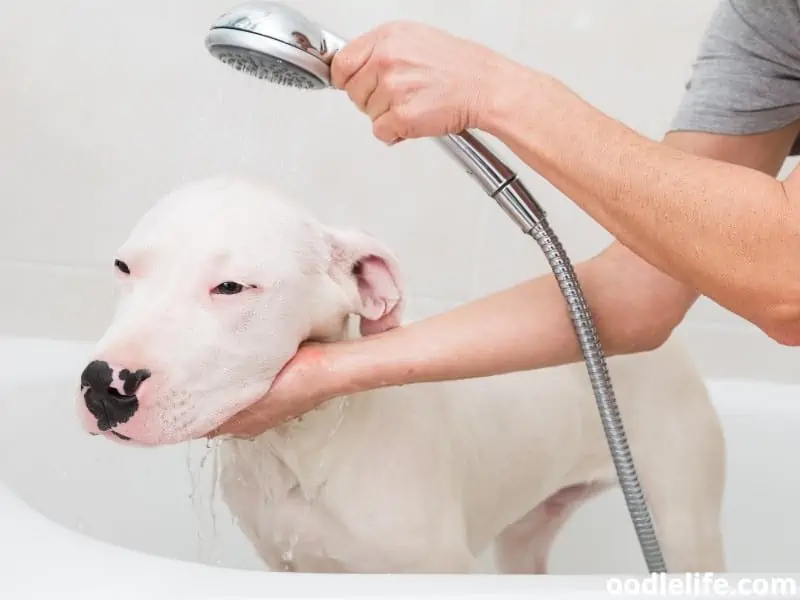 Final Thoughts 
So there you have it. Plenty of choices for you to choose from for a professional-grade bath for your beloved pooch. 
Just remember that dogs come in all shapes and sizes, and their coats can vary widely in texture and thickness. By taking the time to select the right shampoo, you can help keep your dog's coat healthy and looking its best! 
I am broadly interested in how human activities influence the ability of wildlife to persist in the modified environments that we create.
Specifically, my research investigates how the configuration and composition of landscapes influence the movement and population dynamics of forest birds. Both natural and human-derived fragmenting of habitat can influence where birds settle, how they access the resources they need to survive and reproduce, and these factors in turn affect population demographics. Most recently, I have been studying the ability of individuals to move through and utilize forested areas which have been modified through timber harvest as they seek out resources for the breeding and postfledging phases. As well I am working in collaboration with Parks Canada scientists to examine in the influence of high density moose populations on forest bird communities in Gros Morne National Park. Many of my projects are conducted in collaboration or consultation with representatives of industry and government agencies, seeking to improve the management and sustainability of natural resource extraction.