Humpback whales are huge and beautiful mammals that live in the ocean. They are named for the hump on their backs and are known for their breaking behavior. These gigantic whales are often 50 feet long and weigh between 40 and 100 tons. Their enormous size begs the question, what do humpbacks eat? After all, they have to maintain their large size and propel themselves through water, which requires a lot of energy.
We'll explore what foods humpback whales eat most, how they find food, and whether they pose a threat to humans on the high seas.
What food do humpback whales eat?
Humpback whales eat plankton, fish and crustaceans. They are omnivorous and feed on animals and plants. These mammoth creatures must consume large amounts of food each day as part of a massive diet.
Some of the foods that humpback whales eat are:
These are the most common foods humpback whales eat in the ocean. Roughly the size of a school bus, humpbacks consume an average of 3,000 to 5,000 pounds of food per day. However, most of the foods on this list are very small.
When you consider that their staple food, krill, averages only 2 inches long, it becomes clear that these whales must devour a large number of creatures to meet their dietary needs.
How do humpback whales hunt?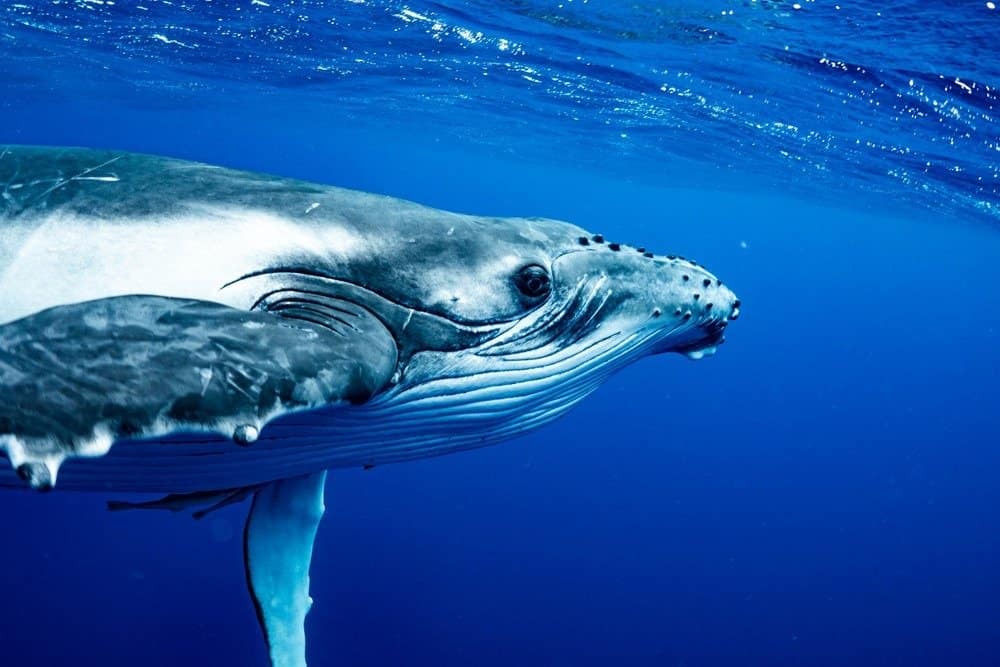 As we've already said, humpback whales need to eat large amounts of food each day to maintain proper nutrition and the energy levels needed to move their huge bodies. How do they find and eat enough krill and other small fish to make this happen? It's a fair question, and when you add the fact that these whales are hard to ignore from a prey standpoint, it becomes even more interesting.
Humpback whales can hunt together as a group and participate in a process known as "bubble netting." Basically, a pod of whales will surround a school of fish from below and start blowing bubbles, forming a vertical cylindrical ring, causing the school to tighten into formation.
Once the fish are properly fenced, the whales take turns swimming past the fish and devouring them. The whales themselves use filter feeding, catching available fish with setae in their mouths while filtering out the water.
Bubble nets are just one possibility for humpback whales to forage. Sometimes, whales will use their fins to surround their prey and hunt the entire group alone.
Humpback whales are highly successful hunters, consuming thousands of pounds of food each day during the warmer months so they can store enough fat to survive the winter.
What do baby humpback whales eat?
Humpback whales are mammals that give birth to live young after a long gestation period of almost a year. These babies, called calves, weigh more than a thousand pounds at birth, but they're not quite ready to eat in the same way as their mothers.
For the first 8 months to a year of their life, calves will receive milk from their mother. Unlike other mammals, calves do not cling to their mothers. Instead, the whale will position itself at a 30-45 degree angle to the mammary glands of other whales, and the mother will squirt thick, yogurt-like milk into the baby's mouth.
The milk is made from 40% to 60% fat, and calves can drink more than 150 gallons of milk per day. During the first year, the calf will continue to grow by nearly a foot a month. In most cases, however, they are weaned after about seven months.
Are humpback whales a danger to humans?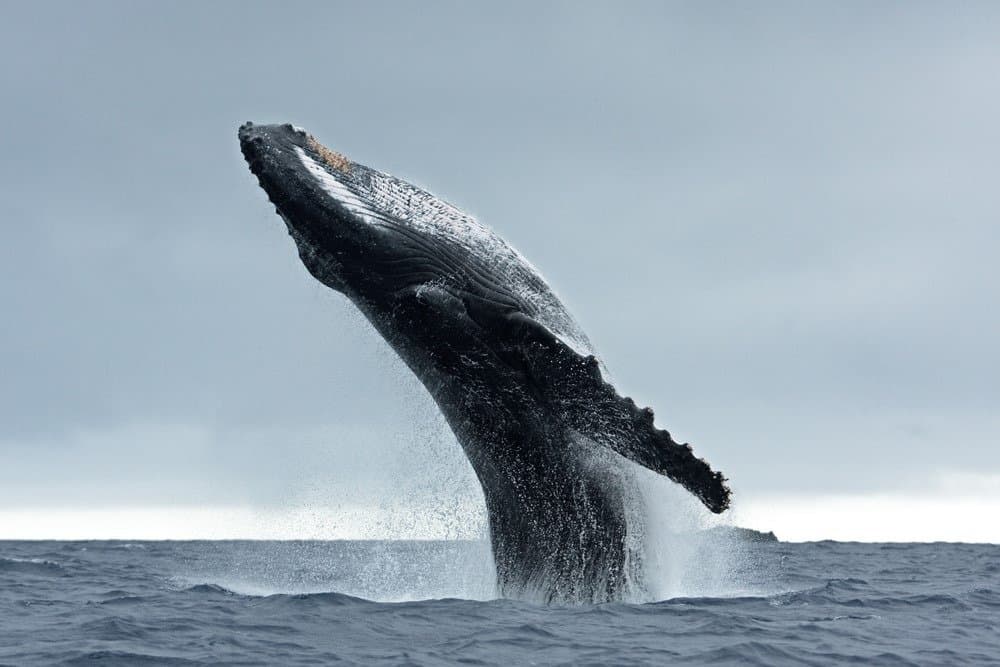 The sheer size of humpback whales is enough to cause fear in people. This has led many to ask, can humpback whales kill people?
Humpback whales are fairly intelligent creatures and will not be overly aggressive. Their large size scares away almost all predators, as a flick of their tail can end many sea-dwelling creatures.
Still, stories of humpback whales "eating" humans abound, including the story of a lobster diver who was swallowed by a humpback and spit to the surface.
However, in this case, and probably in every other case where someone was "swallowed," they were actually left in the whale's mouth until it realized they had caught a non-prey. The throat of a humpback whale is not big enough to swallow a human. So the diver's case was one of accidental engulfment rather than attempted homicide, and the man was certainly not engulfed.
Whales can kill humans in the strictest sense, but they are not a real danger to humans unless an unusual accident occurs.
What predator eats humpback whales?
Humpback whales are large enough to defend themselves against most predators. Most creatures in the ocean simply cannot hope to kill a humpback, even a young one, without risking serious injury or death.
However, as with any living thing, some animals do prey on humpback whales, even if this is rare. Consider the following humpback whale predators:
These creatures are most likely to kill whales. Much of human whaling has been outlawed, but human hunting, transportation, and pollution kill whales. In the case of orcas, tiger sharks, and great whites, they can all kill humpbacks. However, they either require uncanny wits, luck, or a group of friends to defeat them.
It only takes a humpback to attack with its tail, but most of these creatures die. In some cases, a single shark hunted down a lone whale, resulting in too many bites for the whale to overcome. However, this is very rare.
The humpback whale is a creature with a large and varied appetite. These omnivores mainly feed on krill and other small fish, but they also filter on large amounts of plankton and molluscs. Although they are large, they are not a threat to humans. In fact, the opposite is true, as humans remain the main threat to these whales today.
I am broadly interested in how human activities influence the ability of wildlife to persist in the modified environments that we create.
Specifically, my research investigates how the configuration and composition of landscapes influence the movement and population dynamics of forest birds. Both natural and human-derived fragmenting of habitat can influence where birds settle, how they access the resources they need to survive and reproduce, and these factors in turn affect population demographics. Most recently, I have been studying the ability of individuals to move through and utilize forested areas which have been modified through timber harvest as they seek out resources for the breeding and postfledging phases. As well I am working in collaboration with Parks Canada scientists to examine in the influence of high density moose populations on forest bird communities in Gros Morne National Park. Many of my projects are conducted in collaboration or consultation with representatives of industry and government agencies, seeking to improve the management and sustainability of natural resource extraction.