More exciting content:
Why did the Caspian tiger become extinct?
10 Incredible White Tiger Facts
How many tigers are left in the…
Siberian Tiger vs Bengal Tiger: What is…
Tiger Lifespan: How Long Do Tigers Live?
↓
Read on to watch this amazing video
Both tigers were eyeing the same meal, and neither was ready to give up. It may look as if they are engaged in a tug-of-war with the iguana, but they are actually behaving completely normal for a predator and are trying to get nutrients for themselves. In this way, the two sides will fight each other!
Captive Tiger Nutrition
There are captive tigers like the one in this video all over the world. Wild animals in captivity have very specific care needs and it is vital that specialists be involved in their care.
Tigers are members of the cat family and are the largest cats in the world. An adult tiger can grow up to 660 lbs. Animals of this size need a lot of food, but the type of food is also important.
Tigers require a high-protein and high-fat diet that contains adequate amounts of retinol, arachidonic acid, taurine, and niacin. Experts also found that tigers performed better if they fasted for one or two days a week. This increases their appetite and overall nutrient intake. It mimics the way tigers forage in the wild, since they don't hunt every day. So feeding captive tigers is not just about nutrition, it's about developing behaviors they would exhibit in the wild. This includes tearing up prey, and many captive tigers are fed beef, chicken and rabbit carcasses.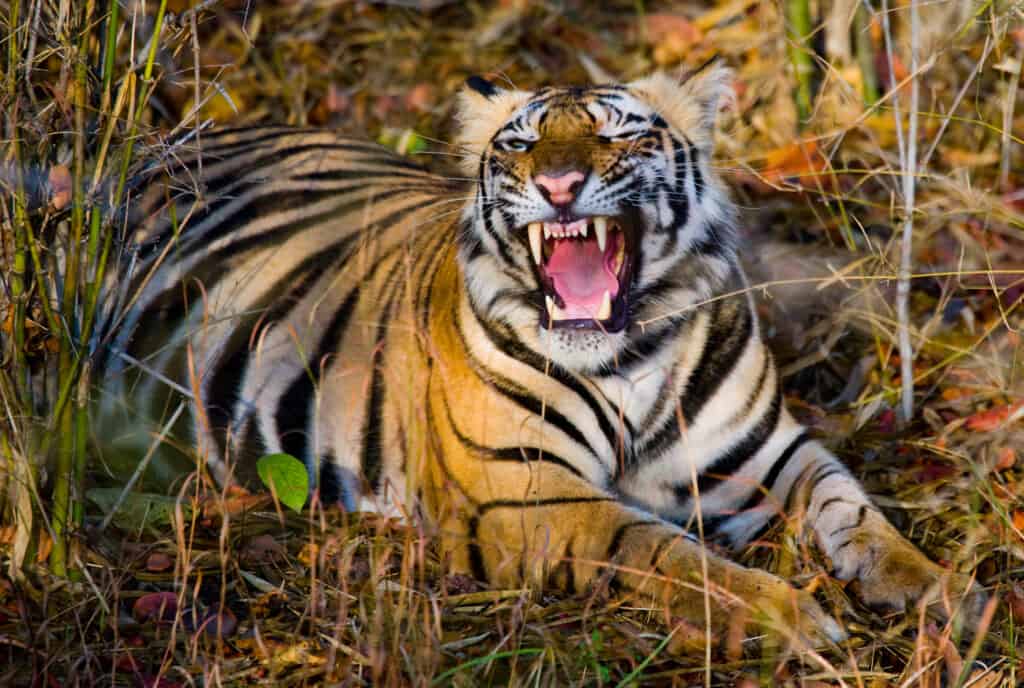 tiger foraging in the wild
So, what do wild tigers eat? Tigers are carnivores and usually hunt their prey at night. They are solitary animals that can live in a variety of climates from cold to temperate. Tigers have the strength, speed and skill to catch and kill a range of different animals, but most tigers eat deer, buffalo and pigs.
They are ambush predators (such as pet cat) so they find a good hiding place and jump out to subdue their prey. Tigers can kill large animals by knocking them down and biting them by the nape of the neck or throat through sheer force. They're also very fast and agile – they can reach 40 miles per hour in short bursts and leap up to 33 feet in the air! As we can see from this video, they love tug of war too!
Next:
Watch a tiger heroically leap for dinner in slow motion
Watch desperate tiger challenge adult elephant
Watch a tiger escape a circus show and wreak havoc
I am broadly interested in how human activities influence the ability of wildlife to persist in the modified environments that we create.
Specifically, my research investigates how the configuration and composition of landscapes influence the movement and population dynamics of forest birds. Both natural and human-derived fragmenting of habitat can influence where birds settle, how they access the resources they need to survive and reproduce, and these factors in turn affect population demographics. Most recently, I have been studying the ability of individuals to move through and utilize forested areas which have been modified through timber harvest as they seek out resources for the breeding and postfledging phases. As well I am working in collaboration with Parks Canada scientists to examine in the influence of high density moose populations on forest bird communities in Gros Morne National Park. Many of my projects are conducted in collaboration or consultation with representatives of industry and government agencies, seeking to improve the management and sustainability of natural resource extraction.