More exciting content:
Why did the Caspian tiger become extinct?
10 Incredible White Tiger Facts
How many tigers are left in the…
Siberian Tiger vs Bengal Tiger: What is…
Tiger Lifespan: How Long Do Tigers Live?
↓
Read on to watch this amazing video
Becoming a zookeeper or animal specialist is a rewarding job. You can spend time with wildlife that many people can only see from afar. A man who has worked with big cats knows how special his job is to him.
In one video, you see various big cats relaxing in the sun as the gentleman speaks to the camera. If you watch what's going on in the background, you'll eventually spot a leopard charging at the man.
It's part of the job. Although training and education are available for these animals and their handlers, this does not prevent these cats from becoming feral. No matter how long an animal has been in captivity, it still has natural instincts.
As the leopard made its way towards the man, a protective tiger swooped in and saved the day. Both cats eventually ran up to the keeper, who slapped the leopard's powerful paw away. Leopards stalk their prey from several feet away, poised to attack as it moves in their direction.
Once the target comes within striking distance, it destroys it in a single, quick, vicious move, usually by grabbing the neck and snapping it. Smaller vertebrates, such as mice, can accomplish tasks with just a flick of their paw.
The leopard's ability to run at nearly 40 mph gives it a distinct advantage when hunting. From three to four months old, hunting becomes more adept for young leopards.
Big Cats, Small Environments
One of the most recognizable big cats in the world is the tiger, and we've learned more and more about it over time. Because of their habitat diversity, tigers often come into contact with other big cats, such as leopards. However, are these felines just another food for tigers?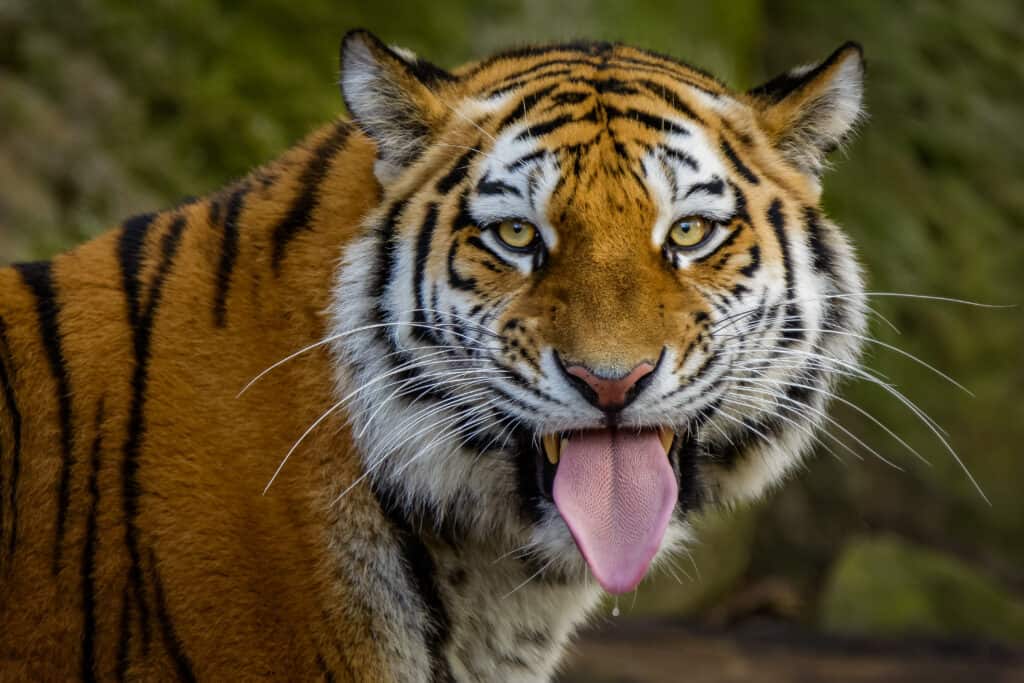 Three different leopard species share territory with tigers. These include the common leopard as well as the closely related clouded and snow leopard species. Each species is much weaker than a tiger, which makes them extremely prone to conflict.
Leopards and tigers occasionally engage in interspecies battles, but most of the time they make sure to keep their habitats away from each other. They may cross the road if there is a shortage of food or mates, but they will only attack if there are not enough food sources for all of them.
In a battle between a leopard and a tiger, no matter which species fights the other, the tiger will almost always emerge as the winner. Fortunately, the fight was not too intense, and everyone was safe and sound!
next
This tiger stops for a drink before a bully elephant strolls by
Bambi made a big mistake and ran straight into the tiger
The next-level leopard somehow caught an eagle
This Leopard Caught a Warthog, Then a Lion Appeared
I am broadly interested in how human activities influence the ability of wildlife to persist in the modified environments that we create.
Specifically, my research investigates how the configuration and composition of landscapes influence the movement and population dynamics of forest birds. Both natural and human-derived fragmenting of habitat can influence where birds settle, how they access the resources they need to survive and reproduce, and these factors in turn affect population demographics. Most recently, I have been studying the ability of individuals to move through and utilize forested areas which have been modified through timber harvest as they seek out resources for the breeding and postfledging phases. As well I am working in collaboration with Parks Canada scientists to examine in the influence of high density moose populations on forest bird communities in Gros Morne National Park. Many of my projects are conducted in collaboration or consultation with representatives of industry and government agencies, seeking to improve the management and sustainability of natural resource extraction.