↓ Read on to watch this amazing video
key point
The Border Collie remains the number one working farm dog. These bright, energetic working dogs need a job to be happy. If you can't give them one, they'll make it up themselves.
Not all working dogs are herding dogs. Other common jobs include flock guardians and rodent exterminators.
Farm dogs love their jobs and are still an important part of working farms.
Hundreds of years ago, before they were generally accepted as domestic companions and members of the family, dogs had many practical roles around the homestead or farm; they were bred for herding, protection, hunting, and other demanding tasks. Many are still used for this purpose today. A good farm dog breed must possess several important attributes, including a keen intellect, a strong body, great energy and a work ethic. Many are also very loyal and friendly. This article will look at some of the most common farm and ranch dog breeds in the world.
#10: Jack Russell Terrier
If you are looking for capable pest hunters, then the intelligent and robust Jack Russell Terrier is the perfect choice for you. These alert, lively dogs were originally bred in 1800s England to hunt foxes and badgers (hence their amazing talent for digging up dirt), but they also love to hunt and kill rodents. Once freed around the farm, they should keep the property free of disease-carrying pests. Other alternatives to the Jack Russell include rat terriers, collie terriers, Scottish terriers and other small, hardy dogs.
These dogs can make great pets, but their natural predatory appetite is very high. If you keep terriers as pets, you'll need to find the right outlet for their tenacity and drive. Many kennel clubs have started staged "barn hunts," in which dogs look for hidden objects to simulate a hunt. There are also urban rat clubs that get together to let their ferocious little hunters practice their skills.
#9: Great Pyrenees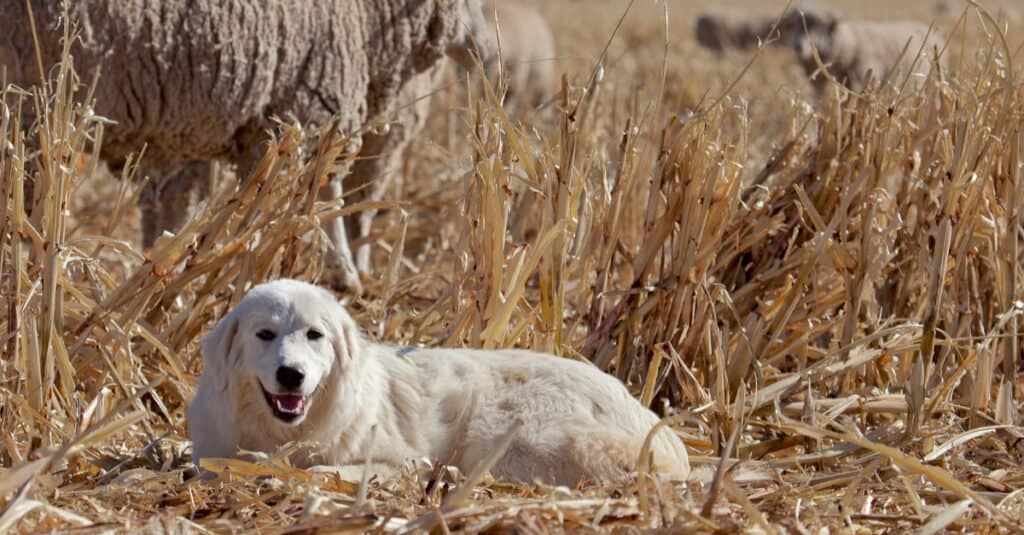 Originating on the French side of the Pyrenees near the Spanish border, the Great Pyrenees is a huge livestock guardian weighing at least 85 pounds and reaching a height of 32 inches at the shoulder. Covered in a thick, all-white coat, this breed is well insulated from harsh environmental conditions such as snow and freezing temperatures. It's primarily good at one task: tending cattle to keep dangerous animals like wolves and bears at bay. Best described as gentle giants, they are surprisingly laid back, calm, and patient given their large size, making them great companions around the family. They are also good dogs for chickens, sheep and animals of this nature.
Another livestock guardian dog is the Maremma. They are similar in size and color, but slightly lighter in build. These dogs have a natural way with all kinds of livestock. While they can make great pets, they are only happy when they have a job to do. There are no livestock or farms to watch over and they will do the same for your home. It sounds like a great thing, but they bark to keep predators away. Neither of these are the best options if you live in the suburbs or an urban area.
#8: Anatolian Shepherd
Anatolian Shepherd Dog name is a misnomer. This huge breed (up to 150 pounds) is no sheepdog at all. Instead, it's another livestock guardian. Independent, territorial, and protective dogs will often occupy an elevated position to watch over the entire herd below. It can even keep an eye on larger herds in groups. An ancient breed dating back thousands of years, it is also known outside the United States as the Kangal Shepherd Dog. Kangal is a small town in the Sivas region of central Turkey, where it originated. They also tend to be good dogs for chickens, sheep, and other livestock.
#7: Dutch Shepherd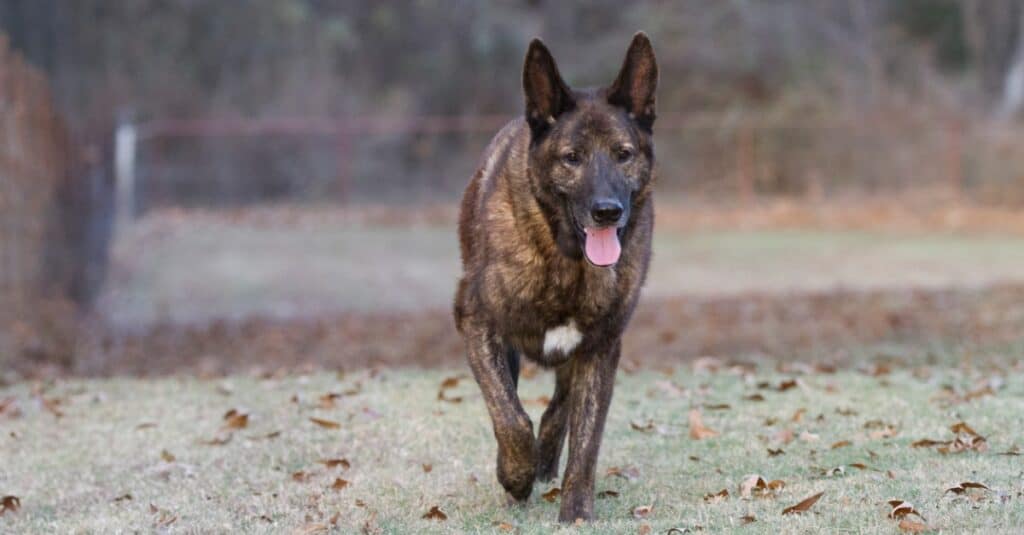 A close relative of the German Shepherd, this breed is remarkably intelligent, loyal, independent, alert and versatile. It was originally developed over centuries to keep livestock off roads and crops. It can also pull carts and guard farms. Dutch Shepherds weigh between 45 and 75 pounds and come in three different breeds: short-haired, long-haired and coarse-haired. All of these have beautiful brindle coats mixed with gold or silver fur. These dogs are easier to train than German Shepherds. However, they are very active, intelligent dogs that need a lot of exercise and mental stimulation.
#6: Old English Sheepdog
With its peek-a-boo hairstyle and long, shaggy coat in a contrasting black and white pattern, the Old English Sheepdog is a strong, muscular breed that can weigh up to 100 pounds. Intelligent, loyal, and docile, he was originally bred in the late 18th century from a mix of various European dogs for herding and moving livestock between pastures and towns. Herding behavior is so ingrained in its temperament that the dog may even try to herd people and other animals, which can be gently discouraged with proper training. They also really enjoy people's company, although you should be around children to observe them. These dogs feel it is their job to keep livestock quiet. They may want to do the same to the running, screaming child. You may fall in love with its confident, charming personality.
These dogs do require very extensive grooming, and ideally a full body shave should be done at least twice a year.
#5: German Shepherd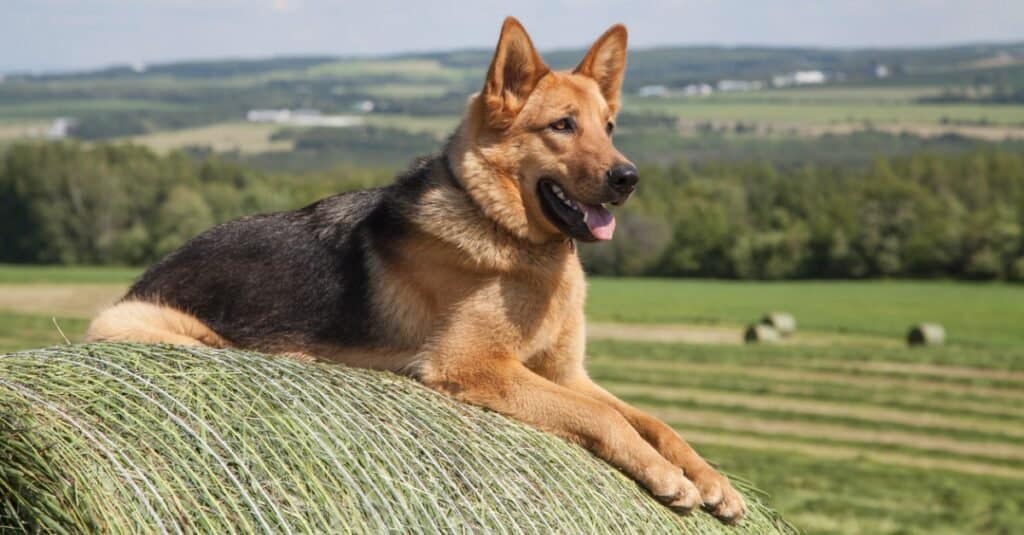 Originating at the end of the 19th century, the German Shepherd is one of the most intelligent and versatile dog breeds in the world. Although today it is primarily used for police work, patrolling, and search and rescue, it is still adept at its original tasks of herding and guarding livestock. Loyal, courageous, and confident to the end, the German Shepherd is perhaps the ultimate all-purpose dog. It is characterized by a strong, muscular body (it can weigh up to 90 pounds) and a regal demeanor. Black and tan is the most common color combination, but blue, sable, white, and more are also available.
The American Kennel Club claims this dog is the second most popular breed in the country. As long as it is given enough physical and mental stimulation, it will be a good companion for all kinds of families.
#4: Australian Cattle Dog
Also known as the Blue Heeler or Queensland Heeler for its tendency to bite the heels of livestock, the Australian Cattle Dog originated as a cross between wild dingoes and collies in the 19th century. The result is a strong, muscular shepherd with great strength and energy reserves and a good gait. These dogs are loyal, intelligent, and eager to please their owners. While they do have tremendous talents in hunting and guarding livestock, this breed is best at moving around pastures and herding cattle. These dogs are born with a white coat that eventually develops a blue-gray or red coat with a mottled pattern. They usually weigh between 35 and 50 pounds.
Like most collies, these very intelligent athletes do best with lots of exercise and work to do.
#3: Pembroke Welsh Corgi
Originating in Pembrokeshire, Wales, the Corgi has inherited the traits of dwarfism, resulting in a low body and short legs. Despite its small size, the Welsh Corgi is a strong, athletic, muscular dog that drives livestock by biting its heel. Fearless and vigilant, they are also great dogs for protective and guarding duties. Many people around the world (including Queen Elizabeth II) adore these intelligent, friendly and whimsical dogs purely for their companionship. The thick mid-length double coat comes in fawn, red, burgundy, black and tan with or without white markings.
You can read more about the Pembroke Welsh Corgi here.
#2: Australian Shepherd
Not only is the Australian Shepherd one of the most gifted ranch dogs, it's also one of the most popular breeds in America. Originating from strong European bloodlines and then perfected in California, this breed is highly intelligent, outgoing, and work-oriented with great reserves of energy. Weighing up to 65 pounds, the Australian Shepherd is characterized by a long double coat, blue or red merle or solid black or red with some markings. They'll make great companions around the house as long as you provide them with enough exercise and stimulation.
#1: Border Collie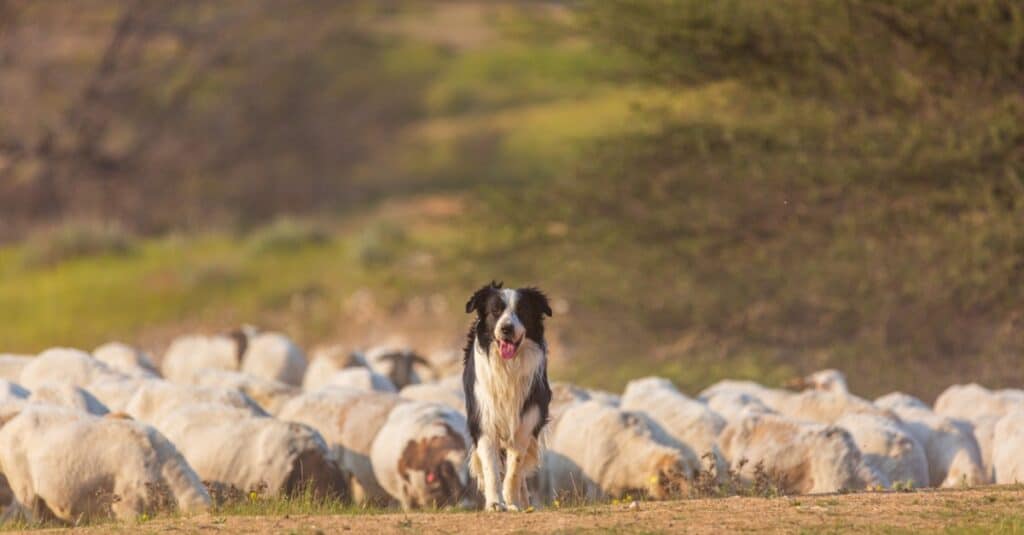 Bred for centuries near the Scottish border from a mix of Roman Sheepdogs and Viking Sheepdogs, the Border Collie is a medium-sized breed, weighing between 30 and 55 pounds. The combination of athleticism, loyalty, obedience and tremendous working intelligence make this one of the most popular farm dog breeds in the world. It is characterized by a long rough or smooth double coat (depending on your preference) and comes in a variety of different colors including black, blue merle, lavender, gold, brindle and more. These very affectionate, eccentric and playful dogs – often confused with the Australian Shepherd – have a strong work ethic and drive. Border Collies may not be the best choice as a family pet, as they may try to herd children, cats, or other animals.
These dogs are pretty much a necessity on many farms, and they won't be happy unless they have work to do. If you don't offer that job, they'll invent one for themselves. This could be chasing cars, obsessing over a Frisbee, herding kids, or any other active imagination a Border Collie can imagine. Border Collies are also good at active sports like agility and flyball or Frisbee.
Keep in mind that in some countries there is no difference between the different types of collies, while in other countries each collie may be completely different.
You can read more about Border Collies here.
According to our research, the 10 breeds of ranch dogs are as follows:
| | Variety |
| --- | --- |
| 1. | border collie |
| 2. | australian shepherd |
| 3. | Pembroke Welsh Corgi |
| 4. | australian cattle dog |
| 5. | german shepherd |
| 6. | old english sheepdog |
| 7. | dutch shepherd dog |
| 8. | great pyrenees |
| 9. | great pyrenees |
| 10. | jack russell terrier |
next…
Ready to discover the top 10 cutest dog breeds in the world?
How about the fastest dogs, the biggest dogs, and those who are – quite frankly – just the kindest dogs on earth? Every day, AZ Animals sends out lists like this to our thousands of email subscribers. The best part? free. Join today by entering your email below.
I am broadly interested in how human activities influence the ability of wildlife to persist in the modified environments that we create.
Specifically, my research investigates how the configuration and composition of landscapes influence the movement and population dynamics of forest birds. Both natural and human-derived fragmenting of habitat can influence where birds settle, how they access the resources they need to survive and reproduce, and these factors in turn affect population demographics. Most recently, I have been studying the ability of individuals to move through and utilize forested areas which have been modified through timber harvest as they seek out resources for the breeding and postfledging phases. As well I am working in collaboration with Parks Canada scientists to examine in the influence of high density moose populations on forest bird communities in Gros Morne National Park. Many of my projects are conducted in collaboration or consultation with representatives of industry and government agencies, seeking to improve the management and sustainability of natural resource extraction.