More exciting content:
Scientists Discover New World's Largest Omnivore –…
Watch a great white shark stalk…
The 7 most aggressive sharks in the world…
The great white fish jumps from the water to the…
Drone footage captures Boogie Boarder at…
Discover the Real Life Great White Shark – 30ft Large…
↓
Read on to watch this amazing video
When one thinks of the world's most powerful animals, it's hard to imagine a fish that belongs on that list. However, the great white shark may just be the most perfect killing machine in the world today. This shark threatens the waters, hunting down its prey with relentless precision. Great white sharks are not alone in the ocean, though. Tiger sharks also lurk in the deep sea, feeding on a variety of creatures and using their camouflage to hunt their prey. What would happen if the two animals fought? We'll check out the tiger shark vs. great white shark fight and show you the winner!
Comparing Tiger Sharks and Great White Sharks
tiger shark
great white shark
size
Weight: 850lbs-1,400lbs
Length: 10-14 feet
Weight: 2,000lbs-5,000lbs
Length: 18ft – 26ft
speed and movement type
– 20 mph
– Higher burst speed when approaching prey, approaching 30 mph
– 15 mph-25 mph
– side to side movement of the tail and body undulations.
defense
– size
– speed
– Stripes that provide camouflage when under prey
– large size
– A burst of swimming speed
– Help it spot or avoid other animals' powerful senses
offensive ability
– Has 48 teeth
– Broad serrated teeth
– Has a strong bite, but not as strong as a great white shark
– Teeth length 1.5in-2in
– 4000 PSI bite force
– There are about 50 teeth in the first row for bite, but there are 300 teeth in total
– Teeth 2-4 inches long
– Use speed, size and raw power to inflict devastating damage on prey
predatory behavior
– Ambush predators that move slowly while hunting and then quickly overwhelm their prey
– Rely on their camouflage to get closer to prey
– Both an opportunistic and an ambush predator, often attacking from below enemies
What is the main difference between a tiger shark and a great white?
The biggest difference between tiger sharks and great whites is their shape and size. The great white shark is a giant cartilaginous fish weighing up to 5,000 pounds and 20 feet long with a pointed head, dark gray top, white belly and even-length caudal fin. The tiger shark is a massive fish weighing up to 1,400 pounds and 14 feet long with a blunt wedge-shaped head, upper caudal fin longer than the bottom, and a gray body with tiger-like stripes on top.
23,935 people failed this quiz
do you think you can
These differences are important, and they help us distinguish these animals. However, we'll have to take a closer look at these animals to determine which of them is the true top predator in the water.
What is the key factor in the fight between the tiger shark and the great white shark?
The biggest factor in the fights between tiger sharks and great whites all comes down to their physical fitness. These sharks are similar in how they hunt and kill, so we had to drill down to see which animal had the biggest advantage in size, speed, defense and attack. Let's see how these animals compare.
Tiger Shark vs Great White Shark: Size
Great white sharks are bigger than tiger sharks. A great white shark can weigh between 2,000 and 5,000 pounds and in some cases reach over 20 feet. Bigger sharks may be in the ocean right now! Tiger sharks are still large creatures. They weigh an average of 1,400 pounds and can reach a length of 14 feet. The largest tiger shark on record weighed 1,700 pounds and was 13 feet long, but it was tiny even compared to the great white.
Jaws have a size advantage in this fight.
Tiger Shark vs Great White Shark: Speed ​​and Movement
Great white sharks have a higher speed of observation compared to tiger sharks. Great whites can reach speeds of up to 25 miles per hour in the water, but tiger sharks can move at around 20 miles per hour and may burst at higher speeds. However, neither species of shark can maintain this speed for long.
Jaws has a speed advantage.
Tiger Shark vs Great White Shark: Defense
Great white sharks use their speed, size and senses to keep them safe in the water. It can often tell what's nearby thanks to its Lorenzini ampulla, the organ that allows them to sense the electrical currents of their prey.
Tiger sharks are similar in that they rely on size and speed to fend off threats, but with better camouflage on the top of their bodies. As their name suggests, tiger sharks have stripes that make them difficult to spot when prey look down on them.
Tiger sharks have better defenses because their camouflage is even better than that of great white sharks.
Tiger Sharks vs Jaws: Offensive Capabilities
Few animals in the world can match the bite force of the Great White Shark, which is estimated to have a bite force of up to 4,000 PSI. The shark's teeth are up to 4 inches long and 2 inches wide, which enhances the shark's bite ability.
With more than 300 sharp, jagged teeth in their mouths, a bite from a great white can be instantly fatal. Their senses, intuition, speed and strength also affect their attacks.
Tiger Sharks are also mighty, but they only have 48 teeth to bite, and they're only 2 inches long! The teeth are broad and serrated, perfect for taking a bite out of prey.
Tiger Sharks vs. Great White Sharks: Acts of Predation
Great white sharks are amazing predators. They can be opportunistic or ambush predators, preferring to strike from deep in order to attack the vulnerable parts of a creature. Tiger sharks use their camouflage very well to ambush prey from deep. However, they are very careful when attacking, and will crawl close to their prey before striking.
Both species of sharks are equally effective at hunting prey.
Who would win in a fight between a tiger shark and a great white?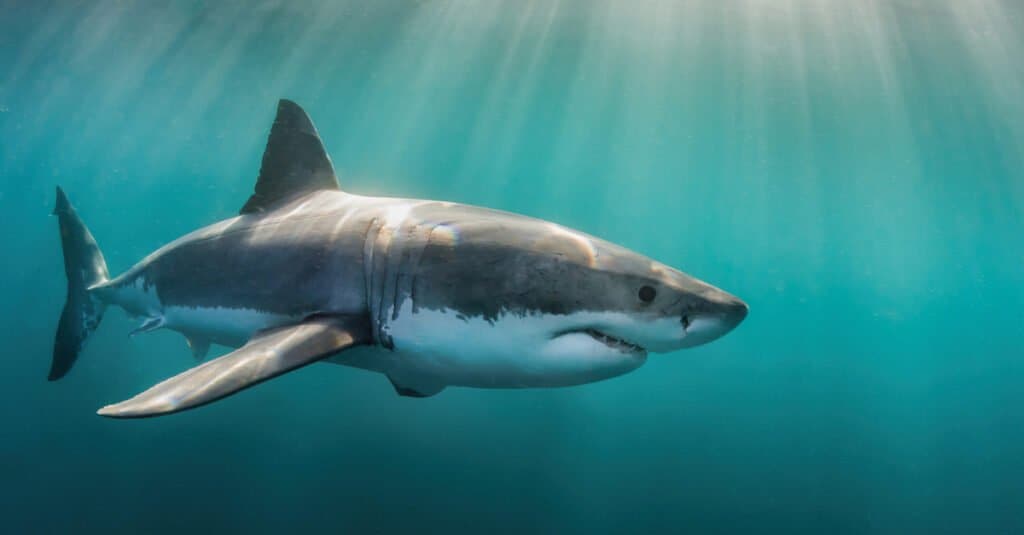 A great white shark would win a fight with a tiger shark。 Great white sharks are too big and powerful for smaller tiger sharks to overcome. Although it is difficult for a tiger shark to ambush a great white, unless it manages to deal a devastating blow to a larger fish, it will prepare itself for a counterattack.
A more realistic version of the fight sees the two fighting over a meal, taking turns biting and fleeing each other. While the tiger shark may be sleeker and smaller in profile, it's also slower than the great white.
In a head-to-head battle to the finish line, the bigger, stronger, deadlier Jaws will win.
I am broadly interested in how human activities influence the ability of wildlife to persist in the modified environments that we create.
Specifically, my research investigates how the configuration and composition of landscapes influence the movement and population dynamics of forest birds. Both natural and human-derived fragmenting of habitat can influence where birds settle, how they access the resources they need to survive and reproduce, and these factors in turn affect population demographics. Most recently, I have been studying the ability of individuals to move through and utilize forested areas which have been modified through timber harvest as they seek out resources for the breeding and postfledging phases. As well I am working in collaboration with Parks Canada scientists to examine in the influence of high density moose populations on forest bird communities in Gros Morne National Park. Many of my projects are conducted in collaboration or consultation with representatives of industry and government agencies, seeking to improve the management and sustainability of natural resource extraction.