More exciting content:
Why did the Caspian tiger become extinct?
10 Incredible White Tiger Facts
How many tigers are left in the…
Siberian Tiger vs Bengal Tiger: What is…
Tiger Lifespan: How Long Do Tigers Live?
↓
Read on to watch this amazing video
We've all seen NBA players seemingly defy gravity with giant leaps, but they get nowhere with this tiger leap. The brief slow-motion footage, captured on a safari park, captures a tiger with all four paws about four or five feet off the ground. They grab the flesh with their forelimbs and land safely and gracefully!
Tigers and their strength
Tigers are one of the largest and most powerful big cats. They can grow up to 660 pounds and run at speeds of up to 60 mph. Their natural habitat is in Asia and Eurasia, where they prefer dense tropical forests, but they are kept in captivity all over the world.
Each tiger has a unique stripe pattern, but all have thick fur, a long tail (up to three feet long) and sharp claws up to four inches long. They also have very sharp teeth! Tigers are very capable swimmers and have webbed feet – they are happy to go into the water for food.
In the wild, they usually live alone and in isolation, but can become aggressive if their territory is threatened by other tigers or other animals.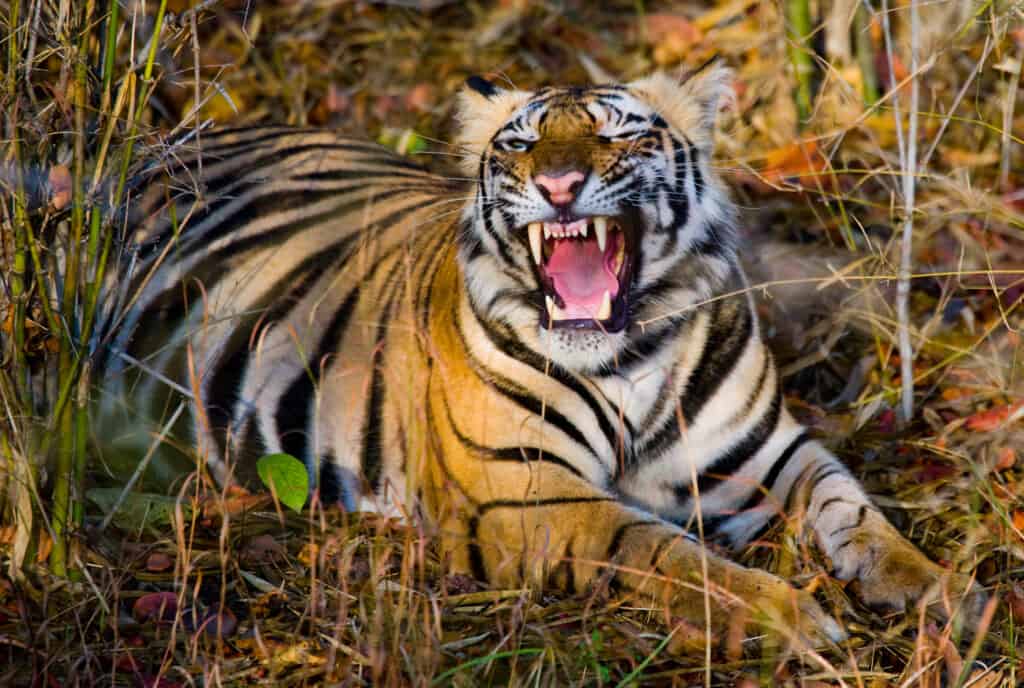 tiger diet
We see this tiger being fed what looks like a piece of raw meat. Tigers are carnivores and need to eat meat to survive. Therefore, being able to catch large mammals is an essential skill for them. A full-grown tiger is perfectly capable of hunting deer and antelope, as well as buffalo and wild boar. However, they will also eat monkeys and sloth bears, and will hunt leopards and even crocodiles!
So, how does this amazing animal catch its prey? As we see in this video, tigers are surprisingly athletic despite their size. They typically begin by stalking their prey, then use their explosive speed and strength to catch and shoot down their prey. This takes quite a bit of energy, but tigers don't have to eat very often – they only need to hunt once a week to get by. But that means when they eat, they need big meals! A tiger can eat 75 pounds of meat in one sitting. They've also been seen catching a large animal, eating only some of it, then covering it, and coming back to eat it!
Next:
Watch desperate tiger challenge adult elephant
Watch a tiger heroically leap for dinner in slow motion
Watching this tiger cub 'fight' with a lion cub is so cute
I am broadly interested in how human activities influence the ability of wildlife to persist in the modified environments that we create.
Specifically, my research investigates how the configuration and composition of landscapes influence the movement and population dynamics of forest birds. Both natural and human-derived fragmenting of habitat can influence where birds settle, how they access the resources they need to survive and reproduce, and these factors in turn affect population demographics. Most recently, I have been studying the ability of individuals to move through and utilize forested areas which have been modified through timber harvest as they seek out resources for the breeding and postfledging phases. As well I am working in collaboration with Parks Canada scientists to examine in the influence of high density moose populations on forest bird communities in Gros Morne National Park. Many of my projects are conducted in collaboration or consultation with representatives of industry and government agencies, seeking to improve the management and sustainability of natural resource extraction.