The orange tabby is known for being the most loving and affectionate cat out there. But did you know that orange tabby cats aren't actually a breed? That's right, Puss in Boots and Garfield aren't the same cat breed.
Instead, the term tabby refers to a cat's specific type of coat pattern. The pattern is recognized by different fur patterns and can be in any color, including orange!
So, you may be wondering what breed is an orange tabby? Keep reading, and you'll learn exactly what an orange tabby is and where they originated from.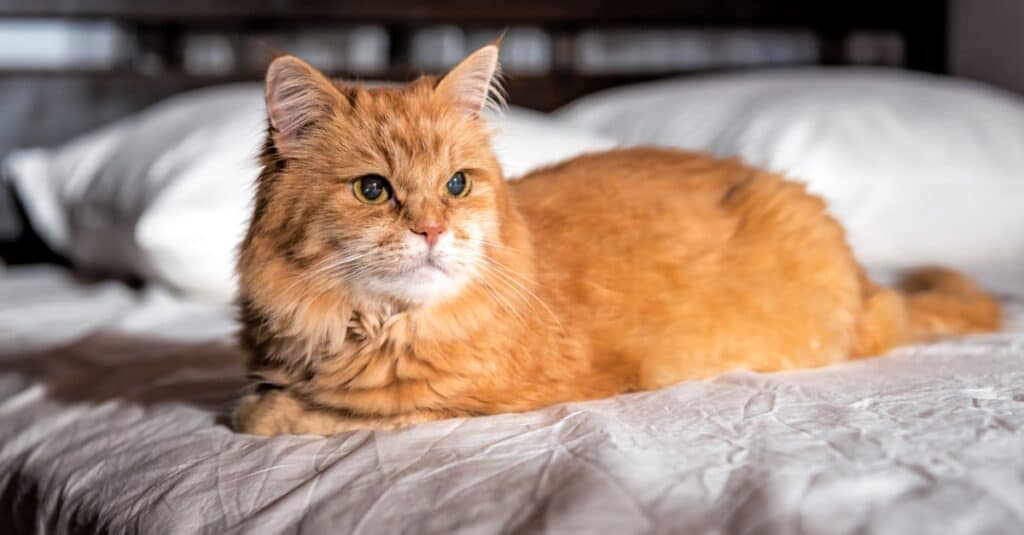 What is an "Orange Tabby" Cat?
First, let's take a look at what an orange tabby is, or rather a red or ginger tabby. These beautiful ginger cats are signified by their bright orange coat with a unique pattern type. Depending on genetics, the pattern can range anywhere from stripes to swirls. It can also vary slightly in color, including golden yellow, white, and orange.
In general, five different varieties of coat patterns meet the standard of the "Orange Tabby." They are:
Mackerel – a pattern that has tiger-like stripes.
Classic – a pattern type that swirls light and dark together.
Spotted – a unique pattern where the cat has spots instead of stripes or swirls.
Ticked – light and dark bands that alternate between each other.
Patched – random patches of orange, yellow, or white fur.
These five main fur patterns are what breeders aim to breed. However, you can see an orange tabby cat with various patterns depending on the parents' genetics. The main similarity is that fabulous bright orange fur is a standard of the orange tabby cat.
Aside from that, genetics play a significant role in how the fur type looks. Some genetics make the pattern type very prominent, while others are subtle. So, a lot of variety is packed into the Orange Tabby name.
The Red Fur Pigment
According to a study, orange tabbies have the same genetics that causes red hair in humans. Pheomelanin is a predominant gene that causes that striking orange hue. Essentially, if a cat has the pheomelanin gene, it replaces eumelanin which is responsible for black or brown pigments.
Pheomelanin is not unique to the "orange tabby" cat. Instead, it's found in various cats bred to be an orange tabby. Hence, knowing about the breeds used to produce an orange tabby cat is essential.
What Breed is an Orange Tabby?
An orange tabby isn't just one breed of cat. In fact, it's actually a pattern type that is found in different feline breeds. Each breed still has that signature orange coat, which can vary in hue. However, the patterns often range slightly, which causes variation in features amongst orange tabby cats.
So, what breeds of cats does the orange tabby come from? Here are the different varieties that are commonly used when breeding:
Orange Tabby Characteristics
Aside from their coat and color, an orange tabby also includes some defining characteristics. Below, we'll discuss a few that are specific to them.
M-Shaped Marking
You've likely seen an "M" shaped marking on many orange tabby cats. This is a unique characteristic that breeders want. The marking is entirely natural, with some believing that it refers to the word "Mau," which is Egyptian for cat.
However, the M-shaped markings are standard for mackerel or classic tabby cats. These have the traditional orange and white fur color, with white spots on the mouth and around the forehead.
White/Dark Lining Around Eyes
If you've ever looked closely at an orange tabby, you may have noticed a faint white or dark line around its eyes. This tends to develop early on and is more prominent by age one.
Pigmented Paws & Lips
You may also notice that an orange tabby has a signature pigment on its paws and lips. The color is the same and will generally help define their features.
Pencil Lines
Pencil-like lines appear in a yellow or white color around the cat's body and face. While not all orange tabby cats have this characteristic, it's prominent in most.
Pale Coloring on Chin & Belly
Lastly, their chin and belly have pale coloring. The most common color is white. However, depending on their breed, some tabbies have orange, yellow, and other colors!
Orange Tabby Gender Myths
One of the questions we get all the time is, is there a female tabby cat? The answer is yes and no. While the "breed" is essentially male-dominant, there's a specific reason for this.
Pheomelanin is a recessive gene that is only found on an X chromosome. Females have two XX chromosomes, while males have an XY chromosome. When you breed a female, the mother and father must have the recessive gene. However, the male-only needs the recessive gene from the mother.
This results in most orange tabby cats being born male. At least 80% of orange tabby cats are male due to this. Despite this, people still love the breed and enjoy the company of the male orange tabby.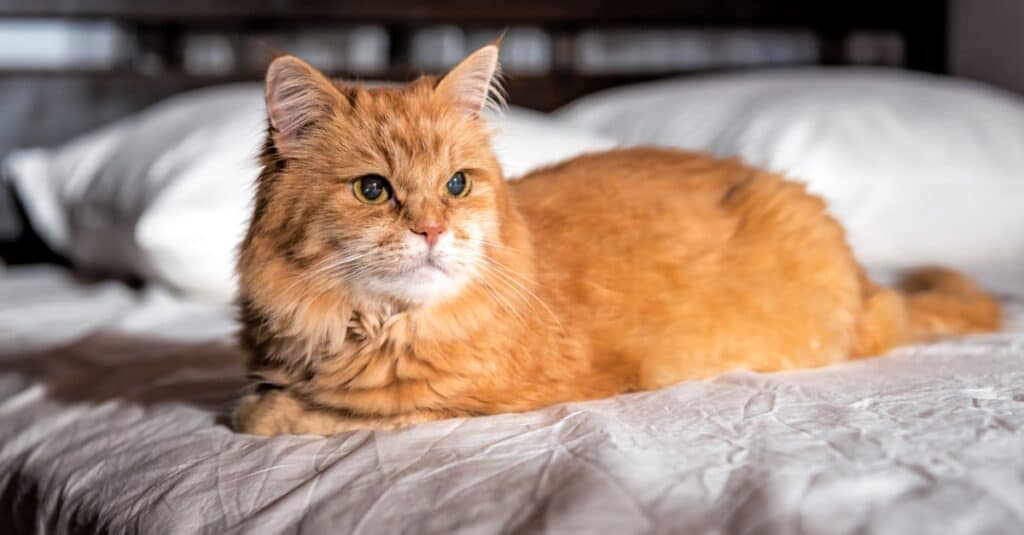 Where Did the Orange Tabby Cat Originate?
There is a lot of debate on where the orange tabby originated. Experts believe that the orange tabby originated from Egypt or Ethiopia.
This is because the Egyptian mau and Abyssinian cats originated from those areas. These cats had the recessive gene that produced that vibrant red hue and patterned fur.
While this is the orange tabby's first appearance that was documented, there is little known about their original origins. Civilizations before these could have also had similar cats, but it's uncertain.
The Bottom Line
While the orange tabby isn't an actual breed, the cat does have a distinctive appearance. Depending on what breed the cat was bred from, it can have plenty of varying qualities, including temperament, size, and more. Overall, the orange tabby will still be a popular "breed" due to its signature ginger look.
I am broadly interested in how human activities influence the ability of wildlife to persist in the modified environments that we create.
Specifically, my research investigates how the configuration and composition of landscapes influence the movement and population dynamics of forest birds. Both natural and human-derived fragmenting of habitat can influence where birds settle, how they access the resources they need to survive and reproduce, and these factors in turn affect population demographics. Most recently, I have been studying the ability of individuals to move through and utilize forested areas which have been modified through timber harvest as they seek out resources for the breeding and postfledging phases. As well I am working in collaboration with Parks Canada scientists to examine in the influence of high density moose populations on forest bird communities in Gros Morne National Park. Many of my projects are conducted in collaboration or consultation with representatives of industry and government agencies, seeking to improve the management and sustainability of natural resource extraction.