More exciting content:
See 'The Dominator' – the world's largest crocodile
Seeing a wildebeest launch itself at two animals…
Scientists Discover New World's Largest Omnivore –…
New snake species discovered in Ecuador…
Watch These Elk Strike Cars In Yellowstone,…
Watch a great white shark stalk…
↓
Read on to watch this amazing video
Rumors abound of mountain lion sightings in Tennessee. You may have seen photos or videos of this big, lonely cat wandering around the web circulating online. But is the photographic evidence accurate? Are there cougars in Tennessee?
The following article answers questions about whether mountain lions exist in Tennessee and whether these sightings are real. But first, we take a quick look at what cougars are and where they live. Doing so will help to better portray this impressive cat.
What is a Mountain Lion?
Also known as the cougar, puma, panther, and mountain lion, the mountain lion (cougar) belong to the Felidae (cat) family. It is one of the largest mammals in the Western Hemisphere and the largest cat in North America.
Adult males are significantly larger than adult females. They weigh up to 225 pounds and are 9 feet long including the tail. However, the average adult male mountain lion weighs about 140 pounds and is 7 feet long. Smaller adult females weigh an average of 80-90 pounds and can only reach a maximum of 7 feet in length.
Their unique colors mean they can camouflage themselves in almost any environment. Their primary color is tan or brown, but mountain lion fur comes in a wide range of colors. Sometimes it even looks reddish or orange. Tan fur covers most of their bodies, but their bellies and chests are white. Additionally, the last few inches of the cougar's tail, ear tips, around the eyes and nose are black.
These felines are solitary animals and only come together during mating season. Additionally, females will raise their young until the kittens are able to strike out on their own.
Cougars love to hunt large game such as deer. However, they also eat small animals such as coyotes, raccoons, and mice. In addition, mountain lions will eat unprotected domesticated animals and livestock.
mountain lion habitat
The impressive cat is not fussy about its environment. Historically, they have lived in nearly every region of the Americas, from the Yukon all the way to the tip of Chile. Cougars live happily in wetlands, deserts, mountains and forests. They live at almost any altitude — from sea level to 10,000 feet.
Cougars will stay in an area as long as food is available in sufficient quantities to sustain them. They prefer areas with cliffs, rocky areas or dense bushes, as these help them hide when stalking prey.
Adult male cougars have extensive territories, roaming up to 100 square miles. But females stick to smaller areas. Their territories usually only extend to a maximum of 60 square miles. However, recent sightings in areas without native mountain lion populations suggest that the big cats can sometimes travel farther.
Where do cougars live in Tennessee?
While cougars originally lived in every region of the United States, including Tennessee, they no longer live. As settlers expanded into new areas, the mountain lion's habitat was destroyed. Habitat loss and encroachment have brought settlers and mountain lions even closer. Most people worry about ferocious hunters targeting their livestock. Mountain lions were subsequently hunted mercilessly.
Tennessee's mountain lion population has plummeted due to habitat loss and overhunting. By the early 1900s, the animal was officially extinct from Tennessee.
State wildlife officials do not plan to reintroduce mountain lions to Tennessee and are closely monitoring any migrations by other mountain lion populations. However, state law protects big cats. It is illegal to kill a mountain lion in Tennessee unless life and property are in immediate danger.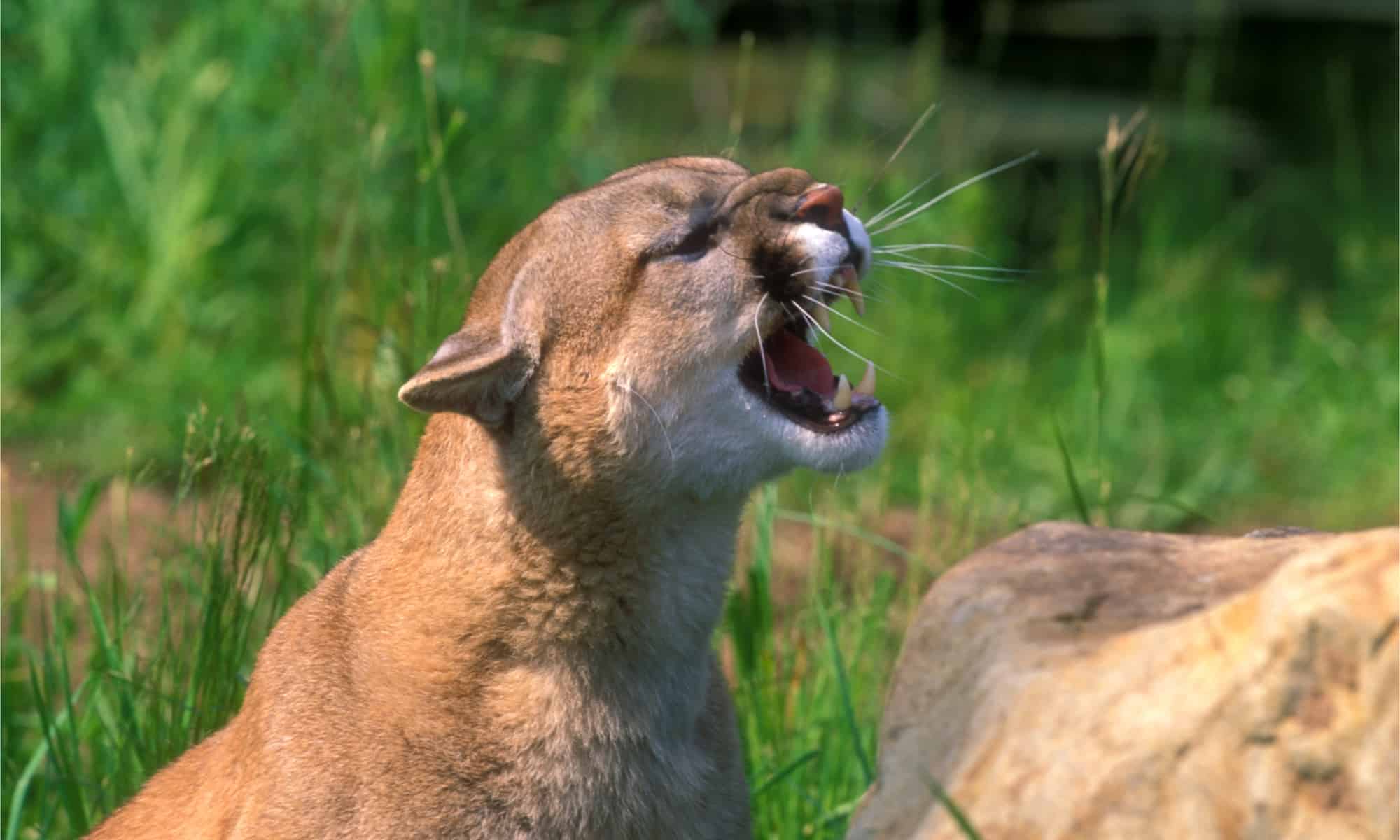 Mountain Lion Sightings in Tennessee
Despite the dwindling native mountain lion population, there have been many recent sightings in the state. State officials began tracking reported and confirmed sightings in 2015, building a database on their website. Therefore, residents can keep an eye on it to see if anyone is wandering near their home.
In 2015, there were six confirmed sightings. Most came from tracking camera footage submitted to the state by private landowners. One, however, included a hair sample found by hunters. They tested it and determined that the female mountain lion was related to the South Dakota population.
Four more sightings occurred in 2016. All of these confirmed cases come from footage from tracking cameras. However, there have been no confirmed sightings since then.
That doesn't mean sighting reports have stopped. The state receives regular reports of mountain lions in the area. However, some could not be confirmed due to questionable tracking camera footage. Other cameras and video footage turned out to be a smaller animal such as a domestic cat or dog or a bobcat (which does live in Tennessee).
Additionally, many have submitted hoaxes to the state. They found countless reports from other states or Photoshopped. Therefore, state officials thoroughly investigate all reports before determining their validity. If you have an image of a suspected cougar with a tracking camera, you should turn it over to the state so they can investigate and possibly reassure you.
How to Avoid Being Attacked by a Mountain Lion in Tennessee
The original cougar subspecies that roamed the state was the eastern cougar. It's officially extinct. Therefore, encountering a mountain lion in Tennessee is extremely unlikely, especially since the last confirmed sighting was in 2016. However, if you've spent any time in the wild, it's important to know how to handle a cougar encounter.
These solitary creatures move almost noiselessly across the landscape. Most of the time, they leave people alone. However, if a mountain lion feels threatened, or if you get between a mother and her cubs, it may attack.
If you come across a cougar, try to look as big as possible. Wave your arms and hug any child or pet to make them look bigger too. Making noises, such as yelling, may also stop them.
Turning or running can make you look like easy prey and trigger the cougar's predatory instincts. So avoid doing those two things. Instead, back away slowly and keep facing the big cat.
If someone does attack, never play dead. Always fight back as it will increase your chances of survival.
next
Panther vs Mountain Lion: What's the Difference?
Does bear spray work on mountain lions?
Cougar vs Cougar – What's the Difference?
I am broadly interested in how human activities influence the ability of wildlife to persist in the modified environments that we create.
Specifically, my research investigates how the configuration and composition of landscapes influence the movement and population dynamics of forest birds. Both natural and human-derived fragmenting of habitat can influence where birds settle, how they access the resources they need to survive and reproduce, and these factors in turn affect population demographics. Most recently, I have been studying the ability of individuals to move through and utilize forested areas which have been modified through timber harvest as they seek out resources for the breeding and postfledging phases. As well I am working in collaboration with Parks Canada scientists to examine in the influence of high density moose populations on forest bird communities in Gros Morne National Park. Many of my projects are conducted in collaboration or consultation with representatives of industry and government agencies, seeking to improve the management and sustainability of natural resource extraction.