More exciting content:
See 'The Dominator' – the world's largest crocodile
Seeing a wildebeest launch itself at two animals…
Scientists Discover New World's Largest Omnivore –…
New snake species discovered in Ecuador…
Watch These Elk Strike Cars In Yellowstone,…
Watch a great white shark stalk…
↓
Read on to watch this amazing video
Oklahoma, with its beautiful countryside and lots of uninhabited spaces, is theoretically the perfect habitat for cougars (cougar). This, combined with the relative frequency of sightings, makes this elusive animal a hot topic of conversation among local residents. But are there cougars in Oklahoma?
The following article explores this issue in more detail. You'll discover the historical range of mountain lions in the state and whether there are still native populations. Read on to learn all about the Oklahoma Cougars.
Mountain Lions of Oklahoma and Their Historic Range
These big cats used to roam throughout Oklahoma. Historically, the state had a large mountain lion population. However, as settlers moved into the area, they began to put pressure on the cats. Population expansion is putting pressure on the mountain lion's habitat. Also, much like the rest of the country, many settlers feared the big cats would decimate livestock numbers.
The hunt has officially begun. But the settlers didn't just hunt cougars. They also overhunted the native deer herds. Since deer are the main source of food for the carnivores, the spread of deer herds has added further pressure to existing mountain lion populations. A combination of habitat destruction, food loss, and intensive hunting drove mountain lions to extinction in the 1800s.
One sighting was recorded in the mid-1800s. After that, however, reports of cougar activity dwindled until recently.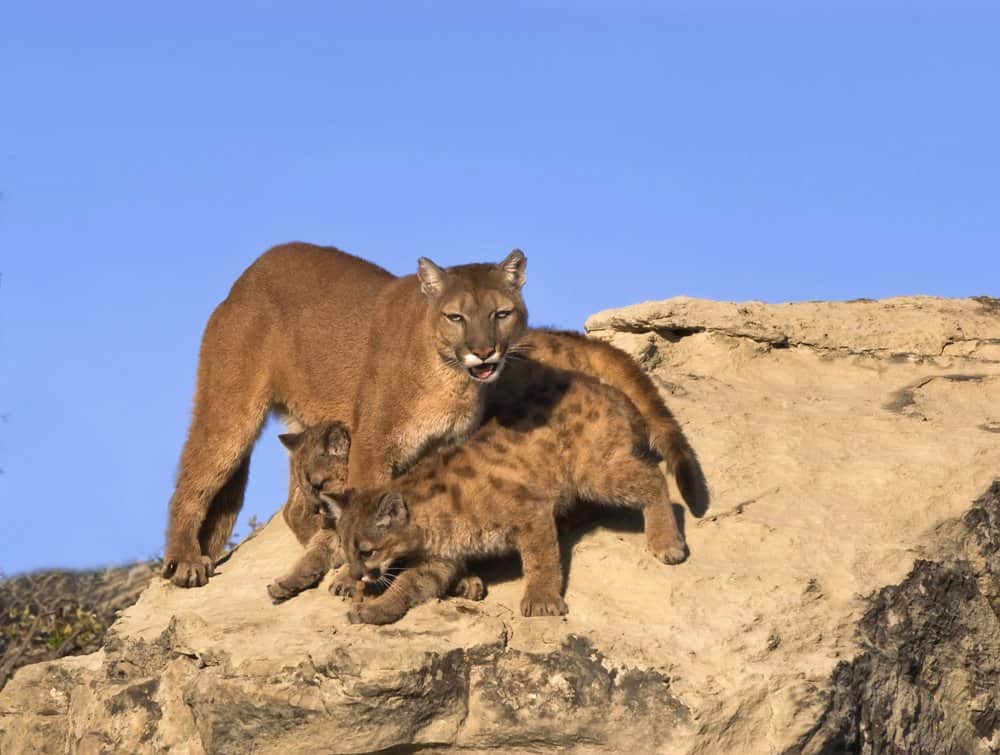 Mountain lion sightings recorded in Oklahoma
Although the local mountain lion population has dwindled, the big cats have never given up on the state. Sightings continued in the 20th century, long after the cat family was officially considered extinct.
In 1953, a mammologist at Oklahoma State University recorded the tracks of a mountain lion. They were found near Canton Lake in the northwest corner of the state. Then about thirty years without much recorded activity.
In 1984, the manager of the Wichita Mountains Wildlife Refuge spotted a mountain lion inside the sanctuary. Confirmed sightings have increased steadily over the past two decades. There were two confirmed sightings each year in 2006, 2009 and 2010. In 2019, the number of mountain lion sightings per year ranged from two to five.
Then in 2020, things seemed to change. The Department of Wildlife has identified seven in 2020, eight in 2021 and four by the end of April 2022. Most of this was confirmed through tracking camera footage, with no evidence that multiple cats made cameos. Sightings were primarily confirmed in the following counties: Woodward, Cimarron, Osage, Pushmataha, Major, Pawnee, Pittsburgh and Ottawa.
Mountain Lions in Oklahoma Today
The state officially acknowledges that cougars may exist in Oklahoma these days. However, they were reluctant to estimate how many cats call the state home. Wildlife officials receive dozens of reports of possible mountain lion sightings each year. They do their best to thoroughly investigate each one.
But only some of the sightings can be officially attributed to the big cats. Most results concluded that residents had spotted another animal. Some animals that are often mistaken for cougars include domestic cats, bobcats and dogs.
Wildlife officials are looking for physical evidence to confirm the presence of the mountain lion. Those in Oklahoma have yet to find strong physical evidence of a breeding cougar population. So, without enough droppings, tracks or parts of their prey, state officials have determined that the only mountain lions left in the state are those that roam.
In 1954, the Oklahoma Department of Wildlife listed the predator as prey. However, these days you should only kill a cougar if you are concerned about your safety or that of your animals. If you happen to shoot a cougar, report it to the game warden immediately.
What does a mountain lion look like?
One of the reasons other wild and domestic animals are mistaken for pumas is that it's hard to imagine the carnivore's size. They are much larger than bobcats, which are common in every county in Oklahoma.
The average male mountain lion weighs about 140 pounds, but can reach a maximum of 225 pounds. They measure from nose to tail and average 7 feet long. But some males can grow to nearly 9 feet long.
Adult female mountain lions are at the smaller end. They weigh an average of 80-90 pounds and can grow up to 7 feet long.
Cougars have unique colors. Their fur is mostly brown, ranging from light tan to reddish orange. They have white bellies and chests. Part of their body is black.
Typically, they have black tips around their ears, tail, nose and eyes.
How to Avoid Being Attacked by a Mountain Lion in Oklahoma
Although the state has no breeding population of mountain lions, Oklahoma is relatively close to states with native populations. There are large mountain lion populations in Wyoming, Colorado, South Dakota, Texas and New Mexico.
But since at least one mountain lion has been seen roaming around Oklahoma, it's wise to know basic safety advice. Be sure to heed any warnings from local or state wildlife officials.
If you want to go for a walk or hike, do it after full sun rise and before dusk. Cougars prefer to hunt during the darker hours of the day.
Keep your little ones like kids and pets close to you. Don't let them roam free far from you. If you see a cougar, pick them up to make them look bigger. You also want to make yourself appear bigger. Raise your arms to do this.
Back off slowly, don't turn around, and avoid running at all costs. Doing so triggers the big cats' predatory instincts, and they may give chase.
In the unlikely event that a mountain lion attacks you, fight back hard. Multiple reports from other parts of the United States suggest that fighting back when a predator strikes increases your chances of survival. So don't panic and use any loose stones or sticks at your disposal.
next
Why do mountain lions scream?
Mountain Lion (Puma) Populations by State
Puma vs Mountain Lion: Is there a difference?
I am broadly interested in how human activities influence the ability of wildlife to persist in the modified environments that we create.
Specifically, my research investigates how the configuration and composition of landscapes influence the movement and population dynamics of forest birds. Both natural and human-derived fragmenting of habitat can influence where birds settle, how they access the resources they need to survive and reproduce, and these factors in turn affect population demographics. Most recently, I have been studying the ability of individuals to move through and utilize forested areas which have been modified through timber harvest as they seek out resources for the breeding and postfledging phases. As well I am working in collaboration with Parks Canada scientists to examine in the influence of high density moose populations on forest bird communities in Gros Morne National Park. Many of my projects are conducted in collaboration or consultation with representatives of industry and government agencies, seeking to improve the management and sustainability of natural resource extraction.