Moose are known as dangerous and aggressive animals that live in the northern regions of North America, Europe, and Eurasia. Their astonishing feats of charging through chest-high snow and scaring off large predators are almost legendary. So, how are they different from horses? Although both are large, fur-covered quadrupeds, they are quite different from each other. Take a look at our exploration of the key differences between moose and horses.
We'll show you the physical differences between them so you can see how they are adapted to live in their unique conditions!
Comparing Moose and Horses
moose
horse
size
Weight: 600 lbs to 1,500 lbs Height: 4.6 feet to 6.9 feet
7 feet to 10 feet in length
Weight: 600 lbs to 1,200 lbs
Height: 5 feet to over 7 feet
Length: 6 feet to 8 feet
speed
35 mph
30-55 mph depending on breed
antlers
Huge, delicate antlers signify social status
no antlers
domesticated
Never domesticated, and rarely ridden
Often ridden and domesticated for war, travel and labor
color
– Usually brown or brownish black, coat color varies
– Assorted colors including brown, white, black, cinnamon, gold and more
– One or two coats of color
the hooves
Cloven hooves with two toes on each foot
Each foot has a solid hoof without many toes.
fur coat
Two coats of fur with a coat of guard hair and a thick undercoat
A single layer of hair that grows thicker in the colder months and falls out in the hotter months
7 Key Differences Between Moose and Horses
The biggest differences between moose and horses are their size, morphology, and level of domestication. Moose can be much larger than many horse breeds, growing taller, heavier and longer than other animals.
Both moose and horses are quadrupeds, but male moose have antlers and horses do not. Also, moose have wattles, a fatty flap of skin under the chin, but horses don't.
Horses are domesticated while moose are not, although some moose have been trained to have riders on horses. However, the level of domestication and practicality of the horse is simply not to be found in the moose.
Moose vs. Horse: Size
The average moose is taller and heavier than the average horse. Still, the rare outlier horse, the tallest and largest horse, can come close in some ways.
A moose can weigh between 600 pounds and 1,500 pounds, while the average horse weighs between 600 pounds and 1,200 pounds. The average moose can stand about 7 feet tall, and the tallest horse ever built was just over 7 feet tall. Horses the size of moose are extremely rare.
All in all, moose are bigger and heavier than horses in most cases.
Moose and Horse: Speed
Horses are much faster than moose. Moose have a top running speed of about 35 mph, and they won't be slowed down by snow or mud that much. Horses bred for speed and run on optimized tracks can often reach 40 mph and top out at 55 mph when galloping.
Moose and Horse: Antlers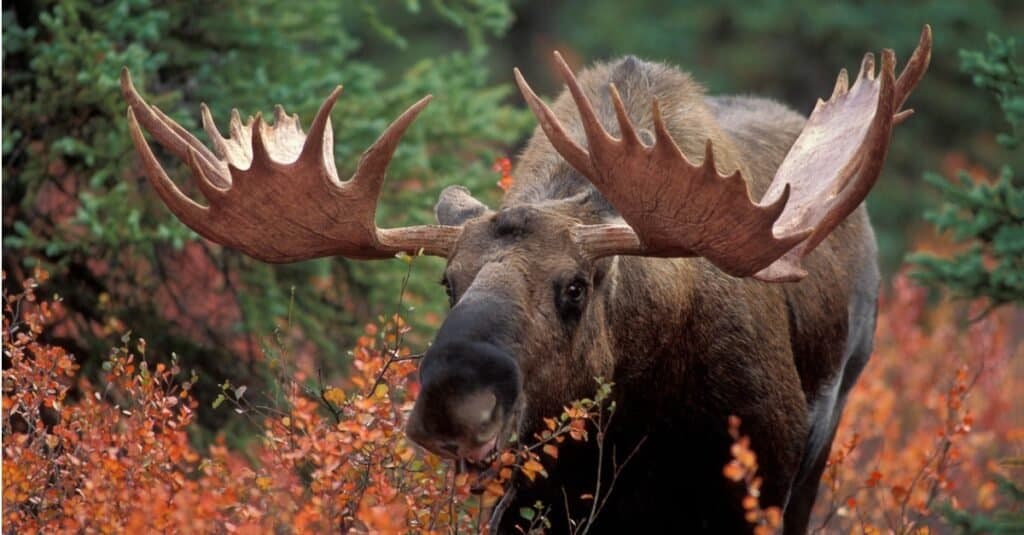 Moose have antlers, but horses do not. Moose use their antlers for a variety of reasons, including showing off their strength and social status and competing with other moose for places in their social groups. They will use these antlers to clash with and assert dominance over other moose, settling disputes without resorting to more deadly measures.
Like horses, moose use their body weight and legs when trying to seriously injure or kill other creatures.
Moose and Horses: Domestication
Moose were not domesticated, but horses were. In the past, some moose were tamed as children. People also managed to ride the moose that humans take for granted. However, wild moose are not tame, and they probably never will be. Attempting to approach or ride a moose in the wild is guaranteed to result in serious injury or death.
However, horses have been domesticated. They are used for farm work, travel, and as a modern form of entertainment. In the past, they were used for delivery and even as weapons of war.
Moose vs. Horse: Colors
Moose are colored in various shades of brown and black mixed and scattered throughout their fur. So, they're two-tone, and there's little variation in that color scheme. Horses come in a variety of colors, including black, white, gold, etc., but with the exception of certain breeds (such as the Appaloosa), they are usually only one color.
Moose and Horse: Hooves
Moose have split hooves so they have two toes on each foot, but horses have one full hoof on each foot. Additionally, moose benefit from these split hooves because it increases their contact area with the ground under their feet. This gives them better traction in the snowy, muddy areas they inhabit.
The single hoof of horses allows them to exert a lot of power from their legs, while also limiting the impact they receive when they run.
Moose and Horse: Fur Coats
The moose's fur coat is two-layered, while the horse's fur coat is only one. Moose fur helps them survive in the frigid regions of the northern hemisphere where they live. The outer layer of their fur is called guard hairs, which are hollow hairs that help moose keep the undercoat dry. The undercoat is thick and designed to insulate the body so they don't lose as much heat in cold weather.
Horses have only one coat of fur, which thickens in winter and sheds in warmer months. They don't need a double coat because they don't live in such a cold and wet environment.
Moose and horses have many unique qualities. Horses are faster, but moose are heavier, bigger, and more powerful. It is easy to distinguish these two animals when you look at their morphological differences individually. Between the antlers, wattles, color, and overall size of a moose, you most likely won't confuse one of these animals with another.
Still, when you add less obvious factors to the examination, such as fur, hooves, and domestication, the differences between the two mammals become more apparent and easier to discern.
I am broadly interested in how human activities influence the ability of wildlife to persist in the modified environments that we create.
Specifically, my research investigates how the configuration and composition of landscapes influence the movement and population dynamics of forest birds. Both natural and human-derived fragmenting of habitat can influence where birds settle, how they access the resources they need to survive and reproduce, and these factors in turn affect population demographics. Most recently, I have been studying the ability of individuals to move through and utilize forested areas which have been modified through timber harvest as they seek out resources for the breeding and postfledging phases. As well I am working in collaboration with Parks Canada scientists to examine in the influence of high density moose populations on forest bird communities in Gros Morne National Park. Many of my projects are conducted in collaboration or consultation with representatives of industry and government agencies, seeking to improve the management and sustainability of natural resource extraction.