Both purebred and hybrid pigs come in a wide range of sizes and forms. In the animal realm, small stature is typically connected with endearing qualities. The sight of a small pig can be shocking because this animal is commonly associated with a large size, stout build, and messy disposition. The small pig population is particularly diverse, with at least 14 recognized pure breeds of "mini pigs." Some are widely known while others have almost vanished from the face of the earth. Keep in mind that cuteness is relative, but today's article will introduce you to five of the world's cutest pigs, all of which are considered "mini pigs!" Don't be too surprised when you see how big these pigs can actually get.
1. American Mini Pig
The American Mini Pig is a hybrid breed created by crossing several different pig breeds over time. Given that American Mini Pigs were created with the express intent of being kept as pets or companions, health and behavior are the most crucial characteristics of the breed. The American Mini Pig is smaller in stature than other varieties but is nonetheless a robust 20–30 inches in length, making it suited for both indoor and outdoor living. That's just right for a piglet!
Pigs of varying sizes are adored, as long as they are healthy, strong, and athletically built and can run and jump around unencumbered by physical limitations. The American Mini Pig is one of the most colorful and markedly different pig breeds because of the wide range of species that go into its genetic makeup.
2. Pot-Bellied Pig
The first thing you need to realize is that there is no one unique breed of Pot Belly pigs. The domesticated Pot-Bellied pig, commonly known as the Chinese Pot Belly Pig, Asian Pot Belly Pig, or Vietnamese Pot Belly Pig, is said to have originated in Southeast Asia. To create the Pot Bellied Pig "breed," at least 15 distinct local "breed types" were used.
These pot-bellied pigs are typically only found in Mountainous areas in China, Vietnam, and Thailand. However, there are some "local breeds" now widely dispersed. Despite the fact that these local types have been demonstrated to share several noticeable physical traits, they are not particularly connected genetically.
3. The Kunekune
The Kune kune pig originates in New Zealand and is a domestic pig breed. It is possible for kune kune to have wattles dangling from their lower jaws, and they have a hairy, plump appearance. The Kune kune's hair, which can be either long or short, straight or wavy, covers its entire body. They have a hairy, plump appearance. The Kune kune's hair, which can be either long or short, straight or wavy, covers its entire body.  They can be found in a wide variety of colors, including black and white, cream, ginger, gold-tip, brown, black, and multicolor. They are sociable and easy to train, making them suitable as pets.
Its ears are either semi-lopped or pierced, and its snout is medium to short and upturned. It has a small head, a round body, and short legs. The average height of a Kune kune is roughly 24 inches. Males tend to be bigger than females, however, both sexes can reach weights of up to 440 pounds!
4. Juliana Pig
It is commonly accepted that Juliana pigs are the tiniest pigs in the world. A little pig with bright spots, the Juliana is a sight to behold. As opposed to the Pot Belly Pig, it seems more like a little version of a huge hog or feral pig. They typically have a lean, longer-than-tall build. There is no excuse for Juliana ever to seem flabby, wrinkly, or slow. Dependent on their food, a healthy Juliana Pig can weigh anywhere from 40 to 80 pounds. A full-grown Juliana who weighs only 15–20 pounds is probably malnourished.
5. The Gottingen Mini Pig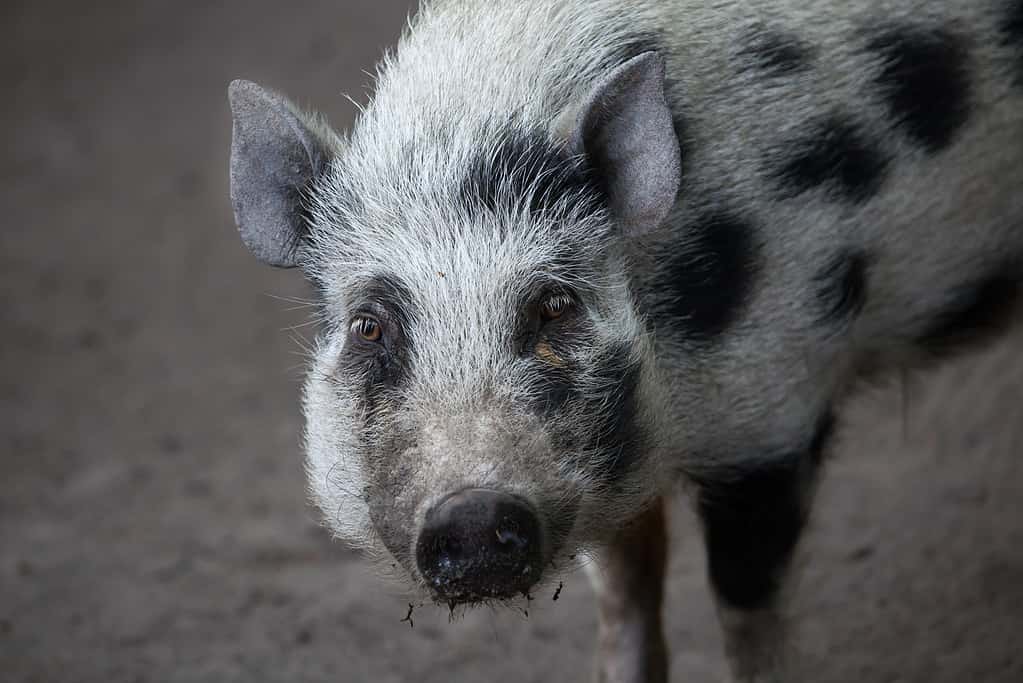 Around 1960, German researchers began breeding the first Gottingen mini pigs in an effort to produce a consistently small, easily handled pig for use in biomedical research. The Gottingen originated from crossing Minnesota micro pigs, Vietnamese pot-bellied pigs, and German Landrace pigs. The first Gottingen micropigs appeared on pet store shelves around 2010.
The average height of a Gottingen mini pig is between 10 and 20 inches. Their typical weight is around 60 pounds; however, this might vary from sex to sex and diet to diet. Despite their continued usage in scientific studies, many people keep Gottingen micropigs as pets due to their small size, ease of care, and pleasant demeanor.
In Conclusion
Many people search all over the web to find pics of mini pigs or micro pigs, some even seek to adopt them as pets. However, it is important to keep in mind that even the smallest domestic pig type might not be as small as one would hope once fully grown.
Thus, if you want a pet pig so small it fits in a teacup, you'll need to change your expectations. There is no such thing as a pig the size of a teacup. A fully grown pig, even the tiniest one, will weigh at least 40 pounds. A smaller size indicates it's still a baby or, more tragically, malnourished.
I am broadly interested in how human activities influence the ability of wildlife to persist in the modified environments that we create.
Specifically, my research investigates how the configuration and composition of landscapes influence the movement and population dynamics of forest birds. Both natural and human-derived fragmenting of habitat can influence where birds settle, how they access the resources they need to survive and reproduce, and these factors in turn affect population demographics. Most recently, I have been studying the ability of individuals to move through and utilize forested areas which have been modified through timber harvest as they seek out resources for the breeding and postfledging phases. As well I am working in collaboration with Parks Canada scientists to examine in the influence of high density moose populations on forest bird communities in Gros Morne National Park. Many of my projects are conducted in collaboration or consultation with representatives of industry and government agencies, seeking to improve the management and sustainability of natural resource extraction.