Two big cats face off again, and when it's leopard versus tiger, they're easy to tell apart! Leopards are known for their striking yellow coats with brown spots. Tigers proudly sport vertical black stripes on their yellow, orange or white fur! But that's far from the only way each of these amazing creatures is unique. We need to compare them all to determine which of these ferocious felines will win the cage competition!
Leopard vs Tiger: Physical Characteristics
Both leopards and tigers are on the list of the largest cats in the world. To decide which of these big cats takes the gold, we have to look at the physical differences. A solid understanding of the main characteristics of each animal and what makes them unique is key. Besides being both felines, tigers and leopards have their own strengths and weaknesses!
Physical Characteristics of Leopards
Leopards are smaller than tigers, averaging about 6 feet in length and weighing up to 140 pounds
Leopards are smooth, strong and muscular.Their legs are thick and good for climbing
Spotting and coat color can vary depending on the environment, from dark brown or black to tan and even white overall
Leopards have advanced hearing and vision for night hunting
Leopards can carry animals heavier than themselves while climbing!
Physical Characteristics of a Tiger
The world's largest cat, tigers can weigh from 267kg to over 300kg and reach lengths of up to 10ft
Tigers are large, muscular and powerful, with long tails that help them maintain their balance
Their teeth and claws are four inches long
There are nine subspecies of tigers, which can be reddish-orange or white.
Biggest tiger ever weighed over 800 pounds
The Siberian tiger is the largest at 675 pounds
Tigers have webbed feet and are excellent swimmers
Up to 60 mph
The Sumatran tiger is the smallest, measuring about 8 feet long and weighing 260 pounds
Bengal tigers are the most numerous
White tigers are caused by a rare genetic mutation that hasn't been seen in the wild in over 50 years
Leopard vs Tiger: Habitat and Behavior
Now that we know all about the physical attributes of the tiger and leopard, it's time to investigate habitat and behavior. Do tigers and leopards meet in the wild? If they did, how would each attack or defend themselves and their territory? We know tigers are big, but leopards are also strong. Whoever wins a fight depends on behavior!
Common Habitats and Behaviors of Leopards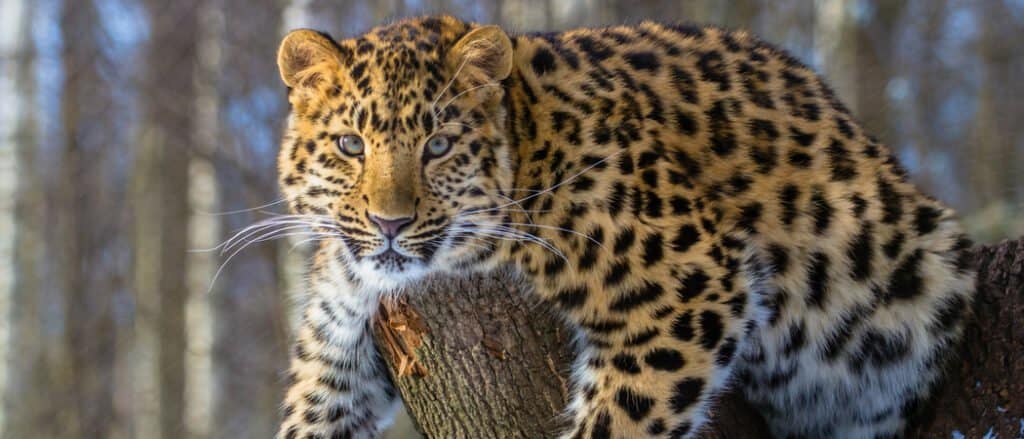 Leopards are nocturnal and solitary
They hunt in the trees and on the ground
Leopards rely on stealth and ambush to catch prey
They can drag and lift carcasses much heavier than they are like antelope
Leopards are opportunistic predators that chase small to medium prey
They take their prey up trees and hide it to avoid larger predators
Leopards share natural range with tigers
Grasslands, rainforests, and mountains of sub-Saharan Africa and South Asia
leopard also known as black panther
Up to 30 mph
Common Habits and Behaviors of Tigers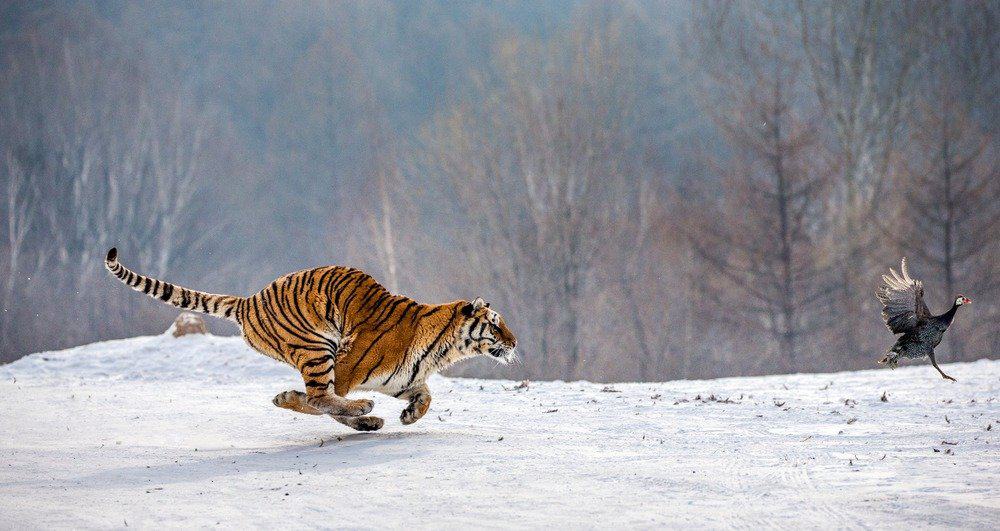 Tigers are mainly found in South and Southeast Asia, Eastern Russia and China
Subspecies can be found in tropical, temperate and cold climates
Siberian tigers grow extra layers of fur around their necks for added warmth
Habitat depends on the individual subspecies, but tigers can be found in mountains, rainforests, mangroves, grasslands and even swamps
some tigers migrate
A tiger only eats once a week, but they eat a lot, up to seventy-five pounds in one bite!
Tigers stalk prey for as long as needed
They rely on speed, agility and deadly strength to quickly take down their prey
All subspecies prefer to hunt at night
tiger is a lone hunter
Who wins the battle, the leopard or the tiger?
The facts are undeniable, and we can declare without hesitation, Hook Leopard. In fact, tigers are known predators of leopards. Tigers will prey on leopards to hunt or defend their territory. In a one-on-one match, tigers are strong enough to overwhelm the much smaller leopards. A single swing of the Tiger Claw contains over 10,000 pounds of force. When enraged, this force can be as high as 18,000 lbs.
One animal that is a real threat to both big cat contenders is us. Both majestic felines are still actively hunted by humans, and they are both at risk according to the Endangered Species List. All subspecies of tiger are listed as endangered, while leopards are listed as near threatened. Articles like this that entertain as well as educate have the added perk of raising awareness. We are proud to do our part to help all of our favorite irreplaceable animals like tigers and leopards.
I am broadly interested in how human activities influence the ability of wildlife to persist in the modified environments that we create.
Specifically, my research investigates how the configuration and composition of landscapes influence the movement and population dynamics of forest birds. Both natural and human-derived fragmenting of habitat can influence where birds settle, how they access the resources they need to survive and reproduce, and these factors in turn affect population demographics. Most recently, I have been studying the ability of individuals to move through and utilize forested areas which have been modified through timber harvest as they seek out resources for the breeding and postfledging phases. As well I am working in collaboration with Parks Canada scientists to examine in the influence of high density moose populations on forest bird communities in Gros Morne National Park. Many of my projects are conducted in collaboration or consultation with representatives of industry and government agencies, seeking to improve the management and sustainability of natural resource extraction.