Imaginary battles between large dangerous mammals are always exciting. We've seen what happens when the world's largest feline meets various bears. So what happens when the largest tiger subspecies takes on the second largest bear subspecies? That's a great question, and one we'll explore in this article. We'll compare the Kodiak bear vs. the Siberian tiger, show you which animal has the greatest advantage in battle, and then determine which of the two will survive the conflict.
Comparing Kodiak Bears and Siberian Tigers
kodiak bear
siberian tiger
size
Weight: 400-over 1,500 lbs
Height: 4-4.9 feet at the withers
Length: 6-8 feet
Weight: 220-770 lbs
Length: 7-11 feet
Height: 2.5-3.5 feet
speed and movement type
– 35mph top speed
– on all fours
– 40-50 mph
– gallop
– 20ft-25ft leap
– can swim
defense
– cheeky
– Layers of fat and muscle protect vital areas such as the neck
– Huge size
– Standing on hind legs for a threatening display
– Huge size
– speed
– Striped fur camouflage helps tigers blend in with their surroundings.
offensive ability
– very strong bite
– 2-4 inch long claws
– Destructive swipe abilities
– Ability to stand up and pounce on prey to damage them
– 1000 PSI bite force
– 30 teeth in total
– 3 inch canines
– 4 inch claws
– Strong jaws allow tigers to pinch and suffocate prey
– Great muscular strength helps them overwhelm prey
predatory behavior
– Opportunistic predators
– Ambush Predator
– Stalk and attack under favorable conditions
– Attempts to clamp the prey's neck for a fatal bite.
What is the main difference between a Kodiak bear and a Siberian tiger?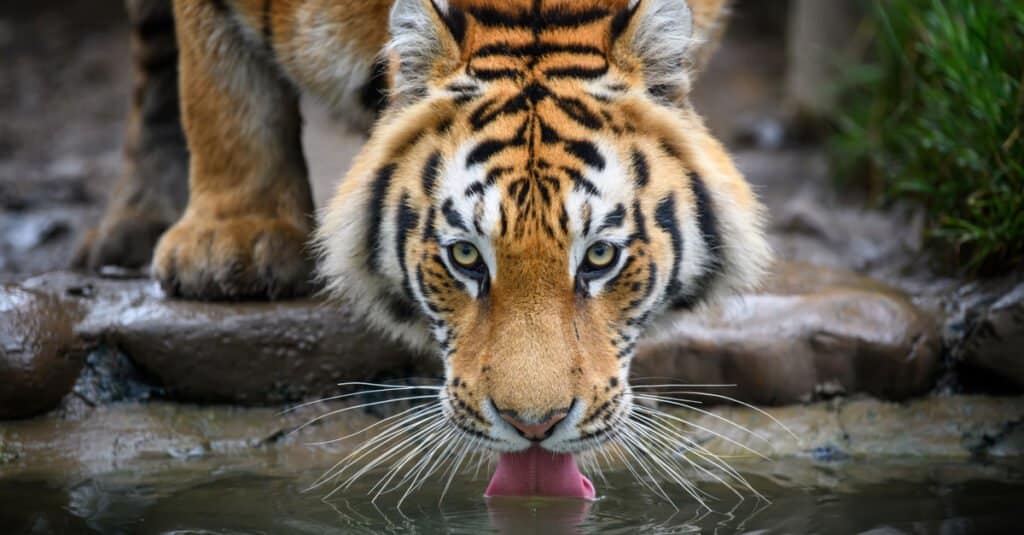 The most notable difference between the Kodiak bear and the Siberian tiger is their shape and size. The Siberian tiger is a large, muscular four-legged cat that can weigh up to 770 pounds, reach a length of 11 feet including the tail, and stand about 3.5 feet tall.
The Kodiak bear is a huge four-legged mammal weighing more than 1,500 pounds, standing nearly 5 feet at the shoulder and 8 feet long, while possessing a large, thick body that protects it from injury. The size difference and the fact that Kodiak bears can stand on their hind legs are important factors in the outcome of battles.
However, we also need to look at other aspects of this hypothetical battle.
What is the key factor in the fight between the Kodiak bear and the Siberian tiger?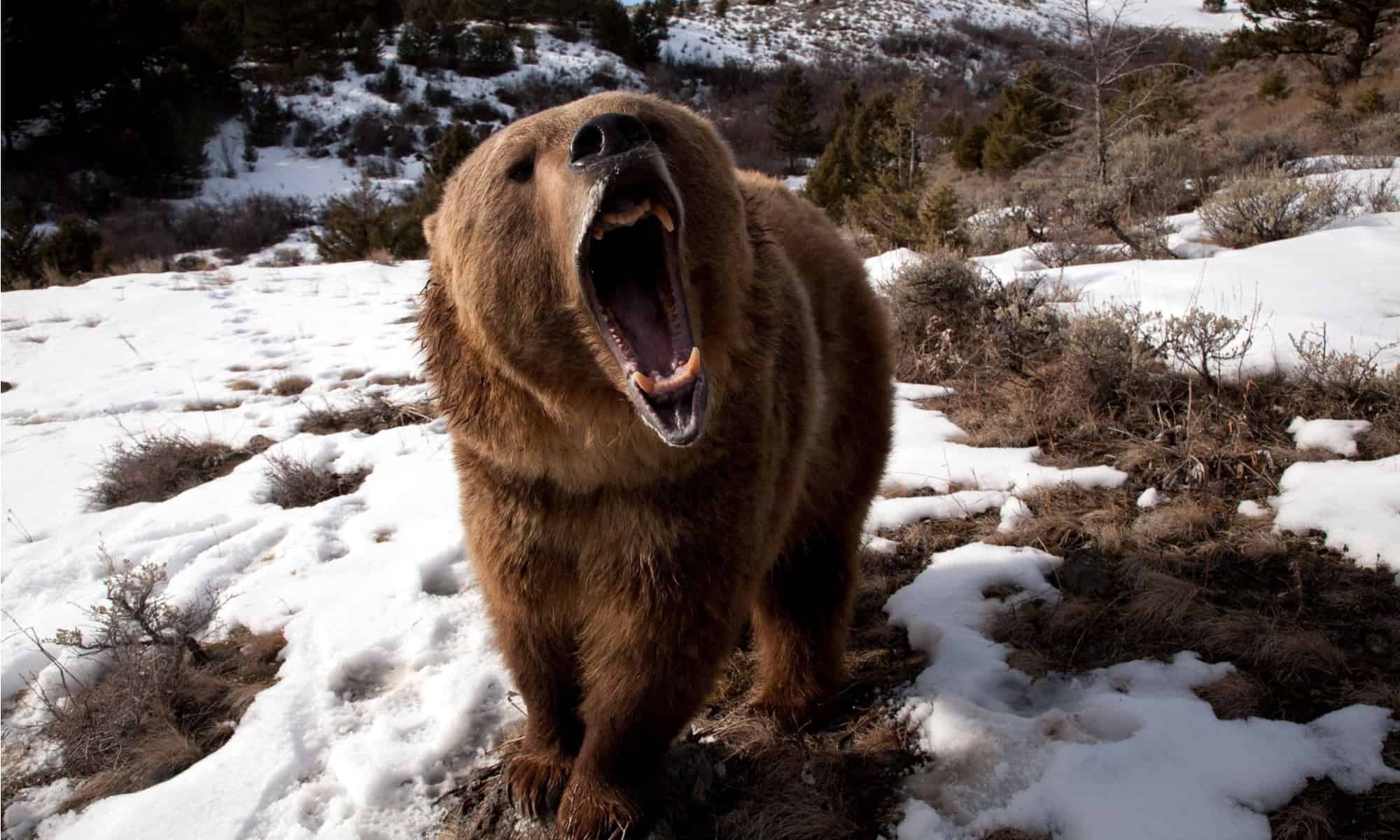 If you watch any fights between animals, you will see that they are determined by several factors. We propose five main points of comparison that can be used to determine whether a Kodiak bear or a Siberian tiger can leave the fight alive.
Specifically, we'll take animal size, speed, defense, aggression, and behavior into account when determining which of these animals has what it takes to win the game. Let's see which of these top predators has an advantage over the other in each of these factors.
Kodiak vs Siberian Tiger: Size
The largest Kodiak bear is much larger than the Siberian tiger. The average male Kodiak bear can weigh up to 1,300 pounds, but the largest Kodiak weighed 2,130 pounds! Plus, these bears can stand on all fours at a shoulder height of nearly 5 feet and can grow to 8 feet or more!
Although the Siberian tiger is the largest tiger species, their maximum average weight is only 770 pounds. They can be up to 11 feet long, but most of them are tails. Also, they stand about 2.5 to 3.5 feet tall at the shoulder.
The Kodiak bear has a huge size advantage over the Siberian tiger.
Kodiak vs Siberian Tiger: Speed ​​and Movement
Siberian tigers are much faster than Kodiak bears. Kodiak bears reach a maximum speed of about 30 to 35 mph on flat ground, similar to other large brown bears. They are fast enough to chase large packs of prey, and they easily outrun the fastest humans.
When running at top speed, Siberian tigers can reach speeds of 40 to 50 miles per hour. However, they cannot maintain this speed forever, only in brief bursts. Overall, they're still much faster than bears, and they'll be the ones most likely to initiate a fight.
The Siberian Tiger has a speed advantage.
Kodiak Bears vs Siberian Tigers: Defense
Siberian tigers have a number of defenses that can be used to ward off harm. For example, the Siberian tiger scares away predators with its speed and large size, as well as its unique color and pattern camouflage. They can blend in with their surroundings and they know how to use long grass to hide.
Kodiak bears are much stronger defensively. They have thick skin along with a thick layer of muscle and fat that protects their vital areas such as the neck and vital organs. They also possess a large size for their own safety, and are able to stand on their hind legs to allow animals to approach them and fight.
Kodiak bears are physically more defensive than Siberian tigers, but they are not as good at hiding as big cats.
Kodiak Bears vs Siberian Tigers: Offensive Power
Kodiak bears and Siberian tigers are both effective killers. Kodiak bears have a strong bite, probably similar to a grizzly bear at 975 PSI, enough to break bones. Their teeth are 2 inches or more long and are powerful enough to penetrate deep into prey.
Additionally, they possess raw strength that helps them knock down their prey and beat them up. They can even stand up and land on their prey, using their weight and strength to kill them.
Siberian tigers are great hunters and they have great tool kits. They have a 1,000 PSI bite force, 3-inch canines, 4-inch sharp claws, and jaws strong enough to grab prey and smother them without them snapping their necks outright.
Siberian tigers have super attack power.
Kodiak Bear vs Siberian Tiger: Predatory Behavior
The Kodiak bear is an opportunistic predator. Instead of ambushing their prey, they find and kill it. They can forage for food and even eat trash when the time is right.
Siberian tigers are predators adept at ambush. They lie in wait for their prey to come and attack them from cover. They use their explosive speed to catch their prey off guard. Next, they bite their prey by the neck and drag it to the ground, often tearing a major blood vessel or snapping a neck in the process.
The Siberian tiger is a deadlier carnivore than the Kodiak bear.
Who would win in a fight between a Kodiak bear and a Siberian tiger?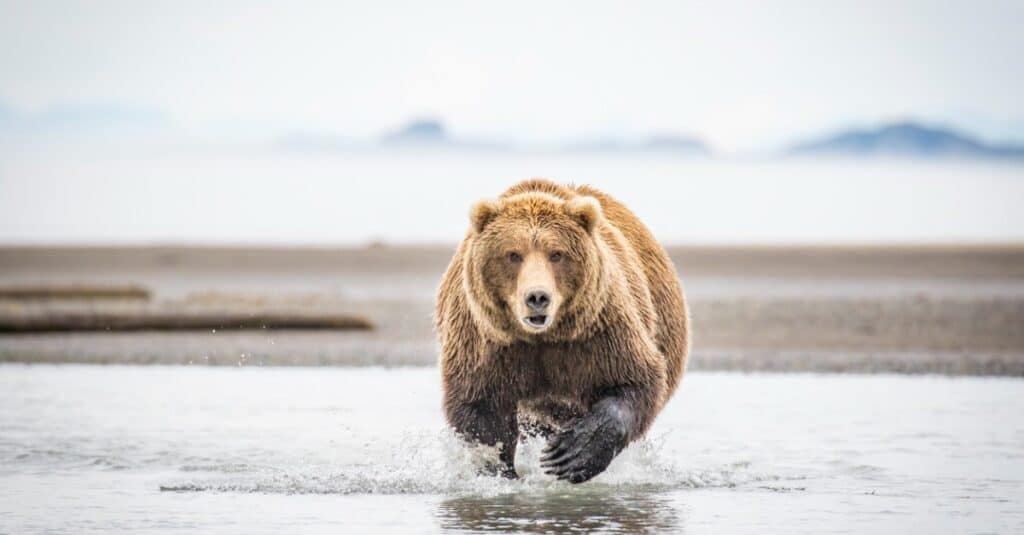 The Kodiak bear will win the fight against the Siberian tiger. We checked out a Siberian tiger vs. grizzly bear fight and awarded the victory to the tiger. In this case, however, the size difference between the Siberian tiger and the Kodiak bear played a bigger role.
The Kodiak bear is twice the weight of the Siberian tiger, longer and much taller than the Siberian tiger. This mammal has a large body, thick fur, and various protections on the body, allowing the battle to last for a long time.
If the Siberian tiger is lucky and hits a deadly ambush, it can defeat the bear. However, given the Kodiak bear's thick, powerful neck, the chances of it doing so are slim. Without the ambush killings, this would have been a battle of size and power. While the tiger has larger teeth and a stronger bite, it also takes a lot of damage from the Kodiak bear.
The gigantic bear creature might rear up on its hind legs, let the tiger approach, and use all of its weight and power to attack the tiger.
Either way, it's going to be a protracted bloody affair. In the wild, however, size is king, and that advantage clearly belongs to bears.
I am broadly interested in how human activities influence the ability of wildlife to persist in the modified environments that we create.
Specifically, my research investigates how the configuration and composition of landscapes influence the movement and population dynamics of forest birds. Both natural and human-derived fragmenting of habitat can influence where birds settle, how they access the resources they need to survive and reproduce, and these factors in turn affect population demographics. Most recently, I have been studying the ability of individuals to move through and utilize forested areas which have been modified through timber harvest as they seek out resources for the breeding and postfledging phases. As well I am working in collaboration with Parks Canada scientists to examine in the influence of high density moose populations on forest bird communities in Gros Morne National Park. Many of my projects are conducted in collaboration or consultation with representatives of industry and government agencies, seeking to improve the management and sustainability of natural resource extraction.