Whales shuttle, jump, leap and play in the ocean, their graceful and agile posture belies their huge size. The secret to their incredible lifestyle, in addition to their well-adapted bone and muscular structure, is a very unique breathing system that is specialized for deep sea diving. During its evolution, this respiratory system had to overcome the challenges of mammalian anatomy. Just like any other mammal, whales need oxygenated air to survive. They have a set of large, complex lungs that are constantly exchanging fresh oxygen for carbon dioxide to sustain life. Because whales have no gills, they cannot absorb oxygen directly from the water. This makes them vulnerable to suffocation if they do not return to the surface in time. Fortunately, cetaceans have evolved several extreme adaptations to survive the long and difficult journey underwater. Read on to find out how long whales can hold their breath.
How do whales breathe?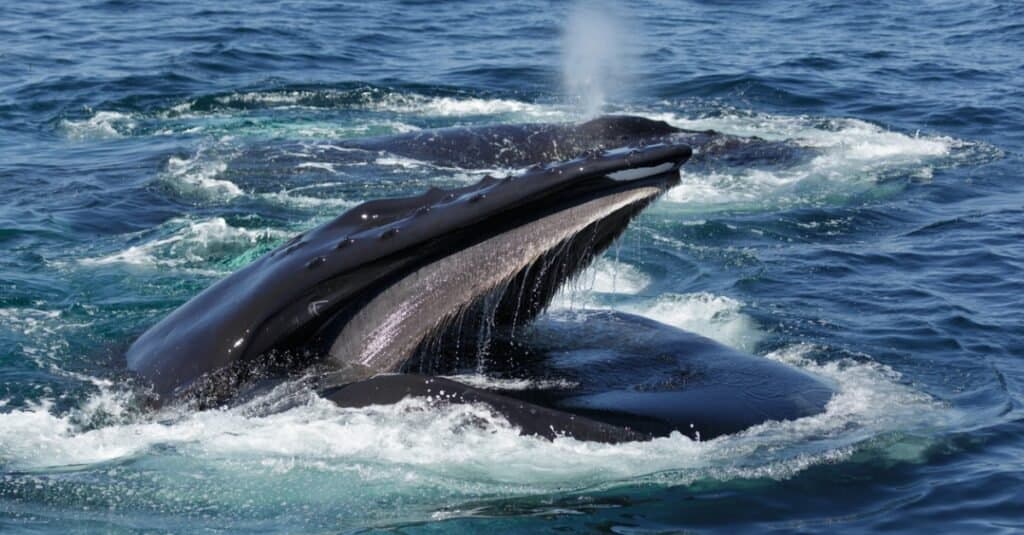 The most important feature of the respiratory system of any cetacean (be it a sperm whale, humpback, orca, etc.) is the blowhole located on the top of the head. By default, the air holes remain closed to prevent water from entering the body. Upon returning to the surface, the whale opens its blowhole by contracting a small muscle flap; it then exhales stale air from its body in a towering burst of pressurized air. The jets of water you see coming out of the air holes do not come from the lungs. Rather, the breath exhaled from the pores is powerful, sending the water around the body upwards from the body surface into the air and turning it into a fine mist. This removes water from the air pores so they can inhale air without water entering their lungs.
Once the stale air is expelled, the whale takes a series of rapid breaths to replenish oxygen. Most species only resurface for a few minutes before relaxing the muscles around the blowhole again before diving back underwater. To prevent water from entering the lungs while feeding, cetaceans do not normally breathe through their mouths. However, some dolphins with damaged stomata can learn to breathe through their mouths when they have to, scientists have found.
How long can a whale hold its breath?
The answer to this question certainly depends on the species (and thus the individual). Of all the cetacean divers, the most impressive are the sperm whales (a species with a large oblong head). It can hold its breath for approximately 90 minutes while diving to depths of more than 3,000 feet to feast on its favorite meal, giant squid.
Sperm whales aren't the only impressive cetacean divers, though. Blue whales (the largest animals that ever lived) can hold their breath for up to 90 minutes and typically resurface after about 30 minutes; the deepest dive ever recorded for a blue whale is about 1,000 feet below the surface.
Humpback whales (whose most distinctive feature is the large hump on their backs) can hold their breath for up to an hour at a time, but a typical feeding trip lasts about four to seven minutes on average. It surfaces, takes six to eight quick breaths, and then dives back underwater. The deepest humpback dive ever recorded was over 600 feet.
In contrast, killer whales primarily hunt near the surface. This is reflected in its ability to breathe: it can only hold its breath for about 15 minutes on average. However, when prey is not easily found near the surface, killer whales do have the ability to dive hundreds of feet below the surface in search of suitable prey. On long trips, it will surface about every three to five minutes.
In comparison, humans have a much weaker ability to breathe. The average person can only hold their breath for a few minutes at a time. Croatian diver Budimir Sobat set the record for the longest human dive in 2021 after years of extensive training. He held his breath for an astonishing 24 minutes and 37 seconds.
What is the longest recorded whale dive?
The Cuvier's beaked whale, a deep-sea species that can grow up to 23 feet long and weigh up to 6,800 pounds, holds the record for the longest cetacean dive ever made. Capable of reaching depths of nearly 10,000 feet, this beaked whale keeps setting new (human-observed) records. In 2014, a tagged whale was thought to have stayed underwater for about 138 minutes before finally surfacing. The record stood for about six years, until another whale was observed completing a more than three-hour dive in 2020.
The Cuvier's beaked whale is an interesting species studied by marine biologists. They are estimated to spend about 90 percent of their time below the surface, probably more than any other mammal. This appears to be pushing the whales to the limit, for reasons that aren't fully understood.
How do whales hold their breath?
The secret to a whale's breathing ability lies in the efficiency of the entire respiratory system. This starts from the moment they take their first breath. While humans can only take in about 5 percent oxygen per breath, whales can easily take in up to 90 percent, allowing them to get more energy with each breath.
Contrary to what some may believe, whale lungs are not large (at least relative to their overall size). Instead, they rely on several other incredible adaptations to survive deep-sea diving. For example, the volume of blood flowing in their veins is enormous: compared to perhaps three to four times that of similarly sized terrestrial mammals. They have twice as much oxygen-carrying hemoglobin in their blood as other mammals. This means their blood is especially rich in oxygen to supply their hungry cells.
When whales submerge, their bodies automatically direct blood flow to vital central organs like the brain and muscles, and away from any organs they're not currently using, including the kidneys and liver. With only the most vital organs still functioning, a whale can lower its heart rate to around four to eight beats per minute, just enough to sustain life. Blue whales provide a particularly extreme example. It can apparently lower the heart rate down to two beats per minute.
Finally, if all else fails and its oxygen reserves are depleted, the whale can always switch to anaerobic respiration, which conserves precious oxygen but causes a rapid buildup of lactic acid, which wears out the muscles. This is usually a last resort; most whales complete more than 90% of their dives before switching to anaerobic breathing. A notable exception (again) is the Cuvier's beaked whale. After anaerobic respiration begins, it can apparently remain underwater for at least an hour without significant muscle fatigue. This could point to something unusual going on in the beaked whale's metabolism that scientists don't yet understand.
A significant issue that any deep sea diver (whether human, whale, or anything else) has to deal with is tissue damage. Small pressure differences between gas-filled air spaces in the body, such as the lungs or inner ear, and the surrounding water can cause tissue to rupture. This is often called barotrauma in scientific terms. To withstand the stress of deep diving, some whales are believed to have extra veins inside these gas-filled cavities. When a whale reaches unusually deep places, the veins expand outward to fill the extra space within the cavity. At the same time, the lungs collapse to prevent any damage to them. With so much oxygen flowing through their blood, they no longer need to use their lungs before reaching the surface again.
How do whales sleep without suffocating?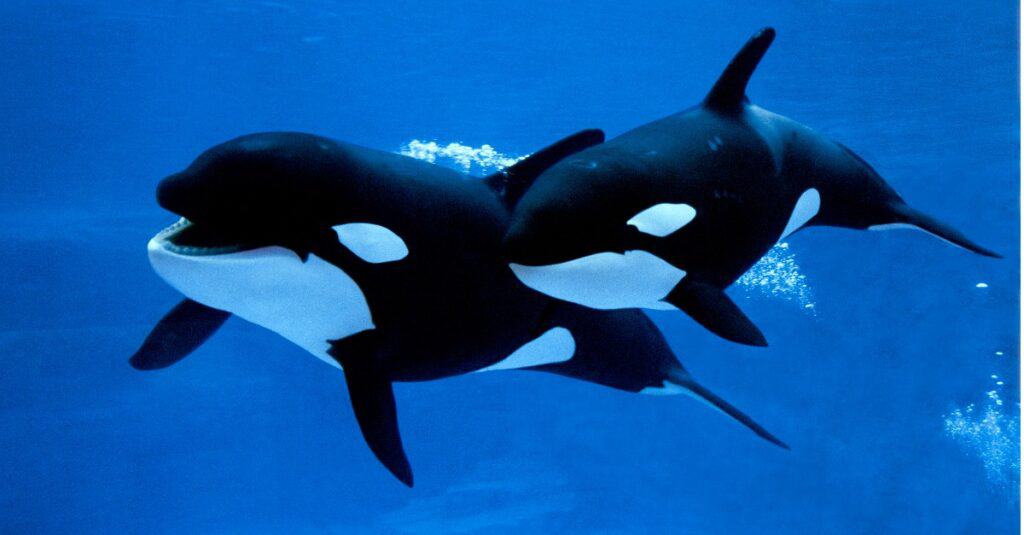 Cetaceans generally have two different sleep strategies. They either rest horizontally or vertically in the water, or sleep for a while while swimming with another person. Both methods involve a sleep state more akin to a nap; most of their brains remain alert and active. While breathing itself is an unconscious action, whales must remain conscious enough to control their blowholes because it requires conscious muscle movement. This suggests that they don't sleep exactly like humans.
Do whales drown?
Whales don't actually drown (because their lungs are almost never filled with water), but they suffocate from lack of oxygen. This happens when a whale becomes entangled in a fishing net and in a panic tries to dive deeper or remains stuck in place. Newborns may also have difficulty reaching the surface. Sometimes they choke before taking their first breath.
There are many stories of whales being rescued from fishing nets by divers. The whales often stayed nearby after being released to interact with and thank the divers. They are also able to communicate over long distances through their powerful deep-sea singing. Unfortunately, whale populations are in decline, mainly due to entanglement and overhunting.
I am broadly interested in how human activities influence the ability of wildlife to persist in the modified environments that we create.
Specifically, my research investigates how the configuration and composition of landscapes influence the movement and population dynamics of forest birds. Both natural and human-derived fragmenting of habitat can influence where birds settle, how they access the resources they need to survive and reproduce, and these factors in turn affect population demographics. Most recently, I have been studying the ability of individuals to move through and utilize forested areas which have been modified through timber harvest as they seek out resources for the breeding and postfledging phases. As well I am working in collaboration with Parks Canada scientists to examine in the influence of high density moose populations on forest bird communities in Gros Morne National Park. Many of my projects are conducted in collaboration or consultation with representatives of industry and government agencies, seeking to improve the management and sustainability of natural resource extraction.