LAMPANG, Thailand— Natthanan Sukon says very little and stares blankly into the distance as she follows her therapist into the forest clearing. Then, the elephants arrive.
The 14-year-old breaks out into a broad smile and yelps with excitement as she is helped onto an one of the animal's backs for a ride. Her mother is smiling too: "I hope they can help my child to develop," she says.
Sukon's smile is the result of a program — believed to be the world's first — seeking to help children with autism through elephant interactions.
"The elephants are great therapists," explained Prasop Tipprasert, founder of the program which relies on two gentle giants called Nua Un and May for the therapy.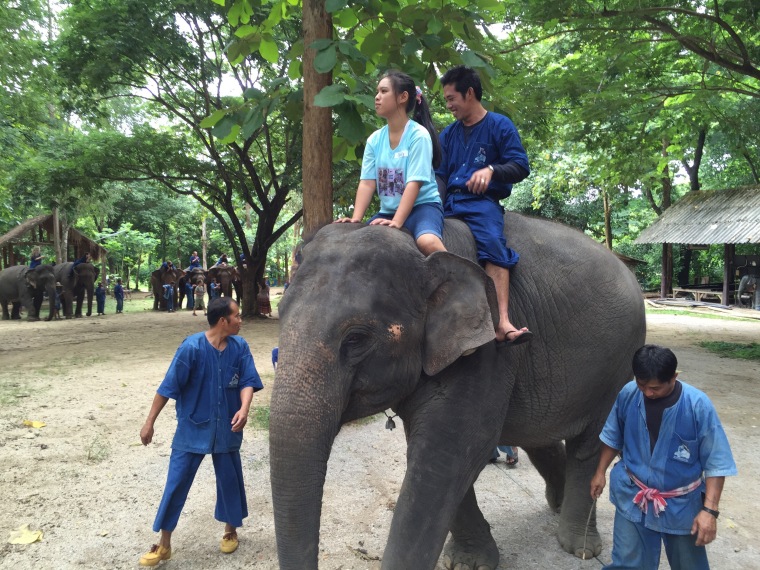 The program is run by occupational therapists from Chiang Mai University in northern Thailand. On the day NBC News visited, nine children had traveled from that city to an elephant conservation center in nearby Lampang where the therapy takes place.
The kids spent the morning riding, feeding, washing and scrubbing the elephants, followed by ball games.
"Chang! Chang! Chang!" [Elephant! Elephant, Elephant!] they chanted, as they caught trunk-tossed balls.
Tipprasert started the program eight years ago after witnessing the effect elephants had on his own son — then 3 years old — who he said used to be withdrawn.
"Elephants gave me my son back," he said.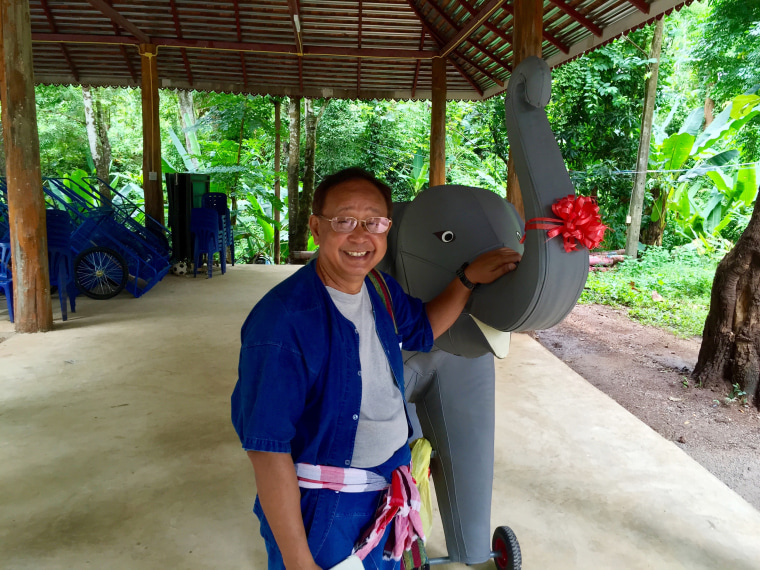 The animals produced a strong and lasting emotional response, and Tipprasert took the idea to therapists at the university.
Since then, around forty children a year have come through the program — although the frequency of sessions depends on limited funding.
Maethisa Pongsaksri, an associate professor at Chiang Mai University, said there has been strong anecdotal evidence of progress.
"Behavior has improved, and also their cognitive function. It has improved their relationships with their family and also with friends at school," she said.
Animal-assisted therapy for developmental disabilities is not a new phenomenon. Dolphins, dogs and horses have been used elsewhere — though experts are divided about their impact, with many skeptical about the effectiveness.
"It would be nice to do some peer-reviewed research. We are open to that," said John Roberts, Director of the Golden Triangle Asian Elephant Foundation, which supports the program. "But at the moment I see happy kids, and kids getting happier as time goes by."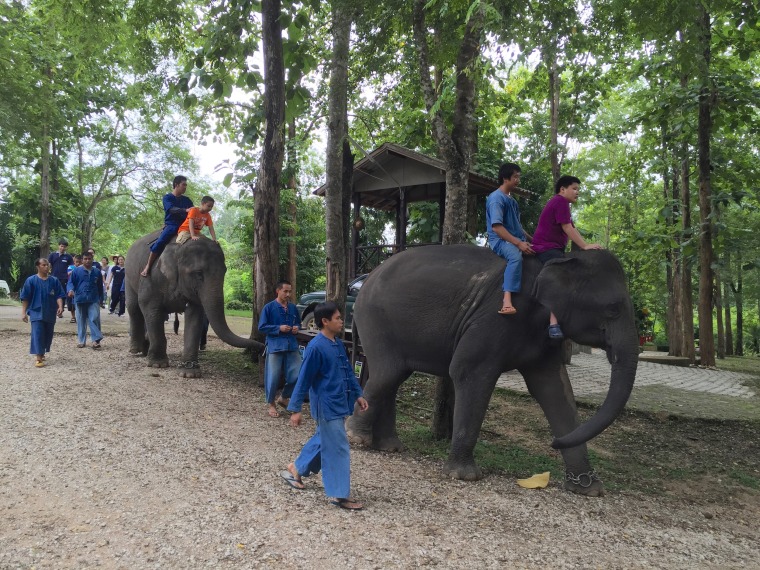 In addition to eliciting an emotional response and boosting confidence, each element of the elephant program is designed to develop specific skills. Games are designed to foster group activity and interaction, while riding an elephant bareback builds balance and posture.
The activity of scrubbing down the elephants, who helpfully lie on their sides, was designed to overcome any fear of sticky or prickly surfaces.
For the conservation center — which mainly looks after elephants put out of work after logging was outlawed in Thailand — the therapy program has been one of its most successful ventures.
The two pachyderm therapists are both female and were carefully chosen for their temperament and intelligence. Eleven-year-old Nua Un is regarded as the smartest, having come out top in problem-solving tests.
They were trained using what the center calls positive reinforcement — receiving rewards for certain actions — and not using the sort of abuse activists say exists at some training centers.
"They do bring out emotions, bring out feelings in people," said Roberts, for whom elephant therapy is a win-win situation.
While he said he'd "much prefer all the elephants in the world to be wild," he noted how Thailand has to find food and gainful employment for an estimated 3,500 in captivity.
"This a good way of doing it, and it also helps," Roberts said.
Natthanan seemed to be enjoying the afternoon.
"This is fun! When's the next ride?" she asked, with an enthusiasm and spontaneity that delighted her mother. "I liked giving food to the elephants."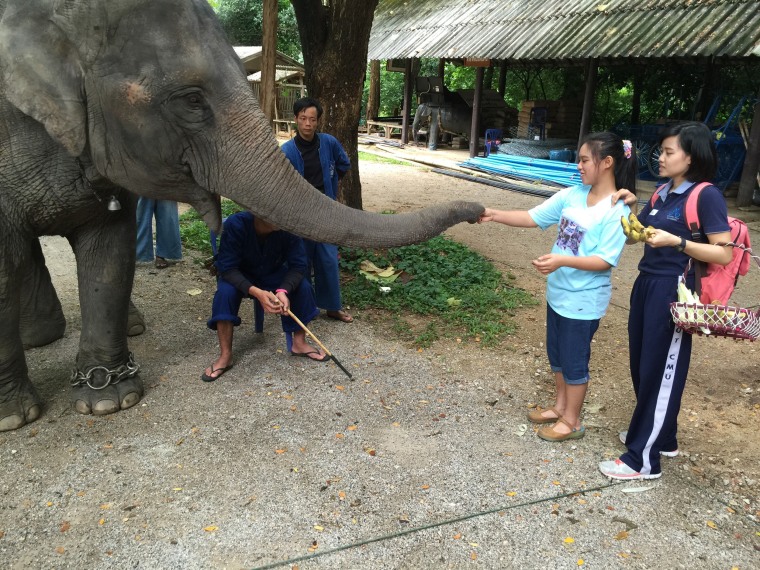 As the other children from Chiang Mai returned to their bus to head back to the city, some smiled and waved at the elephants. It was a very different mood from earlier in the day, when they first stepped nervously into the forest clearing.
Tipprasert, the program's founder, said it is enormously rewarding for him to see the children smile.
"I think elephants really have something," he said.
I am broadly interested in how human activities influence the ability of wildlife to persist in the modified environments that we create.
Specifically, my research investigates how the configuration and composition of landscapes influence the movement and population dynamics of forest birds. Both natural and human-derived fragmenting of habitat can influence where birds settle, how they access the resources they need to survive and reproduce, and these factors in turn affect population demographics. Most recently, I have been studying the ability of individuals to move through and utilize forested areas which have been modified through timber harvest as they seek out resources for the breeding and postfledging phases. As well I am working in collaboration with Parks Canada scientists to examine in the influence of high density moose populations on forest bird communities in Gros Morne National Park. Many of my projects are conducted in collaboration or consultation with representatives of industry and government agencies, seeking to improve the management and sustainability of natural resource extraction.