Gorillas and tigers are two very hardy animals that leave anyone in awe when they see them in the wild. Both animals are easily recognizable and can be very dangerous to those who get on their bad side. With two such powerful creatures, we can't help but wonder what would happen if these two animals fought. Unfortunately, unless the gorilla and tiger escape from the zoo's enclosure, a gorilla-tiger fight cannot happen in real life!
We can use our existing knowledge about these animals to give us insight into how the battle will play out. Check out our multi-point comparison of tigers and gorillas to see what to expect in battle.
Comparing Gorillas and Tigers
gorilla
tiger
size
Weight: 220 lbs – 440 lbs
Height: 4.4ft – 5.1ft
Length: 4ft-5ft
Weight: 500 lbs – 660 lbs
Height: 3 feet – 4 feet at the withers
Length 8 ft – 12.5 ft
speed and movement type
-25 mph
– Can move quickly with knuckle walk
30-40 mph
– gallop
– 20ft-25ft leap
Bite Force and Teeth
–1,300 PSI bite force
-32 teeth including 2 inch canines
1000 PSI Bite Force
– 30 teeth in total
– 3 inch teeth
the senses
– Human-like vision
– good sense of smell
– Human-like hearing
– Deep hearing helps tigers identify prey
– Binocular vision is similar to humans, but much better at night.
– A decent sense of smell is nowhere near as effective as a dog's sense of smell.
defense
– Threat display
– speed
– Huge size
– powerful roar
– Striped fur camouflage helps tigers blend in with their surroundings.
offensive ability
– Unarmed strikes (no real punches)
– bite
– 4 inch claws
– Strong bite
– Strong jaws allow tigers to pinch and suffocate prey
– Great muscular strength helps them overwhelm prey
predatory behavior
– opportunistic predators as omnivores
– Ambush Predator
– Stalk and attack under favorable conditions
– Attempts to clamp the prey's neck for a fatal bite.
Key factors in gorillas vs. tiger fights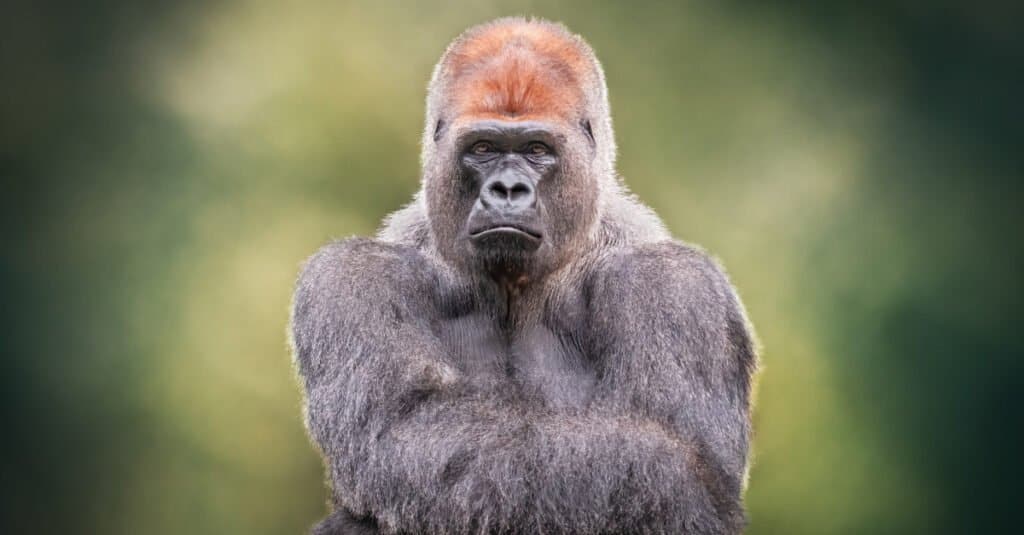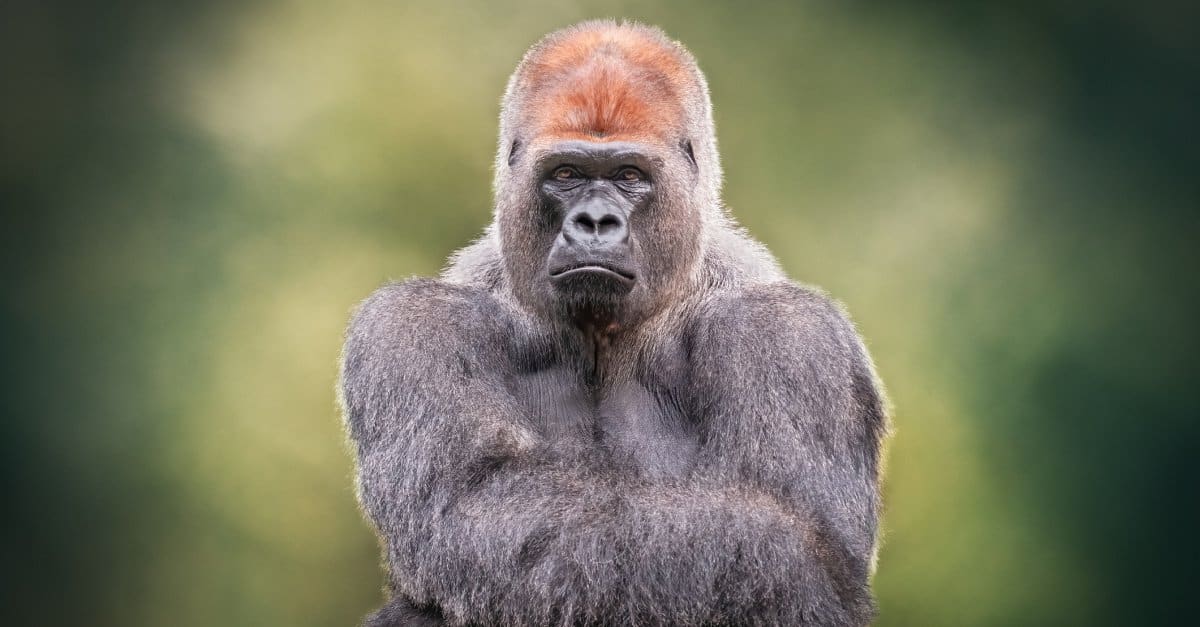 Deciding the winner of a fight between a gorilla and a tiger requires focusing on several important factors rather than examining every possible data point. We've established six data points that will outline a fighter's most important qualities: the physical element and the combat element. By examining each one, we can determine the winner.
Physical Characteristics of Gorilla and Tiger
A fight between a gorilla and a tiger has the potential to be a fierce battle. We'll examine five data points about its physical characteristics and assign a strength to each. See which creature has the greatest advantage in the physical element of combat.
Gorilla vs. Tiger: Size
Gorillas are very large creatures, weighing up to 400 pounds and standing about 5 feet tall. Tigers are shorter than gorillas, standing about 4 feet at the shoulder. However, they weigh around 600 pounds and can grow up to 12 feet in length.
The biggest gorilla of all time vs. the biggest tiger is very close! The largest gorilla in captivity weighed 860 pounds, while the largest captive tiger weighed 932 pounds. It was close, but the tiger gained weight again.
Tigers are bigger than gorillas, so they have an advantage.
Gorilla vs Tiger: Speed ​​and Movement
Gorillas can move quickly along the ground at 25 mph using the fast knuckle walking method, which makes them somewhat vulnerable. Tigers use a gallop at speeds of up to 40 mph and they can leap 20 feet!
Tigers are faster and move better than gorillas.
Gorilla vs Tiger: Bite Force and Teeth
Both gorillas and tigers use their bite force and teeth as their primary source of attack. Gorilla bite force is very powerful, up to 1,300 PSI. They also have 2 inch fangs. Tigers have a bite force of 1,000PSI and teeth that are 3 inches long.
Without any other context, gorillas have a stronger bite, but tigers have better teeth.
Gorillas and tigers are tied in this section.
Gorilla vs. Tiger: The Senses
Tigers are incredible hunters with an amazing sense of hearing, excellent night vision and a sense of smell that is only slightly inferior to that of dogs. Gorillas only have human-like senses, but they are nowhere near as strong as tigers.
Tigers have an advantage in senses.
Gorilla vs Tiger: Physical Defense
Tigers rely on their size, speed and natural camouflage to hide from their enemies. Gorillas use their threatening appearance and speed to fend off predators.
Tigers have far more effective physical defenses than gorillas, so they have an advantage here.
Gorilla and Tiger Fighting Skills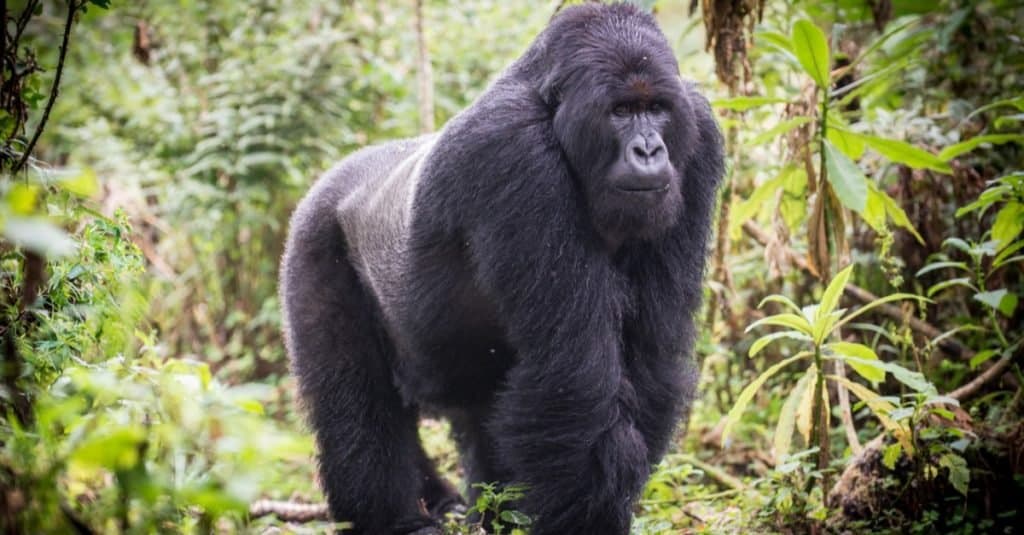 In combat, gorillas will often charge at their enemies to frighten them and make them back off. When a fight is unavoidable, they grab and pull on limbs with tremendous force, possibly breaking them.
Gorillas also grab other vital parts, such as their genitals, and use it to injure their enemies. They also bite their enemies, driving their powerful teeth into their vitals. They are very strong and dangerous.
Tigers are ambush predators. They'll stalk and wait for enemies to become vulnerable, then attack them when the time is right. They will use their weight and powerful legs to overwhelm their foes, then mortally beat and bite them in the vitals until they die. Usually, they launch an attack at the beginning of an ambush to kill their prey.
What is the main difference between a gorilla and a tiger?
Tigers are bigger and heavier than gorillas. Gorillas weigh over 400 pounds and tigers weigh over 600 pounds. Tigers are longer but shorter than gorillas. Tigers live in Southeast Asia, while gorillas live in Africa.
Both gorillas and tigers are quadrupeds, but gorillas typically stand on their legs and use their arms to balance and leap forward. Tigers just use a galloping gait similar to other cats. These are the most notable differences between these organisms.
Who would win in a fight between a gorilla and a tiger?
Tigers will kill gorillas in a fight. If a tiger manages to ambush a gorilla, the tiger kills it instantly. Gorillas, while strong, can't hold back 600 pounds of muscle and teeth. Gorillas lack the senses to notice a tiger before it launches a fatal attack.
If the two creatures met in an open field, the tiger would still have the upper hand in a fight. A tiger would charge at a gorilla and, with its enormous size and strength, knock it down, seriously injuring the gorilla. The only way a gorilla can fight back is by grabbing sensitive areas and destroying them with raw force.
However, the chances of this happening are very low. One possible outcome is that the tiger and the gorilla attack each other frantically, with the tiger winning as the victor but being bitten deeply by the gorilla a few times.
The bottom line is Tiger has earned the rights.
I am broadly interested in how human activities influence the ability of wildlife to persist in the modified environments that we create.
Specifically, my research investigates how the configuration and composition of landscapes influence the movement and population dynamics of forest birds. Both natural and human-derived fragmenting of habitat can influence where birds settle, how they access the resources they need to survive and reproduce, and these factors in turn affect population demographics. Most recently, I have been studying the ability of individuals to move through and utilize forested areas which have been modified through timber harvest as they seek out resources for the breeding and postfledging phases. As well I am working in collaboration with Parks Canada scientists to examine in the influence of high density moose populations on forest bird communities in Gros Morne National Park. Many of my projects are conducted in collaboration or consultation with representatives of industry and government agencies, seeking to improve the management and sustainability of natural resource extraction.