More exciting content:
See 'The Dominator' – the world's largest crocodile
Seeing a wildebeest launch itself at two animals…
Scientists Discover New World's Largest Omnivore –…
New snake species discovered in Ecuador…
Watch These Elk Strike Cars In Yellowstone,…
Watch a great white shark stalk…
↓
Read on to watch this amazing video
Titanoboa was the largest snake that ever lived, which makes our modern boas look tiny. However, this isn't the only extinct species in a family that dwarfs living species. The largest lion ever to have ever lived, the cave lion, would have had a size advantage over modern African lions. Which made us wonder, which of these two creatures would win the battle between the biggest snake ever and the biggest lion?
For this battle, we'll use information about the Cave Lion and the Titanoboa to determine which of these creatures has the best chance of winning the match!
Compare the largest snake and largest lion ever
biggest snake ever
biggest lion
size
Weight: Up to 2,500 lbs
Length: Approximately 40 to 50 feet long
Weight: 700 to 800 pounds
Height: About 4 feet tall at the shoulders
Length: About 7 feet long, but with a longer tail
speed
– Average speed of movement over land may be less than 1 mph
– Modern pythons swim at about 10 mph, so the larger creature may have been slower
– Can run at about 30 mph
defense
– Large, thick, muscular body makes it hard to hurt even large animals
– The snake spends most of its time hiding in or around water in low lying plains
– Large size would make this creature a difficult target for predators
– May live in pride or small family units
– No strong mane around the neck to protect them from critical points
offensive ability
– Has a row of rear facing teeth that snakes use to bite their prey
– Will wrap its body around large animals, suffocating them or overwhelming their circulatory systems
– Approximately 1,800 PSI bite force, much stronger than a modern lion
– Canines are 5 inches long
– Has sharp, retractable claws
predatory behavior
– Likely to attack from the edge of the water body
– Possibly a pack hunter, using sketchy predation to hunt large game
– Some may hunt in an ambush
What's the main difference between the largest snake and the largest lion that ever lived?
The main differences between the largest snake ever lived and the largest lion are their size, shape and habitat. The largest snake ever recorded was a limbless reptile weighing up to 2,500 pounds and reaching a length of 50 feet that likely spent most of its time in or near water.
Meanwhile, the largest lion ever recorded was a terrestrial quadruped mammal that lived on grasslands and grasslands, weighing up to 800 pounds and standing 4 feet at the shoulder.
Each of these factors can have a profound effect on combat. We need to know whether a lion's speed matters in a fight that starts with an ambush, and whether the mammal can fight back against something three times its weight.
What's the key factor in the battle between the biggest snake ever and the biggest lion?
How do we determine which animal wins a battle between two creatures that never lived in the same place or time? We had to determine which factors of the two animals were at play in their fights, and then compare the characteristics of each animal. We'll break down speed, size, attack power, and more to show you which animal is more likely to win, and why.
Biggest Snake Vs Biggest Lion Ever: Size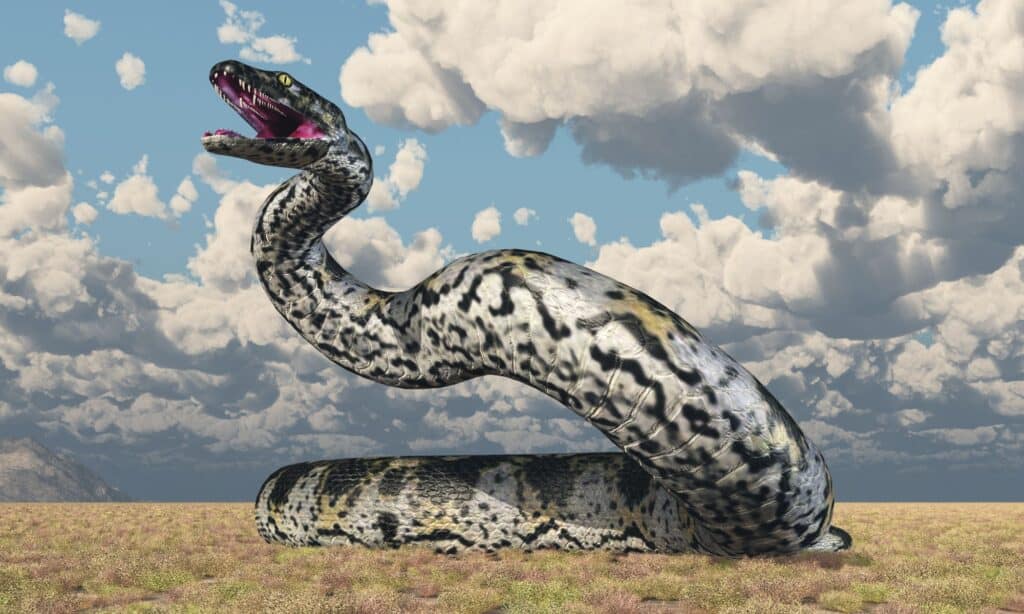 The biggest snake ever lived was much bigger than the biggest lion. Titanoboa weighed 2,500 pounds, compared to cave lions' 800 pounds. Titanoboa may have been 40 to 50 feet long, but the largest snake was about 4 feet tall and 7 feet long, not counting its tail. The Lions only have a height advantage, which isn't much of an advantage in this case.
The largest snakes have a size advantage.
Biggest Snake Vs Biggest Lion Ever: Velocity
The biggest lion that ever lived was faster than the biggest snake. Titanoboa's size makes it difficult to move quickly in water or on land. We can estimate that the snake was moving about 5 mph in water and 1 mph on land, but we're not sure.
The largest lion can run at 30 miles per hour on land, but we don't know how it behaves in water. Still, it may have been more agile than the largest snakes ever lived while running.
The biggest lion has a speed advantage.
Biggest Snake Vs Biggest Lion Ever: Defense
The largest lion ever built may be the best of its kind. It is difficult for any predator to take down the lion's pride. In this particular fight, however, the cave lion's entire advantage is its size. Although large, it is much smaller than a snake.
The largest snake ever recorded was a huge and powerful creature that can be difficult to find because it lives in low-lying areas with vegetation or in water. The snake's skin will provide it with some camouflage, while the snake's senses will allow it to spot nearby creatures.
All in all, the largest snakes have a defensive advantage.
Biggest Snake Vs Biggest Lion Ever: Offensive Capabilities
The largest lion that ever lived was probably more powerful than today's lions. The creature's canines are 5 inches long and have a bite force of approximately 1,800 PSI. That's twice the size of an African lion! After proudly chasing prey or ambushing it, they will attempt to bite and suffocate it.
The largest snake that ever lived was the boa constrictor. This means that the animal would bite its prey and hold them with multiple rows of rear-facing teeth. Next, the snake will begin to coil and squeeze its prey. This either smothers the prey or malfunctions its circulatory system, killing the animal so it can be eaten.
Neither animal has a clear offensive advantage.
Biggest Snake Vs Biggest Lion Ever: Predation Behavior
Both the largest snake and the largest lion ever lived were carnivores. The largest lions may join a group to roughly hunt or ambush their prey. The largest snake that ever lived would probably just ambush any terrestrial prey. They'll wait by the water's edge for a drink before attacking. The snake primarily eats fish, though, so these ambushes aren't its only source of food.
Lions have more types of predation, but one relies on a pride that lions won't have in this fight. This factor is a tie.
Who would win in a battle between the biggest snake ever and the biggest lion?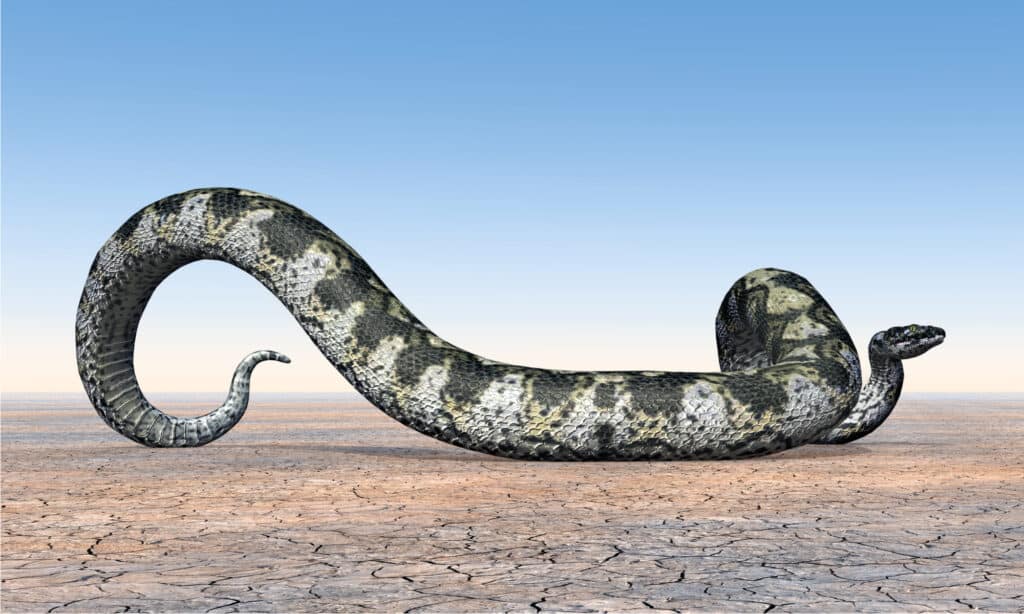 The biggest snake ever will win the battle against the biggest lion ever. Titanoboa is so massive that the lions have few options in battle. And, given that the fight would likely start near a source of water where the Titanoboa lived, the lion would likely be attacked before it knew what was happening.
An ambush attack from the water would see a large snake attacking a lion's head or neck. The Titanoboa would bite and then use its size and weight to pull the lion into the water.
However, several factors could change this result. If the fight took place on land, such as a Titanoboa driving across land between two rivers, the lion could have inflicted some serious damage to its head. However, given the size of the Titanoboa, the cave lion needs to launch a powerful attack quickly to prevent the python from touching the water or turning around to attack.
However, since the cave lions likely hunted with a small group, the pride would have defeated the Titanoboa in a hypothetical fight. However, in a one-on-one situation, a lion has a lower chance of survival than a snake.
But in reality, it's more likely that Titanoboa was aiming to kill the largest lion ever, rather than the other way around. Lions know that a kill like this requires a lot of energy based on size alone. Given that this mammal had never seen anything so large and terrifying, it may have succumbed to its instincts and avoided the creature.
Next:
Epic Battles: Great White Shark vs. Giant Squid
Epic Battles: Biggest Alligator Vs Biggest Snake Ever
Epic Battles: Biggest Snake Ever Vs Grizzly
I am broadly interested in how human activities influence the ability of wildlife to persist in the modified environments that we create.
Specifically, my research investigates how the configuration and composition of landscapes influence the movement and population dynamics of forest birds. Both natural and human-derived fragmenting of habitat can influence where birds settle, how they access the resources they need to survive and reproduce, and these factors in turn affect population demographics. Most recently, I have been studying the ability of individuals to move through and utilize forested areas which have been modified through timber harvest as they seek out resources for the breeding and postfledging phases. As well I am working in collaboration with Parks Canada scientists to examine in the influence of high density moose populations on forest bird communities in Gros Morne National Park. Many of my projects are conducted in collaboration or consultation with representatives of industry and government agencies, seeking to improve the management and sustainability of natural resource extraction.