This lawsuit may never be forgotten.
In the first case of its kind in the United States, an animal rights group has filed suit seeking legal personhood for elephants who are being kept at a Connecticut zoo.
"The Nonhuman Rights Project's lawsuit on behalf of the elephants — Minnie, Beulah, and Karen — marks the first time in the world that a lawsuit has demanded that an elephant's legal right not to be imprisoned and treated as a thing be recognized," said Steven Wise, founder of the Nonhuman Rights Project (NhRP), which filed the suit.
Wise is arguing that animals such as elephants, which have complex cognitive and social abilities, should not be counted as "things" under the law, meaning they "lack the capacity for any kind of legal rights," he said. Instead, the group is pushing for the courts to give the elephants the capacity for "personhood."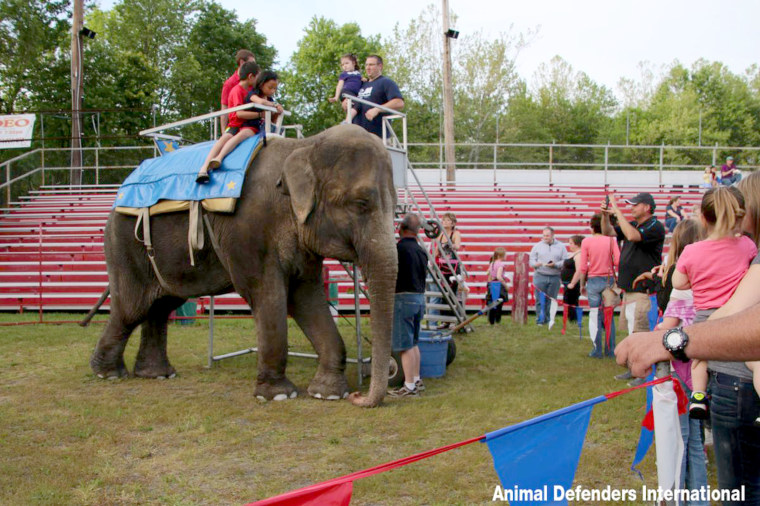 Wise stressed that seeking "personhood" for the elephants is not the same as seeking the full gamut of human rights.
"The only thing we're seeking is the single right of bodily liberty that is protected by habeas corpus," he said.
The group is working to have the three elephants removed from the R.W. Commerford and Sons Traveling Petting Zoo in Connecticut and taken to a sanctuary. The zoo has been found in violation of meeting the minimum standards of the Animal Welfare Act more than 50 times, according to NhRP.
The zoo did not return a request for comment from NBC News on Monday.
The violations included failure to have an employee present during periods when the public is in contact with the elephants, failure to give adequate veterinary care to treat an excessive accumulation of necrotic skin on the elephants' heads, and inadequate drainage of an elephant enclosure, according to the group.
The elephants are also subjected to participating in a traveling circus and to being ridden by humans, Wise said.
The three elephants range from 36 to 50 years old and were all born in the wild, according to the group.
Wise said the suit would rely on the testimony of many experts and scientists who say elephants are "autonomous beings" with complex cognitive abilities and social structures.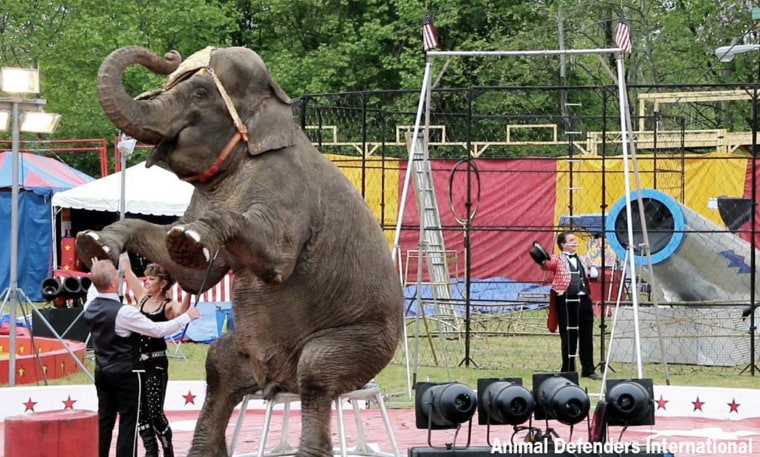 "It is simply immoral and it ought to be illegal to imprison an autonomous being against their will without due process," he argued.
No stranger to the issue, Wise has also filed habeas corpus petitions on behalf of two chimpanzees, Kiko and Tommy, living in New York. A new York judge ruled against the group in June, but the case is under appeal.
The case, and Wise's 25-year quest for animal rights, was documented in the In the 2016 HBO documentary "Unlocking the Cage."
Related: Chimps Kiko and Tommy Don't Have Rights of People, New York Court Rules
Despite the setback last summer, Wise pointed to small steps of progress in other places around the world, such as in Argentina, where in November 2016, a judge ruled that a chimpanzee named Cecilia was a "nonhuman legal person" and agreed that the ape had "inherent rights."
Wise argued that animals are already afforded a legal rights in Connecticut and New York, where a pet trust statute allows people to make animals the beneficiaries of a trust.
"We're looking for a second legal right," he said.
Connecticut also enacted a law last year that legal experts said was the first of its kind to permit judges to appoint advocates for dogs and cats in cases involving cruelty, abuse and neglect.
Related: Circus Icon Ringling Bros. Says Goodbye After 146 Years
"That allows courts to tap volunteer students or lawyers to act as advocates for justice in cases involving the abuse of dogs or cats and this legislation is aimed to support more vigorous enforcement of our existing anti-cruelty laws," said Jessica Rubin, a professor of law at the University of Connecticut who helped write the legislation.
Rubin said she is hopeful the courts in Connecticut will side with the nonhuman Rights project and that the fight was indicative of the increase of public awareness of animal rights and capabilities.
"I think things are changing and that change is supported by science and increasing data about cognition and emotion and our shifting morals and tolerance of abuse of other beings," she said.
I am broadly interested in how human activities influence the ability of wildlife to persist in the modified environments that we create.
Specifically, my research investigates how the configuration and composition of landscapes influence the movement and population dynamics of forest birds. Both natural and human-derived fragmenting of habitat can influence where birds settle, how they access the resources they need to survive and reproduce, and these factors in turn affect population demographics. Most recently, I have been studying the ability of individuals to move through and utilize forested areas which have been modified through timber harvest as they seek out resources for the breeding and postfledging phases. As well I am working in collaboration with Parks Canada scientists to examine in the influence of high density moose populations on forest bird communities in Gros Morne National Park. Many of my projects are conducted in collaboration or consultation with representatives of industry and government agencies, seeking to improve the management and sustainability of natural resource extraction.