Donkeys and horses are two of the most famous working animals in world history. Horses have carried soldiers to war and served as a means of peaceful transportation for thousands of years. Donkeys have been used as pack animals and cart pullers for thousands of years. Today, they continue to fill those roles and grow into others. Although both donkeys and horses are herbivorous quadrupeds with roughly the same body size, there are many differences between donkeys and horses.
We will provide some simple and complex differences between these animals. Not only will you recognize each one, but you'll also see why each one is adapted to new and old uses.
Comparing Donkeys and Horses
donkey
horse
size
Weight: 400-570 lbs
Height: 35″ – 51″ at the withers
Weight: 840-1,200 lbs
Height: 55 to 67 inches at the withers, with some records for larger horses
speed
– 15 mph
– Average speed 25- 40 mph
– Measured up to 55 mph
life
– 15-30 years old
– 25-30 years old
social behavior
– Combine with other creatures and live in pairs
– Can live with the herd
– Social animals that live in larger groups.
genetics
64 chromosomes
62 chromosomes
Behavior
Not so frivolous, will stand up and fight the enemy
Easily startled, avoids threats
ear length
– Large ears that hang down.
– Short ears that are often kept erect
Key Differences Between Donkey and Horse
The main differences between donkeys and horses are their size, speed, and social behavior. Donkeys are smaller than horses, standing a few inches to a few feet shorter and weighing about half as much.
Another major difference between the two animals is their speed. Horses are much faster than donkeys. Donkeys can run at a respectable 15 mph, but horses are bred for speed and endurance and can easily reach 30 mph, with a top speed of 55 mph.
Finally, horses are herd animals that thrive in social environments, but donkeys live mostly in pairs in the wild, not in herds.
These differences define these mammals, and it's easy to identify each of them. However, we will explore other differences between these organisms to gain insight into what makes them unique.
Donkey vs. Horse: Size
Donkeys are smaller than horses. The average donkey stands between 35 inches and 51 inches tall and weighs between 400 pounds and 570 pounds. Horses are taller and heavier. They can reach a height of 67 inches at the shoulder and weigh 1,200 pounds or more.
If you put an average donkey next to an average horse, the difference in size would be immediately noticeable.
Donkey and Horse: Speed
Donkeys are slower than horses. Donkeys can run at speeds of up to 15 mph, which isn't much considering some humans can outpace them for short distances. For thousands of years, people have bred horses for speed and endurance.
The average speed of the horses is between 25 mph and 40 mph, but the fastest horses ever recorded can reach speeds of 55 mph. For example, both quarter horses and thoroughbreds are bred specifically for speed. This means that the fastest horse is almost four times faster than the average donkey!
Donkey and Horse: Lifespan
The average lifespan of a horse is longer than that of a donkey. Donkeys can live 15 to 30 years, depending on many factors. Although many donkeys are cared for by farmers, the heavy work takes its toll on these animals and shortens their lifespan. Donkeys can live up to 30 years if cared for properly.
The lifespan of a horse is between 25 and 30 years. However, those living in the wild did not live to age 30 like those in captivity. Many horses around the world are cared for as pets and show animals and tend to live the longest due to the investment of time and money they represent.
Donkeys and Horses: Social Behavior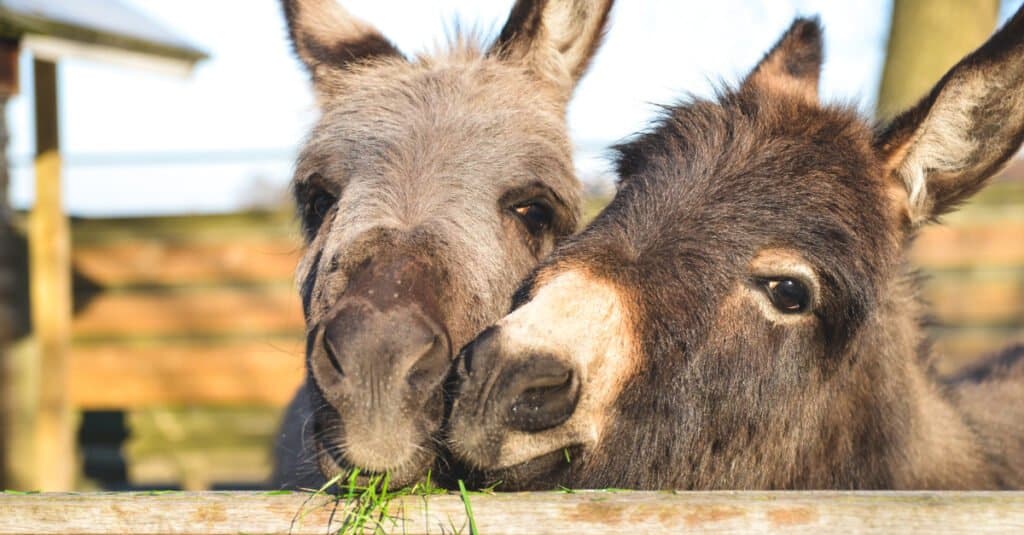 Donkeys tend to live in pairs and maintain close relationships with other donkeys, but horses live in herds when out in the wild. But that doesn't mean donkeys don't interact with other animals. When they get used to each other at an early age, they usually get along well with other livestock. In this way, the donkey gets used to being with other animals.
Horses do well in familiar herds. They may not be able to blend in with other animals or horses they are not used to seeing.
Donkeys and Horses: Genetics
While it's not a stark difference, horses and donkeys have different numbers of chromosomes. Horses have 64 chromosomes and donkeys have 62. Mules are the offspring of horses and donkeys and have 63 chromosomes.
Donkey and Horse: Behavior
Donkeys are brave animals who will stand their ground and fight their enemies, but horses are more easily frightened and will often flee confrontation if possible. Horses are fast animals so any discomfort may cause them to run away as this is their best option for survival.
Donkeys are not very fast compared to carnivores so they will stand up and fight for their lives. They bite and kick animals, and they can defend themselves against tough predators like coyotes. Interestingly, donkeys have integrated into other herds for this very reason; they would defend their territories from coyotes and other predators, thereby protecting herds of sheep and other creatures.
Of course, they need to get used to other animals beforehand, otherwise those farm animals could end up biting or kicking themselves.
Donkey and Horse: Long Ears
Finally, donkeys have longer ears than horses. Donkey ears are very long, meaning they often hang down to the sides of the animal's head rather than standing upright. Horse ears are shorter and more alert. They will never fall to the side due to their small size.
There are many differences between a donkey and a horse. Some of these are obvious, such as size, ear length, and speed, but others require knowing the animal before it becomes obvious. For example, donkeys may be slower and smaller than horses, but they are braver.
All in all, donkeys and horses are still two of the most useful animals in terms of their relationship to humans.
I am broadly interested in how human activities influence the ability of wildlife to persist in the modified environments that we create.
Specifically, my research investigates how the configuration and composition of landscapes influence the movement and population dynamics of forest birds. Both natural and human-derived fragmenting of habitat can influence where birds settle, how they access the resources they need to survive and reproduce, and these factors in turn affect population demographics. Most recently, I have been studying the ability of individuals to move through and utilize forested areas which have been modified through timber harvest as they seek out resources for the breeding and postfledging phases. As well I am working in collaboration with Parks Canada scientists to examine in the influence of high density moose populations on forest bird communities in Gros Morne National Park. Many of my projects are conducted in collaboration or consultation with representatives of industry and government agencies, seeking to improve the management and sustainability of natural resource extraction.