↓ Read on to watch this amazing video
key point:
Dogo Argentinos were originally bred in Argentina for big game hunting, while Pitbulls were bred in England for bullfighting and dogfighting.
Dogo Argentinos are generally larger and heavier than Pitbulls, with males weighing between 80-100 pounds and standing up to 27 inches, while Pitbulls typically weigh between 30-70 pounds and stand up to 21 inches.
Both Dogo Argentinos and Pitbulls have strong, powerful jaws, but Dogo Argentinos are known for their bite force, which has been measured at up to 500 pounds per square inch, while Pitbulls have a bite force of about 235 pounds per square inch.
At first glance, the Dogo Argentino and the Pitbull look very similar, but what differences might exist between the two breeds?
Both of these dogs are remarkably strong, loving, and loyal—but what similarities bring them together, and what differences set them apart?
In this article, we will compare and contrast the Dogo Argentino and Pitbull so that you can fully understand these two unique and beautiful breeds. We'll go over what they look like in detail so you can see how to tell them apart.
Finally, if you're interested in adopting either breed, we'll discuss their ancestry and behavioral differences. Let's get started now!
Comparing Dogo Argentino and Pitbull
| | Dogo Argentino | pit bull |
| --- | --- | --- |
| size | 24-27 inches tall; 85-100 lbs | 13-24 inches tall; 25-80 lbs |
| appearance | Muscular body and compact frame; solid white coat with some black on the head, but rarely. Short, single coat and erect ears.big head, thick neck | The large head and compact body are available in a variety of colors. Short, erect ears and a long, straight tail.Short, soft coat; highly muscular and powerful frame |
| ancestor | Originally bred for fighting in the 1920's but has since transformed into an excellent hunting dog breed.For police and guide dog work | Originated in England or Scotland in the 19th century and is used in various illegal fighting activities, including bull and dog fighting |
| Behavior | Very brave and loyal to family and owner; needs a lot of structure and training to avoid bad behavior with strangers, but only wants to protect their people | People who trust it are very loyal, affectionate and kind. It gets a bad rap and there is a lot of prejudice against the breed that is largely unfounded.Still needs plenty of exercise and a firm hand during training to avoid any problems, but makes an ideal guard dog and family dog |
| life | 11-13 years old | 12-15 years old |
Dogo Argentino vs Pitbull: Origins
Dogo Argentinos and Pitbulls are two of the most popular dog breeds in the world. These breeds are all known for their strength, loyalty, and tenacity, but they differ markedly in their origins and histories.
With that being said, let's explore the fascinating origins of the Dogo Argentino and Pitbull.
Dogo Argentino
Dogo Argentinos were first bred in Argentina in the 1920's by Dr. Antonio Nores Martinez. Dr. Martinez's goal was to create a powerful and versatile hunting dog that could tackle big game such as wild boar and mountain lions. To achieve this, he crossed several breeds, including the Cordoba Pitbull, Boxer, Pointer and Great Dane. The result is a large, muscular dog with a strong prey drive and unwavering loyalty to his master.
pit bull
Pitbulls, on the other hand, have a more controversial history. The breed originated in England in the 19th century, where they were bred for pit bulls and dogfights. These brutal sports involve pitting dogs against bulls or other dogs, and the breed was developed for their strength, agility, and aggression. When pit bulls and dogfights were outlawed in the 1800s, pit bulls were used for other purposes such as hunting and as family pets.
origin difference
The origins of the Dogo Argentino and Pitbull have resulted in their distinct differences in temperament and physical characteristics. While both breeds are known for their strength and loyalty, the Dogo Argentino was bred specifically for hunting, while the Pitbull was bred for fighting. This leads to differences in their predation behavior, with Dogo Argentinos being more focused on hunting, while pitbulls are more focused on aggression towards other dogs.
In terms of physical differences, Dogo Argentinos are generally larger, heavier, and more muscular than Pitbulls. This is due to their breeding with larger breeds such as the Great Dane. Pitbulls are generally more agile and have a leaner build, reflecting their history as fighting dogs.
Together, the origins of the Dogo Argentino and Pitbull have shaped their unique personalities and physical traits. While both breeds have loyal and loving personalities, it's important to understand their origins and personality differences before deciding which breed is best for your family and lifestyle.
Key Differences Between Dogo Argentino and Pitbull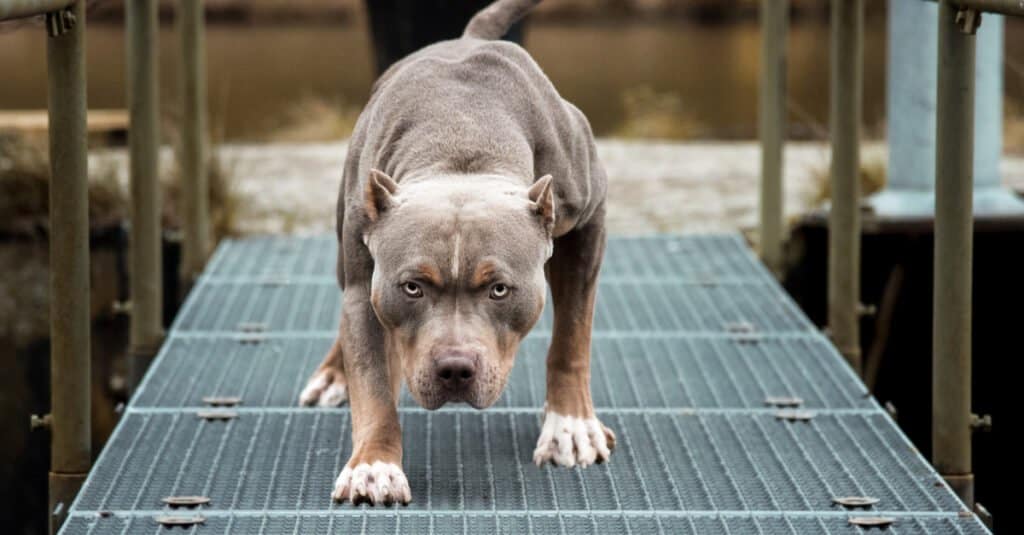 There are a number of key differences between Bulldogs and Dogo Argentinos. For example, the Dogo Argentino grows larger than the average Pitbull in both height and weight. Also, Pitbulls have a lot more coat color than white Dogo Argentinos. Finally, the Dogo Argentino has a slightly shorter lifespan compared to the common Pitbull.
Let us now examine all these similarities and differences in more detail.
Dogo Argentino vs Pitbull: Size
In terms of size, there is a clear difference between the Pitbull and the Dogo Argentino. For example, Dogo Argentinos often reach 24-27 inches tall, while Pitbulls are much smaller and stockier. They average only 13 to 24 inches tall, depending on gender. But what about the weight of the two dogs? Let's take a closer look.
If you haven't already guessed, Pitbulls are on average much lighter in weight compared to Dogo Argentinos. Depending on sex and breed, a Dogo Argentino averages 85-100 pounds, while a Pitbull only weighs 25-80 pounds. This means you can easily tell the difference between an adult Dogo Argentino and an adult Pitbull just by looking at them side by side!
Dogo Argentino vs Pitbull: Looks
There are many physical differences between Pitbulls and Dogo Argentinos, though the breeds do look alike. For example, the Dogo Argentino is only available in pure white, while the Pitbull comes in a variety of colors and fur patterns. Also, Pitbulls are more likely to have floppy ears compared to the pricked ears of a Dogo Argentino.
While both dogs are very muscular and strong, the Dogo Argentino has a less compact body compared to the stout Pitbull. You can easily tell that Pitbulls have shorter legs than Dogo Argentinos' muscular legs, even though both of their heads are large and round.
Dogo Argentino vs Pitbull: Ancestry and Breeding
There are some key differences between breeding a Dogo Argentino and pitbull breeding. For example, the Dogo Argentino originated in Argentina in the 1920s, while the Pitbull originated in England or Scotland in the 19th century, depending on who you talk to. What these two breeds have in common is the original reason they were bred – let's talk about that now.
Both the Dogo Argentino and the Pitbull were originally bred for fighting, although this didn't last long in the Dogo Argentino. While the Pitbull remained a fighting dog for most of its breed history, the Dogo Argentino has transformed into a competent hunting and guarding dog. However, both breeds are great companion animals today, being vigilant and protective.
Dogo Argentino vs Pitbull: Behavior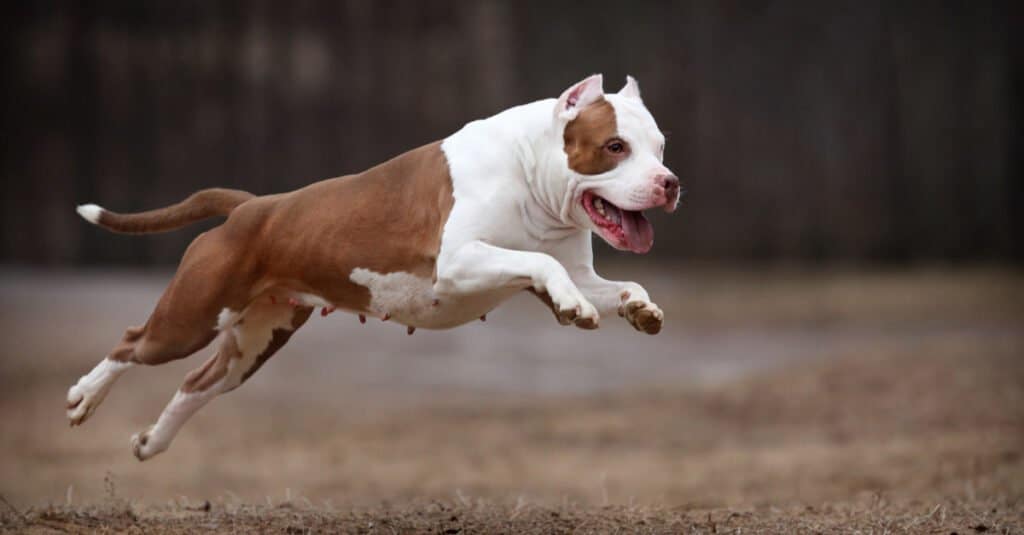 Dogo Argentinos and Pitbulls behave very similar in many ways. Both breeds are vigilant, protective, and vigilant with their families.
They both need a serious and experienced owner to train them well and make sure they don't have too many problems with strangers or other dogs.
However, Pitbulls show more affectionate tendencies than the more stoic Dogo Argentino. While both dogs are great companions, the Pitbull is overall a bit clumsy compared to the Dogo Argentino.
Dogo Argentino vs Pitbull: Lifespan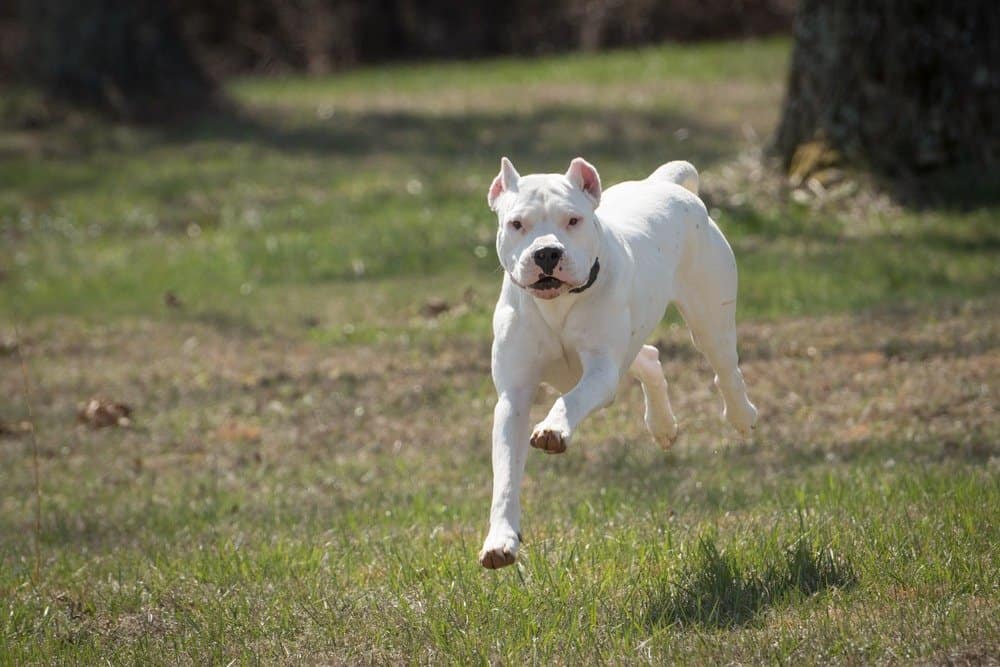 One final difference between Pitbull and Dogo Argentino is their longevity. Possibly due to size differences, Pitbulls have a longer average lifespan compared to Dogo Argentinos. Looking closely at the numbers, Pitbulls live an average of 12 to 15 years, while Dogo Argentinos live on average 11 to 13 years.
Ready to discover the top 10 cutest dog breeds in the world?
How about the fastest dogs, the biggest dogs, and those who are – quite frankly – just the kindest dogs on earth? Every day, AZ Animals sends out lists like this to our thousands of email subscribers. The best part? free. Join today by entering your email below.
Next:
I am broadly interested in how human activities influence the ability of wildlife to persist in the modified environments that we create.
Specifically, my research investigates how the configuration and composition of landscapes influence the movement and population dynamics of forest birds. Both natural and human-derived fragmenting of habitat can influence where birds settle, how they access the resources they need to survive and reproduce, and these factors in turn affect population demographics. Most recently, I have been studying the ability of individuals to move through and utilize forested areas which have been modified through timber harvest as they seek out resources for the breeding and postfledging phases. As well I am working in collaboration with Parks Canada scientists to examine in the influence of high density moose populations on forest bird communities in Gros Morne National Park. Many of my projects are conducted in collaboration or consultation with representatives of industry and government agencies, seeking to improve the management and sustainability of natural resource extraction.