key point
Part of the reason dogs bite their feet is anxiety, infection, boredom, and injury. If your dog begins to bleed, has swollen skin, or begins to shed hair, contact your veterinarian as soon as possible.
Sometimes you'll need to look at your dog's health or underlying stress levels to determine whether chewing feet is due to pain or stress.
Many of the causes on this list can be due to: parasites, winter salt irritation, or yeast infection.
If you're reading this, you're probably thinking – why is my dog ​​biting his foot? It's perfectly normal for your dog to lick or bite his feet occasionally, but if it's excessive, it may be cause for concern. It can be difficult to tell if your dog biting his feet is a cause for concern or completely normal.
In most cases, chewing feet is nothing to worry about. This could be due to minor irritation or boredom. Your dog can also suffer painful injuries that you may not be aware of. In any case, if it causes bleeding, hair loss, or swelling, you may need to take action and take your pet to the veterinarian.
We'll cover the various reasons your dog might be biting his foot, where to draw the line, and how to get him to stop.
why dogs bite feet
There are many reasons why your dog may be biting (or licking) his foot. You will have to carefully examine your dog's health and potential stressors to find out what is causing your dog's current problems. Your veterinarian can usually help.
Take a closer look at some of the most common answers to why dogs bite their feet.
Allergy
It is very common for dogs to chew their paws to relieve itchy sensation. Think of it as an alternative to dog scratching (although dogs sometimes do this with their paws). Allergies are a common cause of itching and irritation that can lead to the urge to bite.
anxiety
Many dogs chew or lick themselves when they feel anxious, lonely, or stressed. The best way to spot this is to look for other signs of anxiety, such as indigestion, increased breathing and heart rate, and excessive drooling. You can also notice gait, inability to relax, and abnormal posture.
Bacterial infections
Occasionally, dogs develop bacterial infections on their paws. This could be the result of humidity. If this is the case, the area may also be red. Your veterinarian can treat bacterial infections with antibiotics.
boring
Every dog ​​responds to boredom differently, and some dogs decide to lick or bite themselves when bored. The remedy for this should be obvious — give your dog some activity. Maybe pay special attention to things he can chew to keep him from chewing his paws.
Summer Burnt Paw Pads
When taking your dog for a walk in summer, you need to pay attention to the temperature of the concrete. If it's too hot, your puppy could burn his paw pads. This may result in chewing to relieve pain. Prevent it with puppy boots.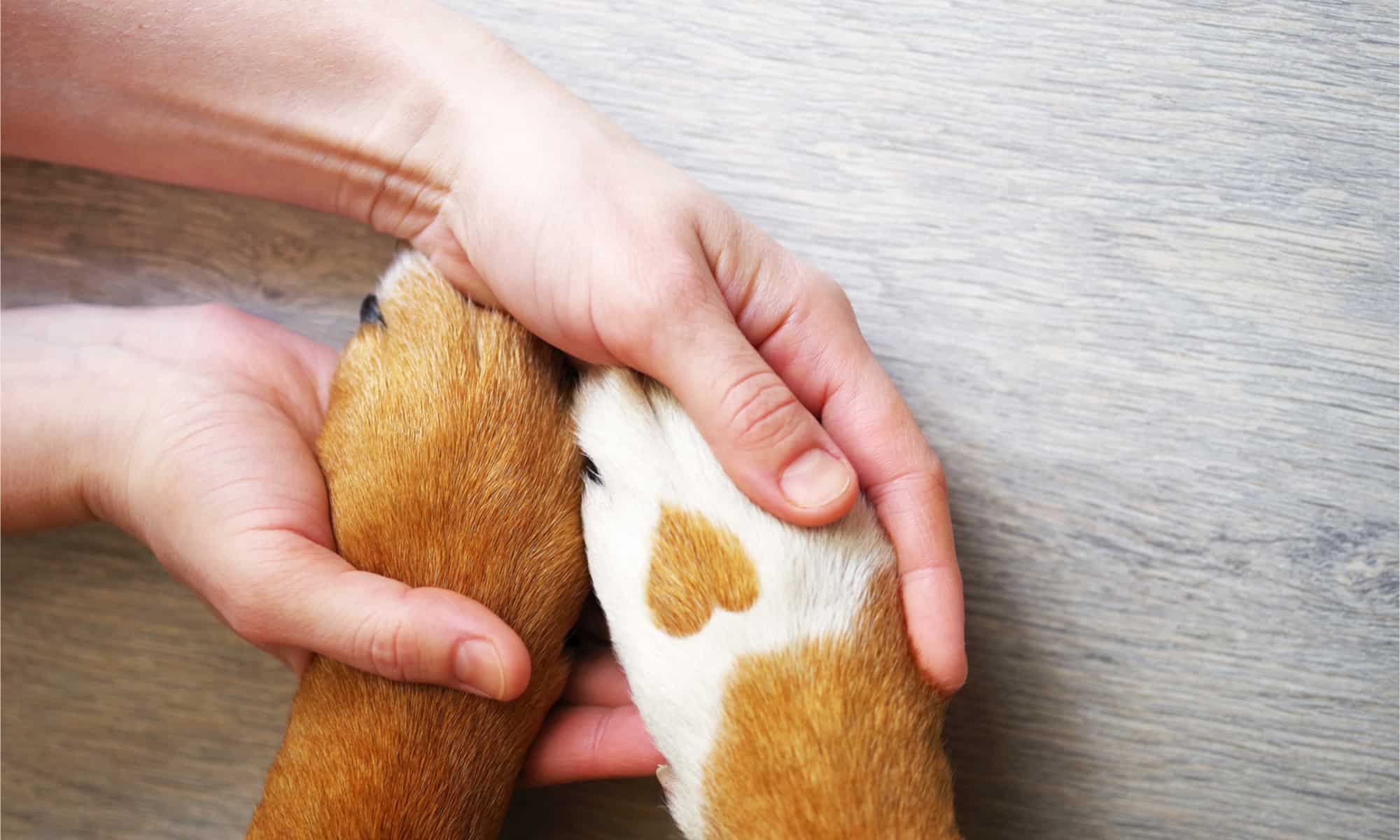 claw problem
When researching why a dog bites his paws, one of the first things to examine is his paws. If the claw is broken or loose, he may chew on it to try to repair it. You can fix this for them by trimming their claws. If you don't feel comfortable doing this, take your puppy to the veterinarian.
Relatedly, ingrown claws elicit a similar response. You usually need a veterinarian to treat an ingrown claw, as it can be challenging. The veterinarian will also check for infection.
contact dermatitis
The itching or irritation that causes your dog to chew may also be due to him being exposed to an irritant. For example, certain grass or yard chemicals can cause temporary irritation.
dry skin
When the skin is dry, your skin can be itchy and irritated, and your dog is no exception. If it's cold and/or dry outside, one of the first things to check should be whether your dog has dry skin. Moisturize his fur and the itching and irritation will go away.
Injuried
It is very common for dogs to lick wounds. This means that whenever your canine companion starts licking or chewing his feet (or other parts of his body) excessively, you need to watch carefully. Look for irritation, splinters, cuts or punctures. You can also confirm if your pup is injured by seeing if he is putting weight on the paw in question.
interdigital cyst
These cysts are the result of blocked hair follicles. They are more common on the front paws and can cause chewing to relieve discomfort. Unfortunately, chewing can also cause these cysts.
Hyperkeratosis
If your dog has hyperkeratosis, it means his body is producing extra keratin. This can thicken the skin on his toe pads or nose. In turn, this can lead to dryness and cracking, which creates an urge to lick. This is more common as your puppy gets older.
pain
You don't want your dog to be in pain, but one of the signs of canine pain is a dog chewing his paw or licking a limb. The pain doesn't even have to be concentrated in the paw area for dogs to chew their paws painfully. Of course, that should still be the first place you check his body for the source of pain.
parasite
Parasites, including fleas, can make your dog itchy, among other symptoms. As we've already established, if your dog is itchy, he may be able to relieve itching by chewing on the affected area.
winter salt stimulation
If you notice your dog biting his paws in the winter, it may be irritated by salt sprinkled on roads and sidewalks. The best way to solve this problem is to buy some shoes or boots for your pup.
yeast infection
Dogs sometimes get yeast infections on their paws. When this happens, it usually results in irritation, itching, and redness. Your veterinarian can diagnose a yeast infection and recommend treatment.
When to Worry About Your Dog Biting His Foot
In short, you should be concerned when your dog is chewing his feet excessively. The problem may be deciding what is excessive. This is where your experience with dogs can come in handy. After you've had your dog for a few months, you probably have a good idea of ​​how often he bites or licks his feet. If he starts doing it more often than usual, it's overdone.
Sometimes, the fact that your dog is biting his feet excessively is more obvious because of the physical damage he caused. Anytime you notice your dog's paw being bitten, you should take the problem seriously and consult a veterinarian.
Some important symptoms to watch out for include:
Bald spots
redness or swelling of the skin
bleeding
skin that feels warm to the touch
Discoloration of foot hair
touch sensitivity
cuts or other wounds
Your veterinarian will need to confirm which of the above potential causes are responsible for your dog biting his foot.
what to do
The steps you take to stop your dog from biting his feet depend on the answer to why the dog is biting in your situation. If he's chewing his paws due to anxiety, treat the anxiety. If it is due to an infection, treat the infection. That's why it's so important to get to the bottom of it.
Here are some specific remedies that can encourage your dog to stop biting himself.
switch to food allergies
If you think the problem is an allergy, start by switching your dog to a dog food designed for allergic puppies. Your veterinarian can help you figure out which ingredient he is most likely to be allergic to.
Avoid or wash after exposure to other allergies
In the case of environmental allergies, the best solution is to keep your puppy away from them. If that's not possible, make it a habit to give him a good bath after he's been in contact with them.
Caring for Your Dog's Coat to Prevent Itching
If a dry coat is causing itching, simply take better care of the coat. Add conditioner to your dog's bath routine or switch to a moisturizing oatmeal shampoo. Or use a balm to soothe his paw pads.
buy toys to reduce anxiety and boredom
In times of anxiety or boredom, consider giving your puppy toys to keep him entertained. You can also try taking him for a walk or run to burn off excess energy.
Especially with anxiety, you should also try to identify what triggers his anxiety and then avoid those triggers.
give him something else to chew
If you're not sure why your dog is biting his paw or if it's become a behavioral pattern, you can try changing his direction. The best way to do this is to provide alternatives to chew like chew toys.
Keeping abreast of your dog's repellent
The most obvious solution to chewing due to parasites is timely application of your dog's dewormer and flea medicine.
give your dog some swag
If chewing may be due to salt irritation in winter or hot pavement burn in summer, puppy booties are the best solution. There are many good options.
in conclusion
There are many answers as to why dogs bite their feet. From injury to infection to parasites, you have to get to the root of the problem. Check your dog for injuries or other symptoms such as swelling and redness. Check for dry skin and make sure your dog is not anxious. Always take your dog to the vet for excessive itching. They will help you treat the underlying problem.
List of Reasons Dogs Bite Feet
In summary, the reasons why dogs start biting their feet are as follows:
Reasons why dogs bite their feet
Allergy
anxiety
Bacterial infections
boring
Summer Burnt Paw Pads
claw problem
contact dermatitis
dry skin
Injuried
interdigital cyst
Hyperkeratosis
pain
parasite
winter salt stimulation
yeast infection
I am broadly interested in how human activities influence the ability of wildlife to persist in the modified environments that we create.
Specifically, my research investigates how the configuration and composition of landscapes influence the movement and population dynamics of forest birds. Both natural and human-derived fragmenting of habitat can influence where birds settle, how they access the resources they need to survive and reproduce, and these factors in turn affect population demographics. Most recently, I have been studying the ability of individuals to move through and utilize forested areas which have been modified through timber harvest as they seek out resources for the breeding and postfledging phases. As well I am working in collaboration with Parks Canada scientists to examine in the influence of high density moose populations on forest bird communities in Gros Morne National Park. Many of my projects are conducted in collaboration or consultation with representatives of industry and government agencies, seeking to improve the management and sustainability of natural resource extraction.