In the spring of 2021, a thousand dolphins were filmed swimming together off the coast of California. A group of whale watchers were entertained for hours as the pod of dolphins played in the water. Groups of this size are larger than usually seen, but not uncommon. Dolphins typically live in groups of 5-20 individuals, but these smaller groups often join other groups to form larger groups for feeding or mating. Dolphins are one of the species whose pod life has been extensively studied, but which other whales live in pods? Do whales live in groups or do they prefer to live alone? Do any whales form pods with other whales other than their species? Why do some whales live in pods? Come take a look at pod life!
What is a group of whales called?
A group of whales is called a "pod". Other terms used for groups of whales are "gam" and "school," but pod is by far the most common name.
The word "pod" refers to a group of animals that live together. In general, smaller animals are more likely to form pods than larger animals. Cetaceans are divided into two suborders, baleen whales (Mysticeti) and toothed whales (Odontceti). Baleen whales are the largest whales and are actually the largest mammals on Earth, while toothed whales are much smaller and include dolphins, porpoises, and beluga whales. As a result, most baleen whales are solitary animals that come together only to mate, while most toothed whales live in pods that range in size from 2 to 50, and the pods are sometimes clustered together to form larger pods, which It makes sense. There are exceptions to these guides, some baleen whales are always in groups of 3, like the sei whales, and others, like the humpbacks, form a pod during migration. There are some species of toothed whales, such as the Amazon river dolphin, which is a solitary animal that only comes together to mate.
Why do dolphins live in pods?
Dolphins are a great example of pod life, and they're also one of the most studied marine animals, providing years of data over the years. The common bottlenose dolphin is one of the dolphins that have been studied. These dolphins usually live in groups of 2-50 individuals and also form larger groups. These smaller dolphin pods are sometimes called a nursery group because it consists of a group of female dolphins and their young. Mothers teach their children to hunt, find food, avoid predators, and nurture their young. Baby dolphins will remain bonded to their mother for 3 to 6 years.
Dolphins from smaller pods will hunt and protect with other pods. A typical hunt might look like a pod of 400 dolphins spread out over the same area in search of food and watch out for predators. They feed on prey that often gather in schools, such as squid, anchovies, and sardines. When they spot a group of potential prey, the dolphins will start swimming closer, surround the prey and start attacking. If a pod of dolphins encounters a pod of killer whales (their predator), they immediately form a tight group and try to escape together, while the young learn to stay with the group.
Another reason dolphins may form pods is because they are very social animals. They use a combination of clicks and whistles to communicate with each other and are able to teach each other. A group of dolphins use the sponges in their beaks for protection as they burrow in the sand for food. Young dolphins learn how to do this by watching their mothers. Dolphins in zoos and aquariums are trained in a variety of skills and techniques and seem to be very social with their trainers. With their beaks always seeming to be smiling, it's no wonder we're fascinated by these aquatic wonders.
Do humpback whales form pods to migrate?
Humpback whales migrate to warmer waters in winter. Whales from the northern hemisphere will head to warmer waters near Hawaii, while those from the southern hemisphere will migrate to eastern Australia. A study tracked the migration of humpback whales for two years following their northward and southward movements. These whales congregate off the east coast of Australia. As a result of their research, they found that most whales travel in pairs, male and female, for long-term migrations. Of all whales found in the study, "231 single whales, 257 pairs, 63 whales, 7 quad whales and 4 A pod of 5 or more individuals." So there are some variations, with large groups of whales trekking alone, and groups preferring to go in threes. Three whales are often identified as the female, her calf and escort or mate escort. The large number of whales that pair the migration is thought to be related to mating, like a honeymoon in Hawaii!
What is a race pod?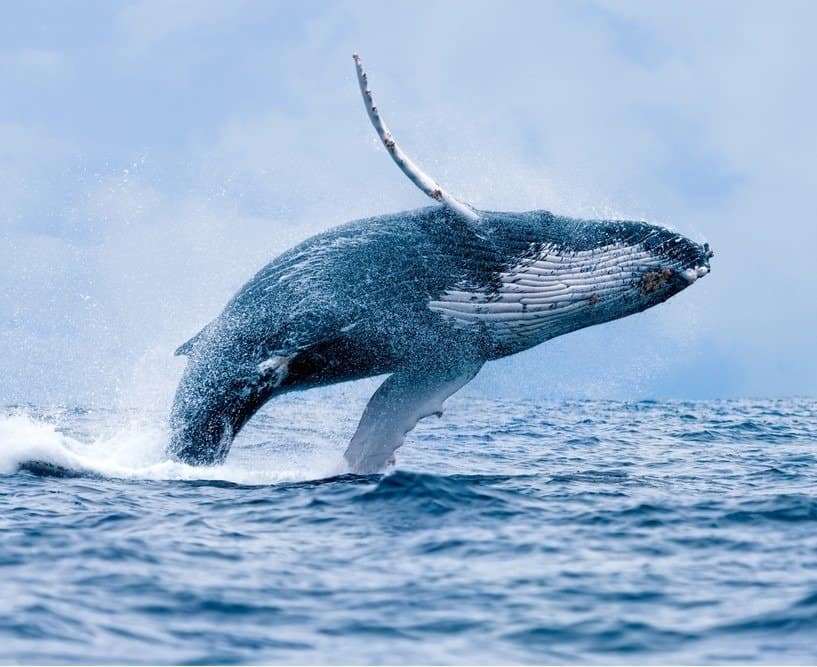 Whale watchers can head to Maui between December and April, or to eastern Australia between May and November for the spectacular mating season. A pod of male humpbacks will form a completed pod of 3-25 whales eager to chase a female. They scramble to get close to a female in order to outrun her male guards or win the right to mate with her. The woman and her guard remain at the center of the group, and the guard tries to protect himself to stay with the woman. Whales can be observed slapping the water with their tails (flukes), slapping each other with their tails, head bumping and quickly chasing female whales. During a game, a whale may lose interest and leave, or other whales may be lured by the action and join. The action could go on for hours until a "winner" is determined.
Do orcas hunt in packs like wolves do?
Killer whales appear to have advanced social structures, forming pods based on the type of diet they prefer. In the Pacific Northwest, killer whales (or orcas) form packs of 2-50 whales that hunt together like packs of wolves. The researchers found that orcas tended to either co-locate, meaning they lived and hunted in the same area, or wandered around briefly, looking for food depending on availability. Resident whale groups are piscivores, preying on fish such as salmon. Another group preys on marine mammals such as sea lions, walruses, and seals.producer of tv show frozen planet exist bbc earth Video was shown of a group of killer whales working together to knock a seal off a floating ice floe. Four or five whales swim together under the ice, setting off waves and knocking seals into the water! Dinner is ready!
Killer whales are very intelligent and have a variety of techniques for catching prey. They even learned to attack sharks. Some of the group will force the sharks to the surface, while others will slap the sharks with their tails and turn them over, making them more vulnerable. They can then use their razor-sharp teeth to tear at the shark for dinner.
Did a Pod of Beluga Whales 'Adopt' a Narwhal?
a story from smithsonian magazine Reports say a narwhal was seen swimming with a pod of beluga whales. Researchers are studying beluga whale populations by using drones as surveillance. Scientists have a video of a narwhal swimming with a pod of 11-12 beluga whales. They are all believed to be underage males. Markings on the narwhal indicated it was the same narwhal that was observed three years earlier. Another interesting twist is that the narwhal usually lives anywhere near these beluga whales, and his home waters are 600 miles north of the St. Lawrence River where the beluga whales reside. Belugas and narwhals do belong to the same family (Monodontidae), but don't usually cross because narwhals live in arctic waters. Beluga whales are very social animals and seem to stick together. The researchers tracked the same beluga groups of related whales that spend summers together in the same spot year after year. At times, more than a thousand beluga whales congregate in the same body of water offshore.
Do narwhals live in pods?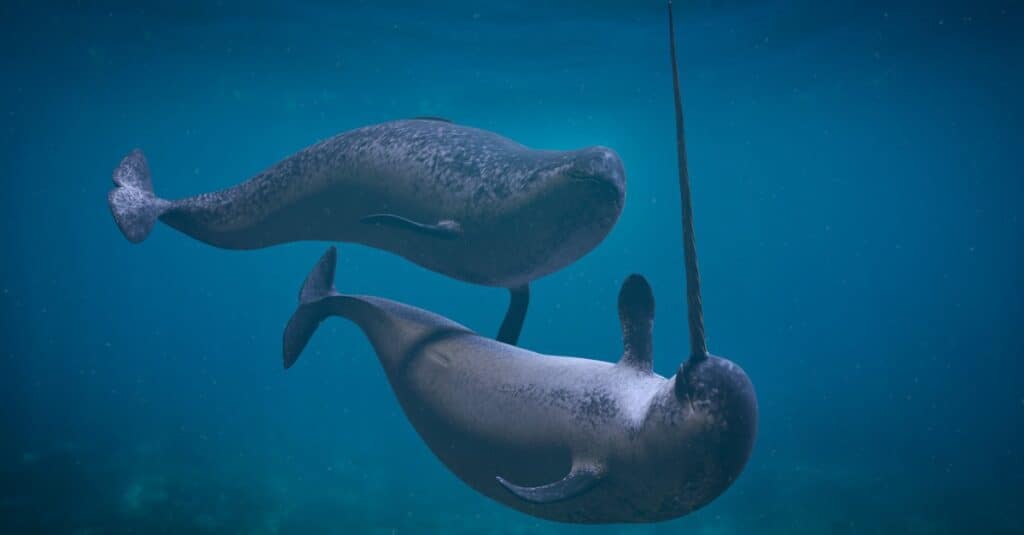 Studying narwhals is a bit tricky because they live in icy arctic waters and rarely come close to shore. These whales look like dark beluga whales, and their most notable feature is a unicorn-like horn (actually a tooth) protruding from the facial area (in males only). Their bodies can grow up to 12-20 feet long with horny teeth that can grow up to 10 feet! They are social animals and live in pods of 2-20 whales, which they often bring together in large groups of up to several hundred individuals. Pods vary and can be a group of males, a group of females or a mixed group. Narwhals do migrate and spend time in the same winter and summer waters. They migrate together in flocks and can be seen jumping out of the water together and diving at the same time, like some sort of elaborate synchronized swimming team!
I am broadly interested in how human activities influence the ability of wildlife to persist in the modified environments that we create.
Specifically, my research investigates how the configuration and composition of landscapes influence the movement and population dynamics of forest birds. Both natural and human-derived fragmenting of habitat can influence where birds settle, how they access the resources they need to survive and reproduce, and these factors in turn affect population demographics. Most recently, I have been studying the ability of individuals to move through and utilize forested areas which have been modified through timber harvest as they seek out resources for the breeding and postfledging phases. As well I am working in collaboration with Parks Canada scientists to examine in the influence of high density moose populations on forest bird communities in Gros Morne National Park. Many of my projects are conducted in collaboration or consultation with representatives of industry and government agencies, seeking to improve the management and sustainability of natural resource extraction.