Florida has so many butterflies, especially since some species overwinter in the sunshine state. The weather, humidity, and many lakes, rivers, and springs provide plenty of homes for butterflies. In the state alone, there are about 160 butterfly species that breed, however, over 200 migrate to the state. Not all butterflies in Florida are permanent residents. One butterfly, in particular, is very special in Florida. Have you ever seen the official Florida state butterfly? Follow along to discover its peak season and fun facts about these stunning butterflies.
What's the Official Florida State Butterfly?
The official Florida state butterfly is the zebra longwing. Its scientific name is Heliconius charitonius. This stunning butterfly became Florida's official state butterfly in 1996 when it was signed by the state legislature. They are common butterflies throughout South Florida and mainly live in the Florida Everglades.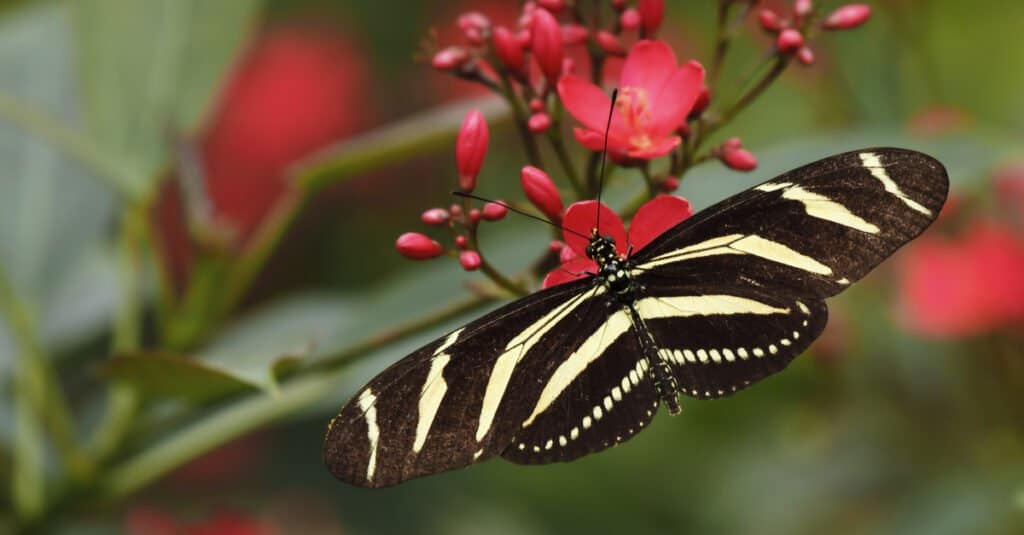 About the Zebra Longwing
Zebra longwing butterflies, also commonly known as the zebra heliconian, are beautiful black and yellow butterflies with unique markings. This species was first described by Carl Linnaeus in his 1767 12th edition of Systema Naturae. You can find these lovely butterflies across South and Central America and throughout Texas and Florida. However, you can find them as far up as New Mexico, South Carolina, and Nebraska in the warmer months.
These unique butterflies display interesting behaviors. For example, they sleep in groups of up to 60 zebra longwings to stay clear from predators. Adult butterflies also regularly consume both pollen and nectar. Interestingly, the pollen makes their bodies toxic since the pollen makes them synthesize cyanogenic glycosides.
There are many zebra longwing subspecies depending on where the area. For example, the H. c. bassleri is a subspecies in Colombia, while the H. c. ramsdeni, is native to Cuba.
Peak Season
So, when is there peak season? This official Florida state butterfly lives all-year-round in Florida and Texas. While you can find them all-year-round throughout Florida, they are most abundant from June to December, with a peak in June.
Best Places to See Zebra Longwings in Florida
Zebra longwing butterflies love wildflowers. They frequently lay eggs on plants like the corkystem passionflower, purple passionflower, yellow passionflower, and Keys passionflowers. You'll have more opportunities to see zebra longwing butterflies in South Florida. In their caterpillar form, this insect is white with black dots and long spikes. The bright colors are a warning to predators that they are toxic or bitter to the taste.
Other Butterfly Species in Florida
Butterflies are common throughout Florida. The warm climate makes it a great place for permanent year-round residents. Follow along to learn more about a few other butterfly species that migrate or live in Florida.
Southern Dogface
The southern dogface is a small bright yellow North and South American butterfly. The upper side of their wings is how they get their name since it has a dogface pattern. The wings also have a small black eyespot and two white spots on the hindwing. These stunning butterflies live in short-grass prairie hills, open woodlands, and near road edges. They also feed on many flowers like Houstonia and Verbena species.
Great Southern White
Great southern white butterflies are adorable butterflies with brilliant white, almost translucent wings. The wings have a light brown border. These butterflies are found in the South Atlantic and Gulf Coast states, and south through tropical America. They are common along the sides of roads and on beaches. Females are slightly darker and have a black forewing cell spot. This butterfly has a wingspan of 2 to 2.5 inches long.
Fiery Skipper
Another butterfly in Florida is the fiery skipper. It has a fuzzy body and medium-sized orange wings. They are about 1 inch long. These beautiful fiery skippers also have small brown spots. These butterflies are found across North and South America. Although unlikely, this butterfly can reach as far north as New Brunswick, Canada, it's rare. They are known for their triangle-shaped wings.
White Peacock
White peacock butterflies are found across the southeastern United States, Central America, and much of South America. The larval form of this beautiful insect hosts on a variety of plants including water hyssop, lemon bacopa, and tropical water hyssop. There are seven subspecies of this animal found throughout the world including Puerto Rico, Brazil, and Jamaica. White peacock butterflies are white and blue with multiple brown markings and black spots.
I am broadly interested in how human activities influence the ability of wildlife to persist in the modified environments that we create.
Specifically, my research investigates how the configuration and composition of landscapes influence the movement and population dynamics of forest birds. Both natural and human-derived fragmenting of habitat can influence where birds settle, how they access the resources they need to survive and reproduce, and these factors in turn affect population demographics. Most recently, I have been studying the ability of individuals to move through and utilize forested areas which have been modified through timber harvest as they seek out resources for the breeding and postfledging phases. As well I am working in collaboration with Parks Canada scientists to examine in the influence of high density moose populations on forest bird communities in Gros Morne National Park. Many of my projects are conducted in collaboration or consultation with representatives of industry and government agencies, seeking to improve the management and sustainability of natural resource extraction.