A butterfly is a beautiful and exquisite insect that most people are familiar with. They come in a variety of colors, patterns, and sizes, making them an attractive addition to any garden or yard. People enjoy attracting butterflies to their gardens because they bring life and color to the area. Additionally, they are beneficial as they help pollinate flowers, which helps plants grow better. Furthermore, they also serve as a food source for other animals, like birds who eat them up. Lastly, observing butterflies can be enjoyable for many people who appreciate nature and its beauty. Let's discover together some incredible butterflies that live in North Carolina!
12 Types of Butterflies
Gardeners in North Carolina can attract pollinator butterflies to their gardens by creating a butterfly-friendly habitat that includes the right plants, shelter, and water sources. This means planting nectar-rich flowers such as lilac, lavender, daisies, and aster that will provide food for adult butterflies. Additionally, adding host plants like milkweed will give caterpillars something to munch on when they hatch. Shelter can be provided for them by growing shrubs or trees near the garden where butterflies feel safe from predators while they're resting or laying eggs. Lastly, providing shallow dishes of fresh water with pebbles on top will help keep these thirsty insects hydrated when visiting your garden!
There are dozens of butterflies native to North Carolina. Here are a few of our favorites!
1. Pipevine Swallowtail
The Pipevine Swallowtail is a stunning butterfly commonly found in North Carolina. This species has a wingspan of up to 3 inches. Its bright blue, black, and orange color combination makes it incredibly eye-catching. Pipevine Swallowtails prefer to live in moist forests as well as along streams and rivers, where they can feed on the nectar from flowers like milkweed, thistle, and phlox. The caterpillars are quite hardy. They feed on plants like pipevines and Dutchman's pipes which contain toxic compounds that protect them from predators. In addition, adult butterflies migrate south each fall before returning north again in springtime!
2. Zebra Swallowtail
The Zebra swallowtail is a beautiful butterfly native to North Carolina. It has an unmistakable black-and-white striped pattern on its wings. It lives in both forests and meadows throughout the state. The larvae of this species feed on plants from the parsley family, such as rue, dill, carrot, celery, and parsnip. They tend to fly during the day and are attracted to flowers for nectar. These butterflies have a lifespan of about two months, during which time they mate multiple times before dying off. They lay their eggs on host plants. So, when they hatch out into caterpillars, they have food sources readily available. Adult Zebra swallowtails migrate southward each fall with other migratory butterflies like monarchs and painted ladies, making them a common sight in North Carolina during migration season!
3. Cloudless Sulphur
The Cloudless Sulphur butterfly (Phoebis sennae) is a species of bright yellow butterfly that you can spot in North Carolina. Its wingspan ranges from 2 to 3 inches. The upper side of its wings features an orange-yellow color with black wingtips and white spots. On the other hand, the underside features more muted colors, such as brown or gray. This particular species feeds on nectar from flowers like lantana, verbena, and wild indigo. When they're not feeding on these plants, they can be seen sunning themselves in open fields or flying around gardens in search of food. Cloudless Sulphurs are migratory butterflies. They spend their winter months near Mexico before returning north again in April or May when temperatures increase.
4. American Snout
The American Snout butterfly, also known as Libytheana carinenta, is a species of butterfly that live in North Carolina and other parts of the United States. It gets its name from its snout-like antennae, which are longer than those of most butterflies. The wingspan can range anywhere between 1.5 to 3 inches. The upper wing displays a bright orange color with black borders and spots. On the other hand, the lower wing usually appears gray or brown with white spots.
The American Snout butterfly typically feeds on nectar from flowers such as thistles, clovers, and violets. It may occasionally feed on rotting fruit or sap flows from trees. This species prefers open grasslands for habitat rather than forests, where it is more likely to be hidden by foliage. During mating season, these butterflies form large swarms near bodies of water where they will lay their eggs before dispersing once again into different habitats across North Carolina.
5. Variegated Fritillary
The Variegated Fritillary is a species of butterfly that resides in North Carolina. It is easily identifiable by its unique coloration, consisting of orange and brown with spots along the edges of its wings. In addition, the underside of the wing has a cream-colored bar pattern that runs across, providing an extra layer of camouflage against predators. This butterfly prefers open habitats such as meadows and fields where it can feed on various flowers and other plants. During mating season, these butterflies will congregate in large numbers to find suitable mates before dispersing again when the temperatures drop. The larvae seem to prefer violets or wild strawberries, and they go through several stages before reaching adulthood. As adults, they have short lifespans. However, they make up for it with their colorful displays during courtship rituals which attract potential mates from miles away!
6. Red Admiral
The Red Admiral butterfly (Vanessa atalanta) is a migratory species that you can spot in North Carolina during the summer months. Its wingspan typically ranges from 2-2.5 inches. Its upper wings are an iridescent black with bright red bands along the forewing and orange spots near the wingtips. The underside of their wings is grayish-white with dark brown markings, helping them blend into their surroundings for protection from predators. They feed mainly on sap, rotting fruit, carrion, and dung. They will also visit flowers for nectar which provides them with energy to fly long distances. As such, they tend to inhabit open meadows and fields as well as gardens with plenty of available food sources throughout their active season!
7. Common Buckeye
The Common Buckeye (Junonia coenia) is a species of butterfly that live in North Carolina. It has orange and brown wings with eyespots on each forewing. The underside of their wings is patterned with brown and tan stripes, giving them an attractive appearance. The average lifespan for a Common Buckeye is about two to three weeks. However, some individuals may live up to six weeks or longer. They feed primarily on nectar from flowers such as milkweed, thistle, and clover. As their name implies, they have good vision and can spot predators from far away. Common Buckeyes are typically active during the day when temperatures reach around 75 degrees Fahrenheit. However, they will become inactive at night or during cold weather conditions.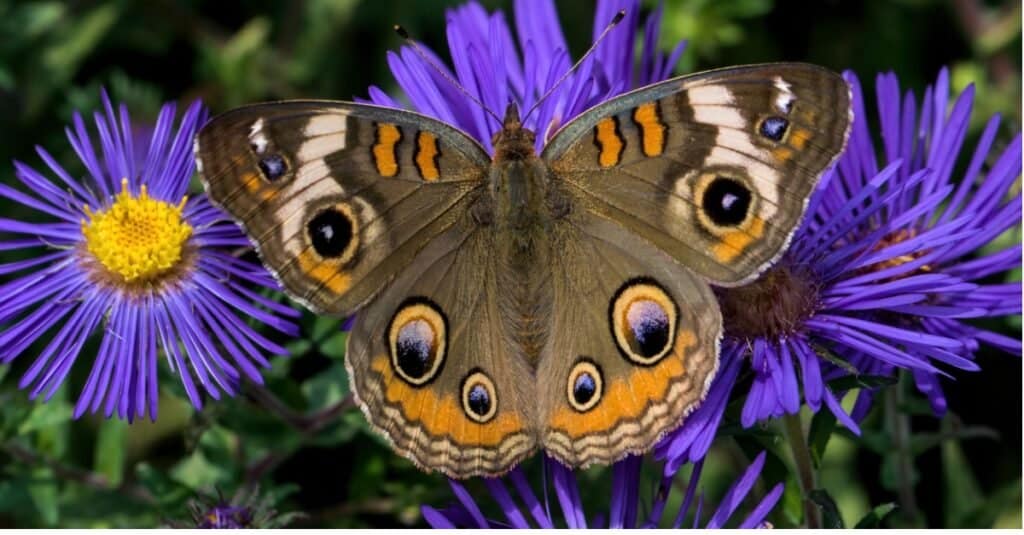 8. Viceroy
The Viceroy butterfly, also known as Limenitis archippus, is a species of North American brush-footed butterfly. Its range extends from southern Ontario to northern Mexico. Its wingspan measures between 2.5 and 3 inches long. It has a brownish-red coloration on the top side of its wings with darker black veins that form an "X" shape near the tips of its forewings. The undersides are typically yellow or cream-colored with black stripes along the edges. These distinctive markings make them easy to identify among other butterflies in North Carolina.
Viceroy butterflies tend to flutter around meadows or wetlands during the summer months. The caterpillars feed on various members of the willow family, such as Salicaceae. On the other hand, adults feed mainly on flower nectar from thistles and milkweed plants throughout their range in North America. Their main predators include birds and small mammals like bats and shrews. Some wasps even parasitize their eggs! Viceroys are important pollinators for many wildflowers, making them an essential part of any healthy ecosystem!
9. Monarch
The Monarch butterfly is one of the most recognizable and beloved butterflies in North Carolina. It has a wingspan of up to three and a half inches, with its distinctive orange, black, and white patterned wings. Its caterpillars are equally striking — they are bright green with yellow spots along their sides. The Monarch feeds mainly on milkweed plants, which provide crucial nutrition for both the caterpillar and adult stages of life. In fact, it is believed that without these plants, the population of Monarchs would drastically decline. Monarchs migrate annually between Mexico and Canada during spring and autumn every year — an epic journey spanning thousands of miles! Though they may be small in size, this species is truly awe-inspiring due to its incredible natural history!
10. Red-spotted Purple
The Red-spotted Purple butterfly is a species of swallowtail butterfly that lives in North Carolina. It has a wingspan of about 2.5 inches and is identified by its unique coloration. The upper side of the wings is dark blueish-purple with white spots. Conversely, the underside of the wings has orange and blue markings. This butterfly can be found in deciduous forests or open fields during summer months, where it feeds on nectar from flowers like milkweed and clover. In addition to being an important pollinator for plants, this species is also famous for its ability to mimic other butterflies' wing patterns as a form of camouflage against predators!
11. Mourning Cloak
The Mourning Cloak butterfly is a species of brush-footed butterfly native to North Carolina. It can be found in deciduous and coniferous forests, gardens, parks, and open fields, where it feeds on the nectar of various flowers. Its wingspan ranges from 4.3 – 5 inches long with a distinctive pattern featuring bright yellow bands dotted with black spots on its dark brown wings. The upper side of its wings also features an iridescent blue border which gives them its unique name, "Mourning Cloaks."
These butterflies are active during the day from March to October. Then, they hibernate over winter in tree crevices or bark fissures until spring, when they reemerge for mating season. They typically have one brood per year but may produce two if temperatures remain favorable throughout the summer months. Though plentiful in North Carolina, this species has been listed as endangered in some other areas due to habitat destruction and climate change.
12. Question Mark
The Question Mark butterfly (Polygonia interrogationis) is a species of brush-footed butterfly found in North America. It is easily identifiable by its black and orange wings, with white spots on the dorsal side and a distinctive comma-shaped marking on each hindwing. The larvae feed primarily on nettles in the Urticaceae family, such as stinging nettle, false nettle, and hops. Adults are known to sip nectar from flowers such as thistle, aster, and clover. They can often be spotted around wooded areas or near streams during their active season in late spring through early fall. Adult butterflies overwinter by clustering together under loose tree bark or crevices of buildings for protection from cold temperatures.
Up Next:
I am broadly interested in how human activities influence the ability of wildlife to persist in the modified environments that we create.
Specifically, my research investigates how the configuration and composition of landscapes influence the movement and population dynamics of forest birds. Both natural and human-derived fragmenting of habitat can influence where birds settle, how they access the resources they need to survive and reproduce, and these factors in turn affect population demographics. Most recently, I have been studying the ability of individuals to move through and utilize forested areas which have been modified through timber harvest as they seek out resources for the breeding and postfledging phases. As well I am working in collaboration with Parks Canada scientists to examine in the influence of high density moose populations on forest bird communities in Gros Morne National Park. Many of my projects are conducted in collaboration or consultation with representatives of industry and government agencies, seeking to improve the management and sustainability of natural resource extraction.