Elephants are strong and majestic creatures with high levels of intelligence. They develop powerful, life-long bonds with each other, love to play, and experience intense emotions. Elephants understand cooperation, care for one another, and have even been observed voluntarily helping other animals in need! These amazing pachyderms are truly incredible animals, and it is a special experience to see one up close. So, let's take a look at some of the amazing U.S. zoos with elephants, and the best times to visit them!
Asian Elephants and African Elephants
Both Asian elephants and African elephants are endangered, with declining populations in the wild due to illegal wildlife trafficking and habitat destruction. However, African elephants are considered critically endangered and are at risk of extinction. Elephants in zoos help researchers to learn more about their health, nutrition, welfare, physiology, behavior, and reproduction. This research helps conservation efforts for wild elephants, ensuring the survival of these amazing pachyderms in their natural habitats. Below, we've included 12 amazing zoos with elephants, along with which type of elephant lives at each zoo.
1. North Carolina Zoo
The North Carolina Zoo in Asheboro is the world's largest natural habitat zoo and is home to 1,800 animals and 500 acres of developed land. There are incredible animal exhibits here, along with hiking trails, face-to-face animal encounters, and the Kaleidoscope Butterfly Garden. It is also home to an amazing herd of African elephants at Watani Grasslands Reserve.
The reserve has 47 acres of land that is landscaped to look like the African savannah. Currently, seven African elephants live here, including three males and four females. In April 2023, the zoo's "Zoofari: An African Wildlife Adventure" experience will reopen. This exclusive tour of the Watani Grasslands Reserve allows visitors to ride in an open-air vehicle, seeing and learning about the elephants and other African animals at the zoo.
Best times to visit the North Carolina Zoo: 
Winters are a great time to visit the North Carolina Zoo. The weather is typically mild, and many animals are more active in cooler temperatures. However, when temperatures drop below 45 degrees Fahrenheit, many of the African animals go indoors where it is heated.
Spring and fall are also cooler, so you have a better chance of seeing more animals. If you come in the summer, mornings or late afternoons are best since temperatures are lower.
2. Birmingham Zoo
The Birmingham Zoo is quite unique because it is the only zoo in the United States with an all-male herd of African elephants! This is very unusual, as other zoos have all-female herds or herds with more females than males. Elephants live in matriarchal groups, and for many years, it was believed that male elephants were anti-social loners. However, researchers now know that male elephants often form powerful, long-lasting bonds with other males, and even come together in groups of up to 15!
However, males are difficult to study in the wild. These powerful bulls are gigantic and can be rather bad-tempered. Birmingham Zoo has dedicated its entire enclosure to housing only male elephants so researchers can better understand the social dynamics of males. This provides scientists with a greater understanding of how these majestic creatures interact, which helps zoo staff provide better care for them.
Best times to visit the Birmingham Zoo: 
The Birmingham Zoo is open all year round. However, there are some exhibits and areas that are closed during the winter months, like the splash pads and the giraffe encounter.
The weather in Birmingham is typically moderate throughout the year. However, it does get hot and sticky in the summer, and the zoo animals spend more time in the shade to keep cool. Fortunately, winters are pretty mild, and the animals tend to be more active in these cooler temperatures.
3. Indianapolis Zoo
The Indianapolis Zoo is renowned for its pioneering research on elephant reproduction. The very first African elephants to have been conceived and born through artificial insemination were born here! One of the zoo's elephants, Kubwa, was the first African elephant to give birth to one of these miracle babies in 2000. Kubwa can be seen in the Plain Exhibit, along with the rest of her elephant herd.
The exhibit is structured as a large savannah with trees and tall grasses surrounding it. It'll make you feel like you're on a safari in Africa! In addition to the elephants, you can also spot other African animals like cheetahs and giraffes. And during the summer, you can visit the Wild Encounter Station at the exhibit's entrance. Here you can meet some of the zoo's animal ambassadors like hedgehogs, turtles, parrots, and snakes.
Best times to visit the Indianapolis Zoo: 
The ideal time to visit the Indianapolis Zoo is in the spring when the temperatures and weather are moderate. During the warmer summer months, animals are more active in the mornings when it's cooler.
If it's raining, you may not be able to see many of the outdoor exhibits. However, there are still plenty of indoor exhibits to enjoy, like the zoo's daily dolphin presentations, the Deserts Exhibit, and the Simon Skjodt International Orangutan Center.
Warm-weather animals may not be available during the winter. However, you can still see many other animals that love the cold weather. Winter is often the best time to see animals like Amur tigers, Arctic foxes, California sea lions, and Alaska brown bears.
4. Cheyenne Mountain Zoo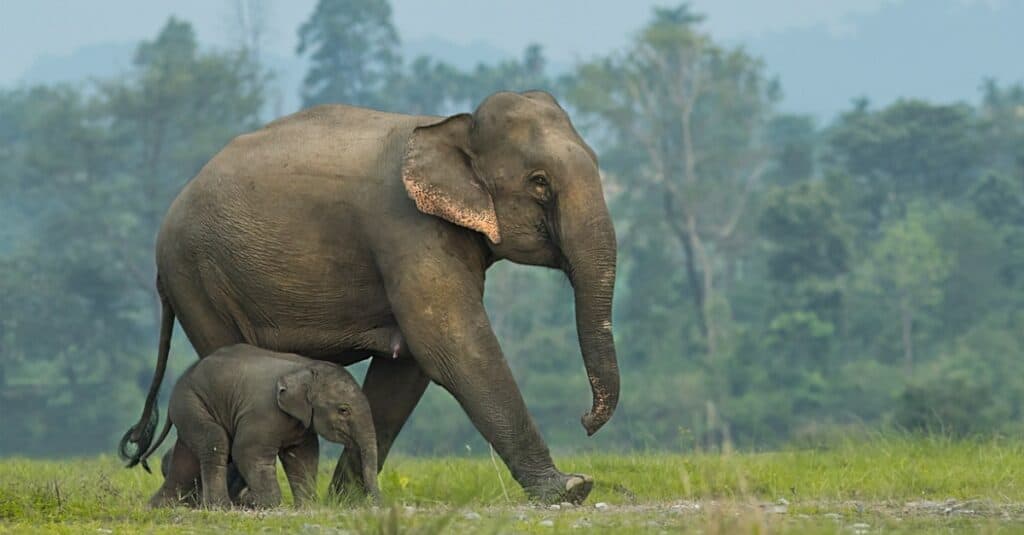 On Colorado's Cheyenne Mountain southwest of downtown Colorado Springs, you can find the phenomenal Cheyenne Mountain Zoo. The Encounter Africa exhibit has an area for viewing elephants indoors and an outdoor sky bridge where you can walk alongside these spectacular mammals! You can also watch seasonal elephant keeper demonstrations in the amphitheater and observe the elephants as they splash around in their pool and waterfall.
The Wilgruen Elephant Center at the Cheyenne Mountain Zoo provides optimal care for the zoo's aging elephants. The six beloved older female elephants are cared for in this state-of-the-art facility. It includes crane-and-hoist systems for disabled elephants, remote video surveillance, and rubberized concrete for achy joints. They may be getting up there in years, but these beautiful girls still have a lot of spring in their step — in fact, each of these girls loves to paint!
Best times to visit the Cheyenne Mountain Zoo: 
Although the Cheyenne Mountain Zoo is open all year round, early mornings and overcast days are usually the best time to see the animals, since they are just waking up and eating. Plus, there are fewer crowds!
The Cheyenne Zoo is located on a mountain 6,714 feet above sea level, so if you are traveling from lower elevations, make sure to bring plenty of water and sunscreen.
May and June are some of the best months to visit since it is still sunny but not too hot. Weekends from the last week of May through September are considered "peak days." Peak days are more expensive and tend to have larger crowds.
5. Reid Park Zoo
The Expedition Tanzania exhibit at the Reid Park Zoo in Tuscon is slightly curved, so no matter where you are, you'll have a great view of the African elephants! Thanks to the warm and sunny climate in Arizona, these elephants can spend all day outdoors enjoying their vast multi-acre open-air habitat. You can also watch the elephants on the zoo's live online Elephant Cam! In addition to housing African elephants, the Reid Park Zoo also supports the Tarangire Elephant Project in Tanzania. This project works to research wild elephant populations and protect over 1,000,000 acres of their habitat.
In addition to the African elephant herd, the Reid Park Zoo is also home to more than 500 other animals. You can see amazing animals like a pack of female African wild dogs, rescued grizzly bears, black-and-white ruffed lemurs, Andean bears, capybaras, Baird's tapirs, and giant anteaters. In fact, the zoo has housed giant anteaters for over 50 years and features one as part of its official logo.
Best times to visit the Reid Park Zoo: 
Mornings are the best times to visit the Reid Park Zoo since the temperatures are much cooler and the animals are more active. The ideal months to visit the zoo are from October through April, as the weather is still mild with moderate temperatures.
The summer months can get really hot for both visitors and the zoo's animals, which can make it hard to see and enjoy the exhibits. However, summer is still a fun experience, especially if you come in the mornings and evenings when it's a bit cooler — just be sure to bring plenty of water, sunscreen, and protective gear!
6. Sedgwick County Zoo
Located in Wichita, Kansas, the Sedgwick County Zoo has the third-largest elephant habitat in the U.S. The African elephants at the zoo roam freely across more than five acres of space. There is also an indoor facility, complete with a 550,000-gallon pool! The herd's 51-year-old matriarch Stephanie is the zoo's oldest elephant and has lived here since 1972. In 2016, the zoo expanded the Zambezi River Valley habitat and brought six more elephants rescued from droughts in Swaziland to join Stephanie in her new home.
The Sedgwick County Zoo has achieved global recognition for its commitment to the conservation and breeding of rare and endangered species. In addition to the African elephants, over 3,000 animals that represent 400 different species also call the zoo home. With the influx of visitors each year, the zoo has created a multi-phase plan for even more expansion, with the eventual goal of becoming a multi-day destination. This 25-year master plan will include things like expanding animal habitats, adding an electric train, creating a hotel and waterpark, and providing an aquarium with a stingray touch experience.
Best times to visit the Sedgwick County Zoo: 
Spring and fall are some of the best times to visit. Summers can get quite hot, so make sure to plan accordingly. However, there are plenty of shady areas and concessions areas to help keep you cool as well.
It gets pretty cold at the Sedgwick County Zoo in the winter, so be sure to bundle up! Winter is still a great time to visit though, as many of the animals are more active, and there are heated indoor exhibits you can visit as well.
7. Omaha's Henry Doorly Zoo and Aquarium
Spanning over 130 acres, Omaha's Henry Doorly Zoo and Aquarium is home to over 960 animal species, including those in the African Grasslands Exhibit. This $73 million exhibit opened in 2016 and is covered with kopjes, acacia-like trees, and grasses. It also includes 25 new structures and buildings that blend into the landscape, including the Elephant Family Headquarters. This amazing 30,000-square-foot habitat is the largest of its kind in North America.
The outdoor section is perfect for the zoo's zebras and African elephants. They also have lots of fun enrichment activities to keep them entertained, like baskets that intermittently drop hay from the ceiling and a wall that opens up with treats. The African elephants also have a whopping 150,000-gallon pool, with water ranging from 2 inches to 5 feet deep.
Two adorable baby elephants — Eugenia and Sonny — were born at the Omaha Zoo just last year. In addition, a third female elephant is currently pregnant and will likely give birth to a new baby in March 2023!
Best times to visit Omaha's Henry Doorly Zoo and Aquarium: 
If you come in the summer, it's best to arrive early in the day or later in the afternoon when it's cooler and there are fewer crowds. You can also head to the air-conditioned indoor exhibits to cool off, like Gorilla Valley, the Aquarium, and Kingdoms of the Night.
It's much colder if you come during the winter, but many visitors say this is their favorite time to visit the zoo! The animals tend to be much more active, there are many heated indoor exhibits to enjoy, and there are definitely fewer crowds.
8. Dallas Zoo
There are eight beautiful African elephants at the Dallas Zoo in Texas who are fondly referred to as the "Golden Girls." Their behind-the-scenes barn is climate-controlled with heated floors in winter and walls that open up to let in cool air in summer. The barn also has a room filled with 7-foot-deep sand so the elephants can hide food and toys.
The Dallas Zoo is just three miles south of downtown Dallas. Its 106 acres are home not only to African elephants, but also 2,000 other animals including impala, African wild dogs, zebras, giraffes, Galápagos tortoises, African penguins, gorillas, Nile crocodiles, and both Malayan and Sumatran tigers. There is also a Children's Zoo where kids can interact with hands-on experiences, enjoy pony rides and a petting zoo, and splash around in an artificial creek.
Best times to visit the Dallas Zoo: 
If you want to see the animals when they are most active, then the best time to visit is first thing in the morning when the zoo opens. There are fewer crowds and you'll have better chances of seeing the animals before they retreat into shadier areas. It's also cooler in the morning, particularly during Dallas' hot and humid summers.
Winters in Dallas are typically mild, so it is still a great time to visit the Zoo. There are often fewer crowds, and the animals tend to be more active as well.
9. Oklahoma City Zoo and Botanical Garden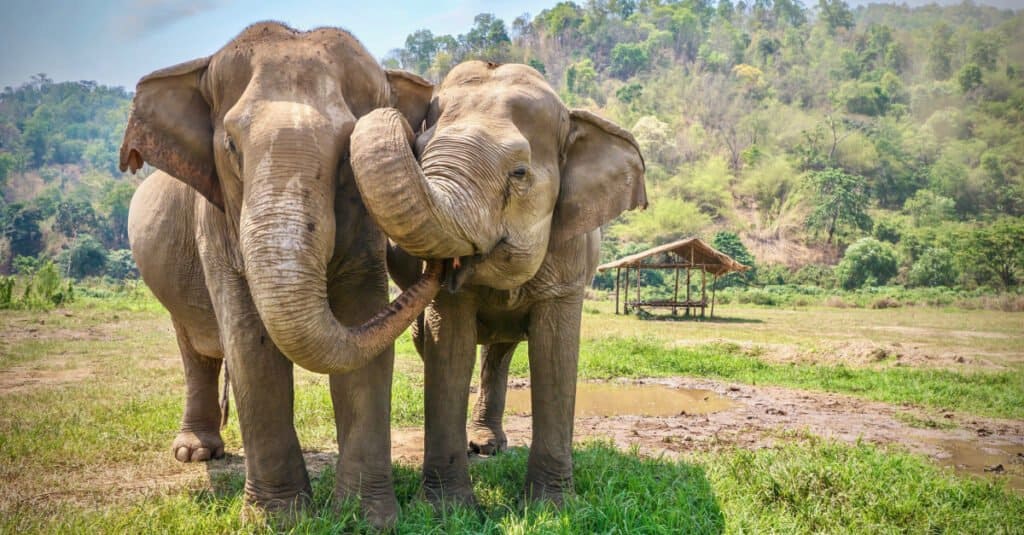 Sanctuary Asia at the Oklahoma City Zoo is a state-of-the-art multi-acre space for the zoo's herd of Asian elephants. This special area includes three large outdoor yards, a waterfall, pools, and shade structures. The barn also has a boardwalk for viewing the elephants inside. The zoo's multigenerational Asian female elephant herd also recently gained a new nine-year-old male elephant named Bowie.
Located in the Adventure District of northeast Oklahoma City, the Oklahoma City Zoo comprises 130 acres with more than 1,900 animals. The Great EscApe is home to two gorilla troops, as well as chimpanzees and orangutans, while the Cat Forest includes tigers and African lions. At Aquaticus you'll find California sea lions, and kids can play and explore at the Children's Zoo. Oklahoma Trails is a unique exhibit with animals native to the state, like alligators, black bears, bison, and a walk-in bird exhibit.
Best times to visit the Oklahoma City Zoo and Botanical Garden: 
Spring is a great time to visit the Oklahoma City Zoo. The mild temperatures make it easier to see animals since they are more active during this time.
Summer is usually very hot, so it's best to come early in the morning when it's cooler. When temperatures rise later in the day, the animals will probably be resting in the shade.
Winter months are still enjoyable, although some of the exhibits are not open due to the weather.
10. Smithsonian's National Zoo
With 163 acres and more than 1,500 animals — 25% of which include endangered species — Smithsonian's National Zoo is a must-see. This is one of the few places you can see giant pandas, along with many other incredible animals. Located in the Woodley Park neighborhood of Washington D.C., the National Zoo also functions as a conservation center and a global research center. And the best part? It's completely free to visit!
Elephant Trails is large enough to house eight to 10 adult elephants, along with their offspring. It includes two new yards, four pools, a 5,700-square-foot barn, and a quarter-mile walkway through a wooded area. The zoo's Asian elephants are part of a conservation, breeding, and research program designed to help create better care for elephants around the world. Currently, there are four female elephants and one male, and you can even watch them on the zoo's online Elephant Cam!
Best times to visit the Smithsonian's National Zoo: 
Fall is a great time to visit the National Zoo. The leaves are changing colors, the crowds are smaller, and the animals are often active in the cooler weather.
Summers in Washington D.C. are hot and humid, so it's best to head to the zoo right when it opens to avoid crowds and the heat. The animals are more active during the cooler mornings as well. In addition, March through July is peak season at the National Zoo, so there are more crowds. Weekends are typically the busiest times, especially from 11 AM to 2 PM.
11. Columbus Zoo
The Columbus Zoo and Aquarium is home to more than 7,000 animals and 800 different species! The zoo also donates money to conservation programs both within the zoo and all over the world. One of these programs is the International Elephant Foundation, which works to save and protect both Asian and African elephants around the world.
At the zoo's Asia Quest, you can find animals like sloth bears, markhors, Indian rhinoceroses, red pandas, Pallas's cats, Amur tigers, and Indian elephants — a subspecies of Asian elephants.
Although Asian elephants are typically a smaller species, one of the zoo's male elephants — a bull named Hank — is over 9 feet tall and weighs an impressive 15,600 pounds! The zoo's other male elephant, Frankie, was born in 2021 and as of February 2023, weighed over 1,740 pounds. The two bulls live in a herd with several other female elephants, including Frankie's mother and the herd's matriarch Phoebe.
Best times to visit the Columbus Zoo: 
Winter is an ideal time to visit the Columbus Zoo. It's the perfect opportunity to get up close and personal with animals that love cooler weather. You can also visit a variety of indoor habitats to escape the chill. The worst cold occurs during January and February, but Columbus doesn't get a lot of snow.
Another great option is to visit the zoo on a weekday while school is in session. In the spring and fall, the weather is nice and you can avoid large summer crowds.
Summers have warmer weather and there is less chance of rain. It can be rather humid, but it typically doesn't get super hot. The hottest part of the summer is for two to three weeks in July or August, with temperatures around 90 degrees Fahrenheit.
12. San Diego Zoo Safari Park
The San Diego Zoo Safari Park is 32 miles away from the San Diego Zoo, near Escondido in the San Pasqual Valley area. However, the animal enclosures here are not like those at a zoo; these are large, open-air, free-roaming areas where you can see over 3,000 animals within more naturalistic habitats.
Elephant Valley is home to eight African elephants living on six acres with two main yards and a large pond. The Elephant Viewing Patio is a great place to watch the gentle giants, especially energetic young calves who love to play. In addition, this section of the park is currently being transformed into the new Denny Sanford Elephant Valley. The new-and-improved Elephant Valley will provide extraordinary opportunities for visitors to see the elephants from just a few feet away!
Best times to visit the San Diego Zoo Safari Park: 
Springtime is one of the best seasons to visit the San Diego Zoo Safari Park. The weather is fantastic, and this is when all the baby animals are born. You can see many of them up close in special nursery exhibits.
The busiest time to visit is between June and August, and during school vacations. If you're looking for a quieter time with fewer crowds, try going on a weekday instead of a weekend.
Mornings are the best time of day to see the animals. They tend to be more awake and active before it gets too hot.
Winters are also a great time to visit since San Diego has moderate temperatures and typically great weather all year round.
Summary Of 12 Amazing U.S. Zoos With Elephants
| # | Zoo | Location |
| --- | --- | --- |
| 1 | North Carolina Zoo | Asheboro, NC |
| 2 | Birmingham Zoo | Birmingham, AL |
| 3 | Indianapolis Zoo | Indianapolis, IN |
| 4 | Cheyenne Mountain Zoo | Colorado Springs, CO |
| 5 | Reid Park Zoo | Tuscon, AZ |
| 6 | Sedgwick County Zoo | Wichita, KS |
| 7 | Henry Doorly Zoo and Aquarium | Omaha, NE |
| 8 | Dallas Zoo | Dallas, TX |
| 9 | Oklahoma City Zoo and Botanical Garden | Oklahoma City, OK |
| 10 | Smithsonian's National Zoo | Washington, DC |
| 11 | Columbus Zoo | Powell, OH |
| 12 | San Diego Zoo Safari Park | Near Escondido – San Pasqual Valley, CA |
I am broadly interested in how human activities influence the ability of wildlife to persist in the modified environments that we create.
Specifically, my research investigates how the configuration and composition of landscapes influence the movement and population dynamics of forest birds. Both natural and human-derived fragmenting of habitat can influence where birds settle, how they access the resources they need to survive and reproduce, and these factors in turn affect population demographics. Most recently, I have been studying the ability of individuals to move through and utilize forested areas which have been modified through timber harvest as they seek out resources for the breeding and postfledging phases. As well I am working in collaboration with Parks Canada scientists to examine in the influence of high density moose populations on forest bird communities in Gros Morne National Park. Many of my projects are conducted in collaboration or consultation with representatives of industry and government agencies, seeking to improve the management and sustainability of natural resource extraction.