Although Maryland is renowned for its marine life, the state has much more than that to offer its nature lovers. Black bears, coyotes, rattlesnakes, and even wild horses roam parts of the state. Yet, Maryland is also home to a variety of lovely insects, including over 150 species of butterflies and skippers. Learn about some of the most beautiful butterflies that live in Maryland and see what they look like!
1. Monarch
Monarchs (Danaus plexippus) are some of the most beautiful butterflies that live in Maryland. The butterfly has black and orange wings with white marks along the outer edges. These beautiful insects have a wingspan that reaches between 3.5 and 4 inches, making them large enough to admire from afar.
You'll spot these charming and regal insects during the summer months in Maryland. They will typically breed near milkweed because that is what their larvae feed upon.
2. Red-Spotted Purple
Often called the admiral butterfly, the red-spotted purple butterfly (Limenitis arthemis) is a sight to behold. The subspecies L. a. astyanax has various shades of blue on its wings that can feature spots of black and reddish-orange colors on the underside along with white bands on the edges. Sometimes, the dorsal forewings can have red or reddish-orange sports as well.
The red-spotted purple butterfly typically fly just a few feet off the ground, but they spend a lot of their time on foliage in trees. This insect has a wingspan of between 2 and 2.75 inches.
3. Mourning Cloak
The mourning cloak (Nymphalis antiopa) is a widespread butterfly species known for its unique look and large wingspan. These butterflies can have a wingspan of up to 4 inches!
The mourning cloak buttery has a very distinctive look where the dorsal side of its wings is dark brown or maroon. The ventral side of the insect has a grayish-brown color on the wing. The wings on both sides have a pale yellow edge to them.
The butterfly may have blue spots on their wings, located interior to the yellow edges. Furthermore, the edge of their wings has a ragged look to it, like a well-worn cloak. These are some of the most unique-looking butterflies that live in Maryland, so they're very easy to identify.
4. Pink-Edged Sulphur
The pink-edged sulphur (Colias interior) is interesting because Maryland and a part of Virginia are some of the southernmost extensions of the insect's range on the East Coast.
These insects have gorgeous yellow-green wings with a pink outline on the edge of them. The outermost part of their wings can be black, but the edge will still be pink.  Moreover, their legs and antennae can also be pink as well. This insect often lives near blueberry plants.
5. Zebra Swallowtail
The zebra swallowtail (Eurytides marcellus) is one of the most beautiful butterflies that lives in Maryland as well as many other parts of the country.
These large butterflies have black wings with white stripes running throughout. They can have red markings on their hindwings on both the ventral and dorsal sides. The dorsal side of the insect's body has several long hairs.
These butterflies are known for their exceptionally long hindwings. The apex of their hindwing can extend far below the insect's body. Their overall wingspan is between 2.5 and 4.1 inches.
6. Gray Hairstreak
The gray hairstreak butterfly (Strymon melinus) is a small insect with an average wingspan between 0.75 and 1.25 inches. The wings of these butterflies are a beautiful bluish-gray with an orange spot on their hindwings.
The underside of their wings is a light shade of gray, and they can also have several orange markings. The outer edge of their wing can be white on the dorsal side of their bodies. While small, these insects are a very pretty and widespread species.
7. Diana Fritillary
The Diana fritillary (Speyeria diana) is one of the coolest-looking butterflies that live in Maryland. Unfortunately, this species is greatly endangered as a result of its ongoing habitat loss. These butterflies have a wingspan between roughly 3.5 and 4.5 inches, making them large enough to stand out from their surroundings.
This species demonstrates significant sexual dimorphism. The males have black wings forewings and hindwings, all of which have orange around the outside of the wings and on the edges. The females are black with blue markings on the edge of the hindwing. They may also have white patterns on their forewings.
Agricultural development and forest-clearing methods continue to reduce the habitat of these creatures.
The northern metalmark (Calephelis borealis) is a rare butterfly that lives in Maryland. These insects have dark brown mottled wings with white bands, black dots, and an orange stripe along the outside of the wings on the dorsal side. Alternatively, this species can be dark brown with a lot more orange mixed into their coloration.
The outer edge of their wings is frilled, giving them a ragged look. These insects are small with a wingspan that measures about 1 to 1.2 inches.
9. Painted Lady
The painted lady butterfly (Vanessa cardui) is a very common species that is found throughout North America. Ther wingspan can measure between 1.5 and 3 inches. Their dorsal side features black and orange colors with white spots near the tips of the forewings. The ventral side of their wings is brown, white, and black with four distinct spots.
The painted lady butterflies live in open areas like fields and meadows.
10. Zebra Longwing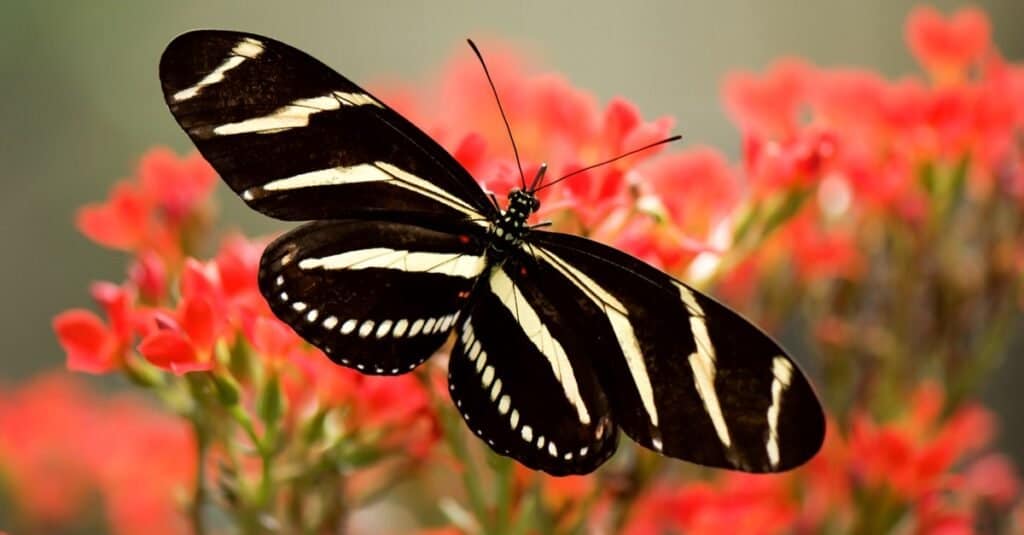 The zebra longwing (Heliconius charithonia) is another one of the most beautiful butterflies that live in Maryland. These insects have black with long white stripes running along the forewings and hindwings. The butterflies also have white markings on the rear part of their hindwings, and they can have red spots as well.
These butterflies are large, having a wingspan between 2.8 and 4 inches. They're certainly distinctive insects that roost in big groups for safety.
Scientists have identified many gorgeous butterflies that live in Maryland. Some of the ones mentioned on this list are endangered, and others are common. The thing to remember about these beings is that they're very fragile. It's best to admire them from a distance and take pictures to appreciate their beauty rather than trying to handle them.
Up Next:
I am broadly interested in how human activities influence the ability of wildlife to persist in the modified environments that we create.
Specifically, my research investigates how the configuration and composition of landscapes influence the movement and population dynamics of forest birds. Both natural and human-derived fragmenting of habitat can influence where birds settle, how they access the resources they need to survive and reproduce, and these factors in turn affect population demographics. Most recently, I have been studying the ability of individuals to move through and utilize forested areas which have been modified through timber harvest as they seek out resources for the breeding and postfledging phases. As well I am working in collaboration with Parks Canada scientists to examine in the influence of high density moose populations on forest bird communities in Gros Morne National Park. Many of my projects are conducted in collaboration or consultation with representatives of industry and government agencies, seeking to improve the management and sustainability of natural resource extraction.