↓ Read on to watch this amazing video
According to the National Institutes of Health, humans can identify more than 1 trillion smells. This number is so high that it exceeds the number of words known by the average person by about 20,000,000 times.
The average American knows about 50,000 words. The point is, our noses are capable of pretty amazing things.
Not if you ask a dog, though. Dogs smell about 100,000 times better than us. This allows them to pick up odors so small, faint and delicate that a canine nose might be a reasonable substitute for a highly advanced medical disease detector.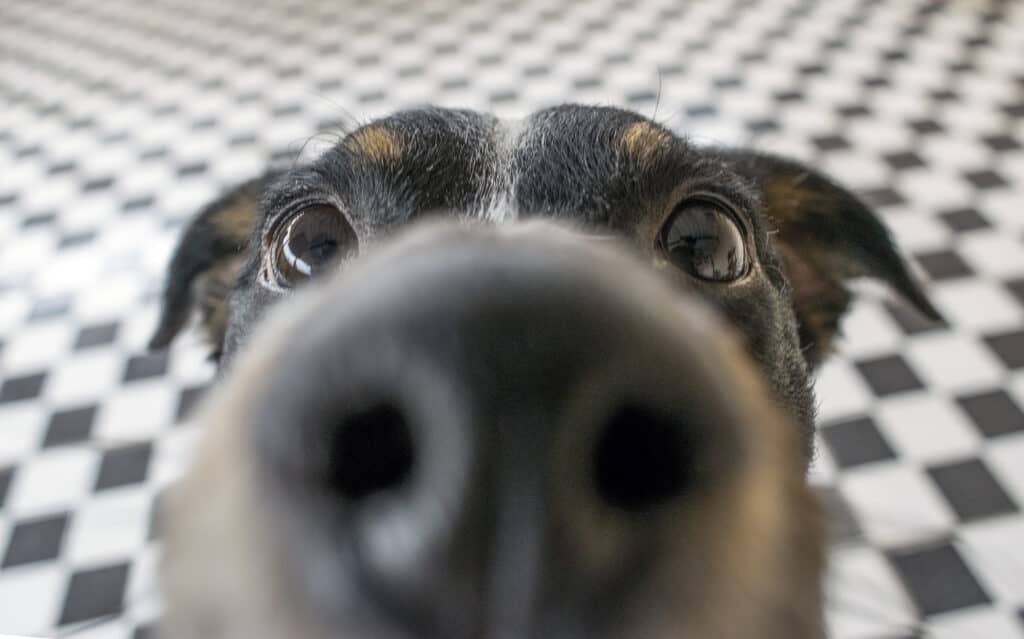 Dogs Can Detect Cancer
To answer our core question, Yes, you can train dogs to detect cancer by smell. They can smell signs of cancer in all stages, even the earliest.
A "medical detection dog" is a dog that has received such training. In addition to detecting the smell of various cancers, their training included many other methods. For example, training to recognize low blood sugar levels in diabetic owners.
Owners with diabetes may not be aware that their blood sugar levels are low, whereas their dog can alert them. This is especially helpful when a person develops dangerously low levels while sleeping.
Dogs can wake their owners to remind them. Scientists believe that all diseases have a corresponding smell. If this is true, then dogs may be able to detect all, if not most, human diseases.
Can Dogs Smell Cancer Itself?
While dogs can indeed detect cancer in humans, they don't necessarily "smell cancer" in all cases.
instead, They detect changes in your body odor. Your urine, sweat, hair, hormones, and other odors may change subtly with cancer in your body.
Dogs are able to recognize these changes and, after training, alert their owners when they are present. Dogs have the ability to smell these changes whenever we have a serious medical problem. While they may not know exactly what happened, they may think that what happened wasn't necessarily a good thing.
For example, a dog does not Know What is cancer. However, there have been reports of dogs behaving strangely, trying to claw or bite the cancerous area. These accounts are mostly anecdotal, but they come up again and again.
This is a terrier who has been licking his owner's head in the same spot for two years. After seeing a doctor, the owner was diagnosed with brain cancer at the same place.
In fact, they smelled different odors, and they recognized the difference even when they smelled a few parts per million. These body changes and odors start when cancer is present in the body.
So it's conceivable that a well-trained dog could spot cancer the day it forms. Still, the idea that untrained dogs look for specific parts of the body where cancer is present suggests that they might be able to pick up the actual smell of cancer.
Dog noses are more advanced than our literature on the subject, though, so it's open to debate whether they can identify cancer locations.
Trained vs. Untrained Detection
There's a big difference between a dog trained to detect disease and one that isn't. Both groups are able to smell the subtle changes in a person's body as they go through these problems, but untrained dogs may not be able to do much about it.
untrained dog
It's totally unknown if the dog smells like cancer and knows something is wrong. Malignant tumors found in 250-million-year-old turtle bones suggest cancer has been around for a long time.
There may be an evolutionary response to signs of cancer, especially for organisms with an advanced ability to smell. In this sense, dogs may be inclined to think that something is wrong.
Of course, this is something we don't actually know.what are we Do What is known is that dogs are able to smell these odors, no matter how faint they are. This means that untrained dogs can smell cancer and may start behaving differently, even though they may behave in exactly the same way.
well trained dog
existIt's raining Dogs, on the other hand, have an extremely high detection rate for certain kinds of cancer. Medical detection dogs might smell lung cancer from a person's breath, identify ovarian cancer from a blood sample, or identify prostate cancer from urine.
The characteristics of cancer found in various bodily fluids or by-products are relatively unknown. In other words, we don't fully understand the specific indicators the body sends out when cancer is present.
Dog training involves identifying smells by working with people with specific cancers, becoming familiar with unique smells, and then learning to alert the trainer when the smell occurs in other people.
When training dogs to spot specific cancers, it is known that the markers may be the same for different cancers. This will allow well-trained dogs to accurately identify many types of cancer.
Detection dogs that look for breast cancer are also capable of accurately detecting lung cancer and melanoma, according to a study.
What's next?
Ready to discover the top 10 cutest dog breeds in the world?
How about the fastest dogs, the biggest dogs, and those who are – quite frankly – just the kindest dogs on earth? Every day, AZ Animals sends out lists like this to our thousands of email subscribers. The best part? free. Join today by entering your email below.
Next:
FAQ (Frequently Asked Questions)
Which Dogs Can Smell Cancer?
Many dog ​​breeds have the ability to sniff out cancer. Hounds have the most sensitive sense of smell of all canines and are therefore a popular breed for medical testing.
Other top sniffer dogs are Beagles, German Shepherds, Labrador Retrievers, Dachshunds, and Basset Hounds.
Will my dog ​​know if I have cancer?
If you have cancer, your dog will likely notice something different. They can go out of their way to remind you, but chances are they won't. Dogs need to be trained to recognize and notify their owners of cancer.
That said, most dogs can smell cancer in humans, even in its early stages.
How do dogs react if someone has cancer?
If you're wondering if your dog is telling you that you have cancer, it's best to see your doctor.Your dog Can Let you know what went wrong.
While this hasn't been proven, it's been said that dogs scratch specific parts of the body with their paws, or try to get close to cancer in some way. Trained dogs, on the other hand, bark or send some sort of signal to their handlers.
I am broadly interested in how human activities influence the ability of wildlife to persist in the modified environments that we create.
Specifically, my research investigates how the configuration and composition of landscapes influence the movement and population dynamics of forest birds. Both natural and human-derived fragmenting of habitat can influence where birds settle, how they access the resources they need to survive and reproduce, and these factors in turn affect population demographics. Most recently, I have been studying the ability of individuals to move through and utilize forested areas which have been modified through timber harvest as they seek out resources for the breeding and postfledging phases. As well I am working in collaboration with Parks Canada scientists to examine in the influence of high density moose populations on forest bird communities in Gros Morne National Park. Many of my projects are conducted in collaboration or consultation with representatives of industry and government agencies, seeking to improve the management and sustainability of natural resource extraction.