↓ Read on to watch this amazing video
The COVID-19 pandemic is a very stressful and worrying time for everyone. Today, we are learning to live with this new disease. At the height of the crisis, many of us turn to our four-legged friends to keep us company. Just as we already know that coronaviruses can be transmitted from one species to another, it is only natural to ask now can dogs get COVID-19? This question is important for our own health and the health of our dogs.
The short answer is yes, dogs can get COVID-19, but nothing to worry about. There is no evidence that COVID-19 is a serious health problem for dogs (it causes no symptoms or only mild symptoms). There is also no evidence that they can transmit it to humans. It's more likely that humans infected their pets. By taking reasonable hygiene precautions, such as washing your hands, you can protect your pets and other family members.
Canines and Coronavirus
The virus that causes COVID-19 is a coronavirus. Coronavirus is not new. They have been causing human disease for hundreds of years, and the virus that causes many common colds in humans is also a coronavirus.
We also know that dogs can get coronaviruses, especially canine respiratory coronavirus, which is common in dogs. This is different from the virus that causes COVID-19 in humans, but it is related. Studies show that more than half of the dog population in the United States has been exposed to it at some point.It causes acute respiratory illness and is often associated with bacteria such as Bordetella bronchiseptica Causes the respiratory disease we call kennel cough.
Dogs of all ages and breeds can get it, but it spreads most easily in places where large numbers of dogs are kept together, such as boarding kennels and rescue centers. Symptoms are coughing, sneezing and runny nose, but in some cases, it can lead to pneumonia.
There have been some rare reports of canine respiratory coronavirus in humans in Malaysia. However, it's unclear whether this makes them sick.
The important point is that we know dogs can get coronaviruses, so it seems plausible that they might get COVID-19 too.
Can Dogs Get COVID-19?
Yes, there have been reports of the COVID-19 virus being found in dogs. Given that we spend so much time in close quarters with our dogs, and we already know they can carry other types of coronavirus, this should come as no surprise.
In March 2020, the first documented case of a dog with possible COVID-19 infection was a pug named Winston who lived in North Carolina. Several members of Winston's human family, which includes two frontline healthcare workers, have tested positive. However, further testing by the USDA Animal and Plant Health Inspection Service showed that very little virus was found on the oral swab submitted by Winston, which may simply be environmental contamination he was exposed to at home from licking surfaces. Additionally, his body did not produce antibodies against the virus, so there was no evidence that he actually had COVID-19.
Canine COVID-19 Cases
Around the same time, researchers in Hong Kong found COVID-19 in samples submitted by two dogs. Also, these dogs, one of which was a Pomeranian, lived with a person with the disease. This time, the dogs developed antibodies, indicating they had been infected. Neither dog showed any signs or symptoms of illness.
This is "a likely case of human-animal transmission," the researchers concluded. They conducted further tests on cats and dogs living in households that had positive human cases but found no more animal cases. They concluded, "These findings suggest that dogs and cats are not susceptible to this virus and there is no evidence that they play a role in transmission."
In November 2021, the UK reported its first case of a pet dog infected with COVID-19. The dog was being treated for another disease at the time, and the virus was found in routine samples. Again, the dog is thought to have contracted the disease from someone in the family, with the UK Chief Veterinarian's Office saying, "It is very rare for dogs to become infected, they usually only show mild clinical symptoms and clear up within a few days. Recovery. There is no clear evidence that pets can directly transmit the virus to humans."
Can dogs transmit COVID to humans?
There is no evidence that dogs can transmit COVID-19 to humans through licking or breathing. Additionally, there are no known cases of humans contracting the disease from petting dogs. In all reported cases of canine COVID-19, it is believed to have been transmitted from humans to dogs. This is not surprising, since when someone has the disease, the environment in the home is likely to be contaminated with viral particles.Dogs love to explore their environment and their human companions through lickSo it's easy to see how they contracted the disease.
It is theoretically possible that infected dogs could transmit the disease to humans, but the likelihood is considered extremely low.
You should never attempt to put a muzzle on a dog, as this may present a risk of choking and suffocation. It can also be very painful for dogs.
Also, you should never attempt to sanitize your dog's coat with cleaning chemicals, hand sanitizers, or any other type of surface cleaner. All of these products can be highly toxic to dogs.
However, it is wise to take basic hygiene precautions with your dog to help prevent the spread of other pathogens. These include washing your hands after petting your dog and cleaning up their poo, and using separate containers and utensils for dog and human food.
This is especially important if there are very young, very old, or immunocompromised members of the family.
COVID-19 Symptoms in Dogs
Very few dogs have been infected with COVID-19, so there is no complete list of symptoms. Experts suspect that most dogs show no symptoms at all. Those who do get sick will only have mild illness.
According to the U.S. Centers for Disease Control, dogs that do contract the virus may develop cough, fever, shortness of breath, lethargy, runny nose and sneeze. They may also have vomiting or diarrhea. However, it is important to note that these symptoms are common in many other canine diseases. So, if your dog is coughing, it doesn't mean it definitely has COVID-19. You should take them to the vet so the cause can be investigated.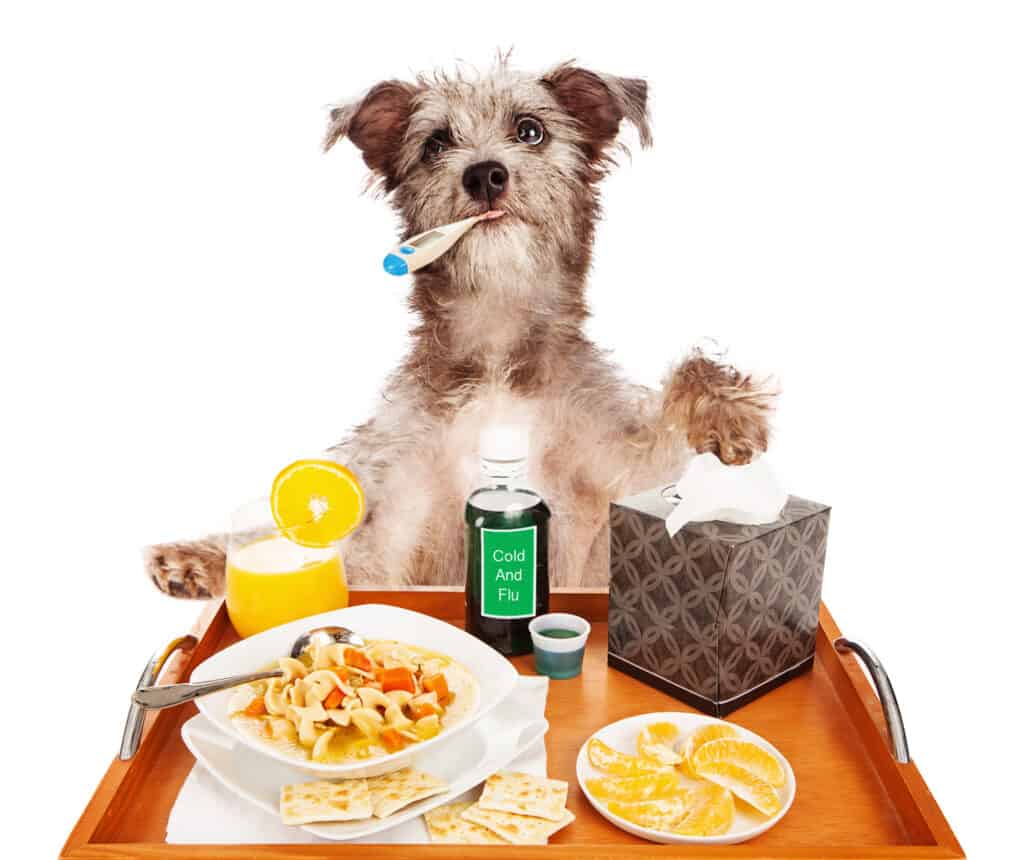 How to Protect Your Dog from COVID-19
It is wise to take steps to protect your dog from COVID-19 like any other family member. This may include avoiding close contact with them while you are contagious. Monitor your dog for signs of illness and take them to the veterinarian if you have any concerns.
The American Kennel Club offers the following recommendations:
ask another member of your family to care for your dog while you are sick
avoiding kissing and snuggling with your dog during an infection
If you must be in close quarters with your dog, try to wear a mask
Wash your hands before and after interacting with your dog
use pet wipes on their paws
Use a pet-safe disinfectant on hard surfaces and wash bedding and other affected household items regularly
Can you test your dog for COVID-19?
You cannot purchase a test for a dog without a routine COVID-19 test for dogs. You also cannot use human COVID-19 tests on dogs.
If you are concerned about your dog's health, please consult your veterinarian. They will investigate the illness and decide which lab tests, if any, they need.
What to do if your dog has COVID-19
If your veterinarian tests your dog for COVID-19 and the sample comes back positive, there is no need to panic! However, it is wise to take some basic precautions. Just follow the same hygiene procedures you would use if a family member had COVID-19.
Try to isolate your pet by reducing its contact with humans and other pets in the home. Wash your hands thoroughly after interacting with your dog.
COVID-19 can be a very mild illness for your dog and there is every reason to believe they will recover quickly and fully. If you do notice their health is deteriorating, contact your veterinarian immediately for further advice.
Learn more about canine health in these informative articles:
5 Ways Dogs Can Get Mange, and How to Help Them Heal
If Your Dog Has Parvo, Here's How They Get It and How It's Treated
Ready to discover the top 10 cutest dog breeds in the world?
How about the fastest dogs, the biggest dogs, and those who are – quite frankly – just the kindest dogs on earth? Every day, AZ Animals sends out lists like this to our thousands of email subscribers. The best part? free. Join today by entering your email below.
Next:
I am broadly interested in how human activities influence the ability of wildlife to persist in the modified environments that we create.
Specifically, my research investigates how the configuration and composition of landscapes influence the movement and population dynamics of forest birds. Both natural and human-derived fragmenting of habitat can influence where birds settle, how they access the resources they need to survive and reproduce, and these factors in turn affect population demographics. Most recently, I have been studying the ability of individuals to move through and utilize forested areas which have been modified through timber harvest as they seek out resources for the breeding and postfledging phases. As well I am working in collaboration with Parks Canada scientists to examine in the influence of high density moose populations on forest bird communities in Gros Morne National Park. Many of my projects are conducted in collaboration or consultation with representatives of industry and government agencies, seeking to improve the management and sustainability of natural resource extraction.