↓ Read on to watch this amazing video
If your dog has ever tried to levitate a jar of applesauce off the table with his eyes, you may wonder if it's safe. Can Dogs Eat Applesauce? Apples are a common fruit, surely they are harmless?
Let's take a look at the risks and benefits of applesauce, and whether Rover can have a spoonful tonight.
Is applesauce safe for my dog ​​to eat?
The fastest answer is no. Applesauce is not safe for dogs because it contains spices and artificial sweeteners like sugar or xylitol, which is not good news for our canine friends and, in fact, they can be toxic.
However, regular apples are safe for dogs, and they have many health benefits. If you're willing to stew some apples without any sugar or spices, your dog can eat applesauce with relish. A word of caution, though, that apple cores are not suitable for dogs (or any pets), as they contain cyanide. First core the apples.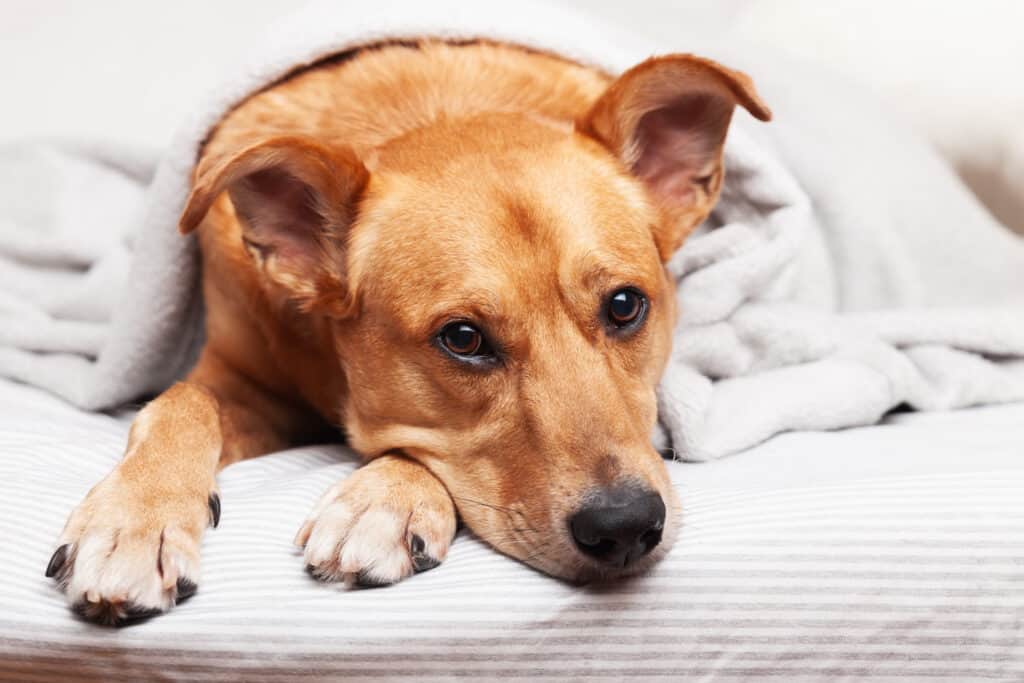 What is applesauce?
Applesauce is pureed apple pulp, usually sweetened or spiced to enhance the flavor. It has been a popular sauce in Europe for centuries, used with meats and cakes.
Although applesauce is easy to make at home, commercial applesauce is popular. The US market alone is thought to be worth $2,169.3 million by 2026!
do you know apple (Malus Domestica) is native to Asia and is the most internationally traded fruit after grapes and bananas? They are a globally popular fruit, brought to the Americas by the first colonists.
Benefits of Applesauce
Sweetened applesauce offers no benefit, as the risk of xylitol toxicity outweighs any vitamin intake. Xylitol is toxic to dogs and can cause hypoglycemia within hours. Applesauce made with sugar is also unsuitable, as sugar produces calories and is bad for teeth. Regular consumption of sugary applesauce can lead to obesity.
Let's not forget the spices. Some people like applesauce sour or savory. Commercial versions may still contain xylitol, and may contain other ingredients that are toxic to dogs, such as nutmeg or garlic. More on foods that are toxic to dogs later.
But all is not lost.
Dogs can eat stewed apples if it is plain and the seeds removed. Apples contain tons of nutrients that are good for dogs.
Vitamin A – essential for good vision and a healthy immune system
Vitamin C – boosts the immune system, helps absorb iron and repairs cells
Potassium – maintains fluid levels in cells and supports healthy blood pressure
Antioxidants – protect against free radicals and diseases like cancer
Fiber – Mainly found in the peel, fiber keeps your gut healthy.
Low in calories – Apples contain almost no calories and little fat, making them an excellent low-calorie food.
The Risks of Applesauce
Dogs can eat regular applesauce, but most store-bought applesauces contain the following ingredients:
Sugar: It produces calories and contributes to obesity. According to the Pet Obesity Prevention Association, 56 percent of dogs in the U.S., or roughly 50 million dogs, are overweight. Obesity can reduce a dog's quality of life and shorten its lifespan. It can also damage teeth and can lead to diabetes.
Xylitol: An artificial sweetener that tops the list of toxic dog foods. Xylitol can cause a dramatic drop in blood sugar that can lead to fatal hypoglycemia. Not worth the risk.
Spices: A tricky one, as some such as ginger and cinnamon are fine in small amounts, but others (including nutmeg) are not safe at all. Compounds in nutmeg can cause hallucinations, high blood pressure, and seizures.
If your dog steals applesauce from the dinner table or eats apple cake, contact your veterinarian immediately.
Homemade applesauce is not without risks, but you can manage them in smart ways.
First, eating too many apples can cause gastrointestinal upset, including diarrhea and vomiting. It's uncomfortable for the dog, and the gas can be uncomfortable for you.
If your dog develops an upset stomach from homemade applesauce, provide plenty of clean fresh water and a decent amount of rice, chicken or sweet potatoes, and turkey to firm up their stools and ease their colic.
If it persists for more than a few days, consult a veterinarian, as persistent diarrhea can lead to dehydration.
One scoop is enough for a large dog and a quarter of a scoop is enough for a small dog. However, every dog ​​is different, so if they have an upset stomach, feed them less. The ASPCA recommends that foods such as applesauce should make up no more than 10 percent of a dog's diet, with the remainder coming from a nutritionally balanced dog food.
Is it okay to feed my dog ​​applesauce?
Plain unsweetened or unflavored applesauce is fine for dogs. Just stick to the amounts above.
Apple snacks such as dried apples are not suitable as they are sweet. Stick to a slice of fresh apple or a handful of plain.
How to Make Dog-Safe Applesauce
You can buy plain unsweetened or spiced applesauce, but if you have a tree or love to cook, you might want to make your own. It's easy, and you can make dog-friendly applesauce alongside your own pie filling.
Simply wash and slice the apples, making sure to remove all the core.
Put the pan on a low heat and simmer the apple slices until softened
Mash them up – no sugar!
Spoon the potions into ice cube trays and freeze them for a summer treat, or add them to your dog's main meals for extra flavor. Of course, they can also lick it with a spoon, allowing the dog to bond with the owner.
If this all sounds like hard work, many dogs love a crunchy slice of fresh apple so they can reap the benefits without you doing any cooking.
How about low sugar applesauce?
This is also a no-no for dogs. Low sugar doesn't mean no sugar, usually low sugar applesauce contains xylitol. Plain, unsweetened, unflavored applesauce is the only safe type.
Where's the cat?
It's a rare cat that will eat applesauce, but if your feline friend likes it, the same rules apply for regular unsweetened applesauce.
My dog ​​ate applesauce, what should I do?
it depends.
If applesauce contains xylitol or spices such as nutmeg, consult your veterinarian as soon as possible.
If it's a lot of unsweetened applesauce or just sugar, monitor them over the next few days in case they develop an upset stomach.
A little unsweetened illegal applesauce shouldn't hurt them.
food dogs should avoid
So we know that small amounts of plain applesauce are good for dogs, but there are certain foods they must 100% avoid. If your dog eats any of the following foods, call your veterinarian right away.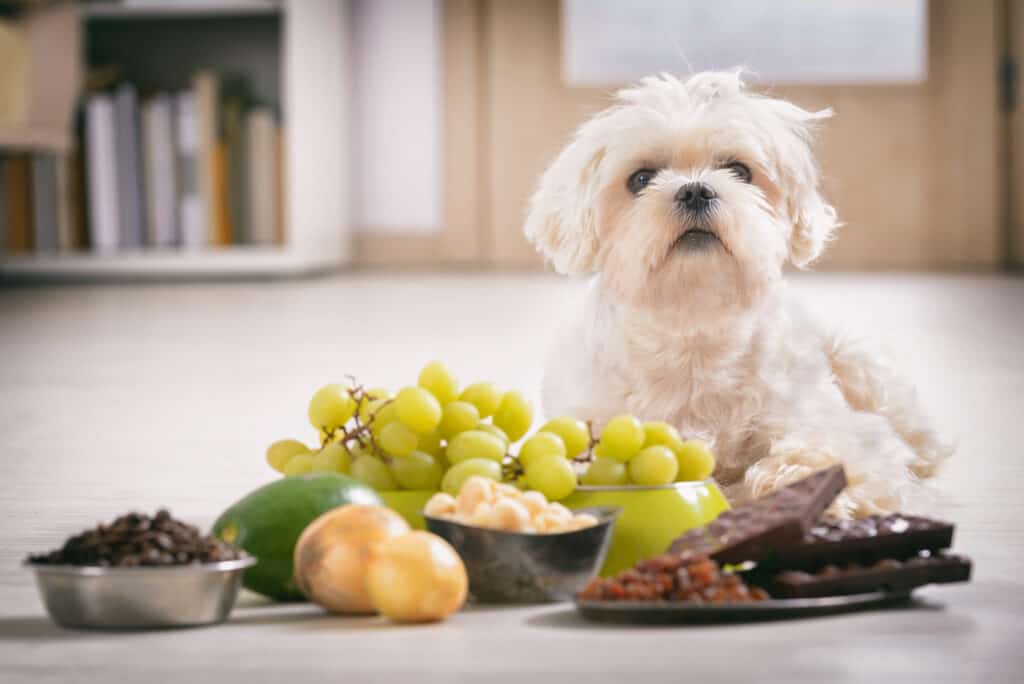 garlic and onions
Plants in the Allium family, which includes onions, garlic, leeks, and shallots, are poisonous to dogs. Instead of digesting these compounds, they stick to red blood cells and cause anemia. Symptoms include pale gums, lethargy, prostration, and stomach pain.
Grape
The sweet little grape contains high amounts of toxic substances in all its forms of juice, wine and raisins. Dogs can't digest their compounds like we can, and they can cause kidney failure.
chocolate
Chocolate contains theobromine and caffeine, which are stimulants that put too much stress on a dog's organs. It can cause vomiting, diarrhea, collapse and even death.
Macadamia
Along with nutmeg, macadamia nuts are toxic to dogs and can cause serious complications such as hind leg weakness, vomiting and collapse. Macadamia nuts are often found in cakes and cookies, so it's always important to lock away the sweet treat.
Is applesauce dangerous for dogs?
Let's review our question Can dogs eat applesauce?
The answer is, it depends.
Plain applesauce without sugar, xylitol, or flavors is fine for dogs in small amounts, boosting their intake of vitamins, minerals, and fiber with hardly any calories. Plus, it's delicious on them!
On the other hand, sweetened or spiced applesauce in any form can be dangerous for dogs, so read the ingredient list carefully or make your own fresh, dog-safe puree.
next
Ready to discover the top 10 cutest dog breeds in the world?
How about the fastest dogs, the biggest dogs, and those who are – quite frankly – just the kindest dogs on earth? Every day, AZ Animals sends out lists like this to our thousands of email subscribers. The best part? free. Join today by entering your email below.
I am broadly interested in how human activities influence the ability of wildlife to persist in the modified environments that we create.
Specifically, my research investigates how the configuration and composition of landscapes influence the movement and population dynamics of forest birds. Both natural and human-derived fragmenting of habitat can influence where birds settle, how they access the resources they need to survive and reproduce, and these factors in turn affect population demographics. Most recently, I have been studying the ability of individuals to move through and utilize forested areas which have been modified through timber harvest as they seek out resources for the breeding and postfledging phases. As well I am working in collaboration with Parks Canada scientists to examine in the influence of high density moose populations on forest bird communities in Gros Morne National Park. Many of my projects are conducted in collaboration or consultation with representatives of industry and government agencies, seeking to improve the management and sustainability of natural resource extraction.