↓ Read on to watch this amazing video
I love seeing leaves and acorns on the ground. That's when it really starts to feel like fall is here and the hot summer weather is gone.
However, if your dog has a habit of picking up things on the ground, fall may not be the best season for you. This is especially true with acorns as they are not safe for dogs!
Dogs should not eat acorns because they contain toxic chemicals called tannins. Acorns also pose a choking hazard and can cause intestinal blockage. In extreme cases, your dog could suffer organ damage or even die after consuming acorns. However, as long as they receive veterinary treatment, this is unlikely.
In this article, we'll discuss why acorns are dangerous, what to do if your dog eats them, and how to stop your dog from eating acorns that are on the ground.
Are Acorns Poisonous to Dogs?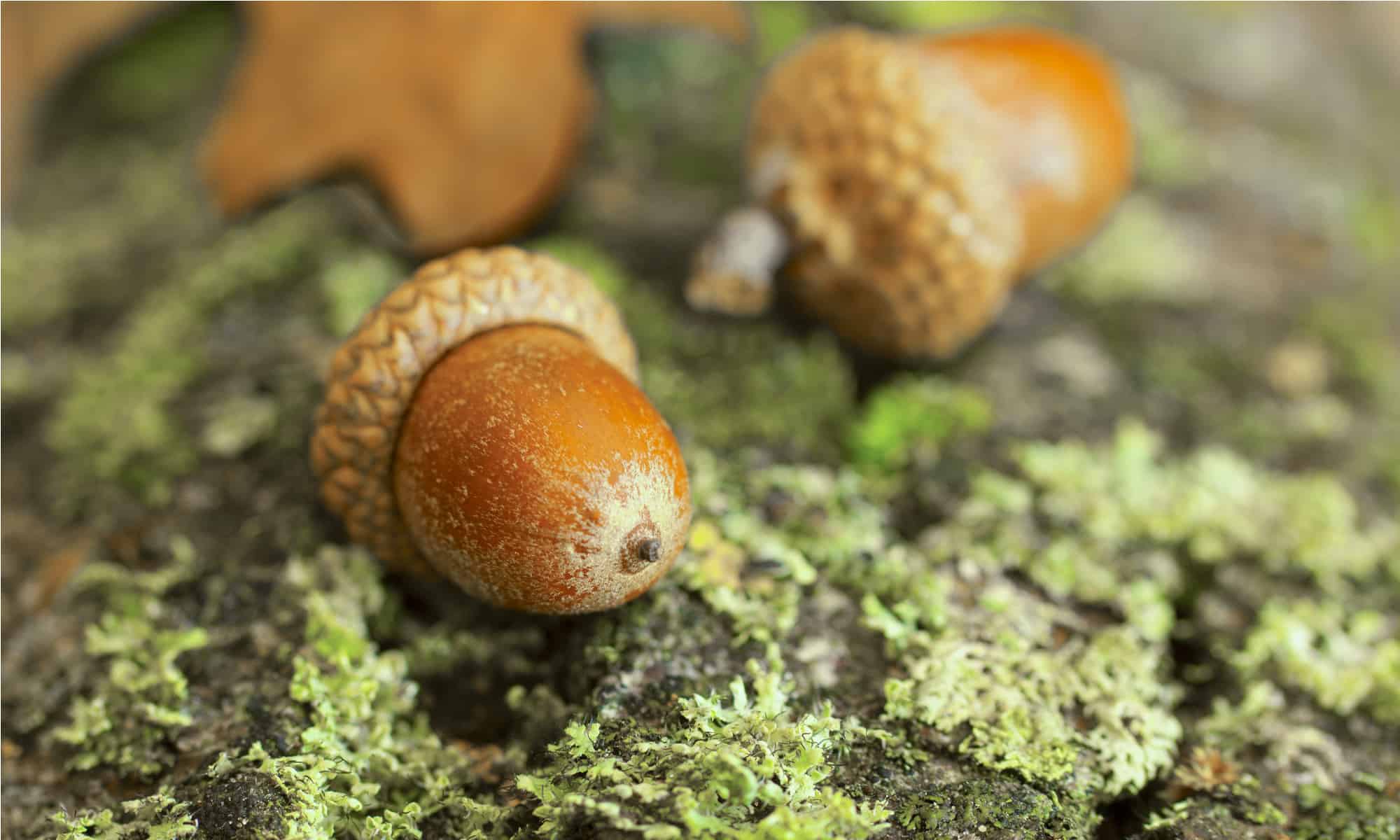 Acorns are poisonous to dogs because they contain tannins, which are compounds found in various plants. Oak leaves also contain tannins.
The most dangerous acorns are those that are immature. These acorns contain the highest levels of tannins, which decrease as they ripen. However, ripe acorns are still not safe for your dog.
In addition to being poisonous, acorns are very hard and indigestible. They pose a choking hazard and can cause intestinal blockages that require surgical removal.
Will an acorn hurt my dog?
There are so many variables that it's hard to say exactly how many acorns are going to hurt your dog. We don't do a lot of research on this kind of information for good reasons – we don't want to poison dogs to find out!
Here are some factors to consider:
Ripe acorns are less toxic but can still cause damage.
Small dogs need less tannin to poison than larger dogs, so small dogs are the most dangerous.
Poisoning isn't the only risk of eating acorns — your dog could also develop intestinal obstruction.
Personally, if I know my dog ​​has eaten something poisonous, I don't wait until the symptoms of poisoning appear. Your dog has the best chance of recovery and survival if you call your veterinarian right away.
Think of it this way: If your dog is fine, the worst thing that can happen is that you get a vet bill and look a little silly. If your dog gets poisoned, the worst-case scenario is that they die.
So now is not the time for underreaction.
Symptoms of Dogs Eating Acorns
Symptoms of acorn poisoning in dogs include:
Slobber
retching or coughing
Vomit
diarrhea
Bloody stools
tired
loss of appetite
dehydration
excessive thirst and urination
stomachache
In extreme cases, dogs may suffer kidney and liver damage. Some dogs have died from acorn poisoning, but this is unlikely to happen if your dog receives prompt veterinary treatment.
what to do if a dog eats an acorn
If your dog eats an acorn, call your veterinarian right away. They can give you recommendations based on your dog and the number of acorns they eat.
Sometimes our pups seem to wait until the vet closes at night or on weekends, or weeks after they've been booked in to get into trouble. If this happens, call your emergency veterinarian. They can advise you and may recommend that you bring your dog in for an evaluation.
How will my veterinarian diagnose acorn poisoning?
When you take your dog to the veterinarian, they will first take the oral history from you. They may ask how many acorns your dog has eaten and whether they are showing any symptoms of poisoning.
They will perform a visual inspection and palpate your dog's abdomen. Your veterinarian may also recommend blood tests to see if the acorns are affecting your dog's kidneys or liver, or X-rays to look for blockages.
To treat your puppy, your veterinarian may recommend medication, infusions, or surgery.
Don't try to treat acorn poisoning at home by making your dog sick, as this can make the situation worse.
How to Stop Dogs from Eating Acorns
If your dog keeps eating acorns or other things on the ground while you're walking, there are several solutions you can try.
These include:
avoid areas with oak trees
Remove Oak Trees From Your Yard
Supervising Your Dog in the Yard
Train Your Dog to Wear a Muzzle on Walks
Professor "leave it" order
Teaching the "Drop" command
Avoid Touching Oak Trees While Walking
If your favorite park has an oak tree and your dog is always picking up acorns, I suggest picking a new spot for a walk—at least in the fall while the acorns are still on the ground.
This is the easiest way to get your dog off acorns, but it won't solve the problem if they keep eating what they shouldn't.
Avoiding oak trees can also be a temporary solution while you train with muzzle drills or teach solid "get away from it" tips.
Remove Oak Trees From Your Yard
This solution can be expensive, but if your dog is always eating acorns in the backyard, it might be worth it. Removing the tree and carefully raking off all loose acorns and leaves will solve your problem forever.
If your dog continues to eat acorns, the cost can also be balanced when you factor in the cost of veterinary appointments. The surgery to remove acorns from your dog's digestive tract is very expensive, not to mention the pain and stress you and your dog must go through.
supervise your dog outdoors
If you can't afford or don't want to remove trees, try supervising your dog in the backyard. You may need a leash to keep them away from the acorns, or you can let them roam the yard while watching them closely.
muzzle training your dog
If your dog keeps picking up acorns and other things off the ground, it's probably safest to muzzle them before taking them outside.
To some, this may seem cruel, but muzzles won't hurt your dog. They might be a little uncomfortable, but that's nothing compared to poisoning or intestinal obstruction!
The best way to muzzle your dog is to train them first. It takes time and patience, but it pays to maintain a good relationship and tell them the muzzle means good things and not punishment!
Introduce the muzzle slowly, and give your puppy plenty of treats to interact with it. Over time, they'll learn to put their nose in the muzzle without fear and not try to remove it when it's on, much to the guilt of a dog parent!
The muzzle doesn't have to be forever, either. If you want, you can train your dog to have a solid "get off it" command, then remove the muzzle after they've mastered it.
Teach the "leave it" command
The most effective way to stop your dog from eating acorns and other random things is to teach a solid "leave it" command. This type of training is essential to keep your dog safe.
Start by "feeding" treats to your dog and the ground at the same time. Once your pup gets used to this, start feeding them, put one on the floor and feed them the other…you get the idea!
Over time, you can space it out so your dog waits longer and longer for it. You can also increase the difficulty over time by placing treats on the floor closer to your dog. Remember to take your time – you want them to succeed, not fail.
Once your dog consistently leaves the treat alone on the floor, pair it with a command word such as "leave it." Remember to praise them for listening!
If your dog doesn't already know the release cue, you can also teach them to release the cue by saying "okay" or "get it" and letting them eat the treat on the floor.
If your dog eats treats early, pick them up and try again. Don't scold them – after all, they don't know yet!
Teaches the "drop" command
Unlike "put down" which applies to items your dog hasn't picked up yet, "put down" teaches them to put things down. This is helpful if your dog already has an acorn in their mouth and you need them to let it go.
One of the most fun ways to teach "drop it" is the fetch game! Pair it with a treat so your dog will be motivated to come back to you and take the toy as a "deal."
If your dog doesn't bring the toy back, try throwing it a little closer. You can also wait until your dog is chewing on their toy and offer their favorite treat in exchange.
Remember to use your release words to get them back their toy – don't take it permanently as this could be seen as punishment for listening!
next…
Ready to discover the top 10 cutest dog breeds in the world?
How about the fastest dogs, the biggest dogs, and those who are – quite frankly – just the kindest dogs on earth? Every day, AZ Animals sends out lists like this to our thousands of email subscribers. The best part? free. Join today by entering your email below.
I am broadly interested in how human activities influence the ability of wildlife to persist in the modified environments that we create.
Specifically, my research investigates how the configuration and composition of landscapes influence the movement and population dynamics of forest birds. Both natural and human-derived fragmenting of habitat can influence where birds settle, how they access the resources they need to survive and reproduce, and these factors in turn affect population demographics. Most recently, I have been studying the ability of individuals to move through and utilize forested areas which have been modified through timber harvest as they seek out resources for the breeding and postfledging phases. As well I am working in collaboration with Parks Canada scientists to examine in the influence of high density moose populations on forest bird communities in Gros Morne National Park. Many of my projects are conducted in collaboration or consultation with representatives of industry and government agencies, seeking to improve the management and sustainability of natural resource extraction.