Although they both come from the same family, there are some notable differences between blue whales and humpback whales. You may not be able to tell the difference right now, but you've come to the right place to learn more. How are these two whales different, and what are their similarities?
In this article, we will compare and contrast humpback and blue whales so you can learn everything there is to know about these two different species. We'll address their physical differences as well as their habitat preferences as well as their diets. Finally, we'll discuss their lifespan and some other tricks you can learn to tell them apart. Now let's start talking about these majestic creatures!
Comparing Blue Whales and Humpback Whales
| | blue whale | Humpback whales |
| --- | --- | --- |
| size | 80-100 feet long; 100-160 tons | 50-60 feet long; 40-100 tons |
| appearance | Slender body, despite its great length; dark blue rubbery skin with folds at throat.It has two blowholes on the top of its head and a large baleen for its unique food | Dark gray dorsally, lighter underbelly. Covered with large ridges and scars, and a hump near its dorsal fin.has a baleen instead of a tooth |
| location and habitat | Depending on the species, it is found in both cold and tropical oceans.Migrates on average twice a year and can be found along the North Atlantic and Pacific coasts | Migrate up to 16,000 miles per year, depending on the season, from cold or polar climates to warm subtropical oceans |
| diet | Mainly krill, but also eats fish and small crustaceans | Mainly plankton but also eats krill and other crustaceans |
| life | 30-45 years old | 45-50 years old |
Key Differences Between Blue Whale and Humpback Whale
There are a number of key differences between blue whales and humpback whales. Blue whales are much larger in length and weight than humpback whales. Humpback whales have more distinctive markings than slender blue whales. Additionally, humpback whales live a slightly longer lifespan compared to the average blue whale.
Let us now understand all these differences in detail.
Blue Whales vs. Humpbacks: Size
There are some notable differences between the average size of a blue whale and the average size of a humpback whale. In general, blue whales are much larger in length and weight than humpback whales. But how big is a blue whale compared to a humpback? Now let's take a closer look at the numbers.
Depending on age and sex, the average length of a humpback whale is between 50 and 60 feet, while a blue whale is between 80 and 100 feet. Furthermore, blue whales have an average weight of 100 to 160 tons, while humpback whales weigh 40 to 100 tons. As you can see there is some overlap in their weights, although blue whales are still much larger than humpbacks.
Blue Whale vs Humpback Whale: Appearance
Given that blue whales and humpback whales are members of the same whale family, they share some similarities in appearance. However, humpback whales have more distinctive markings overall than common blue whales. Additionally, blue whales maintain a light gray to blue shade, while humpbacks are gray on the back and white on the belly.
One thing that often easily distinguishes humpbacks from any other whale is the fact that humpbacks have a small ridge or hump near their dorsal fin, which blue whales do not have. However, both species of whales have baleen that help them feed on their unique diets.
Blue Whale vs. Humpback Whale: Location and Habitat
Both blue whales and humpback whales are migratory whales, capable of migrating many miles each year. However, humpback whales migrate more consistently and regularly than blue whales. Humpback whales are estimated to travel an average of 16,000 miles per year, traveling from subtropical waters to polar regions and back depending on the season.
That's not to say the blue whale doesn't migrate, as it also chooses where to live based on the season and food availability. However, blue whales are often seen off the North Atlantic and North Pacific coasts, while humpbacks tend to prefer one extreme or the other, depending on the time of year.
Blue Whales vs. Humpbacks: Diet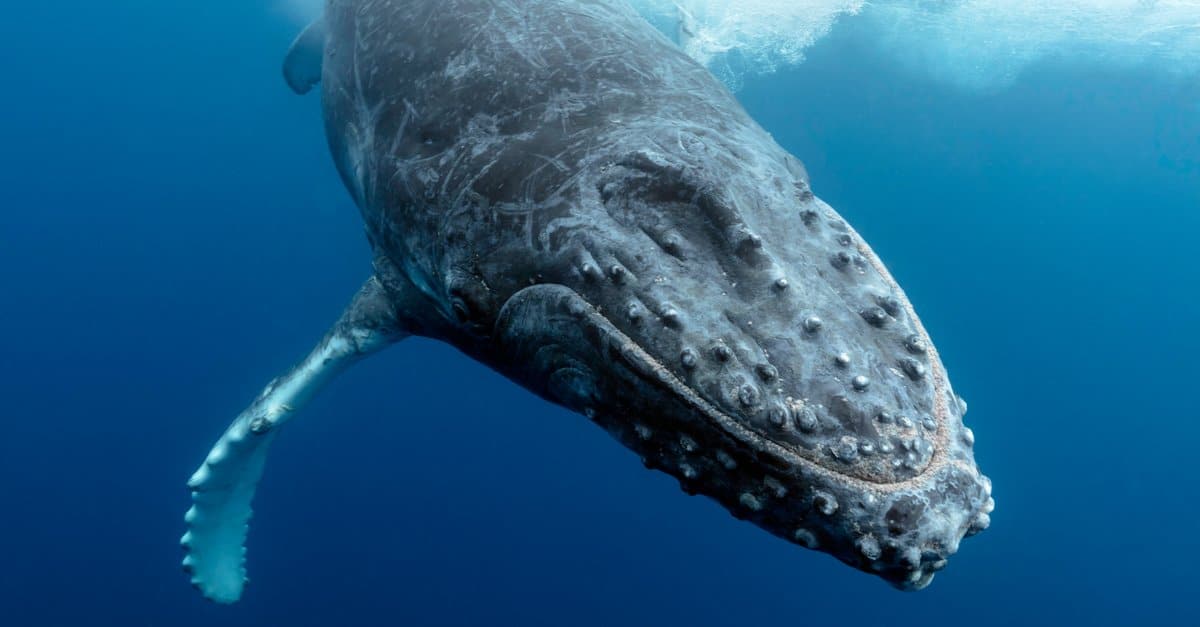 Both blue and humpback whales enjoy similar diets and have adapted their unique eating strategies of using baleen. For example, blue whales eat krill as their main food source, while humpback whales prefer plankton. However, both species of whales also eat fish and other crustaceans as part of their diet.
Blue Whales vs. Humpbacks: Lifespan
One final difference between humpbacks and blue whales has to do with their longevity. Given their large size, blue whales have a slightly shorter lifespan compared to common humpback whales. Looking at the numbers, humpback whales live to be 45 to 50 years old, while blue whales live an average of 30 to 45 years. While there are many environmental factors that can affect the lifespan of both creatures, it's safe to say that humpback whales do live slightly longer overall.
I am broadly interested in how human activities influence the ability of wildlife to persist in the modified environments that we create.
Specifically, my research investigates how the configuration and composition of landscapes influence the movement and population dynamics of forest birds. Both natural and human-derived fragmenting of habitat can influence where birds settle, how they access the resources they need to survive and reproduce, and these factors in turn affect population demographics. Most recently, I have been studying the ability of individuals to move through and utilize forested areas which have been modified through timber harvest as they seek out resources for the breeding and postfledging phases. As well I am working in collaboration with Parks Canada scientists to examine in the influence of high density moose populations on forest bird communities in Gros Morne National Park. Many of my projects are conducted in collaboration or consultation with representatives of industry and government agencies, seeking to improve the management and sustainability of natural resource extraction.