You probably know that blue whales and elephants are among the largest creatures on Earth, but is there a real comparison between these two legendary sizes? While elephants roam the land, blue whales roam our oceans. But which animal was bigger, and how do these two giants compare?
In this article, we'll compare and contrast the size differences between elephants and blue whales so you can really get a sense of just how big these two animals are. In addition, we will study what they eat and what potential predators they have in their respective environments. Now let's get started and learn more about these animals!
Comparing Blue Whales and Elephants
| | blue whale | elephant |
| --- | --- | --- |
| length | 80-100 feet long | 18-24 feet long |
| high | 15 feet tall | 10-13 feet tall |
| weight | 100-110 tons | 2-8 tons |
| diet | Krill, plankton, crustaceans and fish | Grass, Fruit and Vegetation |
| predator | human, killer whale | human, hyena, lion |
| size comparison | 2 and a half school buses long and 4-5 school buses heavy! | Weighs as much as 2-4 full size cars! |
Key Differences Between Blue Whale and Elephant
There are a number of key differences between the size of a blue whale and that of an elephant. Depending on the species of elephant, they weigh from 2 to 8 tons, while the average blue whale weighs over 100 tons. Additionally, blue whales are much longer than the average elephant, regardless of the species of elephant in question.
Let us now discuss all these differences and other comparisons in more detail.
Blue Whale vs. Elephant: Length and Height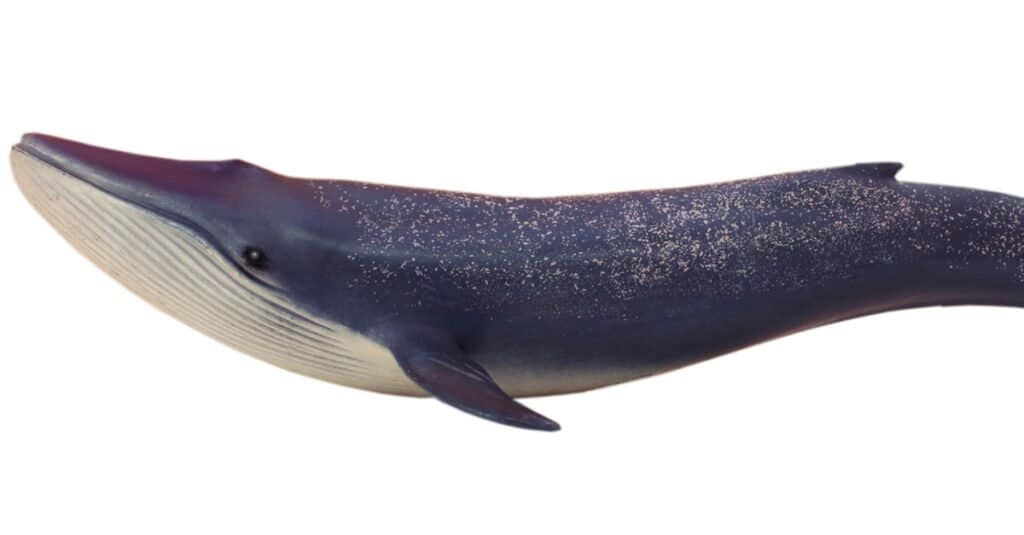 When it comes to the overall length and height of blue whales and elephants, you'll immediately notice some striking differences. For example, a blue whale is noticeably longer than an average elephant, despite being almost as tall as an elephant. Anyway, let's take a closer look at the numbers now.
Depending on the species, elephants can reach lengths of 18 to 24 feet, while blue whales average 80 to 100 feet. Also, blue whales can only reach a maximum height of 15 feet, while elephants can reach a height of 10 to 13 feet, maybe slightly higher depending on the species and gender of the elephant.
Blue Whale vs. Elephant: Weight
While elephants may be large, the weight of a blue whale does not compete with that of an ordinary elephant. A blue whale is much heavier than any large elephant on the planet, but by how much? let's see!
Depending on the species, an elephant can weigh anywhere from 2 to 8 tons and can reach up to 20,000 pounds, while a blue whale averages 100 tons or more. There is a significant difference in weight between the two creatures, and when it comes to the size of the blue whale, there is no competition at all. It's simply huge, even though the elephant was huge to begin with!
Blue Whales and Elephants: Diet
You might be asking yourself: what did these two creatures eat to grow so big? While the answer may surprise you, both blue whales and elephants have fairly simple diets compared to various other creatures, and they both eat a lot of food in a single day.
Depending on the species of elephant, they like to eat a variety of plants, including grasses, leaves and fruit, while blue whales mainly feed on plankton, krill and other crustaceans. In other words, the average blue whale can eat more than 16 tons of plankton per day, while the average elephant eats 400 pounds or less of food per day.
Blue Whale vs. Elephant: Predator
Given how large these two beautiful creatures are, you might wonder if they have any predators in nature. The good news is that blue whales and elephants have few natural predators due to their size and fearsome strength. Yet humans remain the greatest threat to blue whales and elephants around the world.
When it comes to the offspring of blue whales and elephants, these species need to worry about predators targeting their young. For example, blue whales face threats from orcas or killer whales as calves, while baby elephants face threats from hyenas, lions and other big cats. Both of these large animals live in their own pods, or groups, as a form of protection for their growing young.
Blue Whales vs. Elephants: Size Comparison
Now that you know a little about the size of blue whales and elephants, you might be wondering how their size compares to what exists in the world today. In other words, the average length of a blue whale is about two and a half school cars long, while the average elephant weighs 2-4 cars, depending on the species.
Nothing beats the majesty and stunning beauty of blue whales and elephants, especially when you consider how big they actually are!
I am broadly interested in how human activities influence the ability of wildlife to persist in the modified environments that we create.
Specifically, my research investigates how the configuration and composition of landscapes influence the movement and population dynamics of forest birds. Both natural and human-derived fragmenting of habitat can influence where birds settle, how they access the resources they need to survive and reproduce, and these factors in turn affect population demographics. Most recently, I have been studying the ability of individuals to move through and utilize forested areas which have been modified through timber harvest as they seek out resources for the breeding and postfledging phases. As well I am working in collaboration with Parks Canada scientists to examine in the influence of high density moose populations on forest bird communities in Gros Morne National Park. Many of my projects are conducted in collaboration or consultation with representatives of industry and government agencies, seeking to improve the management and sustainability of natural resource extraction.