Bears and elephants are two interesting creatures known for being tough in battle. But if we pitted the bear against the elephant, who would win? Fair question. After all, both bears and elephants live in certain regions, such as India and other parts of South Asia. Since we are looking at the question of how bears fare in battles with elephants, we thought it would be fair to merge bear species, selecting the best features of each bear to see how they fare against elephants.
We've gathered all the information we need to figure out which of these creatures can come out of combat alive, and we're going to share it with you here. Find out if bears stand a chance against elephants!
Comparing Bears and Elephants
Bear
elephant
size
Weight: 60 lbs – 990 lbs
Height: 2 feet to 5 feet at the withers, standing up to 9 feet tall.
Length: 4.5ft – 9.5ft
Weight: 6,500 lbs – 12,000 lbs
Height: 7′ – 12′ Shoulders: 18′ – 21′
speed and movement type
25-35 mph
– 9-25 mph
– able to charge
Bite Force and Teeth
– Maximum 1200 PSI bite force
– 2-3 inch teeth
– Teeth allow the bear to bite, shake and beat.
– Elephants have weak teeth and don't use them for defense.
the senses
– Some bears can smell from miles away
– Can hear twice as well as humans
– Good eyesight, some bears see better at dusk.
– good hearing
– poor eyesight
– Can smell food from miles away
defense
– large size
– speed of escape
– Intense threat display
– Ability to travel across land and water
– climbing ability
– Huge size scares away predators as adults.
– tough skin
offensive ability
– Cracks bones hard
– Sharp claws can tear apart prey
– Overwhelms the enemy's weight
– Ivory can pierce enemies
– A devastating stomp attack
– Can use head and torso to knock enemies over
– A high IQ makes them wary and wary of others.
predatory behavior
– Ambush predators in some cases, waiting for prey
– Opportunistic predators that chase and kill prey
– usually ensures the kill with a forceful bite on the throat.
– Non-predator but will savagely attack intruders
– Grazing most of the day
Key Factors in Bear and Elephant Fights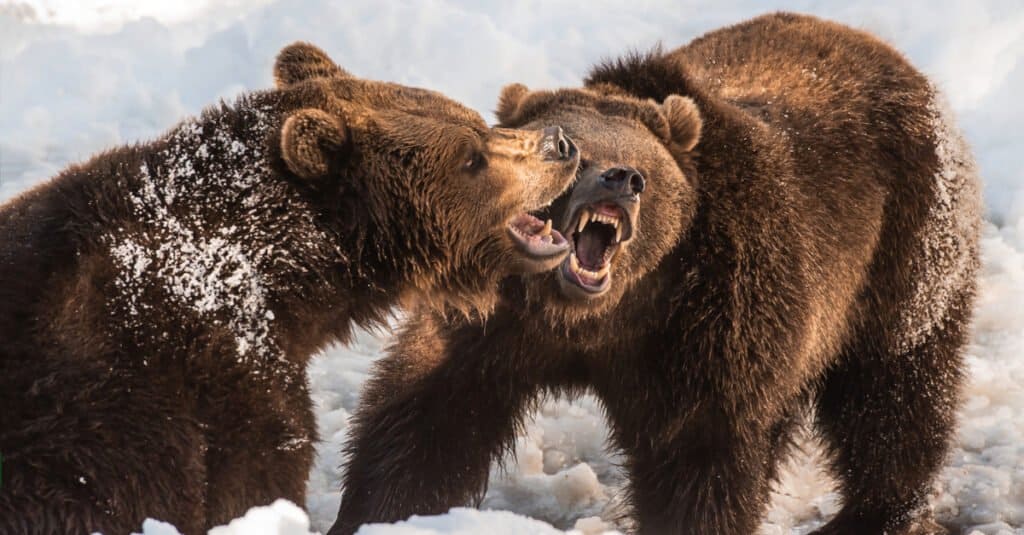 What determines whether one animal or the other is successful in combat? When it comes to fighting between bears and elephants, we have to consider their body composition and how they use their bodies in combat. Not every creature knows how to fend off predators well enough, even if they're big.
To compare these mammals, we considered seven factors that contribute to victory over other mammals.
Physical Characteristics of Bears and Elephants
Examining bear and elephant carcasses can tell us a lot about which side is most likely to win a fight. We have prepared several different points of comparison for these two mammals to show which one has the advantage in many aspects of the body.
Bears vs. Dimensions
A fully grown bear can grow to gigantic size. The largest bears can stand 5 feet tall and weigh 900 pounds or more. However, an elephant is a much larger creature, typically weighing over 10,000 pounds and standing 12 feet at the shoulder.
Elephants, much larger than bears, have the upper hand here.
Bears vs Elephants: Speed
Big elephants are big, but they're also fast. Elephants can reach speeds of up to 25 mph when running at full speed, often in the presence of potential predators. The speed of the bears varies, with some reaching up to 25 miles per hour and others up to 35 miles per hour.
The bear is a faster animal and has the advantage in this situation.
Bears and Elephants: Bite Force and Teeth
An elephant bites just to chew its food, various plant matter. It doesn't have serious bite. Bears, however, have a strong bite, the strongest at 1,200PSI, one of the strongest bites on Earth. Combined with their 3-inch teeth and ability to pin down and thrash enemies around them, bears have a very powerful bite.
The bear's strength lies in the strength of its bite.
Bears vs Elephants: Senses
Elephants have excellent hearing, and their sense of smell is even better. This means they can tell when a predator is coming most of the time, but their eyesight isn't the best. Bears have excellent senses of smell, sight and hearing, superior to humans in all senses.
Bears have the edge when it comes to their senses.
Bears vs. Physical Defense
Both elephants and bears rely on their large size to keep other humans away. They are also very fast animals and can get away with a lot of trouble.
However, bears are fast crawlers and fast swimmers, so they have a defensive advantage.
Bear and Elephant Fighting Techniques
Having a strong body and knowing how to use it are two different things. Some animals have better fighting instincts and abilities than others. See how elephants and bears compare to each other in fighting skills.
Bears Fight: Offensive Abilities
Elephants don't attack very often. When they do, it's deadly. They can charge, knock down, trample, and ram foes.
Bears can use their claws, powerful slaps with their claws, and an exceptionally powerful bite to kill their enemies.
Both creatures have a lot of attack styles, so we'll split that evenly.
Bears and Elephants: Predation
Elephants are somewhat docile animals, grazing most of the day. They don't like to be disturbed by others. Therefore, they do not have any predator behavior.
Bears are top predators in many environments, hunting a variety of creatures. Sometimes their attacks come in the form of ambushes, other times they pursue their enemies in a more blatant fashion.
Either way, bears have the upper hand when it comes to predatory behavior.
What is the main difference between a bear and an elephant?
Elephants are herbivores, weighing up to 12,000 pounds and standing about 12 feet tall; bears are carnivores, weighing up to 900 pounds and standing about 5 feet tall. Bears are aggressive carnivores that tend to hunt alone, while elephants are territorial and pack animals. They are both mammals with overlapping ranges in Asia, but the similarities end there.
Who would win a fight between a bear and an elephant?
Elephants will beat bears in fights. While we think this hypothetical bear has the best features of all the different species, the fact remains that they can't do enough damage to kill a full-grown elephant.
An adult bull will likely smell or hear a bear long before it appears. Even if it were charging at an elephant at 35 mph, the bear would not be able to charge and overwhelm or otherwise get into a position where its claws or teeth would be fatal to a creature the size of an elephant. It may bite and scratch the elephant's stomach, or "shoulders," but this leaves it vulnerable to malicious attacks.
The only outcome of the fight was that the elephant knocked the bear down and threw it into the air, stabbing it badly. The end result would be an elephant with several fresh scars and a disastrous bear at its feet.
I am broadly interested in how human activities influence the ability of wildlife to persist in the modified environments that we create.
Specifically, my research investigates how the configuration and composition of landscapes influence the movement and population dynamics of forest birds. Both natural and human-derived fragmenting of habitat can influence where birds settle, how they access the resources they need to survive and reproduce, and these factors in turn affect population demographics. Most recently, I have been studying the ability of individuals to move through and utilize forested areas which have been modified through timber harvest as they seek out resources for the breeding and postfledging phases. As well I am working in collaboration with Parks Canada scientists to examine in the influence of high density moose populations on forest bird communities in Gros Morne National Park. Many of my projects are conducted in collaboration or consultation with representatives of industry and government agencies, seeking to improve the management and sustainability of natural resource extraction.