↓ Continue Reading To See This Amazing Video
Bald eagles will undoubtedly take food from people or other birds if they sense a chance to do so. Bald eagles have a history of robbing fishermen and even animals of their fish and other prey. 
This beloved symbol of freedom has caused fishermen to lose important catches that they've waited all day for. The bald eagle is a scavenger and a little aggressive. Until they are pleased, they will ruthlessly take and steal.
An angler was enjoying a day on the water surrounded by hilly shores when a bald eagle started soaring nearby. The bird quickly began circling the boat, alerting another fisherman nearby to pull out his camera. 
Gracefully, the eagle dips from steep heights and nearly glides across the surface of the water. Then we can hear the fisherman shout, "Go away!" He likely knows this bird is looking for an easy catch and isn't above stealing one. 
Almost as if to taunt him, we can see the eagle circle the boat even closer than before. The fisherman takes the hint and starts to move the vessel in hopes of deterring the animal. Finally, with one final swoop, Mr. Eagle dips down and takes the fish right off of the hook! 
You can audibly hear, "Dang! He got it," said in a defeated tone. A cheeky comment on the Youtube video reads, "Thieving rascal, why spend a lot of effort catching your own when someone else can do it for 'you? Eagles do share some characteristics with humans."
Eagle Hunting Tactics
The eagle's vision is particularly impressive. An eagle can identify a prey as minuscule as a rabbit approximately a mile away thanks to vision that is approximately five times as keen as our own. Additionally, an eagle's right and left fields of vision intersect, which improves its depth perception.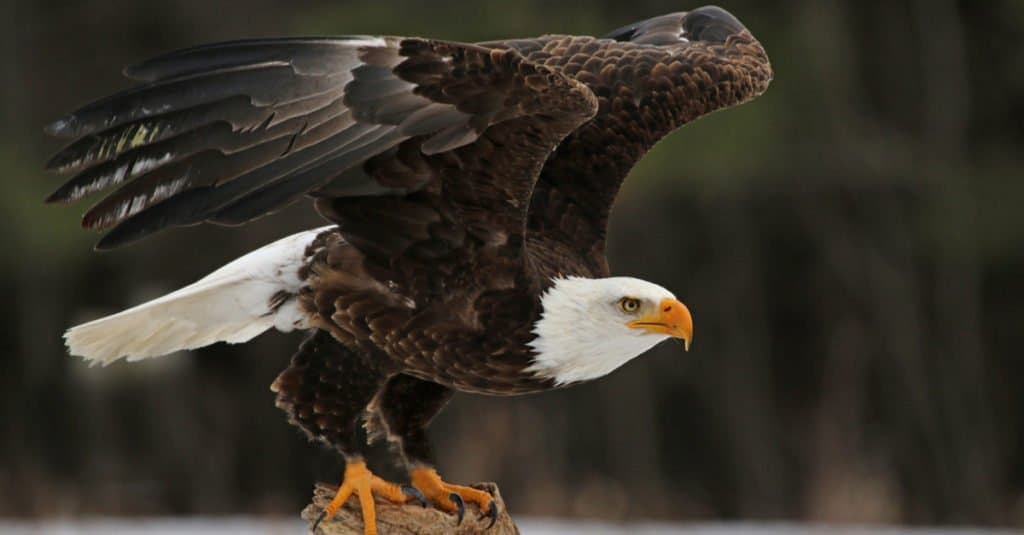 This bird's toes have curved, razor-sharp claws called talons that are used to grasp and grip their prey. The eagle must frequently fly enormous distances in order to locate worthy feed, in contrast to other birds that eat seeds or insects and only fly a small distance in quest of a meal. 
Eagles typically scan the surface of the water for fish while perched or flying high in the air. Then, in order to grab the fish, they fly down near the water and plunge their feet into it.
Up Next
Thank you for reading! Have some feedback for us? Contact the AZ Animals editorial team.
I am broadly interested in how human activities influence the ability of wildlife to persist in the modified environments that we create.
Specifically, my research investigates how the configuration and composition of landscapes influence the movement and population dynamics of forest birds. Both natural and human-derived fragmenting of habitat can influence where birds settle, how they access the resources they need to survive and reproduce, and these factors in turn affect population demographics. Most recently, I have been studying the ability of individuals to move through and utilize forested areas which have been modified through timber harvest as they seek out resources for the breeding and postfledging phases. As well I am working in collaboration with Parks Canada scientists to examine in the influence of high density moose populations on forest bird communities in Gros Morne National Park. Many of my projects are conducted in collaboration or consultation with representatives of industry and government agencies, seeking to improve the management and sustainability of natural resource extraction.