More exciting content:
Seeing a wildebeest launch itself at two animals…
Lion vs Tiger – 5 Key Differences…
How long do lions live: The oldest…
animal that can kill a lion
The lion was so big it hunted the…
Watch lions hunt the largest antelope…
↓
Read on to watch this amazing video
In this mesmerizing footage of a lioness examining a black rhino cub, you can almost read the big cat's mind. In theory, lionesses can take on baby rhinos, though they won't try to attack adults. However, there are a few things to weigh! Even baby rhinos have pretty tough skin, it's hard for lionesses to penetrate them, and they're strong little animals. What's more, the mother rhino is not far away, and her horns are very strong. Nor would she be happy about a lioness attacking her cubs!
The thoughtful lioness took a few minutes to weigh the pros and cons, decided it wasn't worth the trouble, and left. Meanwhile, the adorable baby rhino was completely unconcerned and completely undisturbed by the lion's presence. Apparently, this little rhino didn't see the lion as a threat!
African black rhino
The video was shot in Kruger National Park, Africa, and according to the video annotations, these are black rhinos. Black rhinos live in semi-desert grasslands, woodlands and wetlands in southeastern and central Africa. You can tell them apart from white rhinos because they have a hooked upper lip instead of a square one. This helps them browse the leaves in trees and bushes.
They have two horns and some of them have a third posterior horn.
Hunted to near extinction by European colonists in the 20th centuryday century, their numbers dropped to fewer than 2,500 – just 2 percent of their original number. Thanks to conservation efforts, the number has now recovered to 5,500, but they are still considered critically endangered and more needs to be done to protect the species. Poaching and black market smuggling of rhino horns remain a real threat to their survival.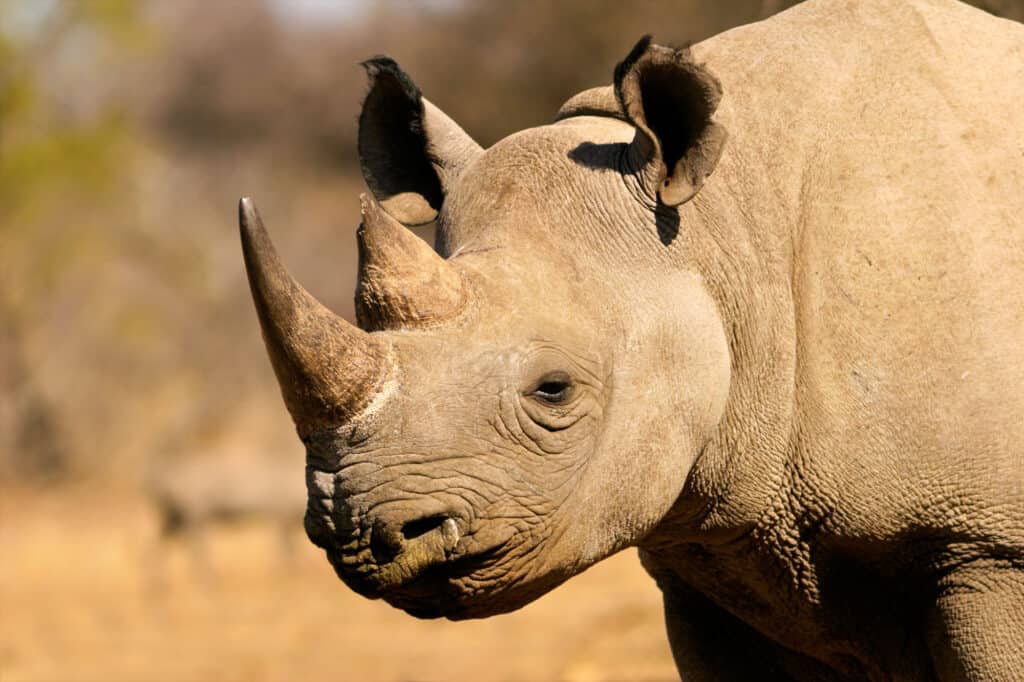 lion hunting in africa
Lions have also suffered from poaching and habitat loss, so there are now only 20,000 left. They are big, powerful hunters and true carnivores – they must kill other animals to survive. Lionesses usually hunt because they are faster and more agile than males. This is usually done as a group, but some will hunt alone. Their prey can be very large, including wildebeest, buffalo and giraffe. They can also catch zebras, gazelles, and several species of antelope. Lions also steal carcasses killed by other animals! As we've seen here, rhinos are a high-risk food that can cause injuries, so not many lions are willing to try them.
Once the prey is caught, the male eats first, then the female, and then the young eat what's left.
Next:
Are rhinos dinosaurs?
Are Rhinos Extinct: The Conservation Status of Each Rhino Species
What do rhinos eat?
I am broadly interested in how human activities influence the ability of wildlife to persist in the modified environments that we create.
Specifically, my research investigates how the configuration and composition of landscapes influence the movement and population dynamics of forest birds. Both natural and human-derived fragmenting of habitat can influence where birds settle, how they access the resources they need to survive and reproduce, and these factors in turn affect population demographics. Most recently, I have been studying the ability of individuals to move through and utilize forested areas which have been modified through timber harvest as they seek out resources for the breeding and postfledging phases. As well I am working in collaboration with Parks Canada scientists to examine in the influence of high density moose populations on forest bird communities in Gros Morne National Park. Many of my projects are conducted in collaboration or consultation with representatives of industry and government agencies, seeking to improve the management and sustainability of natural resource extraction.