If you asked a kindergarten class where fish live, they might yell, "In the water!" Fish can live in lakes, rivers, oceans, and even in small bowls on the dinner table. Whales live in water like fish, but are whales fish? Let's take a look at the similarities and differences between whales and fish.
Where do whales and fish live?
This is what whales and fish have in common, both of which live in aquatic environments. Depending on the species, fish can live in fresh or salt water. Whales mainly live in the ocean, but there are also some dolphin species (yes, a dolphin is a type of whale) that live in freshwater, such as the Amazon river dolphin. Some animals like crocodiles and crocodiles live in water as well as on land, while whales and fish are completely aquatic.
How do whales and fish breathe?
One of the biggest differences between whales and fish is that whales are mammals, so they breathe air and have lungs. Whales must surface to breathe air through their blowholes (some have one, some have two). Their stomata are connected to the lungs and provide them with the oxygen they need. Big whales have big lungs so they can stay underwater for a long time. Sperm whales can hold their breath for up to 90 minutes!
Fish have gills. Gills are slats on the sides of a fish's body that allow water to flow through them. Tiny blood vessels are able to extract oxygen from water and remove carbon dioxide. Some fish can extract enough oxygen from the water without having to swim around constantly, while some sharks (sharks are fish, not whales) have to move constantly so that water can flow through their gills. Other sharks have an oral pump system that actively draws water into their mouths through their gills so they don't have to move all the time.
Fish and Whales: how old are they
Whales are the largest animals on Earth, but there are some fish that are also very large. The largest whale is the blue whale, which can grow to 70-90 feet (the largest ever recorded was over 110 feet)! They are followed by fin, right, sperm and humpback whales. The largest fish actually has the word "whale" in its name, the whale shark, but it's a shark (sharks are fish). Whale sharks can grow to be over 50 feet long. The other largest fish are also sharks, followed by basking, great white and tiger sharks. The largest ray (a type of fish) is the giant oceanic manta ray, and the largest bony fish (Osteichthyes) is the sunfish. These sunfish are a very strange fish with no tail and a teardrop shape. It floats on the side closer to the sea. They can reach 14 feet from fin tip to fin tip and weigh up to 5000 lbs! For reference, a smart car weighs about 1,550 pounds, and an adult rhino weighs 5,000 pounds. Now that's a big fish!
how do they swim
Another difference between whales and fish is their story, the tail of a whale has a horizontal fin which moves up and down to move through the water. The fish tail is vertical and moves back and forth to glide through the water. Some fish, such as rays, do not use their tails for propulsion, but instead flap their sides to create currents to move forward quickly.
How do fish and whales maintain their body temperature?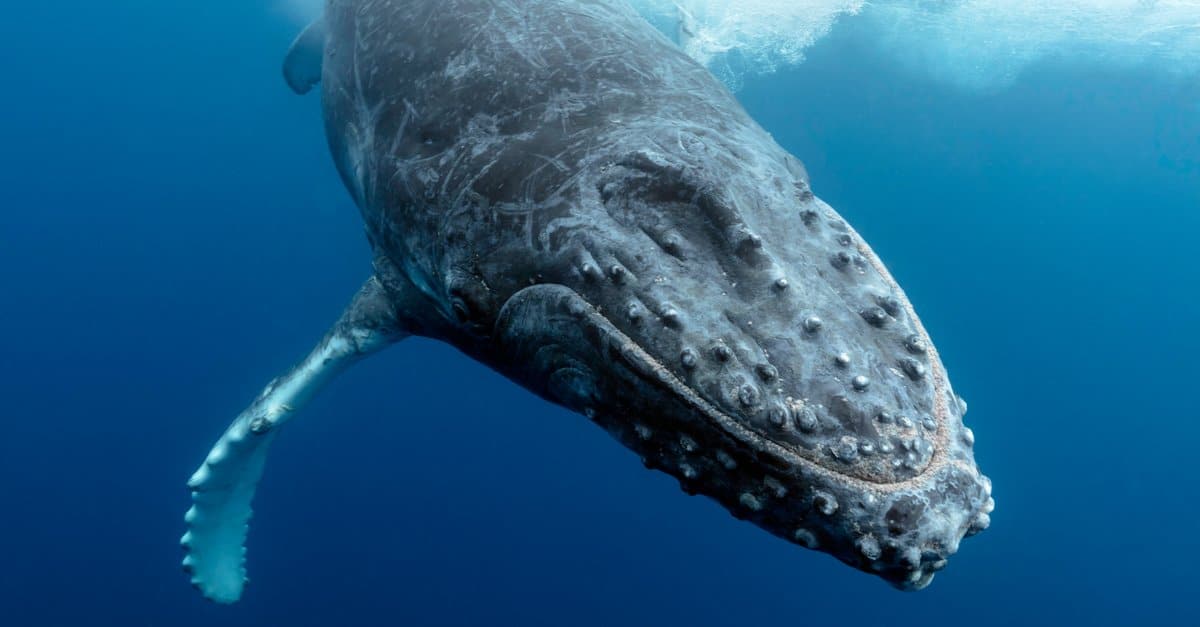 Whales are mammals and thus warm-blooded. To maintain body temperature, they have a thick layer of fat. You can tell whales are full of fat just by looking at them, but what about smooth dolphins, do they have fat? Yes! They have a layer of fat under their skin that keeps them warm.
Fish are not mammals and are cold-blooded, so they don't need to keep warm in the depths of the frigid waters where they live. They can adapt to the temperature of the surrounding environment. In the animal world, there always seem to be exceptions, so some tuna and sharks are partially warm-blooded, but in 2015, scientists discovered the first fully warm-blooded fish. Opalfish are large round fish that glisten in the sun and can be found off the coast of Hawaii. Scientists tested the core temperature of the opal fish and found that it stays warm at all times because the heat circulates throughout its body!
How do whales and fish have babies?
Returning to the topic of whales as mammals, one characteristic of mammals is that they give birth to live young. Talk about big babies! A small blue whale weighs 5,000-6,000 lbs! That's about the size of the adult rhino mentioned above. Whales usually give birth to one baby at a time, and occasionally twins.
Fish, on the other hand, spawn, and they spawn a lot! Some fish can lay more than a thousand eggs at a time. Fish lay eggs in a variety of ways, the most common being that the female fish lays her eggs in the water or near rocks and crevices, and then the male fish emerges and fertilizes them. They grow into larvae and hatch before continuing to mature into adult fish. Some fish have eggs that grow inside the body and then release live larvae.
Sharks are a bit trickier, some lay eggs (oviparous) and some give birth to live baby sharks (viviparous). Sharks don't have thousands of eggs, but they do have more babies at a time than whales. The sand tiger shark has two babies, and the big blue shark can give birth to more than one hundred live shark babies at a time, so there are so many brothers and sisters!
So, are whales fish?
whale is no fish. As we have described, whales are warm-blooded, while almost all fish are cold-blooded. Fish also breathe through gills, while whales have lungs and breathe air from above the ocean's surface. Also, whales give birth to offspring while most fish lay eggs. For all these reasons, whales are mammals that evolved from land about 50 million years ago, while fish have always been adapted to the sea.
How do whales and fish raise offspring?
Another difference between whales and fish is that whales generally raise their young until they are able to take care of themselves. As mammals, newborn whales rely on milk from their mothers to strengthen their bond. Some whales live with their mothers from 6 months to several years.
Generally, fish are independent when they hatch. Many species are born with a large bag of nutrients that they feed on until they become proficient at finding their own food. Baby sharks born from eggs are usually independent and can survive once they hatch. Sharks that give birth to live babies, such as the hammerhead shark, will try to find a good birthing location so the baby can find food and shelter, but they are naturally ready to venture out on their own.
I am broadly interested in how human activities influence the ability of wildlife to persist in the modified environments that we create.
Specifically, my research investigates how the configuration and composition of landscapes influence the movement and population dynamics of forest birds. Both natural and human-derived fragmenting of habitat can influence where birds settle, how they access the resources they need to survive and reproduce, and these factors in turn affect population demographics. Most recently, I have been studying the ability of individuals to move through and utilize forested areas which have been modified through timber harvest as they seek out resources for the breeding and postfledging phases. As well I am working in collaboration with Parks Canada scientists to examine in the influence of high density moose populations on forest bird communities in Gros Morne National Park. Many of my projects are conducted in collaboration or consultation with representatives of industry and government agencies, seeking to improve the management and sustainability of natural resource extraction.