More exciting content:
Seeing a wildebeest launch itself at two animals…
Lion vs Tiger – 5 Key Differences…
How long do lions live: The oldest…
animal that can kill a lion
The lion was so big it hunted the…
Watch lions hunt the largest antelope…
↓
Read on to watch this amazing video
Do you know if lions are nocturnal or diurnal? Some might say they are nocturnal. However, lions often hunt during the day and night. So, what's the answer? Are lions nocturnal or diurnal? The answer depends on several factors. Lions can be active day and night, depending on their environment and habits. Let's explore what this means for their sleep behavior.
lion species
Most people think of lions as majestic creatures that roam the African savannah. However, wild lion populations also exist on several other continents. Almost all wild lions live on the African continent, most of them in sub-Saharan regions. However, around the Gir Forest National Park in western India, there are small numbers of Asiatic lions.
Interestingly, these Asiatic lions are more closely related to the Asiatic lions of West and Central Africa than to the African lions that live in southern and eastern Africa. Regardless of their location or subspecies status, all wild lion populations face significant threats to their survival. Most of these threats come from habitat loss, poaching and other human activities.
However, articles like this one are helpful. They support continued conservation efforts and education about lion populations around the world. With every piece of information, these remarkable animals have a better chance of continuing to exist in future generations.
lion sleep time
Lions are known for their ferocity and unparalleled hunting skills. Still, many people might be surprised to learn just how much time these majestic carnivores slept. According to scientific studies, male lions typically sleep 18 to 20 hours a day. In comparison, lionesses typically close their eyes for about 15 to 18 hours a day. There are several possible explanations for the differences in sleep patterns between male and female lions. For one thing, lionesses tend to spend more time hunting and caring for their cubs, and these activities mean they have less time to rest.
Additionally, studies have shown that lions sleep more after a heavy meal. Some even sleep for 24 hours after such a feast. Whatever the reason for the difference in sleep patterns between males and females, it's clear that even these fearsome predators need plenty of rest when they're not hunting.
Factors Affecting Sleep Habits of Lions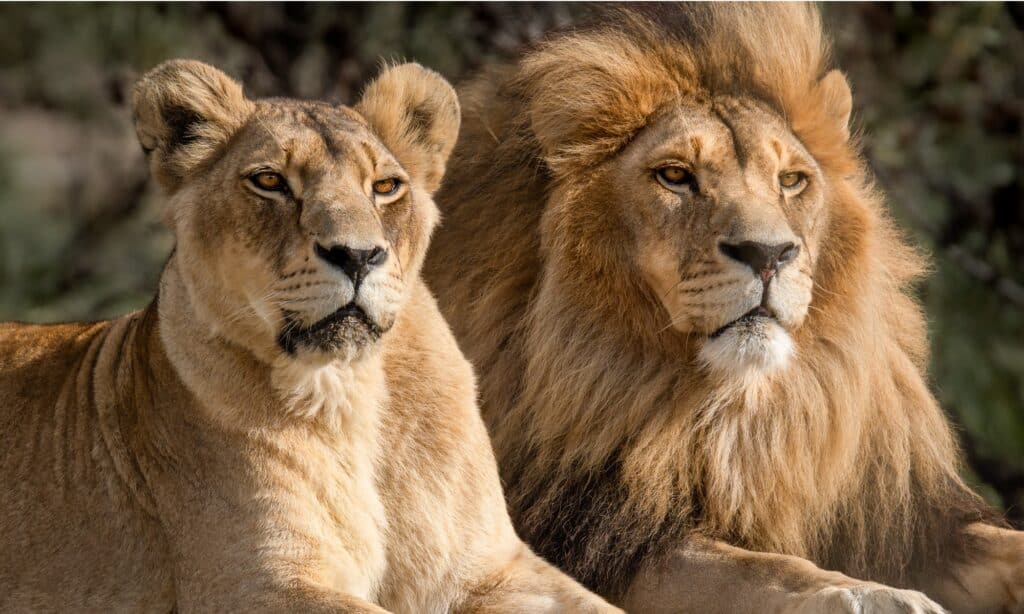 When it comes to lions and their sleeping habits, the answer isn't clear cut. While many may think of these ferocious carnivores as strictly nocturnal, with most of their activity occurring at night, the reality is much more complicated. It all depends on the environmental factors that affect the lion's daily life.
Lions are known to be highly adaptable creatures, changing their sleeping behavior in response to changes in their environment. For example, suppose a pride of lions finds itself in an area with limited hunting opportunities at night. In that case, they usually switch to a diurnal state.
This shift may be because, during the warmer months, some prey species spend more time foraging during the cooler hours of the day. In this case, lions spend more time hunting in the evening and early morning and sleep more in the heat of the day. Therefore, they alter their hunting behavior according to the availability of prey during hunting or foraging.
Similarly, assume lion prides live in specific areas that pose a high risk to them at night, such as when humans or other predators pose a threat. In that case, lions may limit their dangerous nocturnal activities in order to rest safely during the dark hours.
Regardless of the particular time of day a lion chooses to rest or hunt, one thing remains constant. To survive in their environment, these big cats must be masters of adaptation. As owners, they are flexible enough to change their routines accordingly. At the end of the day, while lions may exhibit nocturnal behavior most of the time, they are inherently more opportunistic than anything else.
Where does the lion sleep?
Lions are powerful carnivores found in a variety of habitats around the world. However, when it comes time to rest, lions have specific preferences for where to sleep. For one thing, lions often look for shelter from the scorching sun. Under the cover of bushes or other natural shelters, these large mammals can escape the heat and enjoy a well-deserved break from activity.
In addition, some lions prefer to sleep in high places with unobstructed views. Whether in the highlands of a savannah or outcropping on a river bank, these sites provide them with a better vantage point to pass prey, hostile predators or threats. Most importantly, no matter where they rest, lions know how to optimize their comfort and safety by choosing the right sleeping spot.
Lion's Eye Structure and Vision
Lions have unique eyes that allow them to see in all conditions, including day and night. Their large, round pupils are three times larger than humans and absorb more light. The second eyelid, or nictitating membrane, helps keep the eye clear and keeps debris out.
In addition, lions have excellent night vision thanks to a unique reflective surface at the back of the eye that focuses incoming light. Lions can only see blue and yellow because they have fewer cones than humans to perceive color. However, they can also see well in low light conditions thanks to their ability to dilate their pupils. These fascinating adaptations make the lion's eye an incredible asset for hunting and backcountry sailing.
The distance of the lion's visual ability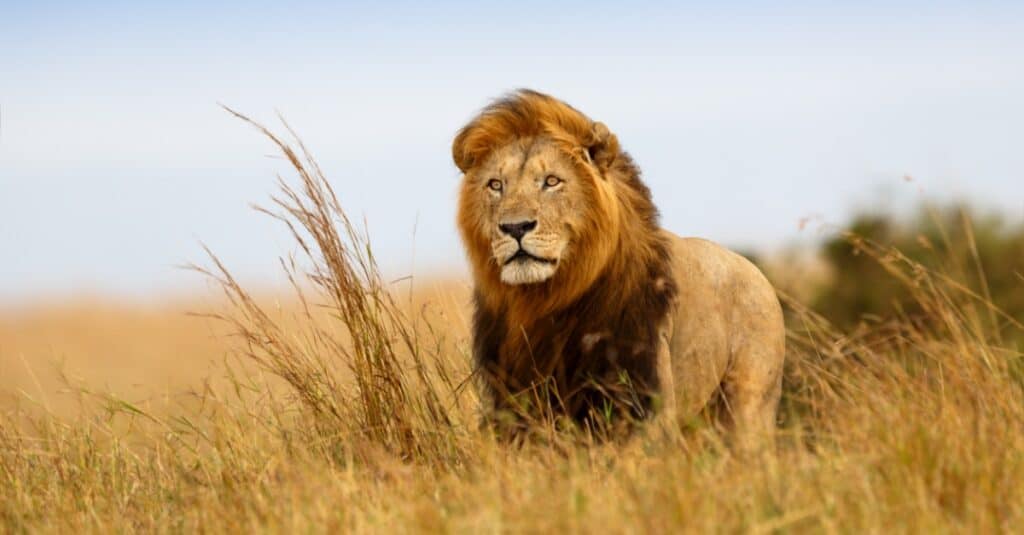 Anyone who has watched a lion knows that these majestic predators have exceptionally sharp eyesight. Lions can see up to two miles or more. For comparison, humans have eight times the eyesight of lions. In addition to the special tissues that give them excellent night vision, lions can sense motion over long distances.
This combination of visual abilities makes lions excellent hunters. It enables them to spot prey at a distance and follow a target even when it is in motion. In addition, lions' remarkable eyesight may have played an important role in forming their pride. Their enhanced vision allows these animals to communicate effectively over long distances and coordinate their movements more easily.
Interesting Facts About Lions
lions are storm chasers: Always opportunistic hunters, Lions are constantly testing new strategies. They use the noise and wind of the storm to make it harder for targets to hear and see them approaching.
Lions use their enormous weight to their advantage: Some male lion species weigh 419 pounds or more. Typically, females are smaller with an average weight of 278 pounds. Their large size and weight give them an advantage when hunting large targets. Again, this advantage helps them protect their pride from other predators or intruders.
lion cubs with spots: Adult lions have smooth sand-colored fur. Lion cubs have pronounced rosettes in their fur, rather than the flat patches of fur found on adult lions. Although these spots eventually fade as the cubs mature, they still serve an important function. These spots provide camouflage in their natural habitat to keep the pups safe as they grow.
A lion's mane serves a purpose: As males age, their manes become darker and shaggier. This luxurious mane growth indicates their increased dominance, making them more attractive to lionesses. Additionally, these thick manes act as a protective barrier around the lion's head and neck. This barrier helps protect them during intense competition or intense battles with other males.
The Lion's Roar Has Huge Significance: Lions are one of the few known cat species whose individuals often roar in unison. They usually engage in this behavior to mark their territory. This roar lasts about 40 seconds at a time. Impressively, the sound is also so powerful that it can be heard from up to five miles away. In addition, young lion cubs often join in and practice roaring by imitating the voices of adult lions.
Night vs. Day: What's the Difference?
Navigating to Night vs. Day: What's the Difference? More information on nocturnal and diurnal phenomena in various organisms.
Next –
What is the bite force of a lion?
Lion Predators: What Eats Lions?
Discover the world's largest lion!
How Long Do Lions Live: The Oldest Lions
I am broadly interested in how human activities influence the ability of wildlife to persist in the modified environments that we create.
Specifically, my research investigates how the configuration and composition of landscapes influence the movement and population dynamics of forest birds. Both natural and human-derived fragmenting of habitat can influence where birds settle, how they access the resources they need to survive and reproduce, and these factors in turn affect population demographics. Most recently, I have been studying the ability of individuals to move through and utilize forested areas which have been modified through timber harvest as they seek out resources for the breeding and postfledging phases. As well I am working in collaboration with Parks Canada scientists to examine in the influence of high density moose populations on forest bird communities in Gros Morne National Park. Many of my projects are conducted in collaboration or consultation with representatives of industry and government agencies, seeking to improve the management and sustainability of natural resource extraction.