More exciting content:
See 'The Dominator' – the world's largest crocodile
Seeing a wildebeest launch itself at two animals…
Scientists Discover New World's Largest Omnivore –…
Watch These Elk Strike Cars In Yellowstone,…
Watch a great white shark stalk…
Absolutely huge moose make these grizzly…
↓
Read on to watch this amazing video
Have you ever seen a lionfish up close? If you have, you must have been mesmerized by its beauty. Lionfish are bright and colorful, adorned with fins that look like wings and accessories. But don't be fooled by their beauty and elegance. Lionfish are one of the most dangerous fish in the ocean. There may not have been reports of fatal lionfish stings, but its venom contains a potent toxin that can cause great pain, infection, and potentially allergic reactions. Lionfish contain a strong venom that can be dangerous to humans when injected. They inject venom through their needle-sharp dorsal, anal, and pelvic fins. While lionfish are not known to be aggressive and do not deliberately stab humans suddenly, they can act in self-defense and sting with their venomous fins when provoked or caught.
Do Lionfish Bite?
Lionfish have many tiny teeth. But they don't use these to bite predators because they have a more powerful weapon on their fins. Instead of biting, the lionfish uses the venomous spiny fins located on its body backanal and pelvis area. Lionfish stings can be surprisingly painful, depending on how deep they penetrate the skin. It can cause a range of symptoms caused by fish poisoning and can even trigger allergic reactions. Although there have been no fatalities caused by lionfish stings, attention should still be paid to lionfish stings, especially for people with allergies or poor health.
Lionfish do not sting or attack humans for no reason. Despite their beauty, lionfish are predators in the ocean, feeding on other fish, reef shrimp, and other invertebrates as well as their coral habitats. However, the lionfish also has its predators. They use their poisonous spines or fins to ward off predators and other threats, including humans. People often snorkel or swim near corals throughout the Atlantic and Pacific Oceans and may come across these beautiful fish. It may be tempting to approach and touch them, but beware of their needle-sharp spines. In addition to the fact that these spines are very sharp, they are also induced by venom, which causes a variety of symptoms. The sting lasts for several hours, and the swelling usually subsides after a few days.
Are lionfish dangerous to humans?
Lionfish are considered one of the deadliest fish in the world. But luckily, there are no recorded lionfish fatalities in history. Although they are not known to be deadly to humans, lionfish are still very dangerous due to their powerful venom, especially to children, the elderly or those with allergies.
Lionfish are not aggressive fish. Like most animals, they don't go after people to sting them, they sting only in self-defense. While most reports of lionfish stings are accidental, you don't want to be stung by a human. They are highly toxic and can cause a range of symptoms.
While not usually life-threatening, lionfish stings can be excruciating. Most sting incidents report initial swelling, bleeding, redness, numbness, severe pain, and bruising. These symptoms may seem typical at first, but since the lionfish's back, pelvic and anal spines contain venom, sting victims may experience complications from the venom, including allergic reactions. Anaphylactic shock may occur in people with severe allergies. Other serious complications of lionfish stings include:
Shortness of breath
syncope
swelling of the face and throat
fever
cardiac arrest
temporarily paralyzed
nausea
Headache
Dizziness
twitch
The sting also causes tissue death due to decreased blood flow, as the venom rapidly spreads throughout the bloodstream. This usually happens when your fingertip gets pricked.
The lionfish belongs to the scorpion family, literally translated as "scorpion fish". Like scorpionfish, lionfish have spines that secrete a poisonous slime that helps them repel predators. This feature makes them related to scorpions that inject large quantities of deadly venom.
Are lionfish poisonous?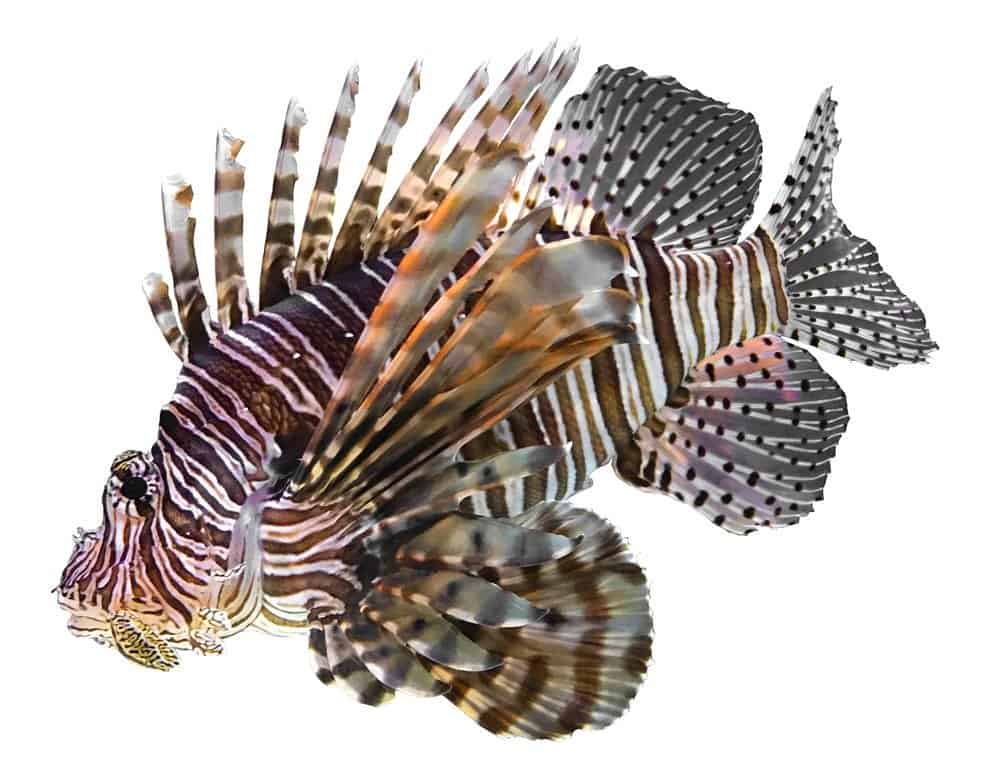 Lionfish can be highly venomous, but they are not. They are a delicacy enjoyed in many countries. Lionfish inject venom only through their spines and do not have any other source of venom on their bodies other than their fins. Once lionfish have their stingers removed, they are safe to eat.
A lionfish's venom is located at the tips of its spines, or pointy, needle-like fins. The fish is covered with beautiful fins, but not all of them are filled with venom. The poisonous parts are located in its front dorsal, anal and pelvic fins. The 18 dorsal fins and the remaining venomous spines are purely defensive and only sting when threatened or provoked.
Human consumption of lionfish is encouraged, not illegal, because lionfish somehow threaten precious coral reef ecosystems. As they feed on molluscs, crustaceans, and other commercially important fish in the United States, their increased numbers have the potential to damage even more coral reef ecosystems in the coming years.
How to Avoid and Treat a Lionfish Sting
People who are unaware that lionfish can cause serious injury may try to approach or touch one in its habitat. However, this only results in the lionfish being startled and stinged in self-defense. To avoid being stung by a lionfish, all you have to do is keep a reasonable distance from the fish. They may startle or feel threatened if you get close to them, causing them to sting you in defense.
Many lionfish stings do not cause serious complications. These minor stings recover without any medical attention. As long as the spine is immediately removed from the skin, and the wound is cleaned immediately, there shouldn't be much of a problem.
I am broadly interested in how human activities influence the ability of wildlife to persist in the modified environments that we create.
Specifically, my research investigates how the configuration and composition of landscapes influence the movement and population dynamics of forest birds. Both natural and human-derived fragmenting of habitat can influence where birds settle, how they access the resources they need to survive and reproduce, and these factors in turn affect population demographics. Most recently, I have been studying the ability of individuals to move through and utilize forested areas which have been modified through timber harvest as they seek out resources for the breeding and postfledging phases. As well I am working in collaboration with Parks Canada scientists to examine in the influence of high density moose populations on forest bird communities in Gros Morne National Park. Many of my projects are conducted in collaboration or consultation with representatives of industry and government agencies, seeking to improve the management and sustainability of natural resource extraction.