↓ Read on to watch this amazing video
Having a dog to keep your cat company while you work is a great idea! When you get home, you'll be greeted by two furry friends eager to play and cuddle!
However, choosing the right breed for your cat is crucial. Cats won't like being around all dog breeds. For example, some dog breeds have strong herding instincts, which means they will chase your cat around the house all day long. This doesn't mean they harm the cat, as long as they are properly introduced to each other. However, we are almost certain that your cat will neither appreciate nor tolerate this practice.
On the other hand, if you've already chosen a breed and are concerned that it won't get along well with your cat, you should remember that early training and socialization are crucial. Also, not all collies have powerful instincts. Some people are mild-tempered. Still, even the breed with the strongest predator instincts can be trained if you 100% want to! All you need is perseverance and patience!
If you haven't decided on a dog breed yet, we've compiled a list of the best dog breeds your cat will love!
1. Beagle
Beagles
size
Height: 13 – 16 inches
Weight: 20 – 25 lbs
coat
short hair
life expectancy
12 – 15 years old
trainability
Eager to please but gets bored quickly
Beagles are a small scent hound breed, which means they hunt primarily by smell rather than sight. These dogs have large eyes and long, soft ears. Most Beagles are bicolored, with large areas of black and shades of brown. If the Beagle is tri-colored, it will have a white base color and spots of other colors, including light brown, dark brown or black.
Beagles are friendly — not aggressive, but not afraid either. They love to have someone to play with and will get along well with strangers if early socialization is not neglected. Plus, they're smart, determined, and single-minded, which makes training sessions challenging. While they are eager to please pet parents, eagles can easily get bored and distracted.
On the other hand, they are great with children and other animals.
2. Collie
shepherd dog
size
Height: 22 – 26 inches
Weight: 50 – 75 lbs
coat
short or long
life expectancy
12 – 14 years old
trainability
easy to train
Although collies are herding dogs, they are also very affectionate, gentle, and loyal, and enjoy being around children. Some collies extend these feelings to other dogs and cats. Additionally, they are intelligent and love to learn commands and please their owners. If you are going to have a collie, you should use positive teaching methods.
However, since there are many breeds of collie, you should check the temperament and characteristics of the collie you are purchasing. For example, Border Collies are very active dogs that need constant attention and exercise. Other collies, on the other hand, are more "relaxed."
3. Basset Hound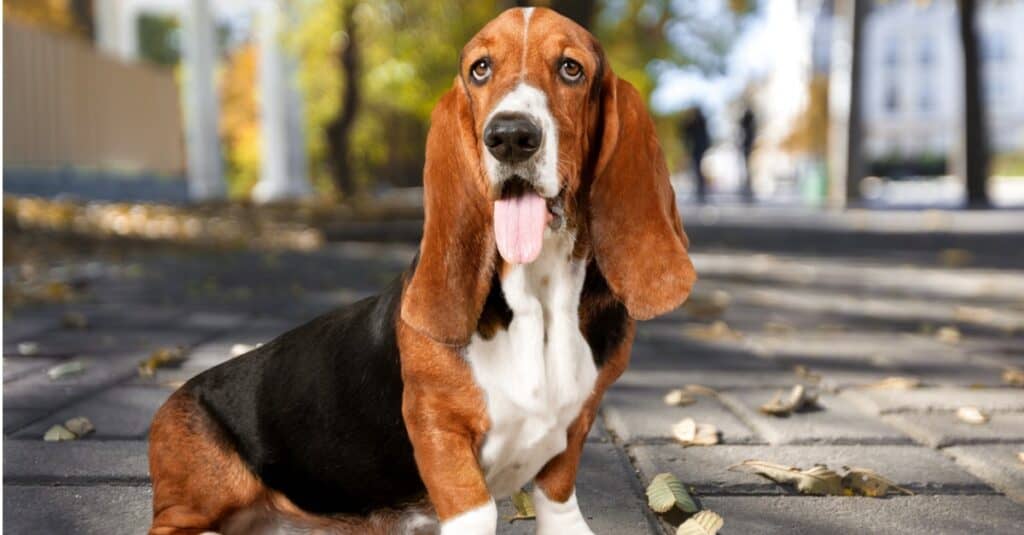 Basset Hound
size
Height: 11 – 15 inches
Weight: 45 – 75 lbs
coat
smooth and short
life expectancy
12 – 13 years old
trainability
eager to please but stubborn
Basset Hounds are short-legged scent hounds. Most Basset Hounds are bi-colored or tri-colored. They have a hanging skin structure and a smooth short coat. They are friendly dogs who love to play with their owners and other pets!
Basset Hounds, on the other hand, are very stubborn. If you are planning to buy, please be patient as you will definitely need it during training!
4. Golden Retriever
Golden retriever
size
Height: 20 – 24 inches
Weight: 55 – 75 lbs
coat
Flat or Wavy Double Coat
life expectancy
12 – 13 years old
trainability
very easy to train
The Golden Retriever is a medium-sized dog with a long, flat or wavy outer coat and a dense, weather-resistant undercoat. It can be yellow, gold or cream.
Golden Retrievers are intelligent and affectionate. They are great for children and other pets, including cats, because they are gentle, calm and obedient. Golden retrievers are one of the easiest breeds to train because of their desire to please their owners.
Plus, they're very slow and don't require much exercise, so they won't be chasing your cat around the house all day! They'd rather spend time together cuddling and sleeping!
5. Papillon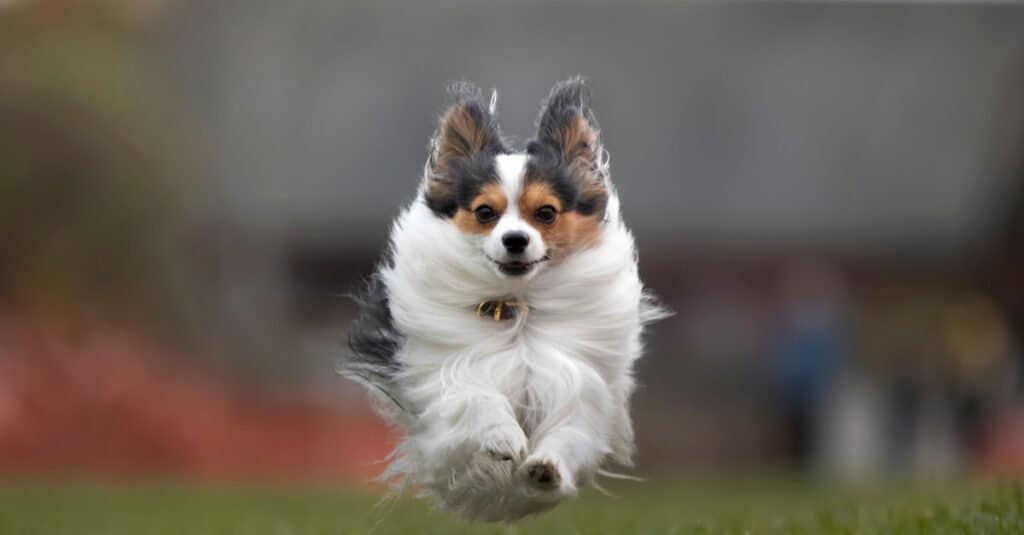 Papillon
size
Height: 8 – 11 inches
Weight: 7 – 10 lbs
coat
straight and long
life expectancy
12 – 15 years old
trainability
very easy to train
The Papillon is a toy hound with distinctive ears that make them look like butterflies. These dogs are intelligent and eager to learn new commands and tricks. They don't show any hostility toward strangers, children, or other pets, but may be reserved around them. However, if you take the time to socialize and train them, they will love spending time with other furry animals! Once they're used to the household, Papillons will join in any fun activity because they're so playful!
6. Pug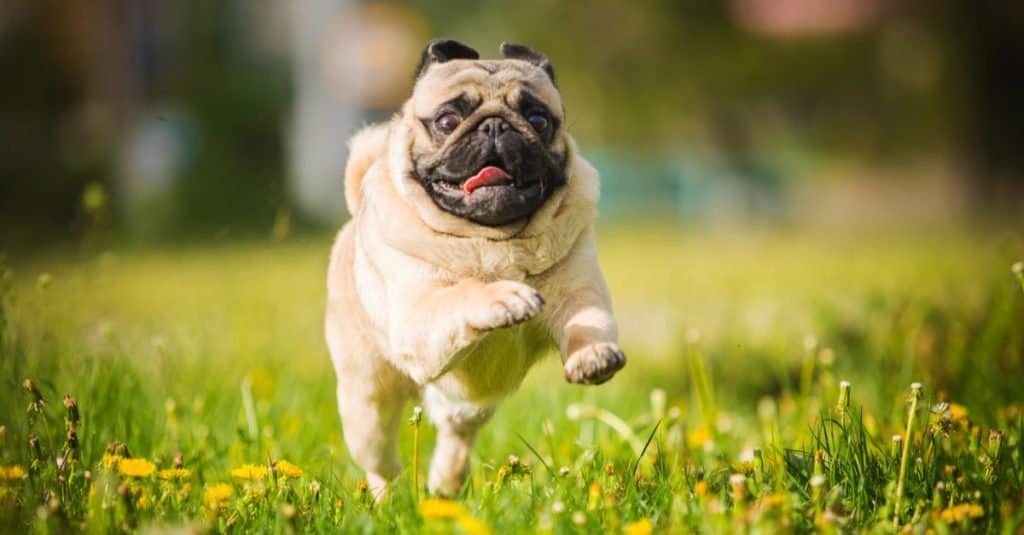 pug dog
size
Height: 10 – 13 inches
Weight: 14 – 18 lbs
coat
short shiny coat
life expectancy
13 – 15 years old
trainability
easy to train
Pugs are known for their wrinkled, short muzzled faces. Their glossy coat is usually light brown. These dogs are strong-willed, yet extremely affectionate and loyal. Plus, they love playing with kids, so they're sure to enjoy your cat's company, too! Beyond that, pugs are very intuitive, sensitive, and eager to please.
However, they are perfect for your cat as they love to sleep, nap and cuddle!
7. Labrador Retriever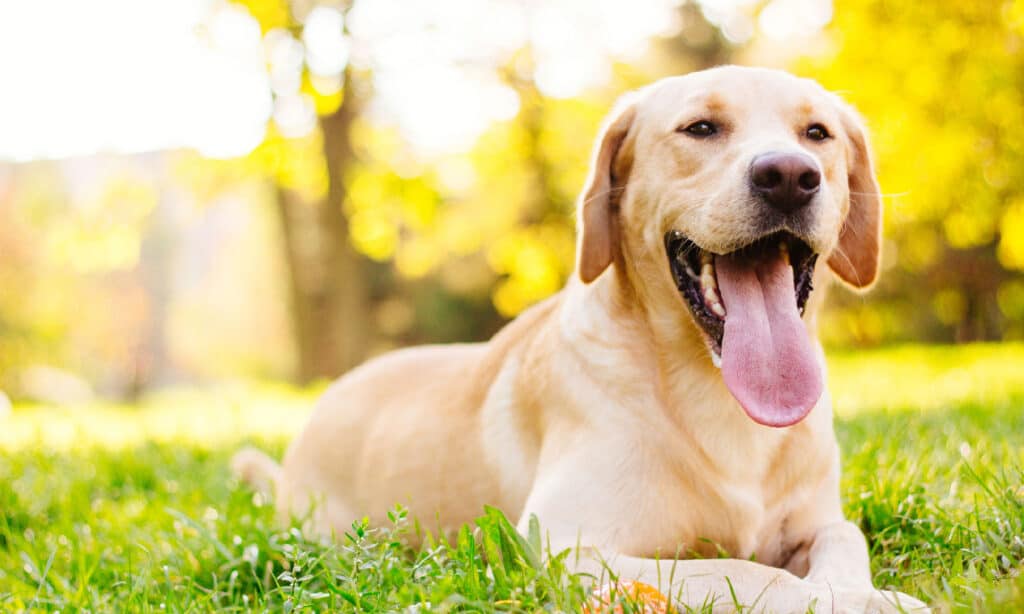 labrador retriever
size
Height: 21.5 – 22.5 inches
Weight: 55 – 80 lbs
coat
Short, bushy double coat
life expectancy
10 – 12 years old
trainability
very easy to train
Labrador Retrievers make excellent family dogs! They are one of the most affectionate dogs in the world and love to play with children and other pets! They are intelligent, eager to learn new tricks, and eager to please their pet parents. However, because of their high energy, it is important to start training sessions early and introduce them to different people and situations.
8. Bulldog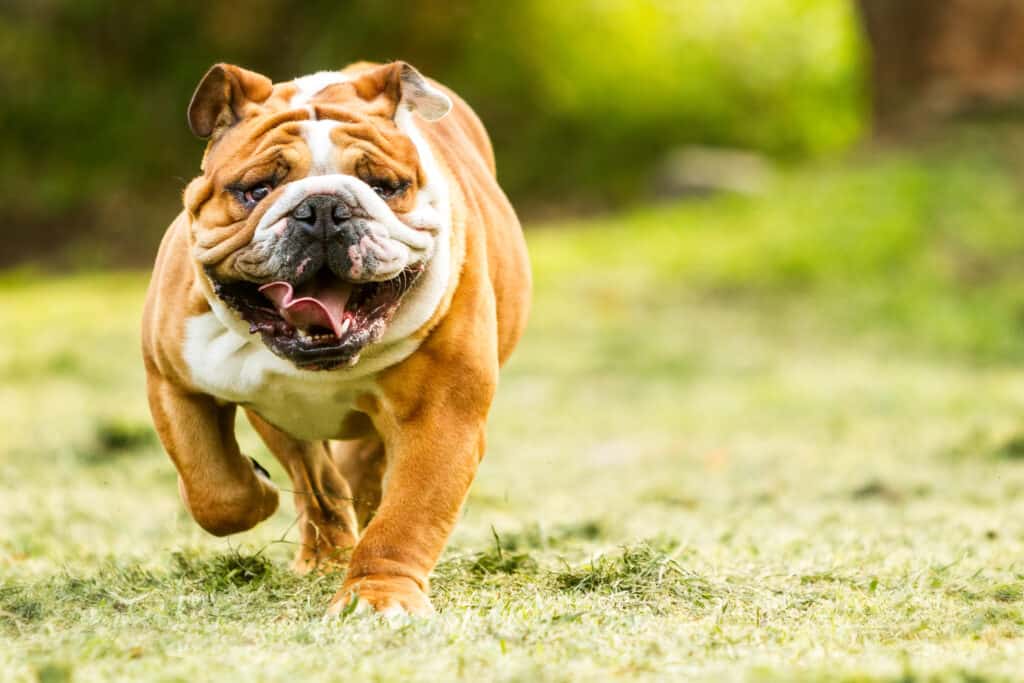 Bulldog
size
Height: 14 – 15 inches
Weight: 40 – 50 lbs
coat
short and flat
life expectancy
8 – 10 years
trainability
easy to train but stubborn
Bulldogs are great companion dogs. They have short, flat coats that can be red, white, fawn, brindle, and piebald. They have broad heads and shoulders with thick folds of skin over the eyebrows. Pit bulls are also characterized by sagging neck skin, drooping lips, and pointy teeth.
Bulldogs are not considered aggressive. They are friendly but stubborn by nature. On the other hand, they are known to tend to form close bonds with children and other pets.
9. Cavalier King Charles Spaniel
king charles cavalier spaniel
size
Height: 12 – 13 inches
Weight: 12 – 18 lbs
coat
mid length silk coat
life expectancy
12 – 15 years old
trainability
easy to train
The Cavalier King Charles Spaniel is a toy spaniel. They have a medium length silky coat. Some coats may be slightly wavy.
These dogs are very affectionate and playful. They are easy to train because of their patience and eagerness to please. Most Cavalier King Charles Spaniel parents say they are very friendly with children and other pets and adapt easily to different environments and locations. While they love to run around, play, and exercise, they don't mind spending time with family and cuddles.
On the other hand, they have an instinct to chase things, so it's important to train them not to bother your cat. We all know cats are the queens of the house!
Next:
Ready to discover the top 10 cutest dog breeds in the world?
How about the fastest dogs, the biggest dogs, and those who are – quite frankly – just the kindest dogs on earth? Every day, AZ Animals sends out lists like this to our thousands of email subscribers. The best part? free. Join today by entering your email below.
I am broadly interested in how human activities influence the ability of wildlife to persist in the modified environments that we create.
Specifically, my research investigates how the configuration and composition of landscapes influence the movement and population dynamics of forest birds. Both natural and human-derived fragmenting of habitat can influence where birds settle, how they access the resources they need to survive and reproduce, and these factors in turn affect population demographics. Most recently, I have been studying the ability of individuals to move through and utilize forested areas which have been modified through timber harvest as they seek out resources for the breeding and postfledging phases. As well I am working in collaboration with Parks Canada scientists to examine in the influence of high density moose populations on forest bird communities in Gros Morne National Park. Many of my projects are conducted in collaboration or consultation with representatives of industry and government agencies, seeking to improve the management and sustainability of natural resource extraction.