key point
From Asia to Europe, some horse breeds are smaller than average.
However, most of these horses played key roles in the cultural landscape of the regions from which they came.
The smallest of them was almost the size of a golden retriever!
When making a list of the world's smallest horses, it's best to put some size requirements into place. What is a miniature horse? To qualify as a miniature horse, a horse must be no taller than 38 inches. Remember that a horse's height is measured from its withers to its hooves.
If you've ever seen a horse's height record, you know that they are measured by hand. For example, at a horse show, the owner might record the horse's height as 14 hands. One hand is equal to four inches. Thus, a 14-hand horse measures 56 inches from hoof to withers. While this is the traditional way of recording a horse's height, this listing will convey the horse's height in inches.
Some of the horses on this list are miniature horses. Others are not miniature horses, but belong to the smallest breeds. All of the horses on this list are significantly smaller than the average horse.
Explore eight ponies found around the globe. Plus, learn about the different purposes these horses have served throughout history. Plus, see how people use these horses today.
#8 Fjord Horse: 60 Inches Tall
On lists of the smallest horses in the world, the fjord horse falls into the higher category. A Fjord Horse can grow up to 60 inches and weigh up to 1,100 pounds. A Fiordland horse may look tall standing next to a Shetland pony (also on this list), but a Fiordland horse is about six inches shorter than the average horse.
The fjord is a wild horse native to Norway. The horse's name refers to the fjords found in their homeland. These horses are experts at navigating dangerous cliffs and mountains.
Fjord horses are gentle and suitable for riding. They are large enough for kids and small adults to ride on. Visitors to Norway might see fjord horses pulling carts with tourists inside.
#7 Icelandic Horse: 56 Inches Tall
Picture a wild pony with its shaggy coat, flowing mane and tail, roaming the snowfields of Iceland. This is an Icelandic horse. Although the horse is only 56 inches tall, it can weigh up to 840 pounds. This is one strong, hardy pony!
For decades, the horses were used to herd sheep and goats, and to carry riders across the island's cold, rugged terrain. Their thick coats and strong hooves are designed to help them endure Iceland's cold and snowy conditions. They are still used for riding on ranches and farms.
#6 Noma: 55 inches tall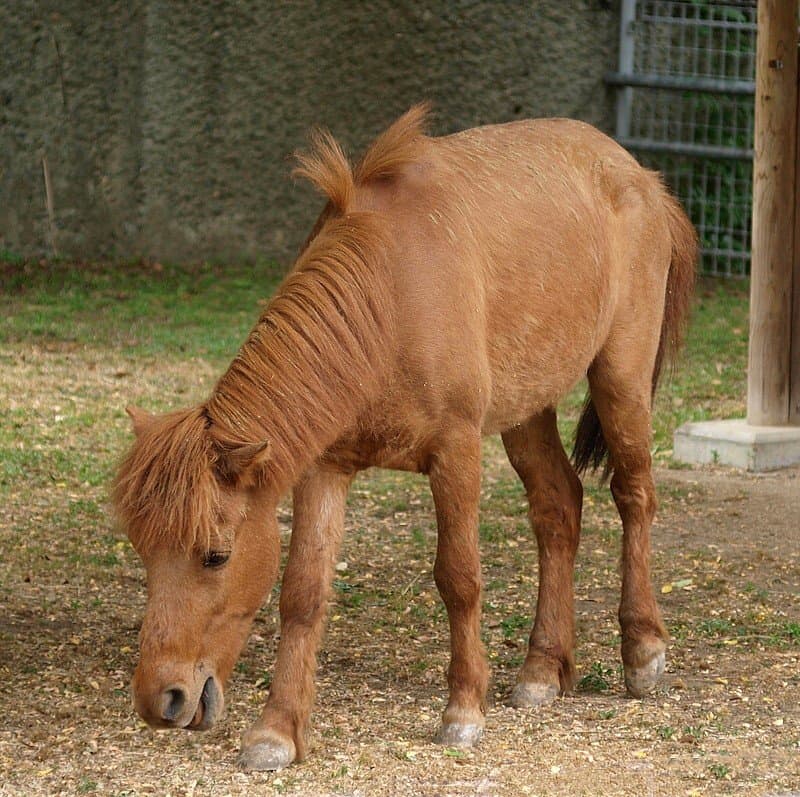 The Japanese Noma Horse is one of the smallest horses in the world. They can grow up to 55 inches tall and weigh up to 450 pounds. These ponies have compact, strong bodies and thin legs. They are surprisingly agile and can adapt to harsh environments. In the 17th century, they were used to transport supplies over rough terrain. Another advantage is that these horses are small enough to fit through tight spaces!
This wild horse is named after its native Noma region in Japan. Unfortunately, Noma is critically endangered. Due to regulations prohibiting the breeding of wild horses, the number of this horse has dwindled. At one time, these horses were crossed with larger breeds to create larger horses. Ten years ago, there were fewer than 100 Nomas.
Today, Nomas are used for horseback riding and for treating people with PTSD or emotional problems. These horses can also be seen in zoos, farms and safari parks in Japan.
#5 Yonaguni: 47 inches tall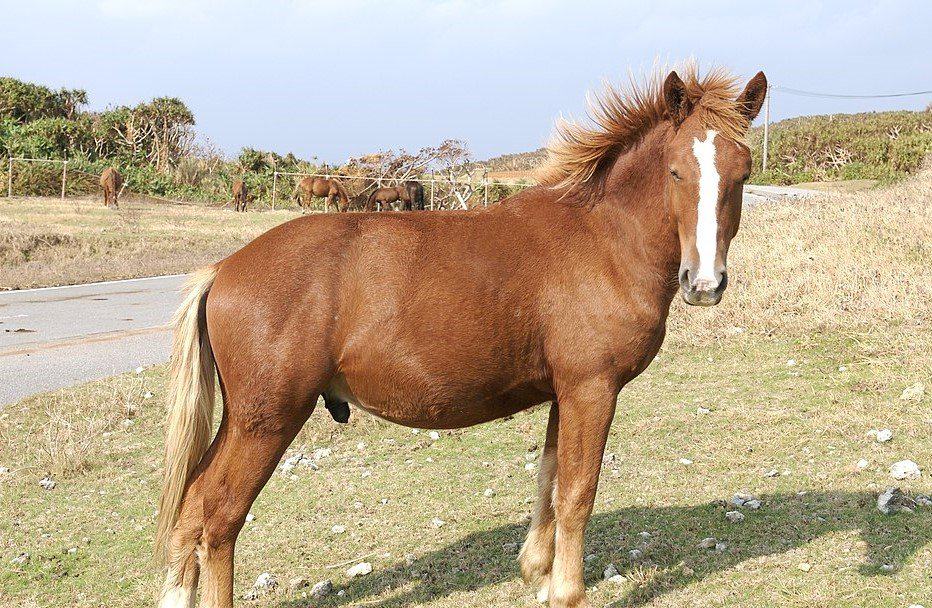 At 47 inches tall, the Yonaguni definitely earns its place on the list of the smallest horse breeds. Yonagunis weigh 460 lbs. These horses are native to Yonaguni Island in Japan. Like the other small horses on this list, the Yonaguni was used for farm work and for hauling goods over long distances. Today, they are used by instructors for riding lessons held on farms and ranches.
#4 Shetland Pony: 46 inches tall
Although Shetland ponies are short, they are strong animals. They range in weight from 400 lbs to 450 lbs. For centuries, this pony breed has been used for farm work and even pulling carts in coal mines. Their thick, shaggy fur keeps these ponies warm in cold weather. They are native to the Shetland Islands in Scotland.
This pony breed is used for riding. They're perfect for little ones who are just learning how to ride a bike. Shetland ponies are easy to control and are good first horses for young riders eager to learn. Shetland ponies are known for their longevity.
For more information on Shetland ponies see here.
#3 Xia Guo: 40 inches tall
This is one of the smallest horse breeds with a long history. They date back about 2000 years. The Guoxia pony is native to China. They are used to haul baskets of fruit around orchards during harvest time. In fact, the name Guo Xia means "horse under the fruit tree". Guoxia ponies can grow up to 40 inches tall and weigh up to 300 pounds.
Part of the history of this pony breed includes a long period of time when they were thought to be extinct. Fortunately, back in 1981, a herd of 1,000 Guo Xia's wild horses was found in a small area of ​​China. Today, these horses can still be found on farms and ranches in China, although their numbers are still rare.
# 2 Falabella: 34 inches tall
The Falabella is one of the smallest horses in the world, weighing no more than 100 pounds as an adult and standing 34 inches tall. These horses originally came from South America. They are named after the Falabella family who bred these ponies in the 1940s.
Families who own a Falabella horse may view it more as a house pet than as a horse belonging to a stable within a stable. The Falabella horse is so clever that it can sometimes be trained to pull a cart with a child riding in it.
#1 Peabody: 16.5 inches tall
Peabody is not a type of horse, but the name of a horse. At this time, Peabody held the title of the smallest horse in the world. He stands 16.5 inches tall and weighs only 19 pounds. When viewed in perspective, a Golden Retriever stands 24 inches tall and weighs a whopping 75 pounds. Therefore, although Peabody is a horse, it is easy to get lost in the golden retriever group!
Peabody had many birth defects which resulted in his very small stature. His original owners were told his life could be very difficult and he might not see the light of day again. Additionally, he was born with a deformed jaw that may have caused him difficulty eating. Fortunately, Peabody can see that his jaw allows him to eat in a normal way. So despite the challenges, the miniature horse is active and living happily with his adoptive family in California!
summarize
| | | |
| --- | --- | --- |
| number | horse | high |
| 1 | peabody | 16.5 inches |
| 2 | Falabella | 34 inches |
| 3 | Guoxia | 40 inches |
| 4 | shetland pony | 46 inches |
| 5 | Yonaguni Island | 47 inches |
| 6 | Noma | 55 inches |
| 7 | icelandic horse | 56 inches |
| 8 | fjord horse | 60 inches |
I am broadly interested in how human activities influence the ability of wildlife to persist in the modified environments that we create.
Specifically, my research investigates how the configuration and composition of landscapes influence the movement and population dynamics of forest birds. Both natural and human-derived fragmenting of habitat can influence where birds settle, how they access the resources they need to survive and reproduce, and these factors in turn affect population demographics. Most recently, I have been studying the ability of individuals to move through and utilize forested areas which have been modified through timber harvest as they seek out resources for the breeding and postfledging phases. As well I am working in collaboration with Parks Canada scientists to examine in the influence of high density moose populations on forest bird communities in Gros Morne National Park. Many of my projects are conducted in collaboration or consultation with representatives of industry and government agencies, seeking to improve the management and sustainability of natural resource extraction.