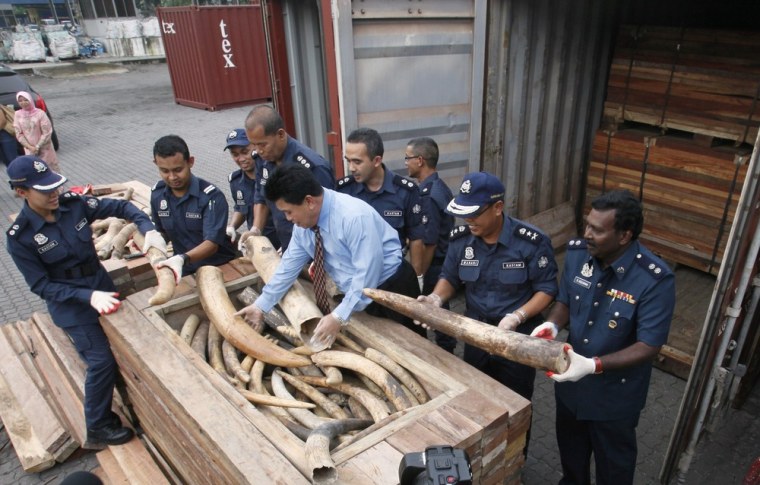 Some 1,500 African elephant tusks — the biggest seizure ever — were found this week hidden within timber planks and destined for China's ivory market. Shocked conservationists noted 2012 will now go down as the worst year in 24 years of records — and warned that 2013 could be even worse.
"In 2011 we thought the threats to elephants couldn't get any worse and 2012 draws to a close with the depressing news that the slaughter of elephants hasn't even drawn close to their zenith," said Jason Bell, who runs the International Fund for Animal Welfare's elephant program. "The illegal trade is simply voracious in its appetite for ivory."
The tusks weigh about 20 tons, nearly as much as all that was seized in 2011 — a year when an estimated 25,000 elephants were slaughtered for their tusks. For all of 2012, about 34 tons have been seized.
Ivory can fetch up to $1,000 a pound, the World Wildlife Fund said in a new report on poaching of elephants, rhinos and tigers.
"The bloody ivory trade has reached new heights of destruction and depravity in 2012," echoed Will Travers, head of Born Free USA. 
"No part of Africa is now safe," he added. "Across the continent, for the first time, the number of carcasses recorded as a result of poaching exceeds the number reportedly dying from natural causes." 
The groups worry that the start of Africa's dry season will fuel a new round of poaching in the coming weeks. Since 1979, when Africa still had an estimated 1.3 million elephants, the population has declined to an estimated 450,000 in 2007, according to the group Save the Elephants.
Some 150 armed Sudanese men were seen riding on camels and horses across the Central African Republic a few weeks ago and locals suspect they were looking for elephant herds, according to a report on nationalgeographic.com.
Conservationists fear another massacre like the one in Cameroon earlier this year when some 600 elephants inside a national park — half the local population — were killed. 
The tusks from that slaughter were never recovered, Bell noted. 
"It is an indication of an illegal industry completely out of control that lawmakers still have no idea where the massive amounts of ivory poached in Cameroon have gone," he said.
The groups urged the international community to fund a protection plan already endorsed by African nations with elephant populations.
Bell said needed actions include "swift DNA identification of seized ivory, so that we know how and where to point our efforts to prevent further poaching and close down transit routes for smuggled ivory."
Related: Religious groups rally to save elephants, rhinos
China's status as an authorized ivory trading nation is also under fire from conservationists, who want it revoked until it can prove that the only ivory traded is from legally authorized stockpiles.
Born Free, for its part, has started an online campaign at bloodyivory.org to build public pressure against China.
As for the latest seizure, Malaysian officials did not make any arrests but are investigating a local trading company involved with the shipment. It could face fines and any individuals found guilty of knowingly trading in the tusks could get up to five years in prison, customs officials said.
More world stories from NBC News:
Follow World News from NBCNews.com on Twitter and Facebook
I am broadly interested in how human activities influence the ability of wildlife to persist in the modified environments that we create.
Specifically, my research investigates how the configuration and composition of landscapes influence the movement and population dynamics of forest birds. Both natural and human-derived fragmenting of habitat can influence where birds settle, how they access the resources they need to survive and reproduce, and these factors in turn affect population demographics. Most recently, I have been studying the ability of individuals to move through and utilize forested areas which have been modified through timber harvest as they seek out resources for the breeding and postfledging phases. As well I am working in collaboration with Parks Canada scientists to examine in the influence of high density moose populations on forest bird communities in Gros Morne National Park. Many of my projects are conducted in collaboration or consultation with representatives of industry and government agencies, seeking to improve the management and sustainability of natural resource extraction.