If the beauty decides the king of the jungle, then the white tiger must be the leader. This rare Bengal subspecies has a white fur trimmed with regular black stripes, making it one of the most popular animals in the world. The breed's rarity has raised many questions for the world and sparked the curiosity of many. This article quells that curiosity by providing ten incredible white tiger facts.
1. The white tiger is not a separate tiger subspecies
Although some people try to label the white tiger as a subspecies of tiger, this is not the case. There is only one type of tiger and two subspecies – the continental tiger and the Sunda tiger.
2. The white tiger is the product of a genetic mutation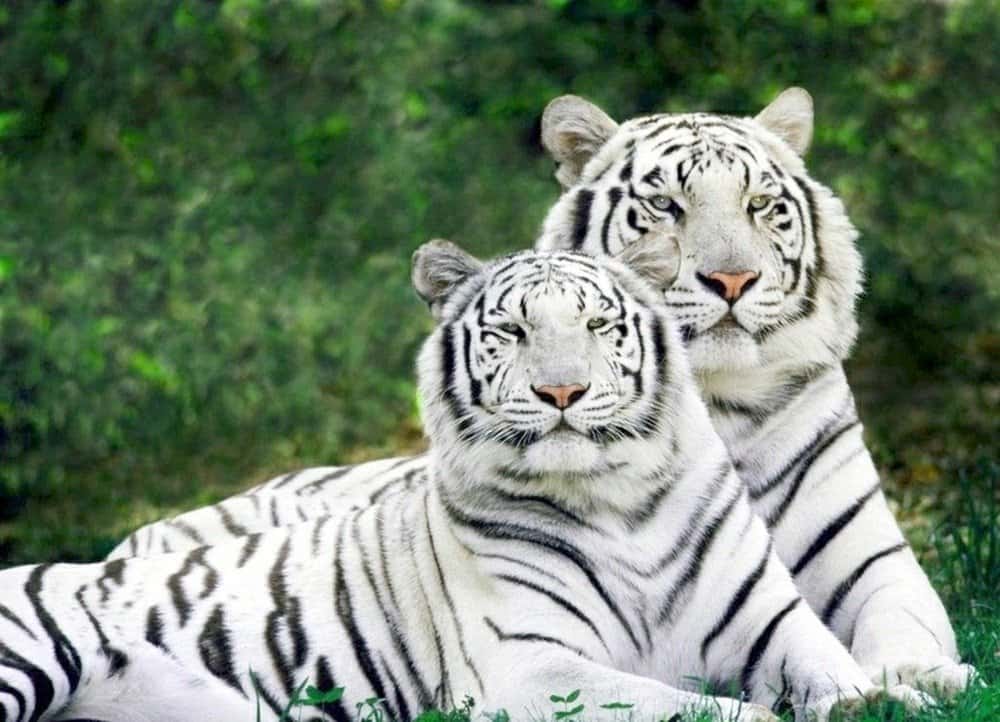 The white tiger looks like it does due to a genetic mutation. Typically, tigers have an orange base color with black stripes to match. The orange color is produced by pheomelanin, which unfortunately is not present in white tigers. The white striped coat is the product of a recessive gene in both parents that becomes dominant in the pups. By default, these pups are born without orange stripes, but white or light cream.
3. White tigers are very rare in the wild
White tigers are only likely to be born in the wild if both tiger parents carry the recessive gene that causes this condition. However, this is a challenging possibility because it only occurs in one in 10,000 newborns. With these numbers, it becomes clear why the white tiger is a rare breed.
4. The white tiger is native to India
White tigers were originally found in the Indian subcontinent. The animal was first seen in India in 1951. The cub was domesticated and domesticated as a pet, named Mohan. Mohan is believed to be used to breed many white tigers that were sent around the world, making it the patron saint of white tigers.
5. There are no white tigers in the wild
As of today, there are no white tigers left in the wild. It was last seen in the wild 50 years ago. The low probability of their existence is one explanation. However, there is another reason: captivity. All living white tigers are kept in captivity because people use them for money in zoos, parks and reserves.
6. White tiger skin is a disadvantage
Although the white coat looks great on the white tiger, it is a disadvantage in the wild. Tigers rely on their orange skin color to be successful when hunting. The skin camouflages them according to the environment, making it possible for them to practice surprise attacks. On the other hand, the white tiger's color is easily spotted and it will scare off any prey before it gets close enough.
However, there are reports that white tigers can hunt successfully at night. Although its fur looks very bright, it has been noticed that the white tiger turns darker in the cold. This happens when tigers spend most of the winter outdoors.
7. The white tiger is one of the most exploited animals in the world
While most animals are kept in captivity for their conservation, this is not the case for white tigers. White tigers would be worth protecting if they were a subspecies, but they are not. Just like the spirit bear, it is a black bear with similar conditions to the white tiger. Its rarity makes it noticeable, which is why many zoos are trying to have more white tigers, as they are a commercial point of sale. Tigers with this rare disease are kept in captivity and used for money around the world.
8. White tigers can only reproduce through inbreeding
Because of their rarity and a desire to own more tigers, keepers of these tigers have resorted to inbreeding. They straddle mother and son, father and daughter, brother and sister. At birth, there will be problems with deformities, which is a normal response to inbreeding. As a result, most white tigers are born with deformities such as clubfoot, cleft palate, spinal deformities and organ defects.
9. White tigers aren't the only tiger mutants
While it's a popular variant, the white tiger isn't the only variant of the species. There are other mutant tigers, including:
The Golden Tiger is also known as the Golden Spotted Tiger or the Strawberry Tiger. It has a golden coat with black stripes.
This mutant tiger has more stripes that almost overpower its base orange.
This mutant tiger is also known as the Maltese tiger. Native to the Fujian province of China, it has blue fur with dark stripes.
10. White tigers have other characteristics common tigers don't
In addition to white fur, white tigers have other differences. There is one notable difference in their eyes. These white tigers are born with blue eyes, which ordinary tigers do not have. It is worth mentioning that the color does not affect their vision.
Additionally, they often have crossed eyes, which become more pronounced during times of stress. This phenomenon has been observed in many mutant cats and seems to be part of the mutation. Another difference is size. White tigers are usually larger than common Bengal tigers. Cubs born white are usually larger than normal tiger cubs and grow faster than other tiger cubs.
I am broadly interested in how human activities influence the ability of wildlife to persist in the modified environments that we create.
Specifically, my research investigates how the configuration and composition of landscapes influence the movement and population dynamics of forest birds. Both natural and human-derived fragmenting of habitat can influence where birds settle, how they access the resources they need to survive and reproduce, and these factors in turn affect population demographics. Most recently, I have been studying the ability of individuals to move through and utilize forested areas which have been modified through timber harvest as they seek out resources for the breeding and postfledging phases. As well I am working in collaboration with Parks Canada scientists to examine in the influence of high density moose populations on forest bird communities in Gros Morne National Park. Many of my projects are conducted in collaboration or consultation with representatives of industry and government agencies, seeking to improve the management and sustainability of natural resource extraction.