Most birds are known to be able to fly. Some birds fly to catch prey, while others fly to hide from predators. Regardless, the ability to fly is one of the defining characteristics of most birds. However, there are some birds that lack this ability. There are some birds that can't fly at all, and they have been rooted in this land all their lives. While some of these birds have been hunted to the brink of extinction, others continue to thrive. In this article, we'll discuss some unique flightless birds. So, the next time you see these particular birds, you'll know why they're sticking to the ground. Without further ado, here are 10 flightless birds.
#10: Kakapo
Also known as the owl parrot because of its owl-like features, the kakapo is a large flightless parrot. The kakapo is endemic to New Zealand and is the largest parrot in the world. They are between 23 and 25 inches long and weigh between 2 and 9 pounds. Although they are flightless birds, kakapo are good at climbing trees. Sometimes, they also use their wings to glide for a short distance after jumping from a high place. Their plumage is yellow-green, and they have large bills and feet. Kakapo are nocturnal animals that feed on grasses, seeds, berries and tree sap. Due to hunting, deforestation and predation by invasive mammals, the kakapo is one of the rarest animals on Earth. Currently, only about 200 remain in the wild, all in isolated, predator-free island sanctuaries.
#9: Ostrich
The ostrich is the largest member of the ratite subclass paleognathia, and it is also the largest existing bird in the world. Due to their large size, their weak wings mean they are flightless birds. However, they still use their wings for balance while running, and for courtship displays. There are still two extant species of ostriches, both of which live in the wild in Africa, as well as on commercial farms. Ostriches typically weigh between 139 and 320 pounds and can stand up to 9 feet 2 inches tall. Their plumage is mostly black, although their tail feathers are white. With speeds of up to 43.5 mph, they are the fastest land birds. Additionally, they lay the largest eggs of any land animal. Their diet consists mainly of grasses and plants, but also eats invertebrates and some reptiles.
#8: Emperor Penguins
Emperor penguins are one of the most recognizable flightless birds in the world. Emperor penguins live only in Antarctica, between the coast and the interior. They undertake one of the most unique migrations in the world, traveling nearly 100 miles inland in winter to breed. Males and females take turns incubating an egg and feeding the young until they are able to fend for themselves. Emperor penguins are the largest penguins, standing up to 39 inches and weighing 49 to 99 pounds. Their face and back feathers are black, their bellies are white, and their necks are yellow. They are able to hold their breath for up to 20 minutes and can dive to depths of 1,755 feet. While underwater, they prey on food such as crustaceans, krill, fish, and squid.
#7: Steamed Duck
Steamed duck is named for its habit of flapping its wings and feet in the water. To the casual observer, this behavior can make them look like a paddle steamer. However, although they flap their wings, they are still flightless birds. All four species of steamed duck live in Chile and Argentina at the southern tip of South America. Of these three species, only the flying steamed duck is capable of flight. Steamed duck is known for its large size, typically measuring over 33 inches long and weighing over 15 pounds. They live near rocky shorelines and feed on molluscs, crustaceans, seeds, small fish and insects. Steamed ducks can be very aggressive and often fight fiercely with other steamed ducks. Additionally, they fight other large waterfowl and raptors and may come to save other species.
#6: Vika
Another flightless bird from New Zealand, the Weka is part of the rail family. Also known as woodhen or Māori hen, four different subspecies exist, although this is hotly debated. Although they possess small and ineffective wings, they are adapted to have strong legs. Their plumage is brown with shades of black and gray. On average, they are 20-24 inches long and weigh 1.1 to 3.5 pounds. The weka's tail is small and almost always moving, which is characteristic of other species of rails. They live in forests, sand dunes, rocky coastal areas and grasslands across New Zealand. Their diet consists mainly of grasses, leaves, seeds and berries. Wekas ​​build nests on the ground, with males and females taking turns incubating their eggs. They are currently listed as Vulnerable by the IUCN due to predation by invasive predators and habitat loss.
#5: Cassowary
The cassowary is another member of the long-legged, flightless ratite bird group. The three extant species are found in New Guinea, northern Australia and the Aru Islands. Among the flightless birds, the cassowary enjoys a reputation as "the most dangerous bird in the world". It earned this title because of its large size, sharp claws, and aggressiveness when cornered or threatened. They stand between 5 and 6.6 feet tall and can weigh up to 130 pounds. Their small wings end with tough, horny spines that look similar to porcupine quills, but without the barbs. Cassowaries have a large gold or blue armor on their head that grows with age, and a blue wattle on their neck. Cassowaries can run at speeds of up to 30 miles per hour and can also jump and swim long distances. Most of their diet consists of fruit, as well as small invertebrates, birds, mice and fish.
#4: The Flightless Cormorant
Also known as the Galapagos cormorant, the flightless cormorant is unique among flightless birds. It is the only flightless cormorant species and one of the largest cormorants in the world. The flightless cormorant is found throughout the Galapagos Islands and some remote areas of Ecuador. They are 35 to 39.5 inches long and weigh an average of 5.5 to 11 pounds. Their feathers are brownish black and their long beak ends with a sharp hook. In order to fly, their wings would need to be three times larger than they are today. To get around, they rely on webbed feet and strong legs to propel through the water. The flightless cormorant's diet consists mainly of fish and octopus. Since they do not have waterproof feathers, they must be dried regularly between swimming trips.
#3: Emu
The emu is the second largest ratite among the living birds in the world. They stand between 59 and 75 inches tall and weigh between 40 and 132 pounds. Native to Australia, they are found in the country's savannahs and forests, but they tend to avoid dry areas. With their long, powerful legs, they can run at speeds of up to 30 miles per hour. Their plumage varies depending on the environment, but is usually tan with tinges of black and rust. Emus forage during the day, feeding on seeds, grasses, fruits, and insects. Unlike most birds, the male is solely responsible for building the nest and incubating the eggs. Additionally, female emus typically behave more aggressively than males and may fight for potential mates. Although listed as a species of least concern, they face threats due to habitat loss, traffic accidents and invasive predators.
#2: Kiwi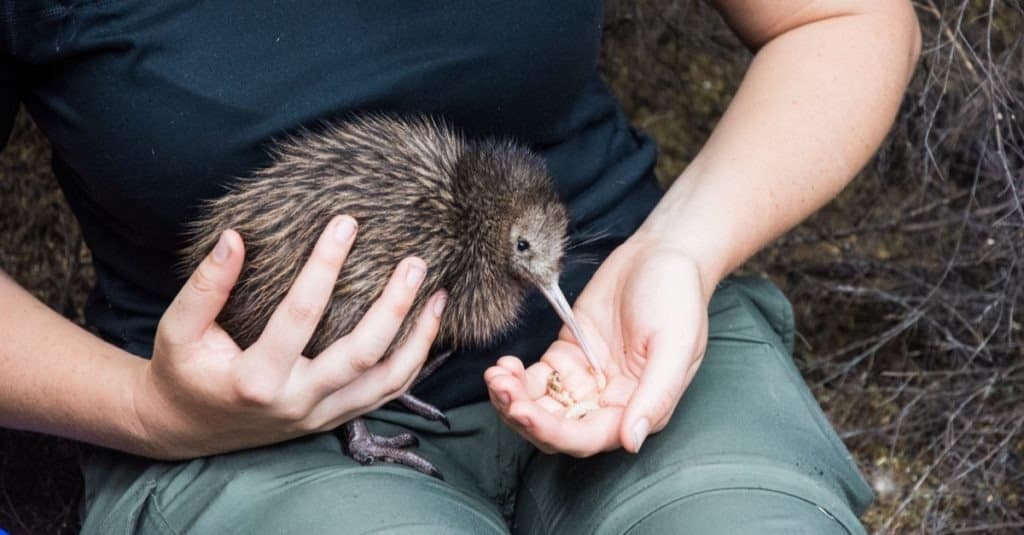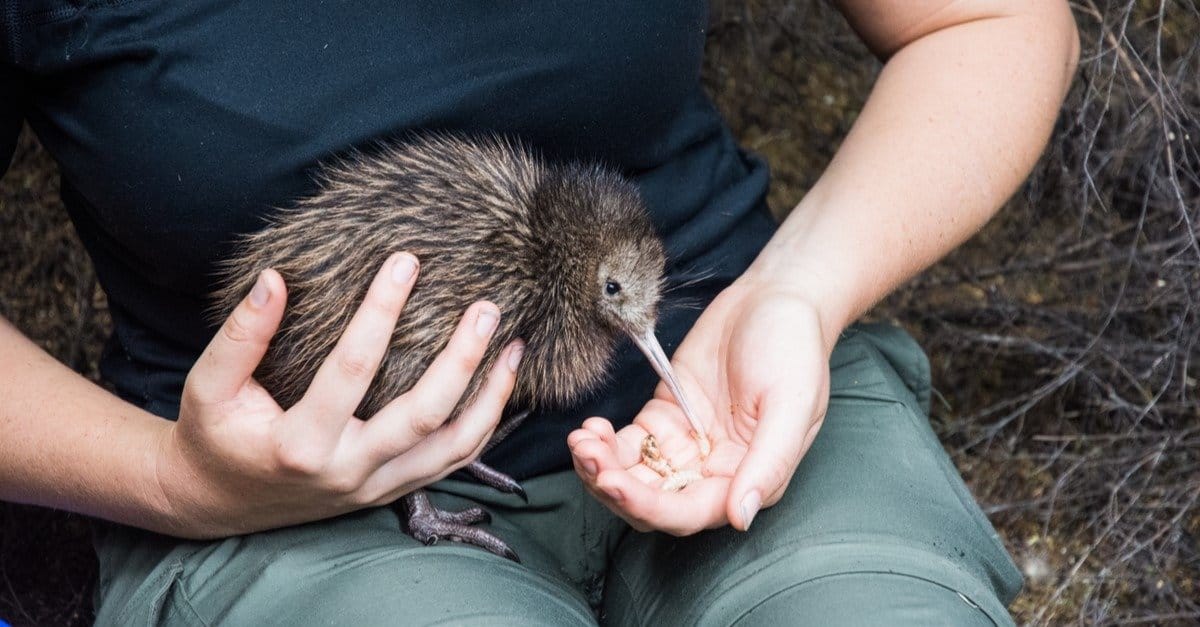 The international symbol of New Zealand, the kiwi is the smallest member of the ratite family. Scientists identified five different species, most of which are threatened by habitat loss and invasive predators. Among flightless birds, kiwis have adapted some unique traits that set them apart. Their wings are so small that they are barely visible under their shaggy brown-gray plumage. They have long mouths and sensitive noses to help them spot prey, but no tails. Although mostly nocturnal, they also come out during the day, especially if they live in a shelter. New Zealanders mostly live in forests, but are also adapted to life in bushland, mountains and grasslands. They eat a wide variety of foods including small invertebrates and amphibians, worms, insects, fruits and seeds. Their 1-pound eggs are among the largest of any bird.
#1: High River
Also known as South Island takahē or notornis, takahē is native to New Zealand. It is the largest surviving member of the rail family and one of the rarest flightless birds in the world. Once considered extinct in the wild, the population as of 2019 was around 418 individuals. Takahēs can grow up to 25 inches long and weigh nearly 9.3 pounds. Stocky, powerful birds, takahēs possess large beaks that allow for a powerful snapping sound. Their plumage is dark blue on the head and belly, and light blue and green on the wings and back. They live in mountain steppe areas in summer and descend to lower elevations in winter. Although takahēs are very territorial and solitary, they reproduce for life and can live up to 18 years in the wild. They feed primarily on grasses, twigs and insects, especially snow grass.
I am broadly interested in how human activities influence the ability of wildlife to persist in the modified environments that we create.
Specifically, my research investigates how the configuration and composition of landscapes influence the movement and population dynamics of forest birds. Both natural and human-derived fragmenting of habitat can influence where birds settle, how they access the resources they need to survive and reproduce, and these factors in turn affect population demographics. Most recently, I have been studying the ability of individuals to move through and utilize forested areas which have been modified through timber harvest as they seek out resources for the breeding and postfledging phases. As well I am working in collaboration with Parks Canada scientists to examine in the influence of high density moose populations on forest bird communities in Gros Morne National Park. Many of my projects are conducted in collaboration or consultation with representatives of industry and government agencies, seeking to improve the management and sustainability of natural resource extraction.